Just how patriotic is Stone's Enjoy By 07.04.14 IPA?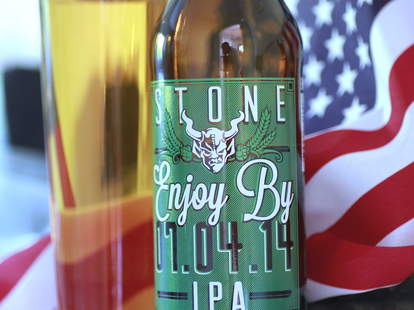 Some beers are meant to be cellared and aged. Not this one. Stone's Enjoy By 07.04.14 IPA isn't gonna go skunky, or just explode, on the 4th of July... but frankly, we didn't want to find out if it would, for some reason, explode. After seeing Die Hard 30 times, I know full well what broken glass can do. So I drank it right away.
Taken on its own, Enjoy By 07.04.14 is a damn fine beer that's rife with the bitter hoppiness you'd expect from a double IPA with about a bajillion different hops varieties. It possesses a frightening drinkability that belies its 9.4% kick. But, considering it's brewed in commemoration of the birth of the Greatest Damn Nation On Earth, how does Stone do in making us feel, you know, 'Murican? To find out, we paired Enjoy By 07.04.14 with three extremely patriotic activities that most Americans enjoy on Independence Day to see how it stacks up.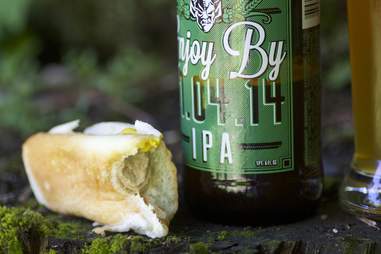 Andy Kryza
Patriotic pairing #1: eating hot dogs
Really, any beer tastes better with the addition of hot dogs, and Enjoy By 04.07.14 is no different. The hops flavor cuts through the mustard well and did a good job of disguising the fact that this is a chicken dog -- who the hell is the Commie that brought a chicken dog to this party, anyway?!
Patriotism rating: Hulk "Real American" Hogan
Andy Kryza
Patriotic pairing #2: shooting cans with a BB gun
Boo-ya, baseball. Drinking beers and shooting BB guns is the most American of pastimes, and Stone's jingoistic ale tastes, like, 200x better when you've got an air-powered rifle in one hand, a beer in the other, and a big-ass backyard in front of you. The only downside, though, is that this beer packs a 9.4% punch, which doesn't really bode well with that whole, you know, aiming while firing a high-speed projectile thing. Or for running away when you shoot your neighbor's window out.
Patriotism rating: 1,776 (out of 10)
Andy Kryza
Patriotic pairing #3: playing with illegal fireworks
NO! YOU SHOULD NEVER PLAY WITH ILLEGAL FIREWORKS WHILE DRINKING! Dammit. Well, at least the beer is helping to numb the pain.
Patriotism rating: Please call an ambulance. And hand me another one of these beers while we wait.
Andy Kryza is a senior editor on Thrillist's food & drink team, and his Grandfather was missing fingers from fireworks. Follow his too-close-to-home jokes via @apkryza.