Does William Wolf's pecan bourbon make the nut?
Whiskey pairs great with Coke, ice, and horrible decisions. But aside from the incidental combo of well whiskey and bar mix, the combination of whiskey and nuts is largely untested. Dutch distiller William Wolf hopes to change that with its Pecan Whiskey, a 60-proof whiskey that takes the nut and infuses it into bourbon. But does William Wolf's concoction have the bite of your favorite hooch? We bellied up to find out.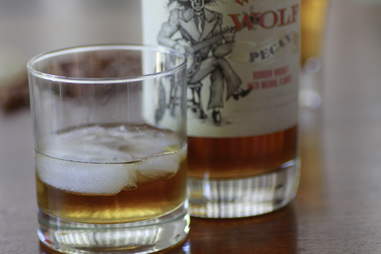 Andy Kryza
On the rocks
The bottle says to serve over ice, and I've learned to always listen to bottles. Rocks is definitely the way to go here -- the hooch is slightly thick and syrupy, so the melting ice allows it to hit a more drinkable consistency. As it stands, it's got a liqueur-like feel, kind of like SoCo. It's buttery... and nutty as hell.
The bourbon burn's barely there, though. It's pleasant enough, but not all-night pleasant enough. It'd make a good gateway drink for people who say they don't like whiskey, though. Mainly because it doesn't taste like whiskey.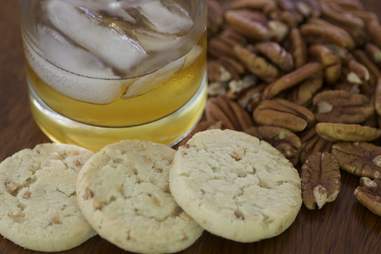 Andy Kryza
With dessert
It's waaaaaay too sweet to pair with the sugar bomb that is pecan pie, but paired with your Grandma's go-to cookie, the pecan sandie, it's just right. Hell, I even dipped it in there and the Wolf made the cookie taste less like old people. It's also sweet enough to be enjoyed as a dessert on its own... if, you know, you're Mickey Rourke.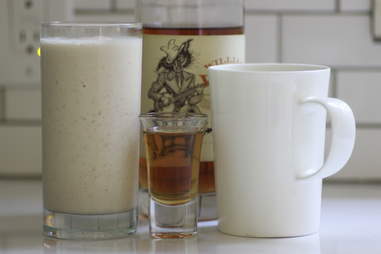 Andy Kryza
With mixers
Coke's a big nope. So is sour mix. But this is absolutely fantastic in coffee, where the nuttiness disperses and the butteriness adds well to a full-bodied roast. It's also delicious in a milkshake, provided you go with something neutral like vanilla or chocolate, and steer away from sweeter things like Butter Pecan or Kelis.

Conclusions
This is a perfect coffee whiskey, but not so much a good playing-poker whiskey. If there was a greater focus on bourbon over nuts, William Wolf could be really onto something. As it stands, it's more of a dessert than a main course.
Andy Kryza is a senior editor on Thrillist's food and drink team, and prefers to pair his bourbon with Johnny Cash and medium-rare beef. Follow him to his next physical exam via @apkryza.