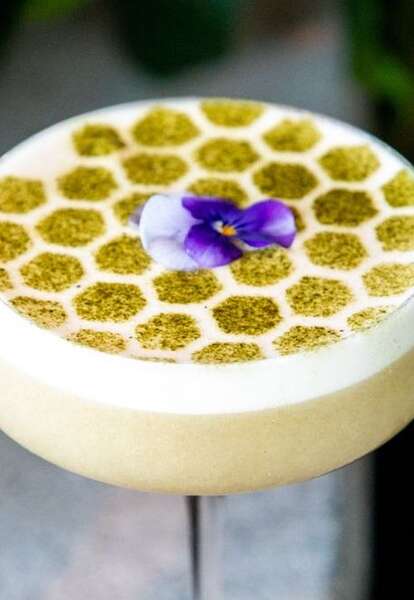 The Kyoto Sour from Fern Bar.

| Photo by Suited Hospitality
The Kyoto Sour from Fern Bar.

| Photo by Suited Hospitality
Bar manager Matt Katzin remembers the first time he walked into his local tea shop, Russian River Tea Company, outside of Santa Rosa, California. "You walk in there and they have all these teas you can smell and taste and I just fell in love with it," says Katzin, who runs the drink program at Fern Bar in nearby Sebastopol. "Over the years, I got so inspired to see how we can use their tea to enhance our cocktails."
Though the idea of tea as a cocktail ingredient is certainly not new—there's nothing more classic this time of year than a hot toddy—bartenders are flexing their creative muscles when it comes to house-made infusions, creative liqueurs, and even tea powders as garnishes.
This tea-naissance is a welcome addition in the cocktail world, as more drinkers are looking to cut down on sugar without losing flavor and recent bartending books have reminded us of its versatility. In The Way of the Cocktail, Julia Momosé frequently utilizes cold brew sencha, or a loose leaf green tea, in her cocktails. Bar expert Shannon Mustipher's definitive book Tiki includes ingredients like Darjeeling-infused gin and smoked tea vodka.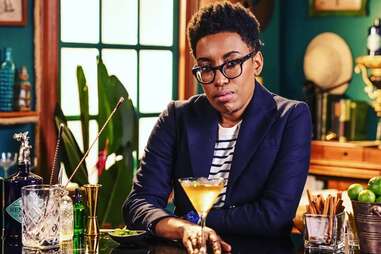 "Historically, tea was commonly used in punches and then you saw it relegated to a hot toddy and mostly associated with whiskey and other dark spirits," Mustipher says. "But in the last five years or so, I'm seeing people branch out, using it to add personality to vodka or complement herbaceous flavors in gin. Bartenders are bringing tea back."
In fact, it was the tiki category where Katzin, who previously bartended at Spoonbar and Perch + Plow, started noticing tea more prevalently used in cocktails.
"At first, I was seeing it a lot in tiki bars around San Francisco," he says. "A lot of people were using it in milk punches—steeping rum in tea to get this beautiful color and creaminess that would come out clarified. But now I'm starting to see tea become even more common in the cocktail scene."
Currently, six out of Fern Bar's two-dozen cocktails use tea as an ingredient. For the Kyoto Sour, his team infuses gin with green tea, and combines that with coconut cream, spiced pear, lemon, and egg whites, with a sprinkle of matcha powder on top.
The bar's Long Thailand Iced Tea is a punny twist that fuses tropical flavors of vanilla vodka, Thai tea, Falernum liqueur, pineapple, orange, and coconut. And the Creamsicle is another vibrant creation using tea-infused vodka, amaro, lime, mandarin, passionfruit, bubbles, and egg white.
"The Creamsicle is made with this Lemon Love Affair tea, which has got these notes of orange zest and coconut, and saffron," Katzin explains. "It just has this creamy, floral, almost viscous element to it that really makes for a beautiful drink."
Tea can add that full body texture, he says, but also additional flavor without sweetness, an element that can offer dryness or bitterness (like in a green tea) for the ultimate balance.
Of course, tea is also a natural fit for warm cocktails in the winter, something that Fern showcases with its newly added Naughty Toddy, in which masala chai is steeped with room temperature brandy, then added to hot water, a house-spiced pumpkin puree, brown sugar, and lemon.
"That chai masala and pumpkin make it so full-bodied and those flavors just go so well together, especially this time of year," Katzin says. "I think it helps for customers to see something on the menu, like a chai, that they might drink at home on a daily basis. They see it in a cocktail and are instantly drawn to it."
Katzin, who originally went to culinary school, said he made the switch to bartending in order to feel more connected to his customers, seeing their reactions in real time. "I love pouring a hot drink or garnishing one with powdered tea so they get to see it all," he says. "Tea just has so much depth and flavor to something without the sweetness in a syrup the booze in a liqueur."
In fact, tea cocktails can easily be made non-alcoholic by skipping the infusion step all together, and customers are still left with a full-flavored, beautifully garnished drink.
"I wouldn't be surprised if we see more low or no ABV cocktails where tea plays a role in place of a wine, amaro, or bitter," Mustipher says. "Tea is associated with relaxation and having a restorative quality. Given what the world has been going through the past couple of years, people are more focused on wellness and seeking a gentler way to enjoy cocktails."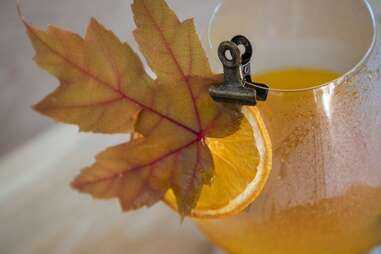 At-Home Spiked Chai Recipe
By Matt Katzin, Fern Bar
Ingredients:
• 1½ ounces brandy
• ¾ ounces cinnamon simple (1 cup sugar, 1 cup water, 4 cinnamon stick, bring to boil)
• 1 ounce oat milk
• 4½ ounces hot chai
Directions:
Make your hot chai according to directions and make cinnamon simple syrup. Combine all ingredients and top with oat milk.
Equinox Cocktail Recipe
By Shannon Mustipher
Ingredients:
• 1 ounce thyme infused white wine syrup
• 2 ounces orange pekoe tea
• ½ ounce pomelo juice (grapefruit juice works)
• ¾ ounce lemon juice
Optional: 1½ ounces spirit of choice: rum or whiskey (serve hot or chilled); gin or vodka (serve chilled, topped with soda water or ginger beer
Directions:
Combine all but spirit in a shaker with ice. Shake with ice to chill and strain into a chilled collins glass over ice. Tip with soda. Grapefruit wheel and fresh sprigs of thyme. Optional: Incorporate spirit of choice and top soda water or ginger beer to fill glass.
White Wine Syrup
Ingredients:
• 12 ounces dry white wine (sauvignon blanc or similar)
• 10 ounces white sugar
• ¼ cup fresh thyme (ok to utilize a intact)
Directions:
In a saucepan, bring the wine ( ideally the remnant of an opened bottle that you no longer plan to serve) to a simmer. Add sugar, whisk briskly to dissolve, and reduce to lowest heat setting, and add rosemary. Simmer for 10-15 minutes, remove from heat, and allow to cool. Strain off solids, transfer syrup to a sterile bottle, and store refrigerated for up to one week.
Jess Mayhugh
is the editorial director of food & drink for Thrillist, who needs chai-infused brandy in her life as soon as possible. Follow her on
Twitter
and
Instagram
.