The 8 best beers at the Texas Craft Brewers Festival
Texas clocked in at number 20 in our ranking of best beer states in the country, but if you were at the Texas Craft Brewers Festival this weekend in Austin, you'd agree that 20 hasn't looked this good since Kate Upton circa 2012.
The Lone Star State's beer scene is one of the best-kept secrets on the national suds circuit, so to highlight the best of the 55 participating breweries, we've compiled eight of the most interesting sips from the roster of 149 beers. They range from everyday offerings, to small-batch seasonals, to truly rare one-offs that drew huge lines in anticipation of their tappings. It was a pretty good day.
Dan Gentile
Kamala Brewing Bitterama
The Whip In started as a South Austin convenience store, grew into a reputable bottle shop, then blossomed into a quick-service Indian restaurant, music venue, and eventually a brewery, marked by tongue-in-cheek notes to their Indian heritage in beers like their debut lemongrass-flavored "post-colonial" IPA, the Brahmale.
On display at this year's fest was the defending gold medalist in the herb/spice category of the Great American Beer Fest, their Bitterama ESB, brewed with wild rice and Earl Grey tea. While most ESB's pack too much of a punch for my palate, the infusion of these subtler flavors mellowed out the bitterness, while keeping the complexity of the finish.
Dan Gentile
Austin Beerworks La Pinagria
Known for flashily designed cans and accessibly crafted brews, ABW's Pearl Snap has become so ubiquitous locally that there's a serious case to be made for it to be crowned the city's default pilsner. So when the keg of La Pinagria was tapped at 3:30, the line for a taste was nearly 100 deep.
As I waited for my pour, enthusiastic word traveled to the back of the line. The beer was a permutation of their popular Gold Fist seasonal, aged with American white oak with a fruity kick by way of pineapple. It's listed as a sour, but might've been the sweetest sour I've ever had.
Dan Gentile
Adelbert's Brewery Vintage Monks
Adelbert's bottle-conditioned bombers have carved out a niche amongst Austin's growing Belgian enthusiasts, but their special tapping of Vintage Monks was a far cry from the lighter saisons I normally associated them with.
Their Dancin' Monks dubbel mated with Black Rhino (Craft Beer Awards gold medal-winning dark ale) and spent 10 months in a red-wine barrel to spawn a bone-dry dubbel with tart notes of stone fruit that made for one of the fest's most unique sips.
Dan Gentile
Ranger Creek Brewery Green Tea OPA
San Antonio's Ranger Creek is a double threat. In addition to a solid line of small-batch whiskeys, they also brew beers, most notably their signature OPA (American Pale Ale with oatmeal).
For one of the fest's earliest special tappings, RC opened a cask of their OPA that had been supercharged with green tea. The tea really brought the hoppy notes to the forefront and revealed a surprisingly fruity undertone of apricots. It was an impressive example of a brewer using one ingredient to unlock a totally separate set of flavors.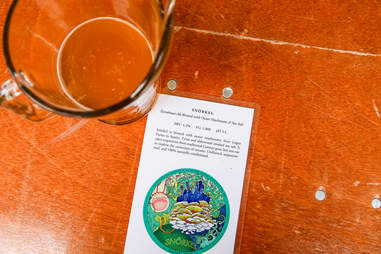 Dan Gentile
Jester King Snörkel
Jester King makes weird beers, and the Snörkel is no exception. Flavored with oyster mushrooms grown from the brewery's spent grain and sea salt, Snörkel is a subtly savory Gose-inspired brew that actually ends up tasting closer to a chilled white wine than a beer.
Dan Gentile
No Label Brewing Co. Off Label Forbidden Lavender
Floral and fruit beers were the talk of the fest, and Houston-area upstarts No Label fed the fervor by adding lavender to the boil of their witbier. I managed to get some of the last pours after the line for the special tapping died down.
For me, wits always taste like summer, but the addition of the fragrant herb made this taste less like a pool party and more like a picnic in a flowing field of purple flowers. It wasn't a place I was expecting to find myself, but I was more than happy to be there.
Dan Gentile
(512) Brewing Company CoCo Cerise
For the month and a half of winter in Austin, TX, (512)'s Pecan Porter has always been one of my go-to gut-warmers, so I was excited to try a flavored cask version.
CoCo Cerise was poured straight from a firkin, and the brewer on-hand explained to me that after trying this beer with four different levels of sugar, they opted for the sweetest version. The original Pecan Porter was already a dessert beer, but the sugars alongside toasted coconut, black cherries, and vanilla really took this to the next level.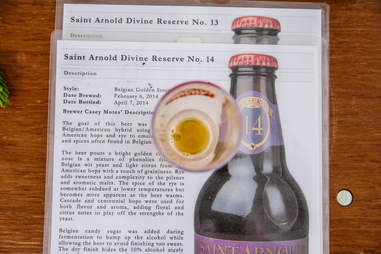 Dan Gentile
Saint Arnold Divine Reserve #14 (Tequila Barrel Aged)
One of the bigger breweries at the fest and the self-proclaimed oldest brewery in the state, Saint Arnold needs no introduction. This tequila barrel-aged Divine Reserve is the type of experimental hooch that doesn't often make it to the public.
Although I wasn't familiar with the normal #14 (a Belgian-style strong golden ale), I can attest to a strong tail of agave funk that made this beer one of the festival's most succulent.
Dan Gentile is a staff writer on Thrillist's National Food and Drink team. He had been waiting for awhile to make that succulent joke. Follow him to crafts and arts at @Dannosphere.