Jason Hoffman/Thrillist
Jason Hoffman/Thrillist
How TGI Fridays Has Influenced Modern Craft Cocktail Culture
Everything changed with the bus driver, but it started with the book.
In an early chapter of A Proper Drink, New York Times cocktail writer Robert Simonson's tome on the craft cocktail revolution, he talks to a former TGI Fridays bartender named "Magic" Mike Werner, who had worked at the Houston Fridays in the late '70s. What caught my eye was Werner recounting the bartending exam. You had to learn 400 drinks. Make 25 blindfolded. Know the history of every alcohol on the back bar. And, in order to even be considered, you had to barback for at least nine months.
That section stayed lodged in my mind for a year. I'd never heard of a bartender training program that intensive. Eventually I called Simonson. He told me he saw Fridays as a "Janus figure with two faces." He knew the bartending program was rigorous, and, for a period of eight to 10 years or so, they were using fresh juice and eggs in their mixes, but he was still dubious of the quality of the drinks. "I wish we had a time machine," Simonson said, "so we could go back and see if those Ramos Gin Fizzes were any good."
And so I bought a time machine.
Or I let my TGI Fridays curiosity sit dormant for a long time until, by chance while in New Orleans, High Hat Cafe owner Chip Apperson mentioned to me that he'd worked at the TGI Fridays in Memphis in the early '80s. After witnessing my Pavlovian response to this information, he promised to try and track down any of the old bartenders. A little while later, I got a text from Apperson with a cell number for a Memphis man who'd worked there during the '70s and early '80s named Gary Baldwin. Baldwin, it was explained, had quit bartending a while back. He was now a school bus driver.
For many folks, Fridays was their first interaction with what we now think of as a modern bartender.
Like a Marvel comic superhero, the most frequent story told about TGI Fridays is its origin story. In 2015, Nicola Twilley, first on her blog Edible Geography and then in a New Yorker story, recounted how its founder Alan Stillman opened the first Fridays on Manhattan's Upper East Side as a way to meet single girls. Because bars of that time were considered unwelcoming to classy single women, he envisioned a bar that looked like an apartment, with photos on the wall, Tiffany lamps, plants (this gave rise to the term "fern bar") and sugary drinks like the Harvey Wallbanger. Fern bars soon spread all over the country, but so did the obscene creamy drinks, and thus we entered a "dark age" of drinking that, as told in the tight narrative of the craft cocktail renaissance, essentially lasted until legendary NYC bartender Dale DeGroff saw the light and started messing around with pre-prohibition classics at The Rainbow Room (more on that here).
And that's usually where the TGI Fridays story ends, but for our purposes, the more fascinating tale comes in 1967, when Stillman reached an agreement with two Memphis businessmen, Dan Scoggin and Walt Henrion, to open seven more Fridays (mostly) in the South, starting in Memphis, then Nashville, Little Rock, Dallas, Houston, Atlanta, and Chicago.
At the time, many Southern states outlawed serving liquor by the drink, but, starting with the Tennessee legislature in 1967, Scoggin and Henrion were able to successfully lobby for those laws to be overturned. Within days of the law passing, TGI Fridays was given the first liquor license in the state of Tennessee and quickly opened bars in Memphis and Nashville. And when those laws changed in Arkansas in 1969, and Texas in 1971, Fridays was right there, applying for liquor licenses and opening game-changing bars.
Prior to Fridays' arrival in southern cities, bars had primarily been old man hang outs, patronized by sad dads nursing beers and grudges, run by shadowy characters with thousand-yard stares and secrets to hide. But with Fridays, bars were suddenly staffed by hip, handsome, friendly young people offering colorful drinks that had been literally illegal just a year before. For many folks, Fridays was their first interaction with what we'd now think of as a modern bartender.
The responses were overwhelming. "Memphis was full of kids and this was the only candy store in town," said Apperson. "There was a line outside starting at lunch, and it didn't end until we turned the lights all the way up at 2am and started shoveling people out. It was just the coolest place in town, bar none." And this sort of thing was happening in each of these cities. According to a 1984 interview with Scoggin, the Dallas Fridays grossed more than $2 million dollars in its first year open. A Texas Monthly story from 1992, recounting the 20th anniversary of the Dallas Fridays, mentioned that within days of opening, "ecstatic, wild-eyed young men and women piled six-deep at the bar."
With that sort of demand, becoming a bartender at Fridays suddenly became one of the most competitive jobs in each of these cities -- a good weekend night could easily net as much as $500 (over $2,300 in 2018 dollars), an absurd amount of money for one bartending shift. And this brings us back to the bus driver, Mr. Gary Baldwin.
You basically needed someone to get thrown in jail for a bartending position to open up.
Baldwin started working at Fridays in Memphis in 1974 as a barback. As the story goes, the barbacking apprenticeship was meant to last nine months, but, as Baldwin tells it, that was just the starting point. "No one was leaving these bartending jobs. There was zero turnover. It could last years and years." Apperson agreed: "You basically needed someone to get thrown in jail for a bartending position to open up. And even then, you'd better hope they'd done something that would keep them locked up a long time."
Luckily for Baldwin, a job eventually opened up, and his bar manager, Paul, gave him the Fridays recipe book and bartender manual he'd put together himself (as Simonson recounts in A Proper Drink, "Magic" Mike Werner also put together his own custom bartender manual for the Houston Fridays, meaning at some point in history, there were likely many incredible, city-specific Fridays bartending manuals floating around). With a supple red hardcover, the legendary book was several inches thick, and filled with an eclectic mix of things -- general histories of every different kind of alcohol, specific histories of drinks, notes on proper glassware, and nearly 500 recipes. As one part of the test, Paul picked 50 random drinks out of the 500, and you were expected to accurately write down the recipes for those drinks down to the quarter ounce. For the next part, Paul would fill a liter bottle with water and line up every type of glassware (Collins glasses, snifters, highballs, mugs, wine glasses, etc.) and without ever letting the water stop, you had to pour to the exact specified height in each cup.
On his Continuing Education grind, Paul encouraged bartenders to study outside of his own little manual. As tiki drinks were the rage, Baldwin and the other bartenders perused Trader Vic's looking for new or better recipes. Many of the original bartenders were Yankee expats, and they brought their own notes on things they'd seen at bars up north. They used fresh oranges, and lemons, and limes, and eggs. Martinis were made with gin, and stirred. If you came up with your own drink, you were encouraged to share it, and if it was good enough, Paul might submit it nationally for a competition. Techniques for shaking and pouring and everything else were hotly debated and tested. Being a bartender at Fridays meant you were supposed to be the best ("We could all sling it," said Baldwin), and you constantly had to prove you were more than willing to take on all comers. At his peak, Baldwin estimated that he probably had over 500 drink recipes and their backstories all in his head.
Engaging with the patrons was also central to the job, be it the lunchtime crowd of "bond daddies" -- guys who sold bearer bonds over the phone from big firms' Memphis satellite offices -- or the crowds of Memphis State college kids and East Memphis young professionals who crowded the bars at night. "I'd try to talk to them, find out what liquor they liked, or cocktails they normally drank, then I'd gently push them into something a little different, a little more exotic." This normally worked, he said, if he was able to recount some history on the drink, and give it a narrative. He recalled how investors would recruit away top Fridays bartenders to open their own spots, and how soon a family tree of bars opened by ex-Fridays bartenders filled out the Memphis social scene.
As Baldwin was telling me all of these things, I kept thinking everything he was saying sounded weirdly familiar. People interested in cocktail history? Making mixers from scratch and competing to come up with original drinks? Engaging with customers to try to push them out of their comfort zones? Wasn't what he was describing, essentially, many of the touchstones of the craft cocktail movement?
When I told Baldwin that, he sat on it for a second. "I don't know about all that," he said, tentatively. In the background I could hear his wife calling him for dinner. "But I tell you this," he said, as we wrapped up, "we were doing all these things AND we were having fun. Some of these newer fellas, they take themselves so seriously. Seems like they forget they're in a bar."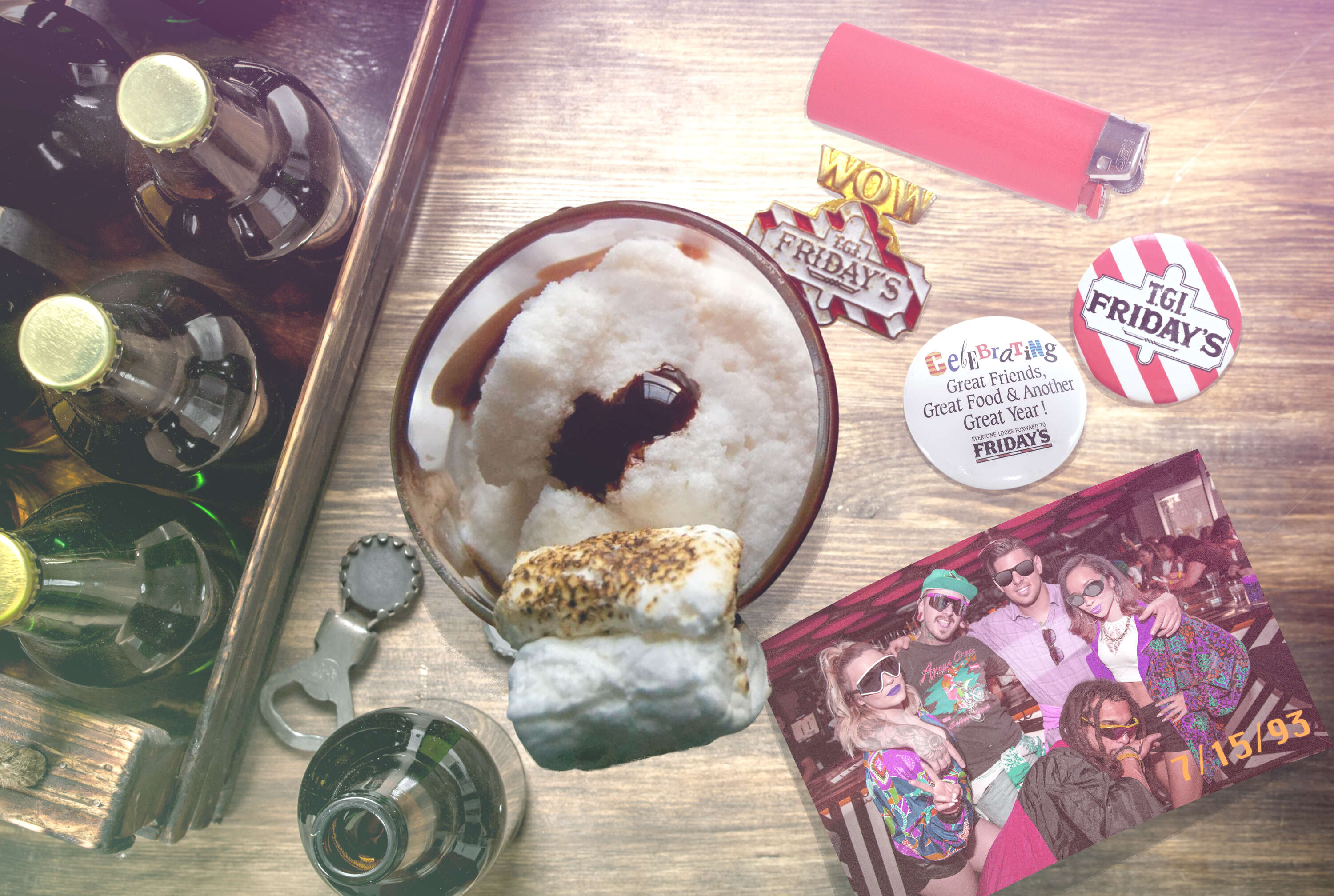 Flush with excitement and eager to use the phrase "bond daddy" again, I called some of those newer fellas. I wanted to find out what the current vanguards of cocktail excellence thought about this era. Did they know about the magic of these Fridays? Had they had a Gary Baldwin Old Fashioned? Drinking Distilled author and Clyde Common/Pepe Le Moko bar manager Jeffrey Morgenthaler, after hearing me explain Baldwin's experiences, summed it up this way: "This is yet another example that [probably disproves] the generally accepted idea that all drinks were basically shitty from post-prohibition until Joe Baum got together with Dale DeGroff to create Rainbow Room."
Morgenthaler had been thinking about this for longer than I had. His second bar, Pepe Le Moko, which opened in 2014, is dedicated to, as Portland Monthly put it, "cocktail pariahs" -- drinks from the '70s and '80s that had been cast aside by the serious world of craft bartending. "I got tired of hearing everyone say, 'a Vieux Carre is a good drink and an Amaretto Sour is a bad drink and that's just how it is,'" says Morgenthaler. "We've got these weird things that become gospel -- anything that doesn't have bitters in it is bullshit, etc. I've always believed that there aren't shitty drinks, just shitty bartenders who don't know how to make them right. And it sounds like these guys, at least during this era, weren't shitty bartenders. They were here the whole time, quietly carrying the torch but no one outside of their cities really paid attention because they didn't have PR folks calling the New York Times."
Joaquin Simo, owner of New York City cocktail bar Pouring Ribbons and a founding bartender at legendary cocktail bar Death & Co., expressed little surprise when I told him about what the bartenders at these Fridays were doing. "If you go to Central America or the Caribbean, the things you're describing are happening right now at the TGI Fridays there," he said. "By far the best, most disciplined and passionate bartenders all work at those spots. When I tell my staff this, they're always horrified, but those are the people who truly give a shit, and I'd be willing to bet, anyone in those areas who is stepping out on their own doing something cool, learned the ropes at a bar like Fridays."
Simonson had said a similar thing about the British Fridays and how all of the British bartenders respect the folks who put in time there because they had to be real and good and they cared. The people who cared not because it would get you rich or was even that cool, but maybe just because they were intellectually curious and wanted to lead fuller, richer lives; those were the folks to watch, because giving a shit is contagious.
As for this commonly held idea of the "dark period" of drinking in America, Simo hedges a bit more than Morgenthaler. "There were always bartenders who cared, who could make you incredible drinks" -- he cites Norman Bukofzer of the Ritz-Carlton, who worked at the Jockey Club in the early '80s -- "and I find these narratives about a return to civility a little pat, but broadly speaking, the '70s and '80s were sort of a wash. People drank some pretty awful things. Just look at what happened to Fridays in the states."
Some of these newer fellas, they take themselves so seriously. seems like they forget they're in a bar.
The TGI Fridays franchise honeymoon era didn't last very long. Dan Scoggin and his partners, who'd originally purchased the franchising rights for those seven cities from founder Alan Stillman, realized the growth potential, bought Stillman out completely, then sold to Minnesota firm Carlson Companies, who set up an extremely ambitious national and international expansion campaign, bringing TGI Fridays public in 1983. As part of that expansion, the nine-month training was reduced to six weeks. Consultants advised on ways to improve the bottom line. Cumbersome, fresh Ramos Gin Fizzes turned into a faded echo from the past. Generations of bartenders like Baldwin moved on to other bars. No longer expected to put intensive prep into the drinks, the ones that stayed focused down on the tricks they could do. In 1985, an LA Fridays bartender caught corporate's eye with his bottle juggling, and the company instituted an in-house tricks competition. "Flair" bartending, most famously demonstrated by Tom Cruise in the 1988 movie Cocktail, became the main selling point.
In a 1989 Tampa Magazinearticle, "Magic" Mike Werner himself showed off some of those tricks for a photo shoot from the Tampa Bay Fridays, tossing a full drink behind his back blindfolded, balancing three cocktail glasses on top of each other, and flipping vodka bottles. "The days of beastly boilermakers and rye on the rocks are fading as fast as tan lines at a nudist camp," wrote the story's author. "Now drinks have more erotic sounding names like Sex on the Beach and Screaming WooWoos. The concern for health and fitness has encouraged drinkers to switch from hard liquors and filling beers to wine spritzers, light beers, and cocktails made from cordials and fruit juice." [Note: Emphasis added by author, because, I mean, come on.]
By the '90s (at least in America), TGI Fridays was no longer thought of as a bar, but as a family-friendly restaurant, and the chain swelled to 750 locations in 55 countries. The flair bartending (now sadly/hilariously called "flairtending") had morphed into a schtick in which the bartenders would wear suspenders and buttons on their shirts. The 1999 movie Office Space captured the cultural inflection point, showcasing a fake restaurant based on Fridays with a near militant obsession with "flair" and "fun," essentially putting the nails in the casket of TGI Fridays' reputation as cool. And on the bartending side, the neon, sugary sweet, preservative-laden, giant cocktails being bandied about at Fridays and their bar successors (Hard Rock Cafe, Planet Hollywood, Applebees, etc.) became the exact drinks the craft cocktail movement rallied against with their return to booze-forward, bitter-leaning classics.
And now, as we watch the explosion of upscale fast-casual chains steal marketshare from casual sit-down dining, and watch social media steal the life force from our souls as we thirst for the unique drink imagery of sherry cocktails inside light bulbs served from the confines of Better Call Saul-themed pop-up bars, places like Fridays are reeling. And as everyone in the industry heavily leans into mining their past for authenticity, lauding themselves for naming their restaurant after an old insurance firm once in their building, or sending out a press release because they kept the original tin ceiling in the bathroom, I wanted to find out why TGI Fridays -- a place with a legitimate cocktail history worth recounting and celebrating -- has not. It was time to go to the source.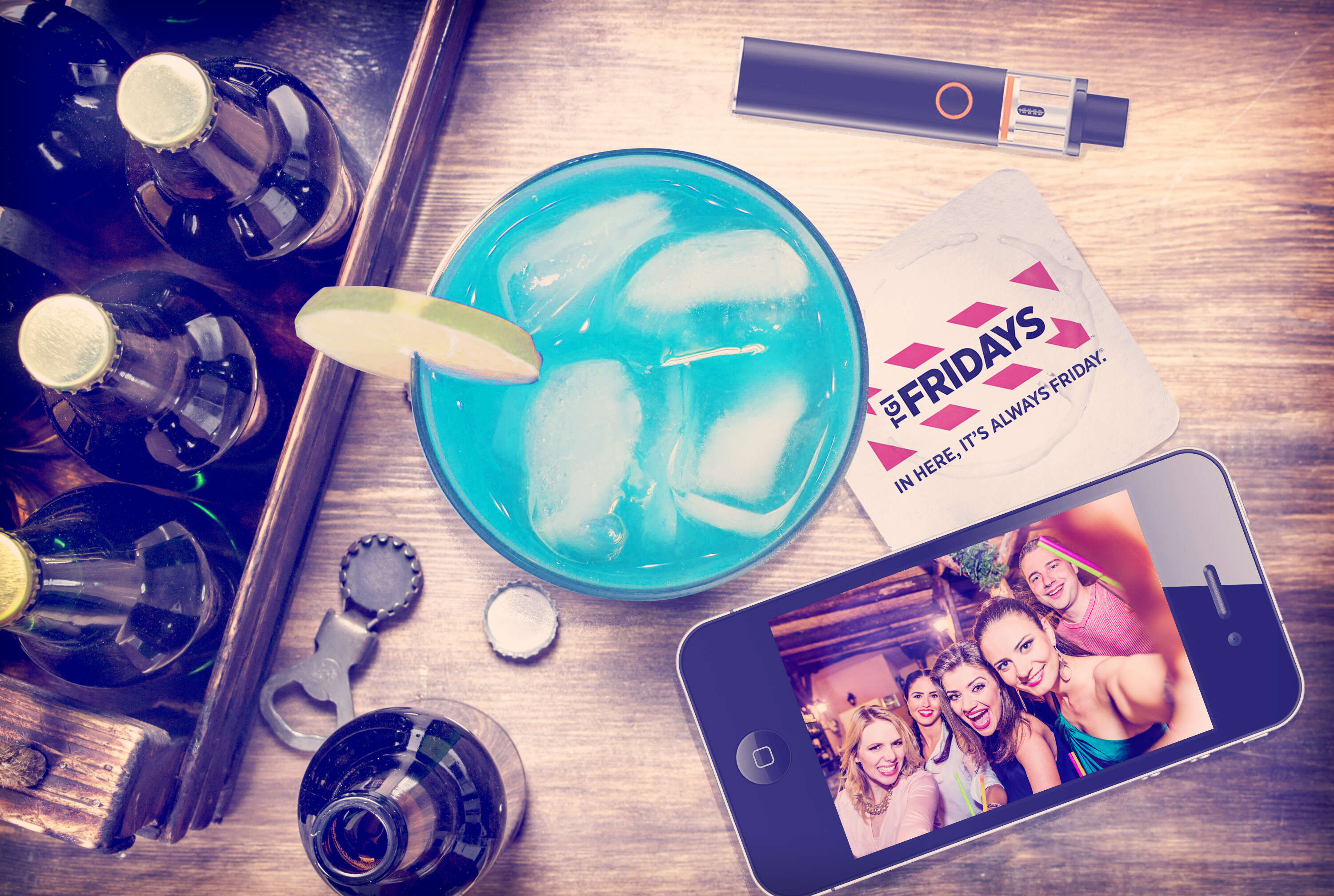 In the United States, there are currently 436 TGI Fridays open. California is home to a respectable 25 TGI Fridays, but seeing how the Golden State is roughly the size of Sweden and the Bay Area had three semi-recent Fridays closures, my closest TGI Fridays was 50 miles away in Union City, a working class railroad hub south of Oakland that has avoided most of the suffocating gentrification squeeze of the late aughts tech boom now causing reasonable non-tethered people to flee the Bay Area (the next closest TGI Fridays is 200 miles away in Fresno).
It was just before noon on a weekday when I saddled up to the horseshoe bar at the Union City TGI Fridays just off the 880, in front of the Extended Stay America. The knickknacks and Tiffany lamps of the previous era were mostly gone (save a giant wooden crew boat hanging on the wall), replaced by Bay Area sports team banners and a giant, "In here, it's always Friday" sign on a red wood wall. The place was half full, filled with office workers wearing short-sleeved button downs with ID badges on their waists and college-aged kids wearing sweatpants with sayings on their butts. A woman in a tie-dye shirt sat next to me at the bar and ordered a house salad with no tomatoes or onions and a tap water. No one, it appeared, was drinking.
En route I'd discussed the current cocktail menu with The Atlantic's cocktail writer Wayne Curtis, who had written about chains dabbling in craft cocktails in the new modern era. He told me about Ocean Prime, a national upscale seafood chain, which had him judge their national cocktail competition, and what Tony Abou-Ganim had done in Vegas with the drinks at all the Bellagio casino properties. As for Fridays, after surveying the cocktail menu online, as Curtis tactfully put it, they "do not appear to be following those trends."
There was the Ultimate Boba Long Island Tea, a bubble tea/'90s cocktail mashup "with bursting strawberry and/or mango boba pearls"; a Ciroc French Smash "crafted especially" for the rapper French Montana; a Pink Punk Martini that involved what appears to be actual cotton candy; and a Diddy on the Beach also made with Ciroc vodka plus a "Yellow Edition" Red Bull I'd never heard of but now desperately need to try. In the same manner of lobbyists in DC writing most of our bills, the entire current Fridays cocktail list felt like it was written directly by liquor distributors.
When I asked the bartender for the cocktail menu, unnecessarily announcing, "I'm going to get some cocktails!" they [Author's Note: descriptive details are being omitted to protect anonymity] looked me up and down, trying to decide what to make of any non-underage person declaring their intention to drink several cocktails before noon on a weekday.
The picture-filled cocktail menu featured an introduction with the title "Drink Up the Details" in one of those fonts you select when you want to pretend you used a paintbrush. The mission statement read: "In our bar, bartenders don't make things the easy way. They make things the right way. Fresh fruits and fresh house-made mixers. Beer at the perfect temperature, poured perfectly. Every cocktail, professionally crafted. Because we know the harder we work, the more you can take it easy at our bar."
Second Author's Note: I requested to speak to TGI Fridays beverage director through multiple platforms, but, at publication, had not received a response.
There were many pages. Margarita and sangria pages. A page for "Tropicals" and mojitos. Another for "Classics" (though that included a spin on a Moscow Mule invented in a TGI Fridays in 2015), and "Celebrations" (shots). There was also a page confidently stating, "Our bartenders know thousands of drinks. If you don't see the one you're looking for, just ask."
Overwhelmed by the combination of the menu and the fact that the Milky Way is around 93 billion light years in diameter and our sun is just one of hundreds of billions of stars in our galaxy, and there are hundreds of billions of galaxies within the Milky Way, and it is entirely possible and even plausible that our universe is one of hundreds of universes out there, and therefore the actions of one man at one time of day on one planet amongst the billions and billions of planets out there is meaningless, I put myself in the bartender's hands. "Make me your favorite drink," I said.
I tasted four cocktails that day. I wanted to say they were fantastic, that there in Union City, they were doing things that would've made Gary Baldwin and "Magic" Mike Werner and the rest of the yesteryear Fridays bartenders proud, and there would be a tidy full circle-ness to my narrative.
That, friends, was not the case.
You don't need to hear details -- the drinks were as I'd imagined they might be, mostly over sweet and all over the place. What was more interesting, though, was the conversation with the bartender. They talked about how they'd worked there a long time, and, at the beginning, the bartender training was extensive, but the labor shortage and massive turnover in the restaurant industry created a nearly perpetual staff shortage. "Now," they said, "they'll let basically anyone who'll consistently show up bartend."
We talked about the weekends and how, by 10pm, there was a line to get in and security outside checking IDs. "We're the only place that's open until 2am around here," they said. "So the late-night bar scene is pretty wild." We also talked about the most popular drinks ("tiki-style drinks, mostly the super sweet ones using a bunch of different purees") and then, as they left to get my check and I sat nursing French Montana's signature cocktail, I tried to make sense of it all.
I kept coming back to something Wayne Curtis had said about croissants at the Bellagio. Apparently they are some of the best in the world, and he imagined it was just one person back there working at a casino who truly gave a shit about really putting out these amazing croissants. "But as soon they leave," he said, "that magic will go away."
I thought about all those bar managers at the Fridays in the '70s putting together their bar manuals and truly just giving a shit, and how they trained up an entire cadre of bartenders who gave a shit, and that, for those few glorious years, the possibilities must've seemed endless. I thought about the most influential cocktail bars of the modern era, places like Milk & Honey and Pegu Club and Death & Co. and Absinthe and Violet Hour and Anvil and Holeman & Finch, and how they'd started because someone gave a shit and how their bartender family trees (aided, of course, by social media and our relatively newfound obsession with deputizing bartenders as celebrities) had built the modern craft cocktail movement.
That sort of apparatus wasn't in place in the '70s in Memphis or Little Rock or Houston. Bartending was just a job. But if you had that job and you trained under someone who had the light, you got to share in it for a few years, before the place got corporate or you burned out or your boss moved on. And maybe it just became a story you told friends over a Soul Burger at Earnestine & Hazel's, about the time you slang cocktails at this magical place with great drinks and a scene you wouldn't believe.
Then one day years later, a man in California calls you on your phone while you're driving a bus, and asks you to tell him a story.
Sign up here for our daily Thrillist email and subscribe here for our YouTube channel to get your fix of the best in food/drink/fun.