The Definitive Thanksgiving Beer and Wine Pairing Guide
What you drink with that 3 am leftover sandwich totally matters.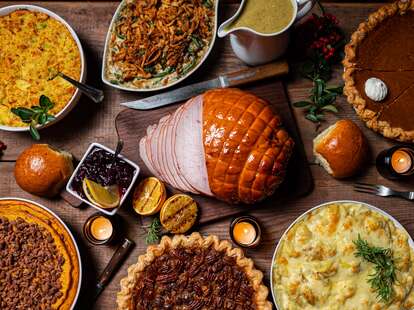 Turkey, mashed potatoes, stuffing, and green bean casserole are great and all, but let's be honest: if you're going to make it through a night of loud-mouthed relatives, football upsets, and Grandma's "special" holiday dish, you're gonna need booze.
That's why we've enlisted Zach Mack of New York's Alphabet City Beer Co. and Nora O'Malley of Alphabet City Wine Co. to come up with the best wine and beer pairings for your Thanksgiving feast.
When you're watching someone else cook
The wine: Arca Nova Vinho Verde 2013
Nora says: This is the start to a big day, and the last thing you want to be is the person who went too hard too fast. So in the afternoon, er, the morning, take it easy with something lower in alcohol, like a light, dry, and slightly effervescent Vinho Verde.
The beer: Westbrook Gose
Zach says: When you need a beer that both stokes your appetite and doesn't throttle you into a pre-dinner beer nap, you need Westbrook Gose. This beer says it all right on the can: sour, salty, delicious.
Appetizers
The wine: NV Col Del Sol Prosecco di Valdobbiadene
Nora says: Holidays are synonymous with bubbles for a reason—because they work with everything. Bonus: you don't have to spend too much to find a solid brut that will pair with both Gouda and Fritos. For an afternoon of chips and cheese, Prosecco is your best friend.
The beer: Sovereign Crisp & Dry Cider
Zach says: Because it's difficult pairing beer with something as diverse as a cheese plate, cheat the system with a killer off-dry cider. Regional factors come into play, but I love Sovereign's NYCrisp, where the tight carbonation and bright acids make for a killer pairing for practically anything.
Soup & salad
The wine: Anjou Blanc "Le P'tit Blanc" Sablonnettes 2012
Nora says: A rich white with a bit of zest, like a Chenin Blanc from the Loire Valley, can certainly stand up to both butternut squash soup and a salad inexplicably loaded with every type of nut known to man.
The beer: Elysian Night Owl
Zach says: Of all the times there ever were to bust out that pumpkin beer, it's now. Night Owl is made with over 7lbs of actual pumpkin per barrel, plus cinnamon, ginger, clove, and nutmeg—all of which will line up nicely with that fall soup or salad.
Main course
The wine: Dominique Gallois Bourgogne Rouge 2011
Nora says: Don't blow it with some big, jammy punch to the mouth that's going to overpower all those delicious dishes. Instead, opt for a Gamay or Pinot Noir from Burgundy. The killer wines from this region are elegant and restrained, but still interesting enough to enhance everything from turkey and stuffing to sweet potatoes and marshmallows.
The beer: The Bruery Autumn Maple
Zach says: Autumn Maple steps it up in the way The Bruery always does, with dark molasses, honey, brown sugar, and clove flavors that will match up as well with mashed potatoes as it will against turkey—both light and dark meat.
Dessert
The wine: Clean Slate Riesling
Nora says: When it's time for sweets, you can't fail with an off-dry Riesling. The slight sweetness will complement any kind of pie, which should give you enough of an excuse to try every. Single. One.
The beer: AleSmith Olde Ale
Zach says: If you're taking down any of the many traditional Thanksgiving pies, reach for an Olde Ale. Its dark dried-fruit flavors and slightly bitter finish dance politely with robust desserts, plus the large format makes it great for splitting with the rest of the family.
Late-night leftovers
The wine: Kiona Vineyards Columbia Valley Merlot 2010
Nora says: If you're still on the wine train, good for you: go for a mild and mellow Merlot with enough structure to stand up to that triple-decker sandwich. It's the perfect transition into tomorrow morning's Bloody Mary.
The beer: Stillwater Classique
Zach says: If you're immune to tryptophan and are up late partying with your cousins from Florida, your best bet by far is this incredibly palatable canned beer from one of the country's best brewers.
Zach Mack is a contributor for Thrillist, the owner of Alphabet City Beer Co. in NYC, and absolutely nothing else. He suggests shotgunning that final beer of the night. Follow him: @zmack.
Nora O'Malley is a certified sommelier and former manager of Alphabet City Wine Co. in NYC. She's waging a war against Beaujolais Nouveau as the wine of Thanksgiving. Follow her: @noraomallay.