What These THC-Infused Seltzers Actually Taste Like
Enjoy tropical flavors, spiced aperitifs, and ideal THC-CBD combos.
To say that hard seltzers are having a moment would be a massive understatement. These typically low-cal, low-ABV drinks have been a societal saving grace during the past two years, and we won't judge you if you still prefer reaching for these convenient cans over manning your home bar.
And if you're curious about exploring this trend with cannabis ahead of 4/20, you'll be happy to know that there are plenty of options, ranging from subtle micro-dosed creations to THC-packed sparkling juice bombs. Most of these seltzers boast natural flavors and little to no added sugar, so they don't taste far off from a non-THC fruit seltzer, with minimal "grassy" aftertaste.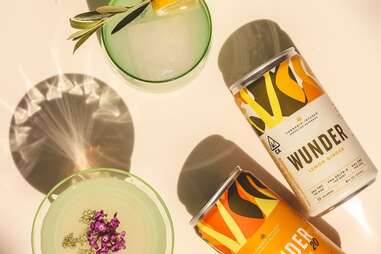 For those who are new to this kind of imbibing, it's helpful to know that an "average" dose contains about 10 milligrams of THC. A low dose is anything under 10 milligrams of THC, though more often, low-dose drinks contain around five milligrams of THC, with an equal amount of non-psychoactive CBD. Anything with more than 10 milligrams of THC is a fairly strong dose and not recommended for beginners or infrequent users. You're also more likely to taste a hint of weed in higher dosage drinks.
It's recommended you sip one serving of your drink then wait about 10-15 minutes for the effects to take hold. The high will conclude in about 90 minutes, which can be less intimidating compared to edibles (that take hours to pass through your system) or smoking (usually produces an intense high upon consumption). Keep reading for our favorite THC-spiked seltzers and what to expect from each.
Only available in California, Wunder's refreshing cans boast just 25-35 calories, as well as two dosage options so you can select the version that best suits your tolerance level. The low-dose Wunder Sessions comes in flavors like Grapefruit Hibiscus and Lemon Ginger, with two milligrams of Delta-9 THC for the mind and two milligrams of Delta-9 THC for the body, for a balanced and relaxing high that's best suited for infrequent cannabis users.
Experienced stoners might prefer Wunder Higher Vibes, which ups the ante with 10 milligrams of Delta-9 THC for the body and 10 milligrams of Delta-9 THC for the mind, with flavors like Blood Orange Bitters and Blackberry Lemon.
For those keen on taking advantage of the benefits of CBD, we recommend Wynk, a low-dose beverage with 2.5 milligrams of THC and 2.5 milligrams of CBD, which is available in various states where adult cannabis-use is legal. Opt for Juicy Mango if you're craving tropical flavors, or go for Lime Twist with a garnish of rosemary if you prefer a zesty pick-me-up. The Black Cherry Fizz lands in the middle of these two options as a not-too-sweet alternative.
Available in various states where adult-use cannabis is legal, Keef has beverage options for just about every occasion, falling into categories of Classic Soda, Energy, Sparkling H2O, Life H2O, and Mocktails. If you're looking for a high-energy option, the Energy drinks contain approximately 90 milligrams of caffeine and between 10 and 100 milligrams of THC, with flavors FLO (tropical fruits) and High Octane (citrus).
If you prefer something more mellow, the Sparkling H2O has 10 milligrams of THC and comes in flavors like Blood Orange and Raspberry, plus a Blackberry Coconut option that's got 10 milligrams of THC and 10 milligrams of CBD. Keef Life H2O has even less calories and sugar than Keef Sparkling H2O. Each bottle contains 100 milligrams of THC and includes a child-proof cap that doubles as an individual serving size.
This women-owned, California-based brand offers tonics and seltzers, with the former meant to aid in sleep and relaxation, and the latter offering sparkling, fruit-forward creations that land at five milligrams of THC and five milligrams of CBD for a nice, balanced high.
In addition to premium cannabis concentrates, Mad Lilly boasts seltzers in flavor combos like Raspberry Hibiscus, Passion Fruit Mango, and Ginger Pear, that are low-calorie, with no added sugars or sweeteners, and made with real fruit juice.
This cheeky, Colorado-born brand has THC seltzers, as well as a selection of Budtender's Reserve beverages with a higher dose for experienced cannasseurs. The low-cal seltzers come in flavors ranging from tart Pomegranate to zesty Grapefruit, including 10 milligrams of THC in each flavor, plus Ginger Basil Limeade, which offers a 1:1 ratio of THC and CBD with five milligrams of each.
The selection of Budtender's Reserve—offered in flavors like Tropical Thunder and Sweet Lemon Tea—are not for the faint of heart, clocking in at a whopping 100 milligrams of THC, alongside 140 milligrams of caffeine, in addition to hydrating electrolytes. Plus, those options utilize a fast-acting water-soluble THC, so you can expect to feel the effects almost instantly.
We might be bending the definition of THC seltzer with the inclusion of this aperitif-based brand, but what is the category of hard seltzer itself if not a rebranding of the late '90s wine cooler movement? In any case, California-based Artet absolutely deserves a mention, especially since it just released a new flavor, Mango Ginger Spritz, a low-cal combination of real mango juice and ginger beer with five milligrams of THC and five milligrams of CBD, that's perfect for slowing down after a strenuous day.
For a different flavor profile, go for the botanical Rosemary Jane, with rosemary simple syrup, Italian grapefruit juice, and sage, plus five milligrams of THC and five milligrams of CBD. If you're interested in building a cannabis bar cart at home, Artet has a delicious, plant-forward flagship aperitif with cardamon, allspice, and chamomile—sure to elevate whatever cocktail you decide to craft with it.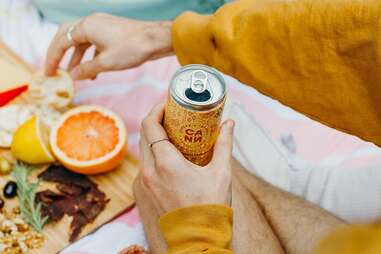 Cann positions itself as "the future of social drinking" and you'll quickly see why upon bringing one of its six-packs to share at your next soiree. With an array of fun, low-cal flavor combinations like Lemon Lavender, Honeydew Mint, Blood Orange Cardamom, and the new Blue Rhuberry (made in collaboration with actor Adam Devine), in a low-dose of two milligrams THC and four milligrams of CBD, Cann is perfect for the occasional 4/20 partaker.
If you're after something stronger, Cann offers Hi Boys in 12-ounce cans (compared to the usual eight-ounce option) with five milligrams of THC—still a fairly low and approachable dosage regardless of your consumption habits. As if that wasn't tempting on its own, Cann offers some of the most affordable party packs you'll find—just $20 for most of its eight-ounce six-packs and 12-ounce four packs.
Danielle Dorsey
is the West Coast Editor at Thrillist. Follow her at @danielledorky on Instagram and Twitter.