The 15 best beers to drink this fall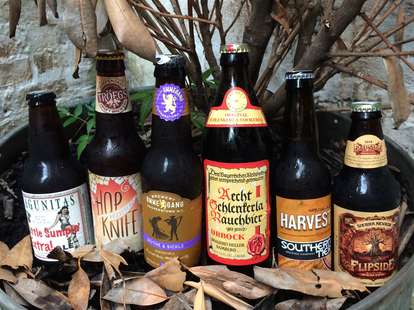 Liz Childers/Thrillist
Liz Childers/Thrillist
[Editor's Note: We're excited to introduce our new beer writer, Zach Mack, who we've long-harassed for his expert opinions since he owns Alphabet City Beer Co., one of Thrillist's favorite beer bars in NYC.]
Congratulations! Despite alarmingly aggressive back-sweat, you survived yet another summer, and light session beers are finally giving way to the heavier, spicier stuff that's only drinkable during the months when you're forced to awkwardly Google "how to wear scarves for men". I picked some of my favorite beers only available around autumn. Drink up, because you'll be Googling "how to deal with winter coat back-sweat" before you know it.

Jolly Pumpkin Fuego del Otono
6.1%; Belgian Ale; Dexter, MI
The hardest part about Jolly Pumpkin is having to explain to everyone that their beers aren't all made with pumpkin. They are, however, all incredibly funky, complex brews, and this one is no exception, with light spicy, woody, barnyard flavors. You could pass this around a room of taste-testers and get hundreds of different descriptors.
Aecht Schlenkerla Rauchbier Urbock
6.5%; ​Rauchbier (smoked beer); Bamberg, Germany
Ask anyone who has tried this beer, and they'll likely describe it as "liquid bacon". It's an intensely rich, smoky "rauchbier" that put the Bamberg brewery on the beer map (they were already on the literal map), where they tap this the first Thursday of October every year.

The Bruery Autumn Maple
10%; "vegetable beer/fruit beer"; Placentia, CA
The Bruery's fall offering is as unique and experimental as you should expect: it's a full-bodied, spicy brew made with yams (instead of pumpkins), nutmeg, cinnamon, allspice, vanilla, maple syrup, and molasses, and it is fermented with traditional Belgian yeast. Don't freak out over the long list of ingredients; like a master chef, Patrick Rue knows how to brew with subtlety. This beer's sleeper skill is how well it pairs with basically every component of Thanksgiving dinner.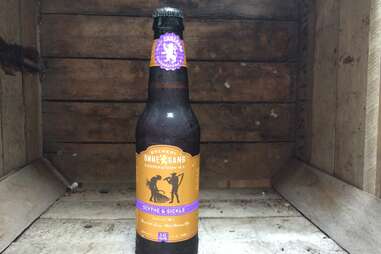 Ommegang Scythe & Sickle
5.8%; "Harvest Ale"/Biere de Garde; Cooperstown, NY
This is one of my newer autumn go-to's: the brewery uses oats, rye, barley, and wheat to accomplish a full, creamy mouthfeel, with the subtle spicy character that Ommegang has mastered. It's one of those beers that just tastes like fall air smells, with dry leaves and hay and all that provincial stuff.

Cigar City Bolita Nut Brown Ale
8%; Strong Brown Ale; Tampa, FL
I'm not convinced that Florida has a great grip on many things in general, least of all the concept of autumn. But they definitely have a grip on how to make a brown ale for fall thanks to Cigar City. It's a truly nutty, malty beer with high ABV that makes it easy to take in slowly, just like the medium-bodied cigar the brewers suggest you should enjoy alongside it [Editor's Note: They make medium-bodied cigars?].
Lagunitas Lil Sumpin' Extra
8.5%; Double IPA; Petaluma, CA/Chicago, IL
Lagunitas recently opened up a satellite brewery in Chicago, which means more of their beer for more parts of the country, including this bad boy. A bright, citrusy, slightly piney nose and a fruity, hoppy taste with a wheat backbone make this the ideal early fall seasonal for hop-heads. Don't expect to down a six-pack while watching football, though: this one clocks in at 8.5% ABV.

Great Divide Fresh Hop Pale Ale
6.1%; Pale Ale; Denver, CO
The Great Divide guys use whole cone hops instead of your typical pelletized hops for this pale ale. The fresh hops give it a beautifully piney nose that smells like Colorado's newly legalized cash crop and a grassy, citrusy taste. As the name suggests, you don't want to sit on this beer: treat it like a Heady Topper or Pliny the Elder and drink it ASAP.
Southern Tier Harvest
6.4%; ESB; Lakewood, NY
I've been saying for years that Southern Tier is one of the most underrated breweries in the Northeast, but it wasn't until I had my first bottle of Harvest that I became 100% convinced of this. Besides the fact that so few brewers use fall as an excuse to make an English-style ESB (Extra Special Bitter), this beer has a gorgeously malty backbone that parties so well with the earthy English hops they use for this seasonal.

Elysian Punkuccino
5%; "Pumpkin Ale"; Seattle, WA
Before you start making another tired Pumpkin Spice Latte joke, hear me out on this one: Dick Cantwell is the pumpkin beer master, with hundreds of his own pumpkin beer recipes and he even hosts an annual pumpkin beer festival in Seattle. This beer's made with cinnamon, nutmeg, pumpkin flesh, and Stumptown coffee, and though the nose may have you feeling like you're about to drink some syrupy, overpriced coffee drink (or at least a girthy imperial stout), one sip will show you how incredibly soft and complex this beer is.
Sierra Nevada Flipside
6.2%; American Amber; Chico, CA
I was crushed when Sierra Nevada discontinued Tumbler as their fall seasonal last year, but the addition of this American Amber has helped me move on (somewhat). True to the style, it has a gorgeous hop aroma with a dark malt backbone and finish that make it a great package deal, flavor-wise. Try it alongside a burrito.

Ayinger Oktober Fest-Marzen
5.8%; Oktoberfest/Marzen; Aying, Germany
Even though this isn't made by one of the traditional breweries that provides Munich with their Oktoberfest beer, it's still one of the best beers you can put in a stein. Bready, biscuity malt flavors with a subtle hint of floral hops make this a standout amongst its very safe, traditional cousins in this beer style.

Founders Breakfast Stout
8.3%; Imperial Stout; Grand Rapids, MI
The day the season's first case of Breakfast Stout arrives is like Christmas morning. It's brewed with oats, giving it an intensely full body, and rounded out with chocolate and coffee. I've yet to find someone who has had it, who doesn't rank this amongst their favorites. Pair it with bacon and eggs, because, trust me, you're going to justify drinking this with breakfast.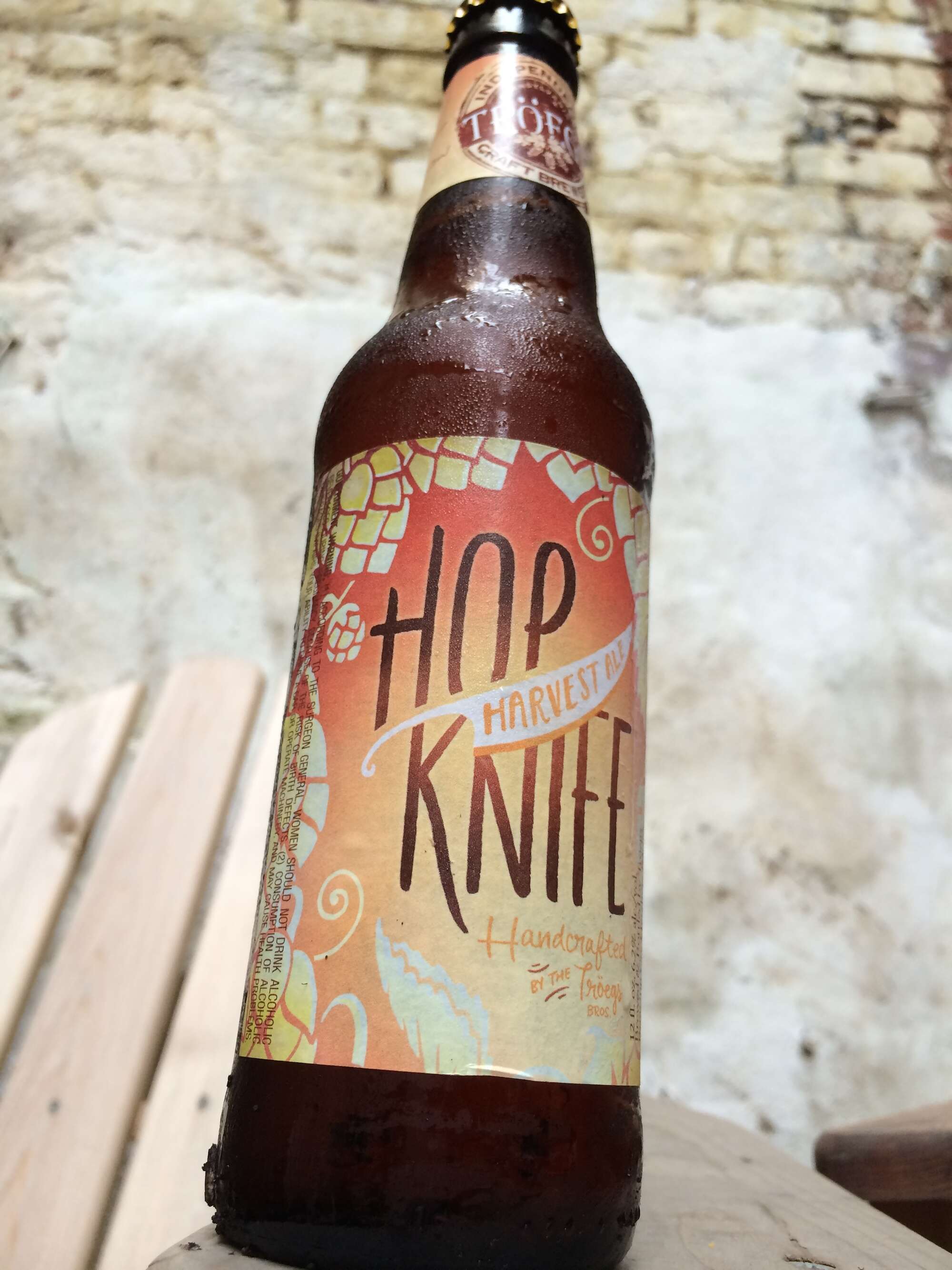 Troegs Hop Knife
6.8%; IPA; Hershey, PA
Even though it's part of a trend of hoppy beers for fall seasonals, this one distinguishes itself thanks to intense hop aromas that give way to a citrusy grapefruit & orange peel flavor with a nice dry finish. It's the perfect post-leaf-raking beer (at least if you're still one of those people who rakes leaves).

Midnight Sun T.R.E.A.T.
7.8%; Imperial Chocolate Pumpkin Porter; Anchorage, AK
Holy trick-or-treat in a glass! This porter is beautifully spicy with cocoa and pumpkin notes in the flavor. Don't be fooled by tasting notes: the balance is perfect, plus it'll make you feel like a kid again (even though you didn't drink beer as a child). And it comes from Alaska!

Firestone Walker Velvet Merlin
5.5%; Stout; Paso Robles, CA
From one of my favorite American breweries, the Merlin is a full-bodied oatmeal stout with a coffee aroma and dark chocolate flavors. This is the first thing I'll reach for when we hit sweater temperatures, and it goes great alongside a bowl of beef chili.
Sign up here for our daily Thrillist email, and get your fix of the best in food/drink/fun.
Zach Mack is Thrillist's contributing beer writer, the owner of Alphabet City Beer Co. in NYC, and absolutely nothing else. If he doesn't have at least three of these beers everyday for the next six weeks, he's going to be even more pissed while shoveling snow. If that was a thing he had to do in NYC. Follow him @zmack.