Not just any ol' sparking wine can refer to itself in the third person as "Champagne." That distinction is only granted if the contents were produced in the Champagne region of France under strict appellation rules, from only a few types of grapes: most commonly pinot noir, pinot meunier, and chardonnay.
So although the foundation of all Champagne is basically the same, fermentation techniques can vary, grapes can be combined in different quantities, and, most importantly, bling can be added to the bottle. These tweaks add up! And the 15 most stupidly expensive bottles of bubbly in the world are prime examples.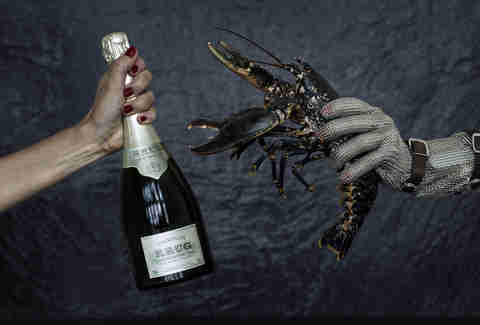 15. 2000 Krug Clos du Mesnil
Average price: $816
Toast the end of the '90s with this Champagne that was made specially for the new millennium. Expect hints of biscuits, nuts, white flowers, and spice courtesy of the vines of the Clos du Mesnil, which has been considered one of the best vineyards in the region since 1698!

14. NV Jacques Selosse Lieux-dits Les Chantereines Grand Cru Avize Extra Brut
Average price: $843
"Extra Brut" means the bubbly is basically unsweetened (less than 0.6% sugar per liter), which is a result of the fermentation process; the yeast is dried as much as it can possibly stand without killing it. Anselme Selosse, the maker, is renowned by wine critics for his attention to terrior -- the geography, geology, and climate where the grapes are grown. So you know that $800+ is so worth it. Probably.
13. 1943 Moët & Chandon Brut
Average price: $997
The historic brand christened its 200th anniversary with this bottle... in 1943. Cheers to longevity.

12. 1996 Bollinger Vieilles Vigne Francaise Blanc de Noirs
Average price: $1,167
​Since this vineyard refuses to modernize, the vines of the black-skinned grapes used in this bottle are ungrafted, which refers to a process that prevents phylloxera, a pesky louse, from ruining all the fruit. Ungrafted wines are said to be superior in flavor and intensity, though that rumor may just be a marketing ploy. Regardless, few wine grapes are grown this way so at least you know you're getting something special!
10. Krug Grande Cuvée
Average price: $1,743
First it was called "Champagne No. 1," then it became the "Krug Private Cuvée," and finally, the latest iteration is called the "Krug Grande Cuvee." It's a nonvintage Champagne, which means it's made from the grapes of many years' harvests. The latest release is under $200, by some older ones will go at auction for close to $2k.

9. Krug Brut David Sugar Engraved 'Quail Design in Flowering Tree'
Average price: $1,801
You know how you used to display alcohol bottles in your college dorm room like trophies? Well, allow this limited-edition engraved bottle to put your handles of Popov to shame.
8. Boërl & Kroff Brut Rose
Average price: $2,000
This is a Champagne rosé, which fluctuates in price according to fashion. At the moment, rosé is, in the words of a character from a popular American action comedy film, "so hot right now" and, therefore, selling at a high price tag. And the color is a result of adding a little red wine in with the existing white.
7. Krug Clos d'Ambonnay
Average price: $2,273
Known for an intense aroma and rich color, it's Krug Champagne house's top Champagne and one of the most popular in the whole region!

6. Moët & Chandon Dom Perignon White Gold
Average price: $2,353
There's no doubt that the maker is respected, but you're mostly paying for the bottle. A laser-engraved white gold-plated bottle, to be sure, but a bottle nonetheless.
5. Boërl & Kroff Brut
Average price: $2,580
Boërl & Kroff is known for its superb vineyards that used to belong to Charles de Gaulle. You know, the airport guy.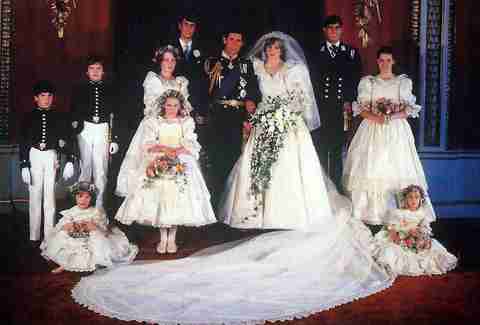 4. 1961 Moet & Chandon Charles & Diana Dom Perignon
Average price: $3,363
This Champagne was chosen for Prince Charles and Princess Diana's wedding, hence the name. After the nuptials, a handful of commemorative bottles were produced as mementos for the starry-eyed public. Today, they are sought after by collectors.

3. Krug 1928
Average price: $21,000
In 2009, this rare vintage broke the world record for the most expensive Champagne sold at auction. The winning bidder bought it for $21,000, because apparently there is no better use for $21,000. Allegedly, the weather of 1928 presented perfect Champagne-making conditions, which is why this particular year sells at such astronomical prices.

2. Shipwrecked 1907 Heidsieck
Average price: $275,000
Two thousand bottles were found at the bottom of the ocean in a ship -- destroyed by a German sub -- en route to the grand halls of Tsar Nicholas II of Russia. They're now sold at auctions across the globe to collectors who presumably want to party like rock tsars (see what we did there??).
1. Goût de Diamants, Taste of Diamonds
Average price: $1.8 million
Come for the Champagne, stay for the sexy Alexander Amosu-designed bottle, which includes a 19-karat diamond and your name engraved in gold. It's excess, embodied. (Embottled? Nope.)
Sign up here for our daily Thrillist email, and get your fix of the best in food/drink/fun.
Kara King is a Production Assistant at Thrillist and drinks Charles Shaw, exclusively. Follow her budget-friendly tweets at @karatillie.