Jennifer Bui/Thrillist 
The 31 Greatest Bar Names in America
What makes a great bar name?
First off: a great bar. You can have the greatest, most singular, most place-appropriate, wink-wink evocative singsong goddamn happy drunken tap-dancing reverie of a bar name ever, but if the bar sucks, it doesn't matter. You're dead. Likewise, you can have a completely utilitarian handle and still have a great bar that runs across the ages like a liquor-scented perpetual motion machine.
Then there are those places that manage to be both great bars and have great names. If "bifecta" was a word, we'd say they hit the bifecta. Jumbo's Clown Room in LA. The Billy Goat in Chicago. Lee Harvey's in Dallas. Bifectas!
But, again, what makes a great bar name? To find out, we polled our editors and writers, pored over data from our friends at the city guide app Foursquare, made a bunch of phone calls to bar owners around the country, and wound up with the list below. The rules were simple: the names had to be completely unique. Nothing generic, no bars named (only) after owners, or streets, or neighborhoods, however great the bars may be. And yes, they had to be great bars with great stories.
Also, in an attempt to be even remotely scientific about it, we called Jon Taffer of Bar Rescue fame to critique what we came up with as we went -- for good ("that is a great one") or ill ("picking a name like that would probably make someone an idiot"). Then we got carried away and worked with Foursquare again to figure out the most common bar names in America, which Taffer proceeded to kick the hell out of.
But enough backstory. Here are the 31 best bar names in America, in no particular order. As always, feel free to go off on us in the comments. Or better yet, nominate your own picks.
Las Vegas, NV
Rose Signor (general manager): "The name came about in the '50s when customers would go onto the roof and watch the atomic bombs go off at the Nevada Test Site 40 or 50 miles North. They would watch them like fireworks. That's the 'Atomic.' As for 'Liquors,' under the prior ownership, it was a bar and a packaged liquor store. People still wander in thinking it's a liquor store all the time. We're still grandfathered into the license. We actually have the seventh liquor license in all of Las Vegas -- the six prior are casinos -- making us the oldest bar in the city. We'd never change the name. It's a part of Las Vegas history. We're even partnered with the National Atomic Testing Museum."
Philadelphia, PA
Rose Capozzoli (co-owner): "Well, it used to just be Ray's Bar. When people walked through the door, my father-in-law Ray used to sing happy birthday to them instead of saying hello. So when he died, we changed the name to Ray's Happy Birthday Bar. That was in '97. Today, when it's your birthday, you're entitled to a free shot of cake vodka. We have a little cup with a candle in it and there's a bell the bartenders ring. They'll start singing. And then we take your picture with a big hat and the candle and put it on Facebook. We post hundreds a year. We're here every day and every night. And we're open at 7 in the morning! It goes on and on and on."
Jon Taffer's take: "This is a great one."
Dallas, TX
Seth Smith (owner): "When we were coming up with names, it came back to me that about 15 years earlier, I had thought, 'If I ever get a bar, I'll name it Lee Harvey's.' I ran it past a few people and they were like, 'Well you might make people mad,' and I said, 'I don't think I will.' It usually gets a chuckle. Dallas has always had such guilt about the assassination of President Kennedy, but it's gone through a huge transformation. There's now a roller derby team called Assassination City. Enough time has gone by to own what has happened.
"But it's just a name. It's not Lee Harvey Oswald. We leave that open for interpretation. We like to walk up to the line but not step over it.
"I'm more surprised by the people who don't understand the name. They go, 'What's it named after?' And while it's just a name, they can't make the connection. It worries you about people learning history. I'll meet Australian people who'll ask me, 'You mean to tell me mate, you own a pub in Dallas, Texas, called Lee Harvey's?' It's funny, you can go to the other side of the world and people get it, but some of the younger kids here don't.
"But again, it's not Lee Harvey Oswald. It could be Lee Harvey Johnson."
Saratoga Springs, NY
Jim Stanley (owner): "I bought the business from the guys who originally owned it in 1990. We were all stoned one night and just came up with the name. I'd like to tell you it was something more romantic than that, but it wasn't. You gotta remember this was '69 and everybody was smoking pot and tripping. The guys that owned it came from Burlington, Vermont. They were just loaded and the name sort of popped out. I don't even remember who came up with the name. It was so long ago. But it's staying."
Brooklyn, NY
Frank Moe (owner): "The name comes from a barbecue restaurant that used to be on Vanderbilt Avenue, which is just a few blocks away. The owner had these big yellow and black murals painted in several places in the neighborhood. They're all kind of cryptic. They'd say something like, "No frying. No fat. No oil. Hot Bird." There's no address. Just, like: "Four Blocks Back." The barbecue place itself has been gone for 20 years, but the murals remained, and to the new people in the neighborhood, they became kind of iconic. My bar used to be an old gas station, and one of the murals was on the building behind it. So when you looked at the garage, you saw this big mural. When I decided to open the bar I was thinking of what name I should use. A friend of mine kept talking about how great it would be to use the name Hot Bird.
"Sadly, three years ago the owner of the building where the mural was painted it over. She said she had kind of rented the wall for the sign, but the owner of the restaurant never paid her for it and she was pissed. I don't know what prompted her after all these years to have it painted over. She said it was ugly."
Taffer's take on pulling from the neighborhood's past: "In some cases, on Bar Rescue, we'll attach ourselves to something that has local significance. That can give it authenticity. But it doesn't necessarily make it cool -- that's the bar's job." Having spent a great deal of time there, however, we editors can in fact say that Hot Bird is cool.
Madison, WI
Michael Banas (co-owner): "Basically, we sat around a table and were coming up with bar names that were not working for us. Then we decided to use animal names, kind of a joke, and we were talking about the cow. We got on the subject of cow tipping, and then the Tipsy Cow came up. The customers got behind the name, they love it. We even have vendors asking us, 'Wait, what's your name?' We tell them, 'The Tipsy Cow,' and they say, 'Oh man, that's so perfect.'" [Thrillist: Did you ever go cow tipping?] "It was fun, it was something to do."
San Francisco, CA
Jason Kirmse (co-owner): "We had hopes of opening a traditional Chinese hand-pulled noodle shop. (Co-owner) Cyrick Hia knew of a noodle master in the town of Taishan in the Southern Guangdong province who he had been visiting on his yearly trips to China. We decided he'd be the noodle chef so we went to China for a month, courting him to come back and open up shop in SF. After three trips, an immigration attorney, and a really bad visa interview, the noodle chef was denied his golden ticket and we came back empty handed. As we were on the way to the airport, Cyrick noticed a crane taking a sign down off a building that said '胖天使' or 'pàng tiānshǐ,' which means 'fat angel.' So we decided that would be the name of plan B: a beer and wine bar named Fat Angel."
Nashville, TN
Jesse Lee (owner): "Robert Wayne Moore at one time or another has owned or operated every one of the honky tonks on the 400 block of the historic district of Lower Broadway. In the early '90s, he was the owner and operator of Tootsie's Orchid Lounge, which was a self-proclaimed world-famous, #1 honky tonk in the world, but it was in a time of depression and crime downtown.
"So he sold Tootsie's, and moved down three doors to open what he called Rhinestone Western Wear. He said he was done with the honky-tonk business. He had shirts, belts, hats, saddles, and boots all lining both of the walls. But slowly, slowly, the racks, the shirts, and the hats began to disappear. And then there were booths. And then he's selling Busch beer and PBRs and the place, all of a sudden, is a bar. Bands started to play there. You had names like Lucinda Williams and the guys who started BR549. All of a sudden it became Robert's Bar. And then it became Robert's Room. And then Three Doors Down, because it was three doors down from Tootsie's. And then from there, finally, it was Robert's Western World. He named it.
"I bought it on August 5th of 1999. I kept the name. Everything was so rough around the edges and so Westerly, so old-fashioned and real. I fell in love with it. I fell in love with it with all my heart."
Taffer's take: "Legacy matters in bars. The trendier a bar is, the shorter its life will be."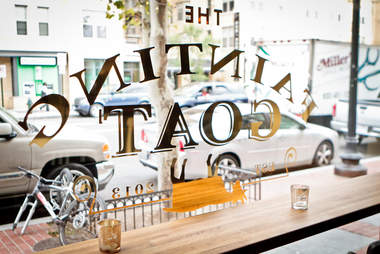 Courtesy of Shauna Alexander
Washington, DC
Adam Kily (manager): "It started out just as a nickname for one of our owners, Greg Algie. He was nervous around girls, so his friends would always say when Greg was around girls, he would turn into a fainting goat. Customers ask about it quite frequently. People always look up the myotonic goats, because there's so many videos of that online. As for Greg? He takes it in stride. He knows himself. He accepts it. He's very funny about it."
Seattle, WA
Brian Rauschenbach (co-owner): "There's one celebrated event in Seattle Mariners history. They've had losing seasons in like 26 out of the last 38 years. But in 1995 they won the division championship. They beat the Yankees in game five. That's the "95." The "Slide" is in reference to Ken Griffey Jr., who slid into home plate in the 11th inning to clinch the series. Every Mariners fan knows what the name means. It was one of the most iconic moments in the team's history. If they're true fans, they're definitely tuned into the reference."
San Francisco, CA
In 1933, a little-known American professional tennis player named John Murio beat Saskatchewan Sports Hall of Famer Walter Martin to win the Canadian Open. And though Murio never won another major tennis tournament (no, the 1936 British Columbia Championship doesn't count), he did collect a lot of hardware in his time on the court. Apparently, when he retired he needed somewhere to put it, so he opened a grand little dive on Haight Street in San Francisco in 1959 that has seen its share of famous hippie (Janis Joplin) and non-hippie regulars (Joe Strummer from The Clash). And though he passed away in the '90s and the place has since been purchased and redone, the tennis trophies have stayed right there. Looks like you lose again, Walter Martin.
Old Saybrook, CT
Harry Corning (owner): "It was a nickname that someone tagged on the place in the late '50s, early '60s. It used to be called The Saybrook Inn, but the place was run very haphazardly. As the legend goes, somebody mentioned that this place is nothing but a monkey farm. And the name kinda stuck. When I took over in '68, I eventually changed the trade name to Monkey Farm because I thought it was a catchy name that people wouldn't forget."
David Corning (son of Harry): "There are lots of different versions of the story, but basically, the previous owner was a bit of a drinker. He would often hand someone the keys saying he was going to the bank, and show up again three days later."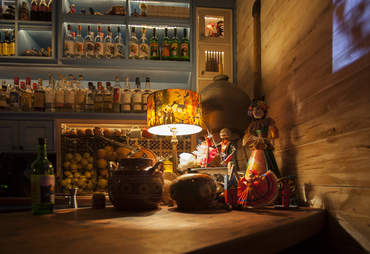 Courtesy of Julie Soefer Photography/Pastry War
Houston, TX
Lindsey Brown (publicist): "It's named after an 1838 conflict when a French bakery was destroyed in Mexico City by Mexican officials. When Mexico refused France's requests for compensation, the disagreement escalated into a short military conflict between the two countries. The owner here, Bobby Heugel, had been reading a lot about Mexican history when he came up with the name and, oddly, never considered anything else."
Francisco Terrazas (general manager): "We're all well versed in the recitation of the actual Pastry War, since people ask about it at least five times a shift. And we definitely get a lot of inquiries about the 'pastries,' or clever customers who are in on the joke and immediately ask for a dozen. We also get several calls per week asking if we accept reservations late night for dessert."
Taffer's take on poaching names from history: "Don't pick anything that ties you too much to a time or a particular era. I wouldn't do the Obama Bar today, for example, because in 18 months he won't be president anymore. You're better off with what we'll affectionately call the dead guys. They don't get older and they don't cause problems." Same goes for historical events.
Cambridge, MA
Robert Blair (owner): "It started with Howie Carr [a local conservative commentator]. I think he coined the phrase "The People's Republic of Cambridge." He used to use it on his radio show in a not-very-flattering way. So around 1997, I was trying to think of a name for this bar I'd just bought, and someone said 'What about the People's Republic?' It intrigued me and made me laugh, the idea of taking the name and using it for positive rather than negative.
"So we went with it. And then the city wouldn't let us use the name. There were three votes: the chairman of the liquor license commission, the fire chief, and the police chief. And the fire chief and the police chief voted against it. I think it was basically the fire chief opposing us. He was a Korean War vet. I was trying to explain that this is positive, we're proud to be liberals, we're proud to be from the People's Republic of Cambridge, but he just couldn't get past it. It's understandable. The guy was probably shot at by communists in Korea.
"One of my friends was a reporter with the Boston Globe, so I mentioned it to her and she wrote a story about it. Then more media outlets covered it. Eventually the assistant of the chairman of the liquor license commission phoned me and asked me to reapply. I did, and they voted 2-1 in my favor.
Anyone who's lived in Cambridge for any length of time understood the name immediately. Maybe once or twice in 18 years I've heard people say, 'That's a communist bar.' They don't get it. It's a joke. It's not real."
Minneapolis, MN
Joanne Plong (graphic designer for the bar): "The owner, Leslie Bock, has a few different places -- Saint Sabrina's, which is a tattoo shop, Donny Dirk's Zombie Den, Undead Frank's Zombie Bites, and Betty Danger's Country Club. She's created this fictitious dysfunctional family. They each have their own persona. Psycho Suzi is the second-oldest sister. The story is she went on vacation with family and got shipwrecked. She kinda went insane, and when she came back to Minneapolis, she decided to open a Tiki place where people with tattoos could drink, eat pizza -- all those good Minnesota things."
Taffer's take: "A great name does two things: it gets your attention, and it positions your bar. Positioning your bar can mean a lot of things. It can make it classy, it can make it rebellious, it can make it fun. Your party bars should be fun. Otto's Shrunken Head in New York [see below]: you know that bar's gonna be fun. Psycho Suzi's: you know it's gonna be fun."
Austin, TX
Will Thompson (bartender): "If you've ever visited Austin before, the grackle is kind of the native bird to the area. They're a lot like a crow or a raven. They're inquisitive and smart but kind of a nuisance -- they make these really unique noises. The patio was covered with them before they even conceived the bar."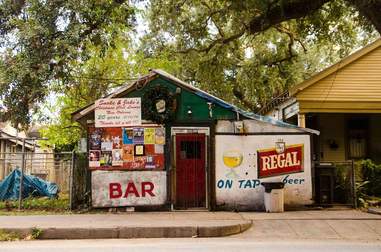 Scott Gold/Thrillist
New Orleans, LA
Dave Clements (owner): "When my partner and I bought the property many, many years ago, it was an existing bar called S&J. It had a sign up. We also had the sign from the previous bar, which was The Christmas Lounge, named after a man called Sam Christmas. They had Christmas lights in there, but it was actually his last name. I didn't find that out for years until he was riding down the street one day, and some guy went, 'There goes Sam Christmas!' And I go, 'What?' I really can't remember who came up with the combination, but 'Snake and Jake's Christmas Club Lounge' sort of rolled off the tongue. So that's what we named the bar."
Portland, OR
Kip Johnson (co-owner): "Before it was Bar of the Gods, it was a hardcore gay bar called The Crow. And it was such a dank, rundown kind of hole in the wall. There wasn't a single window in the place except for a tiny little circular window in the front door. It closed in 1996, and Bar of the Gods opened. I think it was a guy named John who came up with the name. He didn't work there. He was just a friend of the old owner, Phil. They thought, there's gotta be something the polar opposite of The Crow. Something that would make it sound romantic and outlandish. Plus Bar of the Gods is a reference to the Bridge of the Gods, which runs between Washington and Oregon. I started working there in 1997, and we ended up buying it in '09.
"The previous bar did leave a few things that we kept around. There were some statues that were sort of Greek. One of them is two guys wrestling naked, grabbing each other all over the place. That hangs out behind the bar. It's kind of an ode to The Crow."
New York, NY
Ravi DeRossi (co-founder): "During Prohibition, they would say if you're drinking, you're keeping company with death. You were living in the shadow of it. When we started conception on the bar, we didn't have a name, but we knew it was going to be pre-Prohibition cocktails. My business partner David Kaplan's girlfriend at the time had found this old plaque featuring some old Prohibition-era government propaganda. It was a story called 'The Devil's Toboggan Slide.' This guy is mad, drinking, going down a steep slope. First he goes through the whorehouse, then the bar, and so on. He's drinking alcohol the whole time, and at the bottom it says, 'Death and Company.' When he brought it and showed it to me, it was just an epiphany."
Taffer's take: "Interesting."
Tucson, AZ
Kate Johnston (co-owner): "The other co-owner, Steph, has worked in bars most of her life and had been accustomed to being called wench, but aside from that, there's not much to the story as far as how we chose the name. It just felt right for what we wanted to create. We are two women with crazy pasts, skilled in the art of sarcasm, who were given the opportunity to build something that felt authentic to us."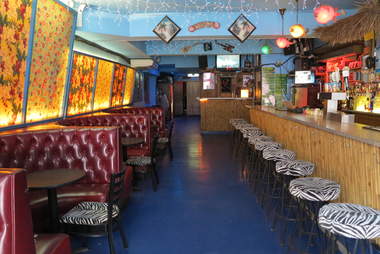 Courtesy of Steve Pang/Otto's
New York, NY
Nell Mellon (co-owner): "We were thinking, 'Well, what are some of the less common male names out there?' Well, Otto. There's a guy named Otto in the Tiki subculture, and also we're Simpsons fans, so there's Otto Mann, the bus driver. Then we had a column of common adjectives used in Tiki bars. We took a little of this from A, and this from B, and this from C. It was kind of like Mad Libs, and came up with Otto's Shrunken Head. Some people do ask about it. They'll say, "Who's Otto?" And we have a shrunken head so we say, "That's him. He's at the end of his journey."
Philadelphia, PA
Lê (owner): "Hop Sing is a character on the TV show Bonanza. On the show, every time he got into an argument with the Cartwright family, who he worked for, he would threaten to quit and move to Virginia City in Nevada to open a laundromat with his cousin. He just wanted to be at a place where he was no longer working for someone, but he never did, because the show got cancelled, so I thought I'd open one for him. Plus, the bar's in Chinatown, so I thought maybe we could name it after one of the well-known Chinese characters -- as a sign of respect."
Somewhere outside of Lolo, MT
Patricia Larkin (co-owner, with her husband): "It was originally called The Lumberjack, and it was built in 1974 by Don and Mary Ellen Babcock. Don was a lumberjack, and the place was built by lumberjacks. It was built for the logging camps near here -- the nearest town is Lolo, and it's 17 miles away. The bar itself is a giant log, carved out in the back in order to facilitate the sinks in the bar. It was laid down on the foundation and then the building -- unfinished red cedar, inside and out -- was built around it. The bar stools were carved by the lumberjacks who came here so they would have someplace to sit.
"My husband Stuart has owned it for 18 of the last 22 years. The bar was changed to The Jack Saloon in the early 1990s, and then it was sold again and renamed the Lumberjack, and then in 2013 it went back to the name The Jack Saloon. It's essentially known as The Jack." It's also for sale.
Brooklyn, NY
Will Adams (bartender): "The owner was one of the first TV chefs from Brooklyn, his name is Alan Harding. He came up with the name. It's tongue-in-cheek because, especially 16 years ago, the Gowanus Canal was the grossest thing. Even worse than it is now. One of the more amusing things that happens here -- probably about two or three times a season -- is that out-of-towners who are actual members of yacht clubs, sometimes dressed in suits and ties and evening wear, walk in, and are horrified. From there it's 50/50. They'll either realize immediately what's going on and have fun with it, or be upset and leave."
Los Angeles, CA
You don't have to think too hard on why Smog Cutter, a dive oasis in the middle of congested LA, is an awesome name -- and that's a good thing too, because repeated calls to the karaoke bar resulted in such responses as, "I don't know what you're talking about" and "[The manager] won't call you back." As anyone who's frequented the spot could tell you, the place communicates better through slurred song, anyway.
Chicago, IL
Most bars are run by characters, but the Billy Goat might have had the quirkiest one of all. William "Billy Goat" Sianis acquired the Chicago bar in 1934 and soon changed the name to reflect his own nickname, Billy Goat. Why did people call him Billy Goat? Because he kept an actual goat that wandered into the bar. He even grew a goatee so he could look like his farmyard pet. He later put a curse on the Cubs when they wouldn't let him bring the goat into Wrigley Field. The Cubbies haven't won a Series since. The bar's current owner was stubbornly not available for comment.
Los Angeles, CA
We know it started as a neighborhood bar in 1970. We know it switched to pole dancing in 1982. We know that they pour strong drinks and have pictures of modestly sad clowns on the walls, and allow the strippers to just pick songs they like on the jukebox. We've heard whispers that it was started by a former circus clown named "Jumbo Jack," who just wanted a regular bar with pictures of clowns on the walls and ladies cavorting. But, despite six calls to the establishment, we couldn't find one person who could get beyond: "Yeah, that sounds about right." Though it kind of does, doesn't it?
Taffer's take: "One of my favorites. Great name. I love this one. It's a nationally marketable name."
New York, NY
Doug Thompson (bartender): "It comes from three things. The first part is from the original owner, Marie Dumont. The "Crisis" comes from Thomas Paine's The American Crisis, because he died on this spot. There's a historical plaque outside and everything. And "Cafe" is what the place was when it opened in the '20s, before it became a piano bar in the '70s."
Taffer's take: "It's great, and I'll tell you what's great about it: everyone wants to be somewhere that's relevant. And when you hear a story like that with a connection to society, you feel like you're in a relevant place. And that matters."
Nantucket, MA
Don Kolp (general manager): "The bar opened in 1972, and the original owner, Arty Krause, was a gay thespian. In the '70s, I don't think gay people were accepted anywhere, and Arty's vision for the restaurant was not the norm, either. But the explanation for the name is on our menu: 'The Brotherhood of Thieves, was taken from the title of an 1844 pamphlet written on Nantucket by Stephen S. Foster. The pamphlet vigorously attacked those who continued to support the institution of slavery, even as the tide of abolition rose. Diversity and strong opinion have always found a tolerant home on the island. During the Revolutionary War, Patriots, Tories, and Quaker pacifists coexisted here and pleaded, unsuccessfully, for neutrality. A unique spirit developed here, one based on uncompromising independence and strength of character. Today, on Nantucket, the idea of rugged individualism, personal liberty, and the fostering of eccentricity still exists and continues to thrive.'"
Galveston, TX
The kind of place Charles Dickens might name, if someone gave him a Texas bar instead of hundreds of bleak pages to fill. Hard Times, we understand, is a great bar for anyone who wants to shoot pool over some Bob Seger. It also features at least one very patient bartender, who took no less than 10 calls from us asking for the mysterious owner, who apparently has not been seen for days. If you spot him, please send help.
The Pitch & Roll
Formerly of Alaska
It is no longer with us, but having spent a great deal of time thinking about bar names, we feel The Pitch & Roll merits inclusion. When it ran, until its funding was cut recently by the Alaska Marine Highway System, it was a bar on the Tustumena, a ferry that carries people through the rough waters around the Aleutian chain to Dutch Harbor. It was reputed to be a great bar. And one with a great name. One that functions on a literal and figurative level, gets a laugh, and can't be forgotten. In other words, someone should revive it, pronto.
Additional research by Ellen Keohane.
Appendix: The most common bar names in America, according to Foursquare
Numbers are approximate and subject to change.
The Pour House: 40 bars
The Bar: 37
The Office: 26
On the Rocks: 25
Tiki Bar: 24
Shooters: 23
Moose Lodge: 18
R Bar: 18
The Pub: 18
The Spot: 17
The Tavern: 17
Corner Bar: 16
Jon Taffer, on common bar names: "As an owner, I think it's all downside. First of all, I can't get a trademark on it because it's used all over the place. A name has to be unique enough that you can trademark it and own your brand. Otherwise, look: pull up a Pour House online, and there will be terrible write-ups from people all over the country reviewing the wrong Pour House. There are some shitty Pour Houses out there. Now you have baggage from other people. I'd rather the brand be established by me. Controlled by me. And not some bar on the other side of town that's affecting my reputation."
Us, on the upside: Hey, at least you know it's a bar.