The 7 Beers Jeppe From Evil Twin Can't Live Without
It's tough to pick your favorite beers, especially when you make a ton of them yourself, and have been in the industry in general for a really long time. But it's not difficult because I don't like everyone else's beers -- it's because I like too many of everyone else's beers. But these are the seven that I have either been into forever, or am really into right now.
Crooked Stave Surette
6.2%
Denver, CO
All-year beer, saison, dry, funky, tart, easy, drinkable, refreshing, balanced, not the beer that makes you say "this is crazy, man," but some beers are so well made, so well crafted... you're just like, shit, this is fucking perfect. It's so tasty every time, and it gives you exactly what you need.
Orval Trappist Ale
6.2%
Villers-devant-Orval, Belgium
This is the most obvious one for me. It was one of the first beers that I had when I got into craft beer. I always call Orval magic, because it goes from being a hoppy, refreshing blonde ale to a funky, earthy, weird beer, because of the Brett. So if you drink it after two weeks, after a year, after two years, it's so different. And I love that. To me, it's one of the most perfect beers made, because I love hops, it has that, it's funky, I love that. I love the sharpness, but it gets more round over time. It's got everything I love about beer.

Firestone Pivo Pils
5.3%
Paso Robles, CA
Just a fucking perfect lager. It's probably the beer other than my own that I drink the most. You can get a six-pack from the local deli, and it just tastes awesome. Nothing sticks out, just rounded, and balanced, and just perfect.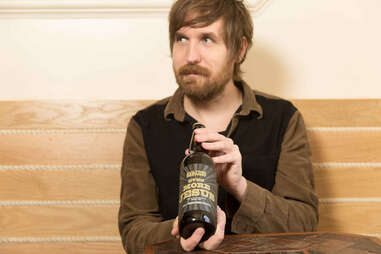 Evil Twin Even More Jesus
12%
Brooklyn, NY
It's not the beer I drink most, by far -- I mean, it's a 12% stout. It's so over the top. I wouldn't even say it's the beer I enjoy the most of my own. But I really think it's the most perfect beer I've ever made. It doesn't have any coffee or anything like that, it's big, it's luscious, it's crazy, but you can still drink three bottles of it. I mean, it's weird because I'm talking about my own beer now, but it has the perfect balance between roastiness, and sweetness, and a little bit of smoke. It's very balanced, very smooth, very drinkable. I haven't had a lot of big imperial stouts that I enjoy more, and that's just fine.

Girardin Gueuze Black Label
5%
Sint Ulriks-Kapelle, Belgium
Very classy gueuze, made in Belgium in Pajottenland, where you make lambic. Just a fucking perfectly balanced gueuze. Amazing. I mean, it just has what a gueuze should have. It's so old school, it's so not trendy, but it's so perfect, so well crafted. For me to name my favorite beers, it's difficult of course. But a lot of people say, oh I love Dark Lord, I love all these over-the-top beers because they're fun and crazy and all that, but for me, I've been in the beer industry a long time, so it's all about finding the perfect balance. You find this beer, and it's only 4.5% or whatever, and there's not that much going on, but it's just well made, and so well thought out, that's what means more to me.
De Dolle Stille Nacht
12%
Esen, Belgium
I think it was the first Christmas beer made in Belgium. It was made by De Dolle Brouwers, which means "the mad brewers." It was a beer that was brewed for the first time in maybe 1982, it's over the top, it's 12% alcohol, and it's sweet as shit. But it comes out every year, and I find myself so excited every year. It's kinda the Mother of Christmas beers to me, it's just so unique, and so different, and has so much going on. It's perfectly made in so many ways.

Jolly Pumpkin Baudelaire iO
6.8%
Dexter, MI
It's a saison brewed with, I think, hibiscus. I love Jolly Pumpkin, they're one of my favorite brewers of all time. Their yeast, their house yeast, which has the funk and everything, combined with the barrel-aging thing they do, it just appeals to me a lot. I mean, all Jolly Pumpkin beers are awesome, but the first time I had this one, it was like, this is almost perfection in a beer.
Jeppe Jarnit-Bjergsø is the founder of Evil Twin, the owner of Tørst, and has a pretty great beard. Follow him: @eviltwinbrewing.