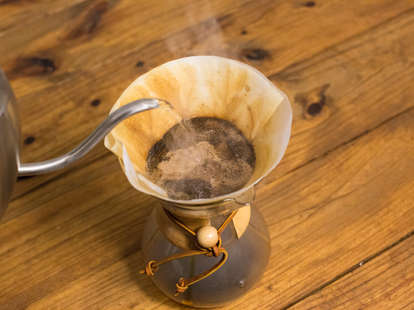 Everyone has their preferred method and maker for home-brewed coffee, but which way yields the best flavor is constantly up for debate. Sure, people assume Chemex coffee is mellower than French press, but is it true? To definitively find out the best way to make coffee at home, we blind tested seven different coffee making devices: a French press, AeroPress, Chemex, Kalita Wave, an auto drip brewer, Moka stovetop espresso, and a single-serving Keurig.
We enlisted Lorenzo Perkins -- a member of the Barista Guild Executive Council and owner of forthcoming Austin, TX cafe Fleet Coffee -- to ensure each coffee was brewed correctly, and we brewed two kinds of beans -- a bold Starbucks Breakfast Blend and more subtle Counter Culture La Voz -- since different coffees are sometimes better suited to different methods.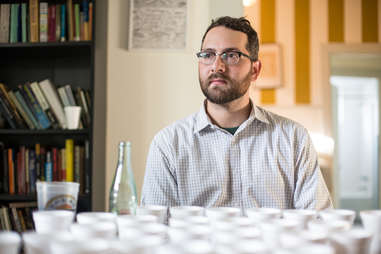 The participants:
1. An espresso lover
2. An all-day-long drinker
3. An old-school cream and sugar type
4. A non-coffee drinker
5. A champion barista
6. A budding coffee nerd (yours truly)
The process:
1. The tasters received seven cups of coffee, each brewed using a different method.
2. Each cup was then ranked from best to worst. Each ranking was assigned a point value (first place earned seven points, second place earned six, and so on).
3. The process was repeated with the second kind of bean.
4. Scores were tallied and ranked.
Here are the results.
7. Keurig K-Cup Coffee Maker, 24 points
We loaded up the K-Cup machine with a pod that allows you to use your own coffee and hoped for the best. Although our cream and sugar fan rated this well because the mildness would pair well with sweeteners, most others thought the brew was flat, flavorless, and watery. The most fitting description was "bank lobby coffee."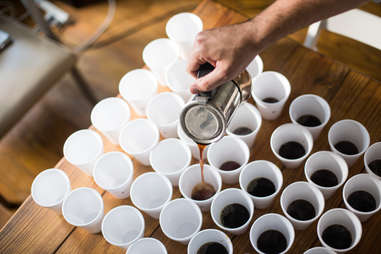 6. Moka stovetop espresso maker, 35 points
For our espresso drinker who liked to chew her coffee, this ranked highly. Others didn't enjoy the sediment that gathered at the bottom of the cups. The darker beans had a motor oil quality, while the lighter roast dialed up the fruitiness to mouth-puckering levels, so both ends of the spectrum suffered.

5. Auto drip coffee brewer, 44 points
Across the board our tasters found this to be stronger and more bitter than other brews, which worked with some palates, but offended others. Our coffee newbie thought this was more of an expert-level coffee due to the oiliness and sharpness, which was surprising because auto drip machines are the most commonly used of all these methods.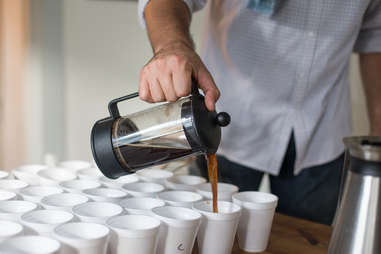 4. French press, 51 points
Generally considered a gateway method to manual pourovers, the French press resulted in a flavor profile that was much nuttier, but the acidity was toned way down. Despite the thicker body, most of the jury thought it was more neutral and less vibrant. Surprisingly, several tasters noted alkaline flavors and correctly guessed that this method didn't use a paper filter.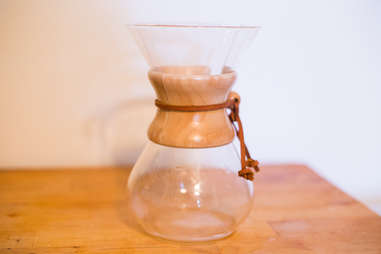 3. Kalita Wave, 55 points
Although it sounds like a super fancy method, the Kalita Wave is basically just the same type of hopper you'd see in a Mr. Coffee maker, except you place it directly over your cup and pour the water yourself. The consensus was that the coffee was well-balanced, but a little bland, which worked to tone down the darker coffee but didn't bring out enough flavor from the lighter one.

2. Chemex, 57 points
The only coffee maker with a permanent space in the Museum of Modern Art, the Chemex is an elegant vase-looking pourover method that's great for making large batches. The non-coffee drinker in the group ranked this last, equating it to a sour beer. Others agreed with the sour beer sentiment, but found that the coffee sweetened as it cooled and was still strong, but with a smoother texture and not as overly-aggressive as some of the other methods.
1. AeroPress, 70 points
Invented by the maker of the Aerobie Frisbee, the AeroPress has been a cult gadget among coffee nerds for some time, and, if our jury's tastes are any indication, should be a welcome addition to anyone's coffee-making arsenal. It won by a landslide because of its ability to help roasted characteristics shine through without the bitterness, while accentuating the oily, flavorful aspects of the darker beans. It also cooled better than the others, retaining bold notes at lukewarm temperatures, balanced by an underlying sweetness that endeared it to even our cream and sugar fan.

Conclusion:
There will always be coffee-is-coffee skeptics out there, but our entire jury was surprised by just how diverse the same coffee could taste when prepared different ways. Although the AeroPress won this test by a mile, it's important to note that it didn't receive first place votes across the board, but it was hands-down the most consistently pleasing across a wide array of palates. It's worth paying attention to how you brew! And maybe consider kicking K-cups.
Sign up here for our daily Thrillist email, and get your fix of the best in food/drink/fun.
Dan Gentile is a staff writer at Thrillist. He'd like to apologize to all the sleep schedules of all of the taste testers. Follow him to cleaning up his kitchen at @Dannosphere.