Athletic Brewing Co. makes several non-alcoholic craft beers.

| Design by Frannie Jiranek for Thrillist
Athletic Brewing Co. makes several non-alcoholic craft beers.

| Design by Frannie Jiranek for Thrillist
Stop me if you've heard this one before. A guy quits his corporate job to start a craft brewery. At first, distributors ignore his calls. He takes hundreds of meetings with potential investors, and whips up endless batches of homebrew to fine-tune his recipe. His friends tell him he's crazy, that the odds are against him, that he should walk away. Who's gonna drink that stuff? they say.
The craft brewery origin myth is so cliche by now that it's a bit mind-numbing. But stay with me, because this one has a twist. At Athletic Brewing, the story is mostly the same, but the beers -- IPAs, lagers, and stouts in handsome boutique labels -- are different. They're non-alcoholic, and they're flying off the shelves.
"I was getting a delivery [of Athletic] and someone bought a 12-pack right out of guy's van, essentially," said Dan Lamonaca, owner of Brooklyn's well-curated Beer Karma bottle shop. (They mostly sell alcoholic craft beers.) "I was like, 'well, I'll take a second case if you have one in your car.' Ever since then, I've just had to keep it in stock."
Baffling, right? I know. "In the craft beer world a decade ago, 'imperial' literally ruled, as breweries churned out triple IPAs and 10% versions of every style under the sun," wrote beer journalist and author Kate Bernot in 2018. (Imperials being bolder, higher-ABV brews in a given style, be it stout or pilsner.) These days, however, everyone does session IPAs, and some upstarts are going even further with low alcohol-by-volume beers specifically targeted at athletes.
High-ABV is out. Active lifestyles are in. Is non-alcoholic craft beer's American moment nigh? If Athletic's runaway success is any indication, there's another craft revolution coming. And this revolution will be sober.
The craft beer revolution had left the non-alcoholic segment completely untouched.
Bill Shufelt, Athletic's co-founder, is not your typical bomb-thrower at the barricades. He's a white guy approaching 40 and hailing from Connecticut's posh Fairfield County. Before launching the company in 2017, he worked in finance, and spent his life "doing very normal adult things." "If you had told me 10 years ago that I'd be selling non-alcoholic beer for a living, I would've gotten a good laugh out of that," he said in a recent phone interview.
A craft beer enthusiast for years, Shufelt never set out to disrupt craft beer. But as he exited his twenties, he was "having too much fun for a responsible adult," he said. "Nothing serious ever happened, but it was time for me to grow up." So he cut alcohol from his diet in 2013 to focus on his career and love for weekend-warrior recreational athletics.
Like the average American beer lover, Shufelt had never paid much mind to the non-alcoholic beer offerings in the US. When he started too, however, he quickly saw the sorry state of affairs. The category "hadn't evolved since the 70s or 80s. Like literally zero new entrants," he said. The craft beer revolution had left the non-alcoholic segment completely untouched. Macrobreweries like Molson-Coors and Anheuser-Busch InBev were selling the same non-alcoholic lagers alongside a few Euro varietals. To someone weaned on the full flavors, artisanal ingredients, and sheer variety of the contemporary American craft, these beers are bland, boring, and across-the-board pretty bad.
That's partly because, in the US at least, non-alcoholic beer has always been a beverage of purpose for a tiny customer base that would rather be drinking something else. (Internationally, that's not categorically true.) You drink it because you're pregnant, or drew the designated-driver short straw, or because you're a recovering alcoholic trying to blend in. You tough out the taste, tough out the stigma attached to their have weird labels and watery coloration, and you probably dream of real beer.
Athletic's non-alcoholic beers have none of those things. Like many craft beers, they have handsome, colorful packaging, and taste downright solid, at least to this journeyman beer writer's palate. Right now, I'm sipping a full-bodied Athletic golden ale called Upside Dawn, which won a silver medal against alc-beers at a 2018 competition in New York. Athletic's Upside Dawn also pulls a solid 3.28 on Untappd. After years of spinning dreck slightly buzzed, these days I adhere to a self-imposed "no drinking while writing" rule, for copy's sake and my editors' sanity. But hey -- at less than 0.5% ABV, I'm through the beer/looking glass.
"Tastes like a fucking craft beer," I text my editor, along with a picture of the Athletic can, shod in a beautiful yellow sticker label (very on-trend, as far as 2019 the craft aesthetic goes.) "DARK MAGIC." How do they do it?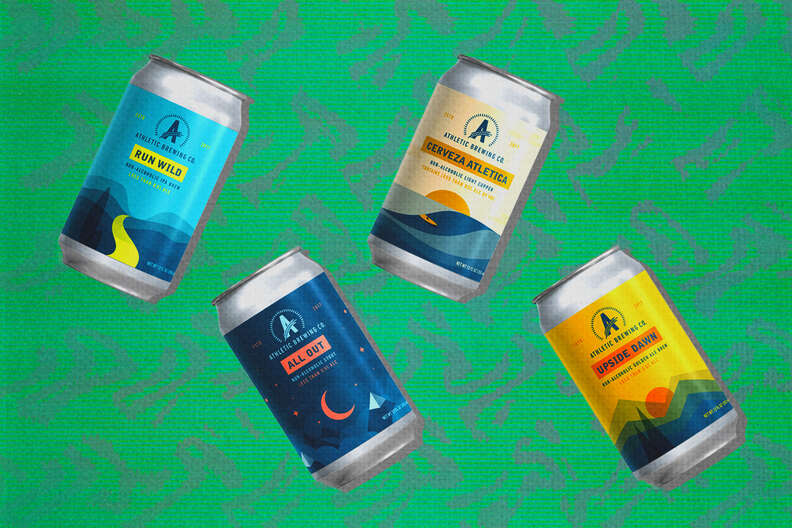 "We just did batches, and batches, and batches of homebrew, trying to do this thing that no one had ever written a book on," recalled John Walker, Shufelt's co-founder and Athletic's head brewer. The idea was to brew a naturally non-alcoholic beer. While there may not have been a roadmap, they weren't flying totally blind, either. Walker is a seasoned brewer, and scored a pair of Great American Beer Festival medals, one gold, working as head brewer for Santa Fe's Second Street brewery before leaving for Athletic.
But like any good magician, Walker wouldn't give much away. "We are in fact doing it an entire fermentation and winding up with under 0.5%" was about all he'd say. Shoulder to shoulder with Shufelt in a 9,000 square foot warehouse in Stratford, Connecticut, Walker honed Athletic's brewing regimen over a feverish, nine-month R&D sprint in 2017 (both men declined to discuss the process in more detail, citing a pending patent application).
If legit, and it seems to be, the process would make Athletic's beers different from existing n/a offerings. Those tend to be either heated to boil off the booze (alcohol boils at just 173 degrees Fahrenheit, as opposed to water's 212 degrees); filtered to remove it (aka "reverse osmosis"); or vacuum distilled, a process Athletic's craft rivals at St. Louis' WellBeing Brewing employ. Depending on the practice (and the practitioner), Walker thinks flavor may suffer. "I'm not gonna poo-poo anybody's style, but we just didn't want that,"' he said. "When you do that, you are adulterating… everything that makes a beer what it is.
Athletic's beers don't just taste the part, they look the part. The simple, colorful outdoors motif aligns seamlessly with the dominant craft aesthetic, and resists playing up an explicit wellness/abstinence angle. This likely helps the brand remain approachable to drinkers reluctant to identify with a non-alcoholic category—especially men.
"Throughout the ages, alcohol has been coded as a masculine vice that women are too good for," explained sociologist Helana Darwin, a Stony Brook Ph.D. candidate who has extensively researched and written about craft beer. "By default, non-alcoholic drinks have been coded as the feminine alternative," and heavily stigmatized (Shufelt calls traditional N/A offerings "penalty box beers" because of the scrutiny they invite upon the drinker). Athletic's branding ducks these cultural connotations quietly, empowering drinkers to decide whether to "out" themselves—a potentially powerful draw.
But branding alone can't build a successful beer company these days. The liquid has to stack up. As a longtime homebrewer and craft brewing enthusiast Dan Nolan notes, Athletic's approach to quality and flavor was paramount. "Athletic does a great job of retaining the flavor and experience of craft beer but without the booze," he relayed in a recent email exchange.
Nolan and his fiance were cutting back on at-home beer drinking in advance of their wedding. Nothing they were drinking filled the malt/hops void. "We worked through all of the traditional offerings at the local grocery store and even the ones that were supposed to be good just... weren't." Then they came across Athletic at Lamonaca's Beer Karma, and quickly became fans. In the past few months, they've been able to entirely abandon weeknight alcohol intake in favor of Athletic's non-alcoholic offerings. "We've definitely knocked back a few 12-packs' worth," said Nolan.
Athletic's online sales total 50-70% of its business.
The brewhouse isn't the only place Athletic is finding craft beer breakthroughs. Their website boasts the design-y branding, slick photos, and checkout inducements (free shipping, subscription packages) more evocative of a start-up e-commerce brand than a young craft brewery. This is not a coincidence. Shipping booze directly to consumers is a notorious "cluster$#&%" in the US thanks to a patchwork of state regulations. But Athletic's beers aren't legally considered beer, so you can buy them online just like you would anything else in 2019. Canned six-packs go for 13 bucks apiece. That's slightly cheaper than primo alcoholic craft sixers (which routinely retail for $14-16 in expensive markets) but much pricier than macro stuff -- N/A or otherwise. Shufelt said Athletic's online sales total 50-70% of its business in a given month. "It's been wild. It pretty much grows 50% every month," he said of the company's e-commerce operation. Athletic has 16 employees, and is in the process of hiring more. Not bad for a company that's only technically been in business since May 2018.
That eye-popping growth doesn't surprise Darwin, who thinks the rise of N/A beer tracks with the cultural shift afoot both within the segment, and beyond. People who used to drink beer but can't anymore or don't want to consume alcohol are likely to "appreciate beer as a craft and as culture, something that they used to be a part of," she said. Athletic's beers don't just taste like craft beer; they impart a lot of the cultural capital that craft beer does.
For Athletic, offering sober access to that craft beer experience has translated into buzz that a lot of new craft breweries would kill for in this crowded market. Shufelt hopes the brand can also expand that culture by bringing more of the 40% of legal-age, non-drinking Americans under craft beer's tent. "I want [Athletic to make] something people can stand at a bar with, hanging out with their friends, and not have an awkward situation," he said. He's not against alcohol (everyone else on Athletic's staff drinks alc-beer). But if someone doesn't want to get drunk at a wedding or post-work happy hour, an Athletic beer will let them still enjoy a refreshing and flavor-packed beer -- just without any of the alcohol.
Sign up here for our daily Thrillist email, get Eatmail for more food coverage, and subscribe here for our YouTube channel to get your fix of the best in food/drink/fun.
Dave Infante is a freelance journalist in Charleston, SC. Follow @dinfontay.