The Barrel-Aged Gift Guide
Barrel aging goes back millennia; it became the only proper way to age alcoholic beverages once the Gauls taught the Romans that wood imparts far more satisfying flavors than clay. Also, it was apparently a better conductor of flavors than goatskin, which, while handy for ancient camping trips, wasn't great for storing fermented liquids for months, much less years. If you have a special someone who's drawn to the maturity of barrel-aged spirits, this gift guide is for you. If you are the special someone who's drawn to the maturity of barrel-aged spirits, this gift guide is also for you. Below you'll find everything from barware to bitters to actual barrels. Soak it all in: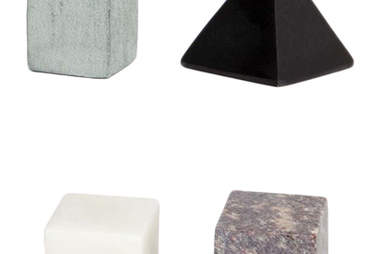 Courtesy of Areaware
Are they drink rocks, or the keys to an ancient civilization? Answer: they are drink rocks, but they're just about the most intriguing drink rocks on the market.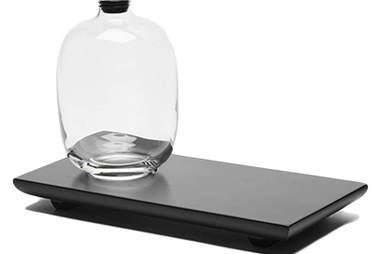 Courtesy of Nude
This most international of pieces -- designed in Helsinki by Mikko Laakkonen, for the Istanbul-based, minimalist firm Nude -- is the most elegant way possible to say, "It's the liquid that matters."
Courtesy of Fabbri
From Italy, a smaller, more tart, delicious alternative to the terrifyingly unnatural, possibly nuclear cocktail cherries of yore.
Carly Diaz
A trio of PDX industry vets created this barware with aesthetic pop and the fortitude to weather extremes only bartenders would think of (including, per
The Whiskey Wash
magazine, moving glass straight from freezer to dishwasher without cracking). For the giftee who deserves pro-grade equipment, or the giftee you wish to flatter with that sentiment.
Courtesy of Hornitos® Black Barrel® Tequila
You probably weren't expecting our suggested spirit to be tequila, but if you're hoping to surprise a true barrel-aged aficionado, you can't go wrong with a premium aged Añejo further matured in deep charred oak barrels for four months to get a rich smoky flavor, and another two months in specially toasted barrels that add more depth and distinct complexity.
Jason Horvath
Why stop with barrel-aged spirits when you can also barrel age cocktails (a trend started in America by bartender Jeffrey Morgenthaler), subtly changing their flavors over the course of weeks? Just don't age juices -- that change would not be subtle.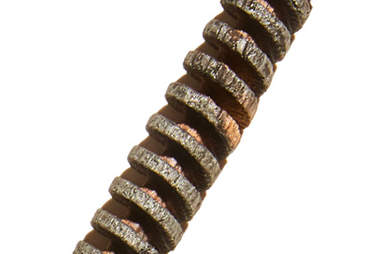 Courtesy of Barrel Mill
Another way to age: do it in a big glass jar, using an oak stave. Barrel Mill's infusion spirals -- cut to increase surface area -- come in different char levels, and if you really want to experiment, also go beyond American oak with French & Eastern European varieties, plus sugar maple, cyprus, and more.
Courtesy of Match
"Handmade by the finest artisans in Northern Italy," this elegant pewter piece is technically dishwasher-safe, though it's advised that you hand wash and dry to keep its "warm, soft glow." So dishwasher it is.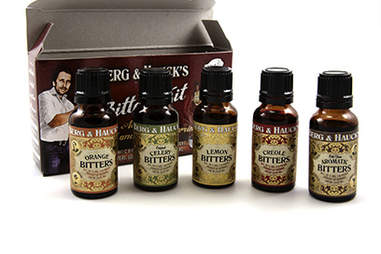 Courtesy of Berg & Hauck
Named for the Bavarian founders of The Bitter Truth, the Berg & Hauck line is an offshoot of that brand, which launched in 2006 right when the second wave of the cocktail craze had consumed pretty much all existing bitters.
Courtesy of Cocktail Kingdom
The 1880s-inspired, bottom-heavy design is intended for the even dispersal of bitters into the cocktail, as highly concentrated bitter would turn your cocktail into an Eagles fan.
Courtesy of Bar10der
You don't need a tool this impressive to craft your garnishes, but then again, yes, you do need a tool this impressive to craft your garnishes.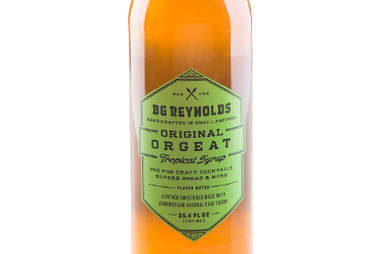 Courtesy of BG Reynolds
Syrups by BG Reynolds
Blair Reynolds of tiki paradise Hale Pele launched his line of syrups and mixers to make Polynesian prep work easier, but several of the syrups are ideal for darker spirits that aren't rum, specifically the vanilla, rich simple, and demerara.
ENJOY RESPONSIBLY. Hornitos® Tequila, 40% alc./vol. ©2016 Sauza Tequila Import Company, Deerfield, IL. All Trademarks are the property of their respective owners. Visit
Hornitostequila.com
for more information.