Warren Buffett has stated that the Doritos Locos Taco single-handedly turned the economy around -- undeniable proof that few forces are more powerful than the American desire to combine delicious, unhealthy things with other delicious, unhealthy things. Which begs the question, Dunkin' Donuts and Baskin-Robbins bigwigs: where in the hell are the donut sundaes?
There are 500 Dunkin' Donuts/Baskin-Robbins hybrid locations in 21 states (and DC), and none serve donut sundaes. So, I went to my local DD/BR to see if they'd let donuts and ice cream make love to each other, like I wanted them to. I calmly approached the gentleman at the register and requested a two-scoop sundae, but asked if I could get a donut on top. He was a bit taken aback but willing to grant my request. He said he might have to cut the donut to fit it in the bowl, which seemed like a small price to pay for the culinary fusion that was about to ensue.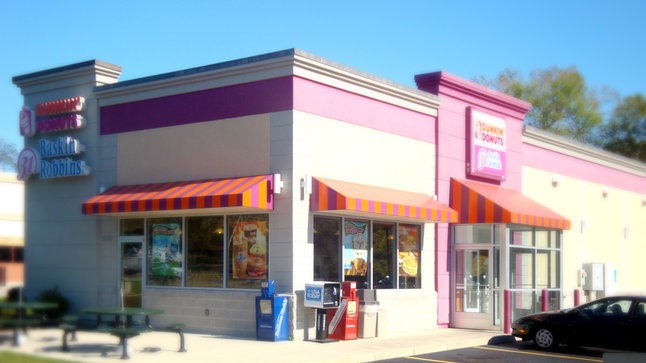 After I selected my two flavors (Cherries Jubilee & World Class Chocolate), my chocolate-frosted & sprinkled donut was cut and placed lovingly on top, fitting snugly in the cup and creating an ideal reservoir for the hot fudge that was to follow. Whipped cream, nuts, and a cherry, and it was ready to go. The result? Delicious, obviously. How could it not be? Kind of like a fast-food version of profiteroles.
But why aren't they formally promoting this? I tried to make my case to corporate, but after at least 37min of elevator music, all I could uncover was that Customer Service thought I had a decent idea on my hands and that they'd pass it along to Marketing, who would either steal or forget it.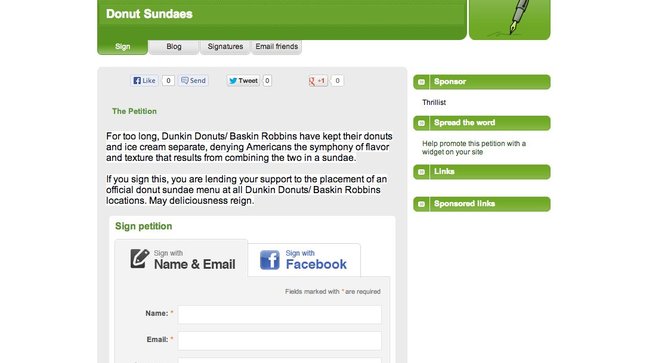 I have no time for such corporate bureaucracy. This must happen now! I'm starting a petition in the hopes that one voice becomes a thousand and then a billion or whatever's the next big number. Basically, I am Christian Bale's character in Newsies, except, instead of fair wages and carnal knowledge of the sister of the dude who played young Josh Baskin in Big (Baskin-Robbins? BASKIN? Coincidence?!?! Absolutely.), I seek but one thing: Donut Sundaes, on the menu. I hope you'll join me.