The beer lover's guide to wine
Your wall-mounted bottle opener has served you well, but it's time to invest in a corkscrew, because, even though you really, really love beer, there's a bottle of vino out there with your name on it (especially if your name is Ernest & Julio Gallo). To that point, we asked our wine prophet Jonathan Cristaldi to suggest wines you'll like, depending on the kind of beer you drink. Stop scoffing and get thee to a winery:

If you drink: Stout
Try: Tinto Fino from Spain's Ribera del Duero or red blends from grapes like Cabernet Sauvignon, Merlot, Syrah grown at high elevations throughout Napa
Red wine grapes grown at high elevations in Napa Valley (think Howell, Spring, and Diamond Mountains) produce rich, full-bodied wines with concentrated dark-fruit character that unfold into mocha and espresso notes -- just like your favorite stout. The Tempranillo grape (called Tinto Fino in Spain's Ribera del Duero) produces wines that are expressive and powerful, packed with intense black-fruit flavors and unrelenting dark cocoa overtones. And, like a stout, these wines taste best well-below room temperature, but not ice-cold.
Good Examples: Parada de Atauta 2010, Ribera del Duero, Spain ($30) or Robert Foley Vineyards 2011 "The Griffin", Napa Valley (a rich blend of ripe Merlot, Syrah, Petite Sirah, and Charbono, which boasts serious dark berry, espresso, and mocha notes, $35)
If you drink: Sour beer
Try: Sangiovese from TuscanyorFrappato from Sicily
If "dirty blonde or dark red with a sour disposition and a wild side" is your preference, we applaud your tumultuous swinging lifestyle... as a lover of sour, wild-yeast fermented beers, or whatever. And you will likely love the sour red cherry notes of Italian Sangiovese and the native-yeast fermented, light-bodied Frappato reds from Sicily. These wines also come loaded with tart acidity and both mildly herbaceous and spicy notes, and they should be enjoyed while pronouncing everything with a hilarious Italian accent.
Good Examples: Uccelliera 2011 Rosso di Montalcino, Tuscany, Italy ($25) or Azienda Agricola COS, Frappato, Sicilia 2011 or 2012 ($28)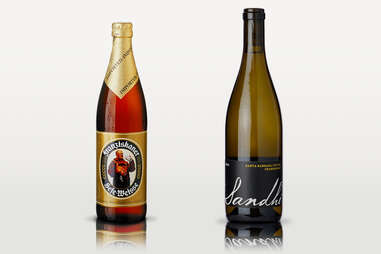 If you drink: Hefeweizen
Try: Chardonnay from Sta. Rita Hills on California's Central Coast
South German-style Hefeweizens typically exhibit banana, clove, and spice notes, along with apple and a light hops, and are often served with a lemon wedge. Chardonnay is going through a renaissance thanks to somms like Rajat Parr (author of Secrets of the Sommeliers). Mineral- and neutral oak-driven, most are medium to full-bodied wines, often unfined/unfiltered, that show notes of citrus, baking spices, and ripe tropical fruits, like banana and peach, or stone fruit, like apple and pear. Sounds an awful lot like a Hefeweizen, right? RIGHT?
Good Examples: Sandhi 2012 Chardonnay, Santa Barbara County ($32) or Qupé Bien Nacido 2012 Chardonnay, Santa Barbara "Y" Block ($18)
If you drink: Light beer
Try: Pinot Grigio from Friuli Grave, Italy
Assuming you drink light beer so you can last several rounds of beer pong, you will undoubtedly love Pinot Grigio. It is generally light and shows subtle citrusy notes, but varies in style and complexity from producer to producer -- so it's worth trying many.
Good Examples: Scarpetta 2012 Pinot Grigio delle Venezie IGT, Italy ($17) or Livio Felluga 2012 Pinot Grigio ($25)
If you drink: Blonde
Try: Bubbly, from anywhere, all the time, anytime, go
"Blondes make the best victims," said Alfred Hitchcock, and you'll likely agree, thinking back to the many you have vanquished from pint glasses. Thanks to their clear, crisp taste, fruity aromas, and subtle bitterness, blonde-lovers should take down sparkling wine, with its varying bright stone fruit, citrus, and baking-spice notes.
Good examples: There are far too many, but start with one from California: Iron Horse, 2009 Vintage Brut, Russian River Valley, Sonoma County ($33) or a truly approachable and delightful Prosecco from Italy: LaMarca Prosecco, NV, Italy ($13)
If you drink: Kölsch, Kölsch-style, or Pilsner
Try: Gewürztraminer or a dry or off-dry Riesling
Great Riesling, for the most part, is not sweet (we swear!); it's bone dry. Superb Rieslings are intensely mineral-driven and have some weight, but, like Pilsners, are lighter bodied with lower alcohol, and they possess vibrant citrus and spice notes, and, like Kölsch brews, show mild "grapey" notes in addition to some fun, funky petrol and gasoline overtones. But, like, nice gasoline.
Good Examples: Joh. Jos. Prüm 2011 Riesling Kabinett, Mosel, Germany ($25) or Trimbach 2011 Gewurztraminer, Alsace, France ($22)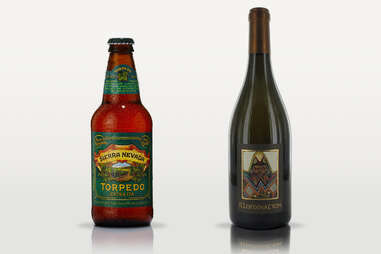 If you drink: IPA
Try: Sauvignon Blanc (skin-fermented) from Napa Valley or Pinot Noir from Sonoma's Russian River Valley
These medium-bodied brews range from pale golden to reddish amber in color and are intensely floral, herbal, citrusy, and bitter. Sauvignon Blanc is typically crisp and light, with grassy notes augmented by hints of lemon or lime, but when fermented in its grape skins, the wine takes on a cloudy orange hue, and drinks like a floral, fruitier wine (put it in a pint glass and everyone will think it's an IPA). If you like deep amber IPAs, Russian River Pinots are for you -- they'll unleash floral, herbal, and cherry notes and may inspire poorly executed Russian accents.
Good examples: Quintessa Illumination 2012 Sauvignon Blanc, Rutherford, Napa Valley ($38) and Bluxome Street Winery 2012 Pinot Noir, Russian River Valley, Sonoma County ($32)
Jonathan Cristaldi resides in LA, is deputy editor at TastingPanelMag.com, and mines for gold on the weekends. Brazenly follow him at @NobleRotNYC.