The best bar in the world and other 2013 Tales of the Cocktail winners
Every year in mid-July, the booze-stained streets of New Orleans flood with alcohol industry professionals for Tales of the Cocktail: a five-day industry conference, drinking endurance test, and awards ceremony. With accolades ranging from World's Best Cocktail Bar to International Bartender of the Year, they don't scrimp on the superlatives, so we didn't scrimp on this list of all the heavily lauded winners.
Clover Club
Awards: Best American Cocktail Bar, Best High Volume Cocktail Bar, Best Bar Mentor: Julie Reiner

Brooklyn's CC has been one of the most respected bars in the country since its 2008 opening, and now the 19th-century mahogany bartop boasts a trio of super-impressive trophies. The drink list spans forgotten classics unearthed by a cocktail historian, seldom-seen tea-based concoctions, and 21st-century tiki action like the Spy Plane (Scotch, Amaro Abano, pineapple juice, lemon juice, orgeat, black strap rum, East India sherry, Angostura bitters).
Dead Rabbit
Award: World's Best New Cocktail Bar, World's Best New Cocktail Menu, International Bartender of the Year: Jack McGarry

Marking the first time in five years the Int'l Bartender of the Year hasn't been from the UK, Lower Manhattan's Dead Rabbit brought home the international bacon in three categories. Some of the reasons: the largest Irish whiskey selection in NY, punches like the Jamaican rum'd Admiral Vernon's Grog, and cups with actual mustache guards.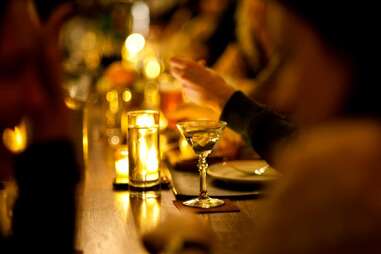 Saxon + Parole Restaurant
Award: Best Restaurant Bar

Named for a pair of race horses, NYC's S+P is helmed by a Michelin-starred team who dish out "grilled meats and aquatic delights" in addition to their lauded 'tail program featuring on-tap Manhattans made using locally distilled rye whiskey and leather bitters, so they've literally pulled themselves up by their boot straps.
The NoMad Hotel
Award: World's Best Hotel Bar

To the dismay of about 1000 Holiday Inns, this Madison Square Park establishment earned best lodging/drinking combo for creative 'tails like the Petticoat with Sichuan peppercorn-infused Plymouth, apricot liqueur, Velvet Falernum, and lemon.
Drink
Award: World's Best Cocktail Bar

Tucked below the chef's Italian joint, Drink has put Boston on the cocktail map thanks to an unpretentious atmosphere matched with meticulous attention to garnishes, 50lb blocks of ice, and barrel-aged cocktails.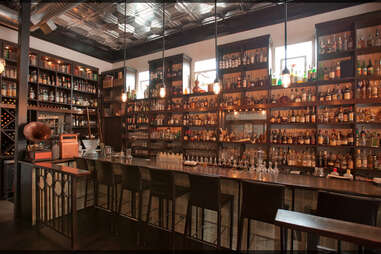 Canon: Whiskey and Bitters Emporium
Awards: World's Best Drink Selection

This Seattle 40-seater won best selection deservedly: their Captain's List of drinks is over 75 pages long, with stand-outs like the Campfire in Georgia (mezcal, peach-habanero shrubb, OJ, cinnamon), aged drinks like La Bicyclette (gin, sweet vermouth & St-Germain aged four months in French oak), and crazy-old liquors like Santa Cruz gold label Cuban rum from 1944.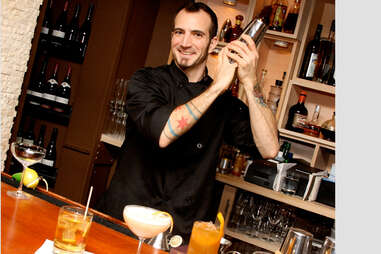 The Aviary
Award: American Bartender of the Year, Charles Joly

This here dude happens to be the best drink-slinger in the United States. Before taking over the program at Chicago's Aviary (that just happens to be owned by the world-renowned Alinea chef), he won NBC's bartending show On the Rocks. Although the drinks are made in a back kitchen with molecular moves like flash-freezing basil foam, Charles works the floor regularly, earning him the strange distinction of the best bartender who doesn't actually stand at a bar.