When it comes to craft beer, bigger isn't necessarily perceived as better. There can be a bit of an (often counterproductive) indie-band mentality, where getting big and garnering tremendous attention and actually, you know, turning a profit, becomes equated with "selling out."
While the excitement that surrounds a fledgling brewery really finding its footing will always be a vital part of craft culture, it's also worth recognizing the role the grandaddies of the industry have played in shaping the vibrant scene we know today and, more importantly, helping us all have access to an increasingly dizzying array of outstanding beer. We took the Brewer's Association's most recently available data on America's 50 biggest craft brewers (some of which, you'll see, have literally been sold in the months since) and picked a favorite beer from each. Some are hard to score limited releases* and some have become so ubiquitous they can be taken for granted, but they've all played a role in shaping the craft landscape we know today. Check them out below (in descending order of bigness), and weigh in on your personal favorites in the comments.
*At minimum, a beer had to have a regular annual release to be eligible for selection, because debating the merits of various one-off tap room experiments felt like a trip too far down the rabbit hole.
Recommended Video
Thrillist's Best (and the Rest): Best Easy Ramen Hacks and Winter Beers
Traditional Lager
Lager, 4.4%
Pottsville, PA
Talking about Yuengling in a craft beer framework feels a little weird, and some might quibble that some of Yuengling's more up-to-date offerings like its Summer Wheat offer a better flavor profile, but come on, this beer IS Yuengling. It's an institution unto itself, causing people who move from Yuengling states to non-Yuengling states to pine for its crisp simplicity. It's the cool old guy on the bar stool at the end of the dive bar who may not be drawing much attention to himself, but the place wouldn't be the same without him.
 
Utopias
American strong ale, 28%
Boston, MA
At 28% ABV, can you even call it a beer at this point? Utopias, what with its fancy bottle, scarcity, and hundreds of dollars-strong price point, certainly doesn't fit in with any other of the brews in the Sam Adams canon, but that's what makes the stuff special. Everyone should try to score at least a snifter once in their life, swirl it around and sip it like a robber baron drinking cognac, and ponder all the glorious permutations beer can take these days while appreciating this smooth, viscous, complex creation that drinks damn well, no matter what you want to label it.
Celebration
American IPA, 6.8%
Chico, CA
Someone cue Kool & The Gang! After all, can it be a coincidence that their bar mitzvah staple ode to good times debuted right around the same time as this blessedly hopped-up take on a holiday ale? Fine, it's probably a coincidence, but either way you should drink one this holiday season while you ponder the debt of gratitude so many breweries owe to Sierra Nevada for helping reshape America's collective palate.
La Folie
Oud bruin, 7%
Fort Collins, CO
Much like New York has far surpassed its namesake city in Northern England, New Belgium's Lips of Faith series has rendered any efforts to make Flemish sours in Belgium obsolete. Fine, that's a complete oversell, but that doesn't mean La Folie isn't damn tasty and a fine introduction to the form that's far more easy to come by in these parts than many of its overseas forefathers.
Shiner Bock
Bock, 4.4%
Shiner, TX
Grambrinus is also the umbrella under which Portland's Bridgeport also runs its tanks, but we have to go with the Spoetzl-brewed Shiner on this one, mainly because if we didn't we'd be attacked by the 45,000,000,000,000 Texans who claim it's the greatest beer on the planet. And also because it's delicious.
 
Little Sumpin' Sumpin'
Pale wheat ale, 7.5%
Petaluma, CA
It's a wheat beer. It's an IPA. It's supremely fun to order with a glint of mischief in your eye. It's drinkable enough that you might find yourself asking "Wait, how strong are these?" after you've had your third one and already find yourself stumbling over its playful name. The fact that you might encounter it at, like, an airport bar, is a sign of undeniable progress in a dark time for America.
 
Cinder Cone
Red ale, 5.5%
Bend, OR
Some may argue that Deschutes' classic Mirror Pond or formidable Black Butte Porter should claim its No. 1 status (and they might well be right), while the cult of winter's incredible Jubelale will likely call shenanigans here. But Cinder Cone is Deschutes' secret weapon, a red of incredible smoothness that lets the hops sing rather than scream.
 
Two Hearted Ale
American IPA, 7%
Kalamazoo, MI
The release of Oberon is a statewide holiday in Michigan (and a daily occurrence in Southern California now… what the hell, Bell's?!?!?!), but fans of Bell's can mine year-round joy in the toasty, hoppy (but not aggressively hoppy) wonders of Two Hearted. It's the first beer one of us fell in love with, and it still towers above most offerings in the increasingly IPA-obsessed beer world.
Enjoy By IPA
Double IPA, 9.4%
Escondido, CA
You have to love a beer that comes with clear instructions -- especially when those instructions are "DRINK THIS NOW!" With the enjoy by date plastered most conspicuously across the front of the bottle, you'll know better than to putz around and save this brew for a special occasion, because the occasion is that you have an excellent beer in your hands and should take advantage of it in all its hoppy glory.
 
Huber Bock
Bock, 5.5%
Monroe, WI
It's a tough call with the former Joseph Huber Brewing Company, which became Minhas after a Canadian company nabbed the brewery and has gone by many names since 1845. It's hard to pick the best beer from a lineup that includes canned ice, light, and gluten-free offerings. But we're going with the Huber Bock, mainly because it's not an ice, light, or gluten-free beer. 
 
Sorachi Ace
Saison, 7.6%
Brooklyn makes something for everybody, from a fantastic session saison to a series of IPAs and the mysterious Black Ops. But we're in love with the Sorachi Ace, not only because it's an extremely distinctive take on the saison, but also because it's basically a UN of beer in a bottle, with Belgian-style brewing techniques, Japanese hops, and a shitload of 'Merican moxie in every bottle.
 
Ommegang Hennepin
Saison, 7.7%
Cooperstown, NY
OK, so this is kind of confusing, but here we go. Legendary Belgian brewery Duvel owns Ommegang (and will soon have a piece of Firestone Walker). Ommegang makes some of the best Belgian-style beers in the US. And the best of its regular releases is this tart, funky saison that could easily hold its own in Duvel's home country any day. Got it? Good. Drink up.
90 Minute IPA
Imperial IPA, 9%
Milton, DE
If Goldilocks grew up to be a beer geek, the 90 Minute would represent her "just right" between DH's also-popular 60 and 120 offerings, representing the perfect balancing act between malt and hops that's made it one of the most widely consumed IPAs out there.
 
Saranac Black Forest
Schwarzbier, 5.5%
Utica, NY
Matt's Saranac beers are a favorite in the region, and while the Pale is the most recognizable, the Black Forest schwarzbier is the imprint's real star, a smooth, clean, German-style beer where the family brewery's 127 years in the business are apparent in every well-honed sip.
 
White IPA
Belgian IPA, 6.2%
Boston, MA
If a Belgian wit and an American IPA had a sexy fling, you'd be shocked that beers had developed human emotions and sexual identities. But once that shock wore off, you'd be pleased with this nuanced and quaffable ale with enough hops to pack some bite without overpowering the end result.
Pivo Pils
Pilsener, 5.3%
Paso Robles, CA
Pilseners sometimes get overlooked amidst the presently hop-centric craft brewing scene, which is why the good people from Firestone Walker (who made waves this year joining forces with Duvel) imparted just enough hop notes into their take on a German pilsener to keep it interesting, while staying true to the crisp, drinkable roots of the style.
 
Kentucky Breakfast Stout
Imperial stout, 11.2%
Grand Rapids, MI
Look, when your beer becomes so sought after that you have to dedicate an entire week to managing the thirsty hordes clamoring for their share, there's gonna be a smattering of backlash and "overrated" type sour grapes, but the reality is KBS remains the beer many fledgling breweries are chasing in their heads when they conceive their first big barrel-aged effort for a reason: it's damn, damn good.
 
Hop Hash
Double IPA, 7.8%
Atlanta, GA
This hippie-friendly Atlanta brewery never misses an opportunity to let you know they were probably high as shit when they were brewing, and Hop Hash is no exception. The resin here, though, isn't from kush, but rather from the hops pelletizer, which they scrape to use in this double IPA that makes up for what it lacks in ABV (for an IIPA, at least) with a truly singular hop flavor. Or maybe not. We're high just reading about the process of making this stuff.
Serendipity
Fruit beer, 4%
New Glarus, WI
The happy ending to a drought that yielded a smaller-than-normal cherry crop that had to be supplemented with apples and cranberries, Serendipity has the kind of addictive interplay between sweet and tart that can soften the stance of even the most strident opponent of sour beers. Pair it with a Cusack/Beckinsale romantic comedy if you're feeling literal.
 
Barley Wine
Barley wine, 10.7%
Juneau, AK
Alaskan winters are cold and they don't have time for creative nomenclature, dammit. Luckily you don't need clever wordplay when you're a smooth, malty powerhouse of boozy happiness. If you can exercise some measure of self control, this beer responds particularly well to aging.
 
Strawberry Harvest
Fruit beer, 4.2%
Abita Springs, LA
Abita, the granddaddy of Louisiana's brewing scene, has a Harvest beer for each season: grapefruit, lemon wheat, and pecan. But it's strawberry that's the biggest cause for celebration, with fresh berries kissing a low-ABV wheat beer and transforming it from a great summer beer into the perfect summer beer... and Louisiana's best cure for the sweltering heat.
Anchor Steam
Steam beer, 4.9%
San Francisco, CA
Anchor Steam was craft beer before anyone really knew or cared what that meant, and in the nearly 45 (!) years since it was first bottled in its current form, it has helped shape an industry that, well, just LOOK at all these beers! More impressively, it remains a singularly quaffable, comforting, sudsy companion that can still hold its own despite the breakneck pace of innovation around it. 
 
Chillwave
Imperial IPA, 9.4%
Cleveland, OH
With the holidays looming, Great Lakes' much celebrated Christmas Ale would be a sentimental pick, and many of its other longstanding offerings (Dortmunder Gold, Edmund Fitzgerald) rightfully have their followings, but damned if Great Lakes' entry into the ever-escalating big hops game didn't succeed spectacularly, with a deceptive drinkability that belies its nearly double-digit ABV.
 
Gubna
Imperial IPA, 10%
Lyons, CO
The kings of cans managed to craft a brew that is not only supremely fun to ask for in an exaggerated and ridiculous cockney accent, but also possesses an impressive drinkability for a hop bomb north of 100 IBUs. Of course, if you're partial to Ten FIDY or Old Chub or any of OB's numerous other well-made parties in a can, you're probably still having yourself a fine time.
Summer Ale
Summer ale, 4.8%
Portland, ME
When it comes to summer beers in Maine, there are two important questions: 1) can I drink a whole bucket of them? And 2) does it pair well with lobstah? The answers are 1) Absolutely... that's what it's for, and 2) ayuh.
 
Beyond the Pale
IPA, 6.3%
Stevens Point, WI
Stevens Point -- home of the creepiest-ass beer mascot of all time -- makes a fine line of harvest ales, experimental dessert beers (Malted Milk Shake?!), and a pumpkin ale that will make believers out of even the most ardent anti-gourd crusader. But sometimes, the simple things are the best. And that's what Beyond the Pale is: nothing fancy here, just clean malt and hops flavors that can be sipped all day long, with a little extra booziness to forget the weird Conehead-looking mascot.
 
One Five Five
Red lager, 5%
New Ulm, MN
Schell's is old. Like, 1860 old (well, in one shape or form). And when you're that old, you know what you like, and needn't go insane with the gimmicks. One Five Five pours deep red and it drinks far easier than its color lets on. That's how the Jerrys did it. That's the way it's always been, dammit, and that's how we like it.
 
Oatmeal Stout
Stout, 4.7%
St. Paul, MN
Getting Summit's Oatmeal Stout requires a bit of work, considering it's tap-only due to the fact that it's served exclusively on nitro. But if you track it down, you're in for a treat: the beer is smooth, sweet, slightly bitter, oaty -- oh, and one of the best stouts out there. So, yeah, it's worth a quest to find. Or at least Googling where you can score some.
Prima Pils
Pilsner, 5.3%
Downingtown, PA
Can we just take a second and appreciate the seemingly simple pilsner? It's one of the most difficult beers to make, and one of the most overlooked. Victory happens to make a fantastic one. So fantastic, in fact, that we're elevating it above favorites like HopDevil and the great Storm King. It's clean. It's highly refreshing. It packs a nice hop punch. And you'd never guess how much work goes into each sip, because drinking beer is about enjoying it, not thinking about other people working their assess off to make it.
 
Double Bag
Altbier, 7.2%
Bridgewater Corners, VT
In the pines of Vermont, Long Trail started out as a bunch of dudes trying their hand at making beer so they didn't have to pay for it (thanks, Internet!). In 25 years, Long Trail became a powerhouse in one of the most overlooked beer states thanks to a willingness to experiment with everything from farmhouses to barrel aging, the latter of which made for a hell of a limited release of Double Bag. But, frankly, the altbier is good enough to stand on its own, a strong take on the German secret beer that helps form the backbone of Long Trail's expansive program.
 
Grapefruit Sculpin
American IPA, 7%
San Diego, CA
So, yes, Ballast Point will have sold its way out of this list come next year thanks to its sale to Constellation for an industry eye-popping $1 billion, spawning much hand wringing and even more Dr. Evil jokes. But hey, that whopping sale happened for a reason, and a big one among them was this citrus-tastic take on a near-flawless IPA. Honorable mention to Victory at Sea, which would be a perfectly defensible choice here as well.
 
Hazelnut Brown Nectar
Brown ale, 6.2%
Newport, OR
Rogue's gained notoriety for incorporating indigenous Oregon ingredients into its brews, from a kitschy maple/bacon donut ale to one made with the yeast from the brewer's beard. But all that hullabaloo simply distracts from the simple pleasures of the Hazelnut Brown, another beer made with a local staple that doesn't need a gimmick to stand out, mainly because it's one of the best browns on the market.
Wassail
Winter ale, 7.2%
Hood River, OR
The big dog in a small town that happens to have one of the country's best beer scenes (and views), Full Sail's best known for its grenade-bottle session ale and a solid pale. But when the snow starts falling (well, actually, rain, because Oregon), it's Wassail all the way; a seasonal, slightly spiced beer that seems to change every year, but can best be described as holiday cheer in a bottle. We know that sounds cheesy, but it's true.
 
Myrcenary
Double IPA, 9.3%
Fort Collins, CO
You want to get punched in the face with hop flavor? This isn't really your IIPA. Don't get us wrong. The hops are present, but they're more prone to just kind of slap you in the face, then hand you a basket of tropical fruit, the flavor of which adds a new dimension to Myrcenary's fascinating profile.
 
Choklat
Imperial stout, 10%
Lakewood, NY
Your mileage on this beer may vary depending on how you feel about chocolate beers -- but then again, if you don't like them, why are you buying a beer called Choklat? It's not like you weren't warned! If you DO like them, you'll find this to be one of the finest examples of the form, hitting all the right notes and wrapping your mouth in a big cocoa-laced hug that takes you back to childhood, except for, you know, the beer part.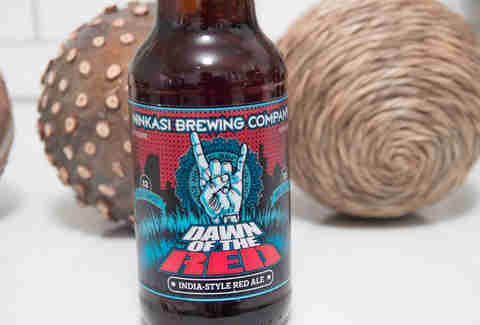 Dawn of the Red
India red ale, 7%
Eugene, OR
This year, Ninkasi shot a batch of yeast into space and made beer with it. This isn't that beer. The point is, Ninkasi isn't afraid to get bold. The Tricerahops IIPA is a monster. The Oatis Oatmeal Stout is near perfect. But the Dawn of the Red is our pick, an India red balanced with such perfection that, in one year, it jumped from special release to regular player without losing any of the flavor that made it special to begin with. Also, zombies. So hot right now!
 
Bloodline
American IPA, 7%
Frederick, MD
Flying Dog gets more attention for its labels -- deranged renderings by Hunter S. Thompson's go-to illustrator Ralph Steadman -- that the stuff inside the bottle often takes a backseat. It shouldn't. One thing that doesn't take a back seat with Bloodline, though, is the citrus, which doesn't so much blast the palate as permeate it, with a gentle sweetness balancing the kind of acid that Raoul Duke would absolutely approve, probably as a chaser for other kinds of acid.
 
Cockeyed Cooper
Barleywine, 11.1%
Salt Lake City, UT
Most people would have you believe that no beer in Salt Lake City clocks in at more than 3.2%. Those same folks would tell you that you could get arrested and publicly shamed for saying "cockeyed." Well, those folks are idiots. The most delicious evidence lies in the big-ass beers brewed up by Uinta, including the barrel-aged, award-winning Cockeyed Cooper barleywine, which strikes that essential balance of sweet and woody without being overpowering. And no, it's not a 3.2% barleywine. Idiot.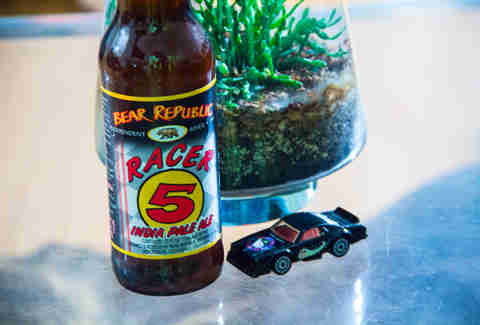 Racer 5
American IPA, 7.5%
Healdsburg, CA
Out in the Sonoma Valley, it's not just wine. People also love beer. And, um, Speed Racer? OK, maybe that's a stretch (though there IS a Racer X… coincidence?), but the point is, the region has one of the most overlooked beer scenes in the country. Bear Republic, though, is changing that by showing up all over the country. It makes a lot of great beers, but despite strong seasonals and a barrel-aging program, the best of the bunch is the Racer 5, which stands out simply by being one of the best damned straight-up IPAs in the country. But if that's not complicated enough for you, well, they barrel age it, too.
 
Milk Stout Nitro
Stout, 6%
Longmont, CO
Left Hand's Milk Stout isn't just cleverly named. It's straight-up creamy. Like, dairy creamy. And because it's void of CO2, it lacks both bubbles and bite. It's sweet despite being black as oil. And it's the kind of stout that will turn even the most staunch anti-dark beer heretic into a true believer.
 
Hop Crisis
Double IPA, 9.7%
San Francisco, CA
What kind of evil bastards would put a 9.7%, hop-packed IIPA in a can, giving the illusion that it's an easy-drinking lager or something? The folks at 21st Amendment, that's who. And they're actually pretty nice. Nice enough, in fact, to have made this barrel-aged monster in direct defiance of increasing hops prices, a move that bumped the likes of their watermelon beer (so good in summer) off the list due to a combination of boldness, craziness and, well, great beer-making.
Curieux
Tripel, 11%
Portland, ME
The folks at Allagash seem to nail most everything they do (there's a reason Allagash White's become the wheat beer of choice seemingly… everywhere), so it's no surprise that their first attempt at barrel-aging became a sought-after staple -- a well-balanced tripel with pleasing hints of vanilla and caramel thanks to chilling out in Jim Beam barrels for a couple of months.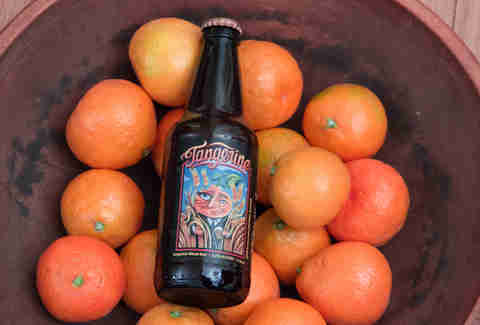 Tangerine Wheat
Wheat ale, 5.5%
Eureka, CA
Oh, sure, Blue Moon gets a ton of credit for the trademark orange on the rim of the glass, but Lost Coast does it one better by putting the citrus directly in its signature wheat beer, which saves you the trouble of constantly carrying around a bag of oranges and a knife every time you want to drink a refreshing wheat beer, which this very much is.
 
Hop Knife Harvest Ale
American IPA, 6.2%
Hershey, PA
We do understand, at this point in the list, that we're definitely contributing to the American trend of going nuts for hoppy beers. Well, that stops with Hop Knife. Actually, no, it continues, since the fall seasonal is yet another hops-forward beer. But damned if it doesn't deserve its hype. And it gets extra points for a hint of citrus and grapefruit that covers up the bitterness all the way to its dry finish. Drink it while raking leaves. Trust us.
 
Pintail Pale
Pale Ale, 5.3%
San Diego, CA
Karl Strauss has been brewing beer since waaaaay back when craft beer wasn't a thing, the year of our Lord 1989 (also, the year of Taylor Swift). And while a lot has changed for ol' Uncle Karl -- including going from small brewery to brewpub chain -- one thing has remained constant: the simple pleasures of a no-nonsense beer done right. Pintail is just that. Slightly citric, slightly bitter, and infinitely drinkable. It's nothing more. Nothing less. And because of that, it never goes out of style (ugh, sorry).
 
Pumpkinator
Pumpkin ale, 10%
Houston, TX
This dark, rich, almost stout-like pumpkin concoction from the patron saint of Houston breweries (named, of course, for the patron saint of beer) is a coveted seasonal offering that takes the much-appreciated step of incorporating actual pumpkin into the brew, rather than using the spice-only shortcut taken by so many others. That's just how saints roll.
Lager
American adjunct lager, 5%
Providence, RI
Some people might argue for some of its more recent variants like the Bock or the Summer Ale, but come on, if you're truly havin' a 'Gansett, this is the one, and it manages to be a step better than most beers of its ilk, which is no easy feat, neighbor.
 
Green Bullet
Imperial IPA, 10.1%
San Diego, CA
A hefty dose of New Zealand-grown hops from a brewery that knows its way around some damn hops, this triple IPA delivers all the piney, citrusy deliciousness you've come to expect from big swinging West Coast brews, and then some.
 
Rock Bottom Kölsch
Kölsch, 5%
Chattanooga, TN & Broomfield, CO (headquarters)
We're not entirely sure how CraftWorks makes the list of independent craft brewers, given the company operates a bunch of spots like Rock Bottom, ChopHouse, Old Chicago, and others, but hey, we're not the Brewers Association (they explain it all here, but there were numbers and stuff). Anyway, among these chains that are ubiquitous to malls, airports, and suburbs, we're most familiar with Rock Bottom, a chain whose brewers have been known to do great one-offs at fests, but whose brand-wide beers are a little more limited. So we're going with the kölsch. Because -- and we're being painfully transparent here -- we don't have any kölsches on the list. And because one time a steady stream of them got Andy out of a painfully awkward post-office hangout. So, um, thanks CraftWorks!
 
Ophelia
Wheat ale, 6%
Denver, CO
Our man in Denver claims that Breckenridge is part of the glue of Denver's robust beer scene, which in and of itself is an incredible designation. But glue tastes terrible. Ophelia, on the other hand, tastes like the summer, with light wheat flavors balanced with spicy hop additions that remind you that this isn't your normal boring wheat. There's a ton of flavor in each bottle, but if you can find the tequila barrel-aged stuff, you're really taking your taste buds for a ride.
Sign up here for our daily Thrillist email, and get your fix of the best in food/drink/fun.
Thrillist deputy editor Matt Lynch relived many fond, beer-related memories while writing this. Tell him about yours @MLynchChi.
Andy Kryza is a senior editor at Thrillist who will never not make a Jaws reference, given the chance. Follow him to lifeless eyes, black eyes, like doll's eyes (and 'Gansett!) @apkryza.