Sometimes things are just better when Mother Nature's involved -- see Portia di Rossi circa 2004 -- before man turns it into something else entirely -- see Portia di Rossi circa 2013. On that principle, we've tracked down some of the finest alcoholic beverages made using the ocean not named Billy. To wit:
Recommended Video
This Enchanted Speakeasy Takes You Through a Revolving Door Back to the 19th Century
When a company actually calls their booze Organic Ocean Vodka, it's a fair bet it has something to do with the ocean -- and OOV does, using mineral water siphoned from 3000 feet below Maui. That water started off as a glacier, before melting and taking a crazy long (2000yrs!) path to get to Hawaii, so at least in another couple millenia, we'll have plenty of supplies thanks to global warming!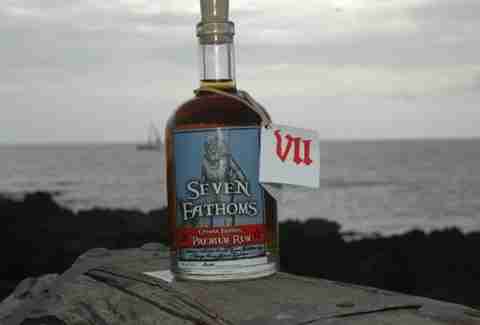 The Cayman Islands are apparently good for things beyond tax shelters, swimming with stingrays, and tax shelters for stingrays. Seven Fathoms Rum drops their barrels right into the water because 1) the temperature and humidity control in the Carribean is nearly perfect, and 2) the ocean's incessant rocking is superior to the standard movement-generating methods like stirring everything periodically. Throughout the entire aging process, it never varies in temperature, and never ceases to rock.
Jefferson's Ocean Bourbon spent four years aging on a 126ft ship used for actual shark research, where the salty air and perpetual rocking made it both far more mature than other Bourbons its age, and also far more lonely, since all its friends were a couple of grades below.
Ardaich isn't technically booze, but it is designed for whisky. Taking Hebridean mineral water that springs up from the North Sea and mixing it with "soft Scottish water" produces a water they claim blends better with whiskies
Aloha beer company's got a Gose-style brew (think pre-WWII Germany) that's made using actual salt water from a top-secret spot in Waimanalo; in theory, the wheat malt, barley, and coriander that it's brewed with mean you don't taste the saltiness. The only catch is it's currently only available in Hawaii. So here's a decent idea: go to Hawaii.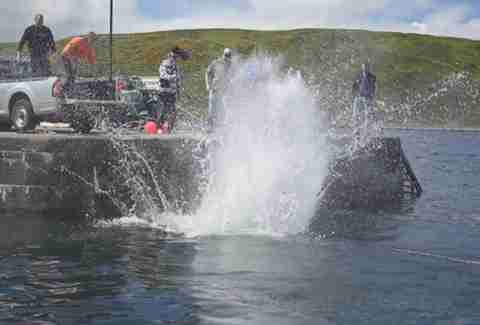 Produced by BrewDog -- the same people that brought you Tactical Nuclear Penguin -- Sunk Punk is an IPA made with lager yeasts, buckthorn berries, distilled sea salt, and rum. It's actually brewed nearly 60ft below the surface; that's it getting sunk up above, in a specially designed tank with everything from pressurized gas release valves to a Jolly Roger, just in case someone tries to steal the treasure within. They've got a pretty awesome video explaining the whole thing, and don't worry -- it's got subtitles if you don't speak Scots. Check it out