These are the 6 best Caesars in all of Canada
Grady Kell & Roman Tagliafierro
In the Great White North, where hangovers are as rough as a night in the tundra, they've upped the Bloody Mary game in a way that's actually been scientifically proven to slay hangovers (there's even a university study about it). The Caesar keeps the Bloody basics, but adds a healthy dose of Clamato juice and a smorgasbord of spices, toppings, and super-top-secret ingredients for a drink as uniquely Canadian as Justin Bieber.
Since Marco's Italian Restaurant barman Walter Chell created the drink in Calgary in 1969, the Caesar has been a mainstay, with bartenders across the country putting their unique spin on the cocktail. With a magic cure-all in mind, we tracked down the six best in the entire country. And while we know we're completely right, feel free to tell us what we missed in the comments.
The Westin Calgary
6. The Westin Hotel (Calgary, Alberta)
The lowdown: This is the spot where it all started, the birthplace of the Caesar as we know it today. While the restaurant and original space are no longer intact, it stands today as the Westin Hotel in Calgary. The hotel even features an official plaque commemorating both this great Canadian invention and its creator. The Caesar here is elegant and to-the-point: no frills, no weird additions... it's the template for every variation that came after it.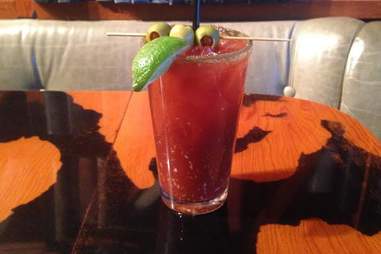 Rock-it Promotions, inc.
5. The Drake Hotel (Toronto, Ontario)
The lowdown: The Drake's Caesar is made with all the standard ingredients: Clamato, vodka, Worcestershire, Tabasco, horseradish, and lime juice. This drink sets itself apart, though, by being loaded with fresh horseradish -- rather than the prepared stuff -- and employs the help of not one but two varieties of hot sauce. It's clean and uncomplicated, but has a definite kick made stronger with Scotch Bonnet-based secret sauce.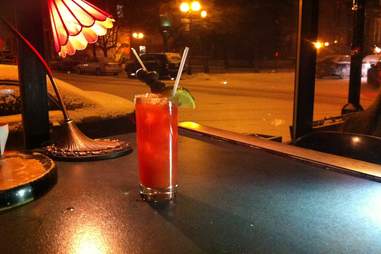 Vanessa Pfeiffer
4. Else's (Montreal, Quebec)
The lowdown: This local favorite puts some extra love into their Caesars, in the form of a touch of red wine, olive juice, and real horseradish, in addition to the standard spread of ingredients. If you're thinking that red wine and olive juice don't mix well together, you have much to learn. This place is your new favorite classroom.
Grady Kell & Roman Tagliafierro
3. Local Public Eatery (Vancouver, British Columbia)
The lowdown: Served in a mason jar shaped like a boot (and representing the first time "a boot" didn't mean "about" in Canada), "El Caesar" is the Wild West in a glass. It's a classic variation amped up with Mexican hot sauce and served with a pepperoni stick as garnish, creating a uniquely West Coast twist on the cocktail.
Mildred's Temple Kitchen
2. Mildred's Temple Kitchen (Toronto, Ontario)
The lowdown: Mildred's uses a super-top-secret, house-made rim salt, which gives off a smoky and bacon-y flavor as the first impression. It gets points for originality by ditching the celery stalk for slaw, and you also get an added weapon to attack your Caesar: a pair of chopsticks.
Jesse Ritchie
1. Score on Davie (Vancouver, British Columbia)
The lowdown: This Caesar -- aptly called "Ain't No Thang" -- comes with hot wings and onion rings stacked on skewers and made fresh-to-order. It is as delicious as it is utterly ridiculous, packing enough booze and sodium to take out an Irish deer in one sitting. That, friends, is reason to hail Caesar.
River Myers is NOT River Phoenix... or is he? He's not. Also, he went to college in Canada. Follow him at @remixrio.