There are some days when you're celebrating a big promotion, or a victory, or a recent tax rebate, and you decide to splurge and pop open an expensive bottle of champagne to celebrate. New Year's Eve is NOT one of those days.
In order to celebrate the day where you'll likely be going for quantity over quality, we followed in the grand tradition of this Boone's Farm tasting to give you all the information you need to find the best, cheapest champagne (errrrr...sparkling wine!!) not that much money can buy, so you'll make at least one wise decision this New Year's Eve.
The Challengers:
Almondage, André, Cook's, J. Roget, and Korbel. We rated them all from 1-to-10 on Pop-ability, Drinkability, and Aftertaste, then averaged those scores for an overall rating.
5th: André California Champagne ($4.52)
Pop-ability: 2 - The hybrid twist/cork has a hilarious warning diagram about not pointing this at your face while opening. You can ignore it. We gave this one a shake for funsies, but even with a crutch, André wasn't walking anywhere. No sound, no bubbles.
Drink-ability: 2 - A strong hit of apple cider vinegar.
Aftertaste: 2 - The mouthfeel is reminiscent of how you felt the first time you heard the word mouthfeel. Unnatural, dirty, a little self-conscious.
Final Score: 2 - SAFETY FIRST
4th: J. Rogét American Champagne ($5.49)
Pop-ability: 0 - Because this is a twist-top, there was very little going on in the pop-ability department. When you break the seal, there's just a meek hiss of carbonation that sounds almost apologetic.
Drink-ability: 5 - It's not hard to drink, but there's very little payoff in the flavor department. .
Aftertaste: 6 - Tastes a lot like that franchise of movies with Zach Galifianakis and that funny Asian guy from Community.
Final Score: 3.6 - TASTES OK BUT NOT FUN.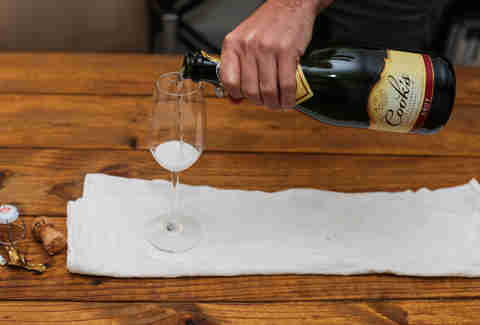 3rd: Cook's California Champagne ($5.42)
Pop-ability: 8 - Compared to Roget, this is off the charts. The cork ricocheted off the ceiling and disappeared. Notes of an NBA Finals locker room.
Drink-ability: 3 - It's a complex mix of sweet and sour. It's like a not totally great puzzle for your taste buds.
Aftertaste: 3 - Synthetic. Kind of makes you forget that grapes were used in this product.
Final Score: 4.6 - ONCE YOU POP YOU WILL PROBABLY, EVENTUALLY STOP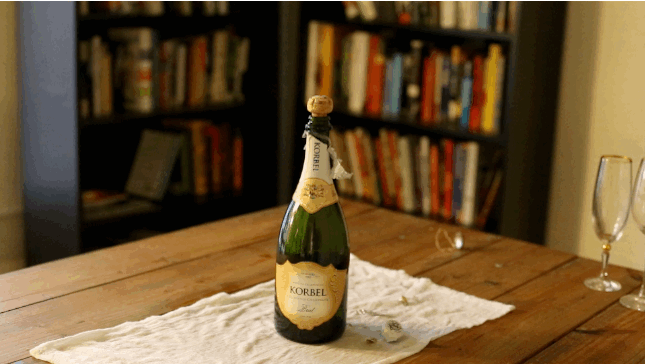 2nd: Korbel California Champagne ($10.72)
Pop-ability: 8 - It's talking loud, but isn't spraying nothing. Bonus points for a cork that's willing to do most of the work.
Drink-ability: 9 - There's less flavor in here than most of its competitors, which actually really heightens the drinkability. Served flat, it could be mistaken for Miller High Life.
Aftertaste: 4 - Strong, lingering taste of oak, bananas, and cabbage.
Final Score: 7 - THE BEER OF CHAMPAGNES
1st: Almondage Flavored California Champagne ($9.99)
Pop-ability: 10 - Whoa! You know what this is: it's a celebration, b*tches! It doesn't get any more explosive than this -- champagne sprayed everywhere. Pairs well with paper towels.
Drink-ability: 8 - If Sweet Tarts came in almond flavor, they would taste very similar to this champagne, and that is not at all a bad thing. Bonus points for a very high bubble count.
Aftertaste: 8 -Those almond flavors just won't let you forget them.
Final Score: 8.6 - THE MOST BANG FOR YOUR BUCK
Dan Gentile is a staff writer on Thrillist's National Food and Drink team and is going to have the most informed and affordable New Year's Eve ever. Also, following him at @Dannosphere is a really easy resolution to keep.
Other Stuff You'll Like In Taste-Test