If you have a beer in your hand, life is probably good. And if you have the best beer, life is probably even better, especially if it's from the best craft brewery in your state.
How are we defining "best brewery" here? Obviously, making fantastic beer is a must -- although that's happening in so many places these days that it's becoming an extremely delicious problem. Does size matter? To a degree; if two breweries we like are pretty close in quality and one of them is providing beer to many more people, that could tip the scale in its favor, but we might also go with the smaller place that's inspiring fans to drive hours for its beers.
Check out our picks below and read about some beers to add to your bucket list, or just scroll down to your state and head straight to the comments section to heckle us about our brewery choice. However you want to play it, happy drinking!
Alabama
Back Forty Beer Co. (address and info)
Gadsden
Slowly but surely, Alabama has been pushing back against its reputation as a craft beer wasteland, which… well, considering that until recently there were laws against brewing above 6%, direct sales, and 22oz bottles, it was. It's a different era now -- the era of Back Forty, which has held the crown as 'Bama's best brewery since opening in 2009 with its instant-classic Naked Pig pale ale. And while there's a stable of reliable IPAs and browns, BF doesn't treat its fans with kid gloves, as evidenced by challenging brews such as the Mandarin Chief black IPA loaded with oranges. In Alabama, none of that even matters, though, if it's not tailgate-ready. Luckily it comes in cans. Might we recommend the Fence Post session for the long haul? It comes in at a light 4.5%... only this time, it's by choice.
Recommended Video
The Guinness Brewery Is on Airbnb So You Can Have a Big-Kid 'Willy Wonka' Experience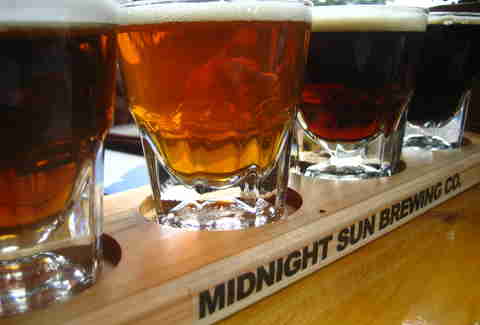 Alaska
Midnight Sun (address and info)
Anchorage
It can be hard to maintain the title of "best brewery" in a state that is arguably becoming the country's best-kept beer secret. Even so, as an established beer operation at the ripe age of 22, Midnight Sun keeps churning out fan favorites like the Berserker imperial stout and Pleasure Town IPA and racking up medals of the national variety, while the Alaska's Most Wanted series lives up to its name considering the lust offerings like the Brewtality espresso black beer inspire. The beer-dispensing wall-mounted salmon at the brewery is just a nice bonus touch.
Arizona
Four Peaks Brewing Company (address and info)
Tempe
Four Peaks has incubated a rabidly loyal cult since tapping its first keg back in 1996, so much so that it played John Henry to the steam engine that is Founders and dominated Thrillist's Beer Madness two years ago. That didn't happen because of the brewpub's pizza and burgers. It's because Four Peaks has been the best brewery in Arizona pretty much since day one, an argument that will easily be won with a sip of the smooth Kilt Lifter Scotch ale or the light, refreshing Peach fruit ale, the perfect beer for a hot day. Which, in Arizona, is also known as "pretty much every day."
Arkansas
Ozark Beer Company (address and info)
Rogers
Opened in late 2013, Ozark has gone from Arkansas' best-kept beer secret to having an increasingly higher nationwide profile among beer geeks, specifically those who've had the BDCS, which is shorthand for the stunning barrel-aged double cream stout that holds its own with plenty of brews that generate more hype. If you aren't feeling the heavy stuff, the fruity, piney IPA packs enough flavor to render cute names and hop puns unnecessary.
California
Russian River Brewing Co. (address and info)
Santa Rosa
We're at the point now where beer is running neck-and-neck with wine as California's most robust and impressive booze product, and we could wax poetic all day about the breweries that we didn't pick. But we won't. Because Russian River exists here. And we can go on for days about how the psychotically lusted-after Pliny the Younger not only defined the triple, but has remained a paragon of deliciousness since the day it changed the beer world in 2005. But that's just the tip of the iceberg. This is a brewery that has mastered Belgian styles, too, from the cabernet barrel-aged Consecration sour to the Redemption blonde. We spent an inordinate amount of time trying to find a reason to not name RR Cali's best brewery. We couldn't find a single one.
Colorado
Avery Brewing Co. (address and info)
Boulder
Like Cali, Colorado's obscenely blessed with dozens of world-class breweries, from the hugely influential New Belgium to Oskar Blues, Ska, and Great Divide. But Avery's a rare beast that came out swinging nearly 25 years ago and has somehow gotten better with every successive year. Based on the greatness of standbys like the smooth Joe's Pils and the heavy-hitting Hog Heaven imperial red, Avery would be a contender, but it's in honing one of the nation's best barrel-aging programs that the brewery really leads the pack. Perennial favorites like Rumpkin -- a 17% beast that will have you rethinking pumpkin beers -- are fine-tuned greatness, while one-offs range from tequila-aged sours to bourbon-kissed stouts. If you find one, cherish it. This is a brewery that specializes in whales, and isn't shy about retiring them once they're gone.
Connecticut
New England Brewing Co. (address and info)
Woodbridge
Connecticut brings to mind many things to many people, but in relation to the rest of New England, beer is usually not the area where many would assign it dominance. That's why the irony of New England Brewing being located there is so delicious... as delicious, one might argue, as one of its many, many hit beers! Fuzzy Baby Ducks IPA, beyond its adorable name, is fantastic by anyone's measure, and the 668 Neighbor of the Beast Belgian strong ale is a hearty departure from the region's norm of murky hop-bombs. And please don't forget the Scrumtrulescent Saison, even for a second.
Delaware
Dogfish Head Brewery (address and info)
Milton
You could argue that Dogfish Head holds both the position of one of the most adored, established craft breweries in the country that is rooted in tradition and also as one of the most envelope-pushing, inventive breweries in the game. It's the beer equivalent of an expert record-crate diver, as happy to bring people a deep cut like Chateau Jiahu (the oldest known recipe recreated to date) or Bitches Brew (a blend of stout and Ethiopian Tej) as it is a solid gold hit like 60 Minute IPA. The beer-themed motel doesn't hurt, either.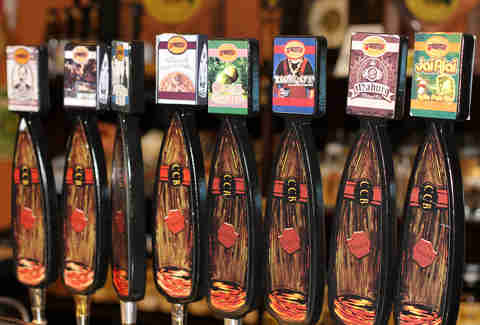 Florida
Cigar City Brewing (address and info)
Tampa
The 2016 sale of Cigar City to the same group that owns a majority stake in Oskar Blues made waves in the craft community and proved to be a sign of things to come. Said waves quickly turned to excitement that more states might be getting their hands on Jai Alai and other fine offerings from CC's impeccable roster of brews, which has indeed come to pass. Of course, making the trek down to Tampa for some sunshine and beer is still a fantastic idea, especially if you plan your trip around Hunahpu's Day, which remains one of the country's most obsessed-over beer releases.
Georgia
Creature Comforts Brewing (address and info)
Athens
It took Creature Comforts all of about a year after opening in 2014 to leapfrog the competition and become the best damn brewery in the state. That's about the amount of time it takes most breweries to figure out what toppings work best on a burger. CC came out swinging maniacally with the already-perfect oak-aged Reclaimed Rye on its year-round roster, plus an aged limited series that has included everything from a cucumber/lime gose to an award-winning American Brett and a grapeskin-aged wild ale. Not bad for a brewery that should still be in training undies.
Hawaii
Maui Brewing Co. (address and info)
Kihei
Unlike certain other noted Hawaiian brewers that also make their beer on the mainland (stares daggers at Kona), Maui produces all of its generally excellent brews in Hawaii (because why would you go anywhere else? Oh right, shipping costs.). Its Coconut Hiwa porter is rightfully adored (the imperial version is rightly MORE adored). The Lorenzini double IPA (brewed with local citrus and Maui cane sugar) is another specialty release to keep an eye on.
Idaho
Crooked Fence Brewing (address and info)
Eagle
They say that a large portion of beer sales are based on how cool the labels are. If that's the case, Idaho's Crooked Fence should be the top-selling brewery, with labels resembling the kind of slick, twisted cartoon artwork you'd expect to see on old Liquid Television reruns or during an Adult Swim fever dream. But it's what's inside that really counts, and beneath those frame-worthy etchings is a standout roster of beers ranging from the fruity Aviator raspberry blonde to a monstrous imperial stout aptly named "Sins of Our Fathers." CF ran neck-in-neck with the excellent, Belgian-heavy Selkirk Abbey for Idaho's honor, but the strength of its product inside and out tipped the scales.
Illinois
Pipeworks Brewing Co. (address and info)
Chicago
This is by no means a shot at perennial favorite Half Acre or emerging powerhouse Revolution, but just an acknowledgement of how far Pipeworks has come since a couple of beer-obsessed buddies, who met working at a bottle shop and made a pilgrimage to Belgium to hone their brewing chops, launched it via Kickstarter in 2010 when that was still a relatively novel thing to do. Fast-forward to 2017 and it's grown into a legitimate heavyweight on the strength of a dizzyingly large roster of outstanding beers, from the shockingly complex session options like Lil Citra and Mango Guppy that have become indispensable for Chicago day drinking, to standout hop-heavy imperial IPAs like the flagship Ninja vs. Unicorn, to the perpetually scarce Sure Bet.
Indiana
3 Floyds Brewing Co. (address and info)
Munster
Breweries in the Hoosier State have come a long way in recent years, but they're still a long way from snatching the crown from one of craft beer's original heavy hitters. It'd be easy enough to keep churning out reliably delicious Zombie Dust and throwing that big Dark Lord Day bash every year and call it a day, but 3 Floyds continues to experiment and innovate, with the results almost invariably paying off, including an increasing number of interesting collabs and standout sours in recent years.
Iowa
Toppling Goliath Brewing Co. (address and info)
Decorah
Toppling Goliath may have begun life as a scrappy upstart, as its name would suggest, but it's quickly growing into a titan in its own right and remains the undisputed top draw when it comes to Iowa breweries. The formerly elusive PseudoSue is becoming more prevalent around the Midwest, including a recent entry into the Chicago market in concert with The Field Museum (which houses the T. rex skeleton from which the beer gets its name). Meanwhile, special releases like Kentucky Brunch and Assassin remain near the top of beer-drinker bucket lists all over the country.
Kansas
Tallgrass Brewing Co. (address and info)
Manhattan
It's perpetually a tough choice between Free State and Tallgrass for Kansas brewing supremacy, and you could choose either side and not be wrong. But it'd feel REALLY wrong to deny the impact Tallgrass has had on Midwest brewing, the charming can design of 8-Bit pale ale and the equally charming beer contained within, and the enduring appeal of Buffalo Sweat, which thankfully remains a shining example of an easy-drinking stout and not an idea for a stunt beer gone horribly, horribly off the rails.
Kentucky
Against the Grain (address and info)
Louisville
Even with the low bar for humor in the beer industry, it takes a seriously good brewery to take a poop joke and turn it into one of the best brown ales in the world. Even in the land of bourbon, Against the Grain gives Kentucky another reason to be proud with beers like the solid APA A Beer, the killer DIPA Citra Ass Down, and the barrel-aged Kentucky Ryed Chiquen... all pulled from a list a 400+ impressive brews. But seriously, that Brown Note can is something else.
Louisiana
Great Raft Brewing (address and info)
Shreveport
With respect to OG Abita and NOLA Brewing, relative newcomer Great Raft is truly embracing what has become a hallmark of the LA craft beer movement: brewing beers that work well with local food. The most obvious examples of that come from its collab with the Besh Foundation, which has created bottles like the Provisions and Traditions, a dark rye saison loaded with caraway seeds to create a beer reminiscent of pumpernickel, which really sells the idea that some beers are like drinking bread. That Belgian influence continues with beers like the sweetly funky Awkward Uncle strong dark ale, but lest you think this is a brewery beholden to Euro leanings, Great Raft also nails it with its Creature of Habit coffee brown and a killer India pale lager, one of the best beers to drink on a sweltering Louisiana afternoon.
Maine
Maine Beer Company (address and info)
Freeport
Let's be clear: Maine is not an easy state to make waves in as a young upstart brewery. So to open your doors just minutes from Portland as the state's eponymous brewery means you're either crazy, good, or crazy good. Luckily for all of us, the latter is the case, and the catalog of beers reads like a "greatest hits" of the Northeast. Even as hoppy mainstays like Lunch, MO, and Peeper tend to overshadow the darker offerings like King Titus stout or Mean Old Tom, there should be no mistake that the entire lineup showcases precisely zero weak links. Now just try to get up there in time to get your hands on a bottle of Dinner DIPA.
Maryland
Stillwater Artisanal Ales (address and info)
Baltimore
Adding the "Artisanal Ales" moniker to your brewery can feel a touch pretentious, even if Stillwater's hardly the only guilty party here, but the bottom line is if you're turning out intricate yet crisp saisons like Cellar Door and Stateside, you can call your brewery whatever you want. DuClaw, Heavy Seas, and Flying Dog all have their charms, but there isn't anyone brewing at a higher level in Maryland than Stillwater.
Massachusetts
Tree House Brewing Co. (address and info)
Monson
Apologies for borrowing from Schlitz's marketing, but this is the beer that made Monson famous. Tree House's string of stunning East Coast IPAs like Very Hazy, Juice Machine, and Julius have become fixtures at the tip top of beer-rating sites and the driving force behind the significant uptick in population for a relatively sleepy town in Western Mass every minute its hometown brewery is open for business. It's in the process of a multimillion-dollar expansion to accommodate the demand, so don't expect that trend to start slowing anytime soon.
Michigan
Founders Brewing Co. (address and info)
Grand Rapids
Michigan has risen to the upper top tier of beer states: The Mitten is dotted with legendary brewers like Short's, Jolly Pumpkin, Dark Horse, and New Holland, and it seems like a new operation is tapping into the Great Lakes every week. But the conversation about the best of the best always comes down to the two big dogs: Bell's and Founders. It's neck-and-neck, but we've got to give it to Founders, whose KBS (don't call it Kentucky Breakfast Stout!) has basically turned its release into a week-long holiday, and whose All Day IPA is one of the best damn session beers a hop lover can still appreciate. The brewery has also brought Black Rye back from obscurity, made its Dirty Bastard better by sticking it in a barrel, and every year ups the profile of fruit beer with Rubaeus, a raspberry ale that manages to be sweet without being cloying. It's Pure Michigan in a bottle.
Minnesota
Surly Brewing Co. (address and info)
Minneapolis
Weren't Midwesterners supposed to be all nice and friendly? Surly made a name for itself with the aggressive, addictive bitterness of Furious, and it hasn't looked back, turning out big, bold, must-have beers like the Abrasive Ale (a double IPA) and Darkness, its excellent rendition of the must-have, released-once-a-year, hoard-worthy stout. Minnesota's not lacking for exciting breweries, but nothing has come close to challenging Surly's supremacy.
Mississippi
Southern Prohibition Brewing (address and info)
Hattiesburg
Like so many other breweries in the South, the Hattiesburg operation is young, but in a few short years it's quickly expanded into and experimented with more styles of beer than many of its counterparts, canning regular rotations like the Suzy B blonde, Fire Ant red ale, and Jack the Sipper ESB, plus a new commemorative IPA each year. But for the envelope-pushers, look to the Wild and Wood series, with offerings like Barley Legal English barleywine and Hipster Breakfast oatmeal stout getting a kick by sitting in bourbon barrels until they've got the perfect bite.
Missouri
Side Project Brewing (address and info)
Maplewood
As the name would suggest, Side Project got started as a… side project, specifically a venture from Cory and Karen King while Cory was working as a brewer for Perennial, which could easily have its own case for Missouri's best brewery if not for the absolutely jaw-dropping beer Side Project has been putting out. With a particular focus on funky brews and barrel aging, its Maplewood taproom has become a mandatory destination for beer lovers looking to get their hands on creations like Fuzzy, a pleasingly tart peach sour (get it?!) aged in chardonnay barrels.
Montana
Flathead Lake Brewing Co. (address and info)
Bigfork
We could have very easily fallen back on Montana's legendary Big Sky just by virtue of its incredible Ivan the Terrible and the ubiquitous (yet delicious) Moose Drool, but Flathead Lake has been steadily raising its profile since 2004, when it opened on the shores of the West's biggest freshwater lake. And while there's nothing better than the crisp and hoppy Centennial IPA or the malty Two Rivers Pale, Flathead's dipped its toes into more experimental offerings, among them the Le Cygne French farmhouse and a killer small-batch sour series that loads local fruits and funky Brett into oak casks for some of the most unique and elusive beers in Montana.
Nebraska
Nebraska Brewing Company (address and info)
Papillion
NBC's brewpub might not look like much on the outside (most things in outdoor malls don't), but don't be fooled. In addition to the trademark cans of Cardinal pale ale and Brunette nut brown, its Reserve Series is doing bottle-conditioned wonders that stand among the big dogs, including the Black Betty imperial stout and the Responsibly Belgian ale aged in old brandy barrels that manages to be at once familiar and utterly unique. There's a reason beer lovers beyond Nebraska's borders are beginning to take notice.
Nevada
Joseph James Brewing Company (address and info)
Henderson
Joseph James' first brew wasn't an IPA or a lager. It was root beer, and not one of those amped-up boozy ones: a soda forged as the brewers were waiting for their licenses to clear back in 2008. They still have it, too, but they also have the GABF gold-winning Citra Rye, perhaps the finest beer to drink in Nevada during the summer, right behind the brewery's explosively flavorful Blood Orange and Cranberry Berliner Weisse. But it's not all sunny-day sipping here… OK, it is, because this is Nevada. But the brewery also has a roster of more robust specialties like the Imperial Smoked Porter loaded with bourbon flavor and cocoa nibs, and this summer's ninth anniversary offering, a sour red kicked up with boysenberries. It's out next month. If it's half as good as its fellow specialty bottles, it will still be among Nevada's best beers.
New Hampshire
Stoneface Brewing Co. (address and info)
Newington
We've said it before and we'll say it again: We adore Smuttynose from the bottom of our beer-loving hearts, so it can't be neglected to mention that fantastic young upstart breweries would never have found their footing without the foundation it set. But we also said that the decision to name Stoneface the best in the Granite State would make more sense as time went on, and it turns out we were right! Beers like the Full Clip IPA show that it's willing to improve on its own successful recipes (by swapping out traditional yeast for an English strain), the burgeoning fruited Berliner series shows solid portfolio growth, and the ability for the APA to remain one of the most impressive beers coming out of New England should be enough proof to sway any doubters.
New Jersey
Kane Brewing Company (address and info)
Ocean Township
Started in 2011, Kane started as a small brewery relentlessly focused on quality and devoted to self-distributing to New Jersey bars and restaurants to ensure beer excellence. In 2017, it's… still doing that, albeit on a bit of a larger scale thanks to everyone wanting to drink its beer. The Sunday Brunch, an imperial milk porter with maple, cinnamon, and coffee, is way too good to actually be confined to just one day of the week, and a can of the standout IPA Head High will make you thankful it's no longer restricted to draft-only as it was in the early days (unless, that is, you happen to be drinking it on draft!).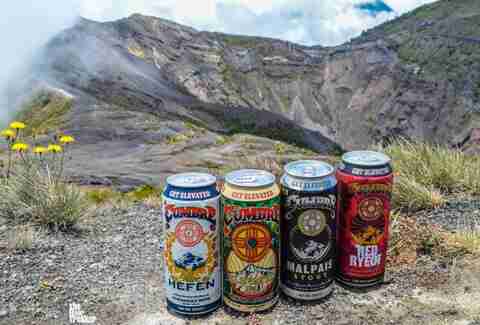 New Mexico
La Cumbre Brewing Company (address and info)
Albuquerque
La Cumbre scored a GABF gold and a World Beer Cup bronze for its hoppy Elevated IPA in its second year, which, well, damn! Now in its seventh year, it's upped the status of New Mexico's entire beer game, meteorically rising like some sort of, let's say, chemistry teacher with nothing to lose (sorry, we had to). La Cumbre doesn't mess around with a whole lot of styles, relying on mainstays like the Pyramid Rock amber and its signature Hef -- a perfect desert-air treat -- to hold down its line. But with the Project Dank series, La Cumbre lets loose with experiments in hops madness that would throw even the most hop-horny Pacific Northwesterner for a loop. Expect the unexpected. And a lot of hops.
New York
Other Half Brewing Co. (address and info)
Brooklyn
It might seem like it would be hard to keep heaping praise on what's arguably one of the most critically adored breweries to open in the last five years. In the case of Other Half, the non-stop releases of ever-innovating beers that always seem to top the last batch not only make it easy, but necessary. Exciting single-hop IPAs like All Citra Everything find themselves at home alongside longtime favorites like Forever Ever IPA (not to mention the collaboration brews which seem to make everyone shine). The can releases are the stuff of legend for a reason.
North Carolina
Wicked Weed Brewing (address and info)
Asheville
A brewery that has a handle on everything from hoppy to sour to barrel-aged to funky and everything in between? That almost never happens. But there's clearly something special happening in the hills of Asheville, where Wicked Weed's ascension to the top in a state that is positively jam-packed with all kinds of great beer has been as storied as it has been fast. Hop hounds will dig things like Lieutenant Dank, a straightforward yet complex 6.5% IPA, and if you're lucky to get bottles of the Red Angel sour, you'll understand why the barrel and sour program has beer fans from coast to coast losing their collective minds.
North Dakota
Fargo Brewing Company (address and info)
Fargo
Like the NoDak brewing scene in general, the selection at FBC is pretty sparse, but that doesn't mean the four beers on offer in bottles and cans aren't top-tier (we're particularly fond of the Wood Chipper IPA, and not just because we love us some Coen brothers references). It's the kind of brewery content to do a few beers very well, and Stone's Throw might just be the best Scotch ale in the heartland. But lest you think it's resting on its laurels, the taproom features some exclusives that elude cans and bottles, among them a mango-infused take on the Iron Horse pale and the Mighty Red imperial red ale, a pleasant-yet-aggressive concoction that might just be the definition of Midwest Nice in a can.
Ohio
Jackie O's Pub & Brewery (address and info)
Athens
College students drink a lot of beer. But that doesn't mean they drink a lot of good beer. Unless, of course they're Ohio University Bobcats, in which case… holy shit, college kids drink amazing beer! The beloved brewpub has upped its game since opening up a production facility in 2013, and quickly threw down on the barrel-aged innovation game, transitioning from bourbon barrels to rum, tequila, and sherry. And it knows exactly what it's doing, as evidenced by the likes of the incredibly balanced Kentucky Monk tripel aged in bourbon barrels. Lest that be too heavy, there are plenty of lighter options like the Firefly amber and the Next Level India pale lager. Just, you know, don't play beer pong with it. You may be in a college town, but this is big-kid beer. Wasting it is a sin. 
Oklahoma
Prairie Artisan Ales (address and info)
Tulsa
People go crazy over their subtly named BOMB! imperial stout and its variants (if you can get your hands on the aptly named rum barrel-aged Pirate BOMB!, do so). It's not just about its stout game, though, as well-executed sours like the dry-hopped Funky Gold Amarillo are also worth seeking out. Luckily, Prairie's distribution has grown prolifically in recent years, so that it's increasingly within reach for more people who may not actually live near a prairie.
Oregon
The Commons Brewery (address and info)
Portland
It's not just tough picking the best brewery in Oregon. It's tough picking the best brewery in the neighborhood that our selection, The Commons, calls home, what with the likes of Upright, Cascade Barrel House, and Hair of the Dog all in the same vector. Yet The Commons has upped the ante in the six years since its brewer went from a garage-based nano operation to bigger digs, with its beloved Urban Farmhouse ale and the foudre-aged Flemish Kiss brett ale standouts among the Belgian-heavy lineup. But it's in the winter -- when the rain falls unrelentingly on Portland -- that the seasonals really kick into gear, highlighted by the February release of Brotherly Love, a 10% dark strong ale loaded with cherries and fancy cocoa nibs from neighboring Woodblock Chocolate. Oregon's scene is constantly in flux, and the best brewery in the state changes regularly. But right now, The Commons is leading the pack, eschewing the region's hop obsession for something a little more layered and a little less bitter.
Pennsylvania
Victory Brewing Company (address and info)
Downingtown
The toss up for Pennsylvania supremacy between Troegs and Victory is a dead heat for so many reasons, not the least of which is each brewery's devotion to a maintaining a solid lineup of core products while still pumping out memorable one-offs that are free from gimmicks or over-hype. We hand the victory to Victory here because of releases like Kirsch Gose, a cherry-kissed sour seasonal, fantastic takes on lesser-appreciated styles like their Moonglow Weizenbock, and the impressive success rate of their Blackboard special release series (we're looking at you, Oatmeal Hazelnut Porter).
Rhode Island
Proclamation Ale Company (address and info)
West Kingston
The best part about being known for being the small guy is that when you do something big, everyone gives you even more credit. In the case of Rhode Island beer, Proclamation deserves as much love as you can muster (even if it was a truly neck-and-neck call with Grey Sail). Beers like their Derivative IPA/APA series (especially the Citra) are as juicy and inviting as hell, and It's Going to Be OK Pheel Stout and the Adelia Saison sing out as highlights in a truly badass lineup.
South Carolina
Westbrook Brewing Co. (address and info)
Mt. Pleasant
Hold whatever your opinion is on salty, sour beer for just a second and take in the fact that a small brewery like Westbrook has been able to spring up and become one of the hottest breweries in the South in practically no time. Now consider their mastery of beers that go way beyond the sour/salty variety, like Mexican Cake Imperial Stout, their Two Claw IPA, or hell, even their core White Thai witbier, and you should realize that they easily pump out the consistently best beer in South Carolina.
South Dakota
Crow Peak Brewing (address and info)
Spearfish
For the better part of the decade, Crow Peak -- located in the small canyon-adjacent town of Spearfish -- has quietly been making the best damned beer in SoDak, with its 11th Hour IPA laying the foundation for a program that has slowly expanded to include everything from maibock to the heavy Pile O' Dirt Porter. Nothing super fancy here, though. Just damn fine beer from a brewery hidden away in the flurry of Harleys, Rushmore-bound tourists, and cascading hills.
Tennessee
Blackberry Farm (address and info)
Walland
Not content to just be a luxury resort and a big-ass farmland estate, Blackberry Farm has been brewing up a roster of Belgian-focused beers for a couple years now, and if the corks in the bottles didn't tip you off, shit's fancy. It's also phenomenal. The Tripel and Quad ales are among the finest this side of the Atlantic, while the seasonal saison offerings run the gamut from fruity to spicy without losing sight of drinkability. But Blackberry Farm isn't wholly beholden to tradition, and playful offerings like the corn-based Tennessee cream ale and the badass Brett Belgo IPA show that this is a brewery so confident in its prowess that it can pull off unexpected greatness. Apparently, that fresh air is good for the brewers' creativity.
Texas
Jester King Brewery (address and info)
Austin
From OGs like Saint Arnold to upstarts like Lone Pint, the Texas brewing scene gets more vital and vibrant every year, but every year Jester King remains its, well, king. And look, if you're not someone who gets into sours you may not fully appreciate what they do, but those who love them know there are only a handful of breweries in the country who can even approach them when it comes to bringing the funk. Tell you what, get your hands on some Atrial Rubicite, which is made with raspberries and sorcery, and tell us if you STILL don't like sours.
Utah
Uinta Brewing Co. (address and info)
Salt Lake City
Odds are, you've got some very wrong impressions about Utah beer, many of which involve less alcohol content than Kool-Aid. Uinta's been around to disprove that notion since 1993, offering up everything from the strong Detour Double IPA to the Crooked Line black ale, which ages in rye barrels until it's 10x stronger than the mythical 3.2 beer. It also does lower-impact beers like the tasty Cutthroat pale ale and the HooDoo kolsch, plus one of the finest citrus IPAs on the market with Hop Nosh Tangerine, which takes the already great regular Hop Nosh to unexpected new heights. Point is, it does a little of everything. That includes shattering expectations and preconceptions.
Vermont
Hill Farmstead Brewery (address and info)
Greensboro Bend
The holiest of holies. The creme de la creme. The Hilliest of Farmsteads. Whatever you call it, it doesn't change the fact that a brewery located deep in Vermont has become arguably one of the best breweries in arguably the best beer state in the entire world, whose name alone has launched many a beer road trip. Whether or not you've been lucky enough to actually get up there to try some of their hits like Susan, Everett, or Arthur, you're probably still trying to find a way to describe these beers to your friends without using hyperbole. If it makes you feel better, so are we.
Virginia
Hardywood Park Craft Brewery (address and info)
Richmond
If you're comfortable picking any beer besides Hardywood's Gingerbread Stout as your holiday brew of choice, we're going to politely disagree with you as we pour one for ourselves. But the buzz around their brewery has grown in the past year, thanks in no small part to Trickery, a brandy barrel aged imperial milk stout, their Virgindia Pale Ale, and their Singel and Hoppy Belgian ale. Expect even more from these guys as they expand production this year.
Washington
Reuben's Brews (address and info)
Seattle
Ballard's Reuben's Brews recently began expanding out of Washington, and for many in the Pacific Northwest it seemingly came out of nowhere. Well, more specifically, it came out of a garage in 2012, when its founder won the National Homebrew competition before Kickstarting his brewery. It's only gotten better over time, and now it's crept up as the best brewery in the world's biggest hop region. But how? With one foot in PNW tradition and the other in Europe, it's a brewery that delivers serious IBU factors for hop heads courtesy of its pitch-perfect Crikey IPA and a series of IIPAs that currently includes the intense Expat. But Reuben's has also nailed it with its salty gose, the tart Hibiscus in Berlin, and a low-impact Belgian table beer. It also does ryes. And a barrel-aged breakfast stout. And a Berliner Weiss. Slow down, Reuben... it's only been five years. Just kidding. Don't ever stop.
West Virginia
Bridge Brew Works (address and info)
Fayetteville
It's pretty amazing that a tiny West Virginia brewery is flooding the land with great Belgian- and Euro-style beers, fantastic tripels, kolsch, Baltic porters, and black lagers among them. What's even more impressive is that West Virginia's best brewery is run entirely by a mere three people. You'll forgive them for not offering tours. They're too busy making the state proud.
Wisconsin
New Glarus Brewing (address and info)
New Glarus
The extent to which New Glarus completely dominates the Wisconsin craft scene gets overstated a bit -- breweries like Central Waters and Ale Asylum are doing some legitimately outstanding work. All, that said... well, New Glarus has grown into one of the biggest craft breweries in the country without even sending its beer to anywhere else in the country! Spotted Cow may be essentially the state beer of Wisconsin, but it's New Glarus' funky and fruity offerings that really set it apart, like its peerless Raspberry Tart.
Wyoming
Melvin Brewing (address and info)
Alpine
Melvin's got a hell of a story, as one would expect from a brewery forged in a Thai restaurant that the owner sold on eBay then reclaimed after it went under. But the real story of Melvin is the incredible beer, so let's just get this out of the way and say that the 2x4 IIPA has earned its place among the most sought-after IPAs, essentially becoming the Rocky Mountain version of Pliny (they're much less stingy with it, though). That World Beer Cup gold medalist is the crown on top of a hop-heavy roster that also includes the Humbert MPA (Melvin pale ale, of course) and the local honey-infused Killer Bee's ale. And yes, in case you were wondering, they all go very well with larb.
Deputy features editor Matt Lynch hates drinking alone. Make plans with him @MLynchChi.
Senior features editor Andy Kryza is actually totally cool with drinking alone. Follow him to ill-advised Tweetstorms @apkryza. 
Zach Mack is Thrillist's contributing beer writer, a Certified Cicerone, and the owner of Alphabet City Beer Co. in NYC. He prefers drinking with puppies. Follow him @zmack.