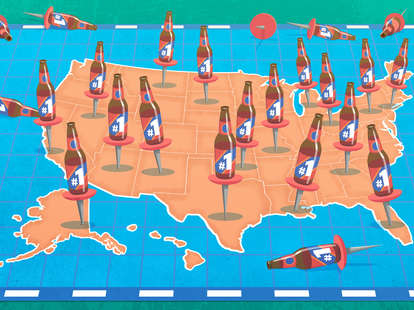 The Best Craft Brewery in Every State
If you have a beer in your hand, life is probably good. And if you have the best beer brewed in your state, life is even better. But with more than 6,000 breweries in the US, which beers are truly the best?
We've assembled a crack team of experts to lay on the superlatives. How are we defining "best brewery" here? Obviously, making fantastic beer is a must. Does size matter? To a degree; if two breweries we like are pretty close in quality and one of them is providing beer to many more people, that could tip the scale in its favor, but we might also go with the smaller place that's inspiring fans to drive hours for its beers. Regardless, we feel that the 50 breweries below represent the best in show in every state (including the Show-Me State).
About that panel: We've divided the country into four sections and selected our favorite experts for each. In the Northeast, we have longtime Thrillist writer and owner of Alphabet City Beer Co. Zach Mack. Taking reins in the South is legendary beer scribe and journalist Ale Sharpton. The Midwest is in the able hands of former editor at DRAFT Magazine and current staff writer for The Takeout, Kate Bernot. And bringing up the west is Ezra Johnson-Greenough, founder of Portland Beer Week and The New School beer blog. Thrillist editors Matt Lynch and Andy Kryza got in on the action for real, because FOMO is a lifelong affliction.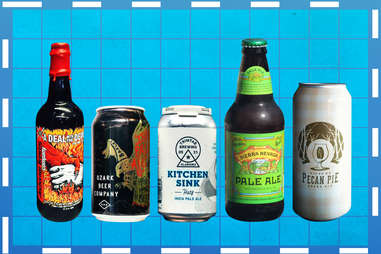 Jason Hoffman/Thrillist
Alabama
TrimTab
Birmingham
No doubt about it, Alabama is becoming a state to be reckoned with, and Birmingham is the main catalyst. While Good People backs what they say with ales like the iconic El Gordo imperial milk stout we featured in our recent
The 32 Must-Have Stouts Right Now list
, Trim Tab wins by a glass with the killer year producing respected IPAs and European-inspired ales. From expanding across state lines to tripling their capacity, fully utilizing a new canning line, and becoming the first in Alabama to produce and can a hard sparkling water they call RECwater (Recreational Effervescent Craft water) coming in three fruit-infused flavors. And if you happen to hit up their industrial-meets-chic home base, Double T showcases a slick art gallery-tasting room hybrid, and an exclusive "Cellar Patron" program. (And a shout out to Straight To Ale in Huntsville. I see you.) --
AS
Alaska
Anchorage Brewing Company
Anchorage
When Anchorage Brewing first began producing beers, they quickly became known for their wild and eccentric recipes that utilized wild yeasts and barrels. Brewer/owner Gabe Fletcher previously created some of Alaska's most famous beers at Midnight Sun Brewing, but has since turned his focus to the wild side with tart and funky beers. In a town not known for hops, but light and malty beers, Anchorage Brewing was an outlier that quickly built a fanbase. Fans of Fletcher's great beers had to seek them out at specialty stores: The brewery wasn't open to the public and had no tasting room. Fletcher had hid it in the center of town below the Sleeping Lady Alehouse, where he siphoned wort from the brewpub above to fill his own barrels in the basement below. Perhaps it was working in this isolated, cold, cave-like location with only bugs for company that lead to his unusual beers that ferment and condition in only oak for three months to more than a year. Today, Anchorage Brewing has their own facility and popular taproom, makes more standard styles like IPA (in addition to the wild barrel stuff), and hosts an invitational festival that brings brewers and beer fans to Anchorage from across the world. -- EJG
Arizona
Arizona Wilderness
Gilbert
Arizona is a big state full of natural beauty, from their cacti-dotted landscape to one of the greatest wonders in the world. While they are not known for their breweries or their plant life, the brewers at Arizona Wilderness Brewing draw inspiration from the environment and agricultural community. From their patio garden, the brewers pick native herbs to use in beers like Garden Valley Gruit with lavender, thyme, rosemary, basil, sage and pine or Futures Saison made with locally foraged cacti and bay leaves -- they've even used rare Sonoran berries in their creations. That's how these guys went from window cleaners to pioneers of naturalism and conservation and launched one of the country's most lauded breweries. -- EJG
Arkansas
Ozark Brewing Company
Rogers
I have more Arkansas-brew sippin' to do, especially since Arkansas' beer scene is on the rise, but Ozark still reigns supreme. Their selection is surely not as extensive as some of the other breweries listed in this feature, but every ale and lager they do provide is not only solid, but seamlessly true to the style. Collaborating with the state's beloved roaster Onyx Coffee Labs, the Onyx Coffee Stout at a 5.3% is arguably the brewery's most impressive year-rounder; craft heads eagerly await the return of its extraordinary imperial BDCS version as well. And they should. It's world-class status. --
AS
California
Sierra Nevada
Chico
It may not be the trendy choice, but it is the right choice. In a state as crammed full of craft breweries as California (900+, the most of any state), Sierra Nevada stands tall as the
craft beer pioneer that it is
. Though size does not necessarily matter, Sierra Nevada is the second-largest craft brewer in the country, and unlike some of the other big-small guys they have never not been relevant. While some breweries got big and got watered down and safe, Sierra Nevada kept the focus on hop-driven beers before
IPA became an abbreviation
that even non-beer drinkers knew. This is the brewery that created the American Pale Ale and helped create the signature citrus fruit flavor that American IPAs and hops are known for. They make a wide variety of styles, from the bold, dark depths of Narwhal Imperial Stout to the light fizzy yellow crisp lawnmower approved Summerfest lager. Sierra Nevada is a master of the art of brewing without limits or weak points, just a spectacular showcase of American craft brewing. --
EJG
Jason Hoffman/Thrillist
Colorado
Ska Brewing
Durango
You wouldn't expect a brewery named after the fast, offbeat precursor to reggae music in the Rocky Mountain State, especially in a town called Durango. But these city slickers have quietly become the most dependable brewery in one of the finest brewing states in the nation. Rather than Rocky Mountain water, Ska Brewing relies on skateboards, hair gel, and attitude. As the legend goes, two bros named Bill and Dave hatched a plan on the second Skaturday of Skatemberto to ditch their fake IDs and start a brewery. Who knew that comic books and half pipes could make for a good transition to craft brewing? But that's exactly what they did in 1995 when Ska Brewing opened. Now their 12oz cans are available all over the region and are favorites at local watering holes and restaurants without many taps to choose from. Look for the Modus Mandarina IPA (a great showcase of New School German hops) and Rue B. Soho (a take on light lager with added grapefruit.) -- EJG
Connecticut
Kent Falls Brewing
Kent
The explosion in the popularity of farm breweries in this country is not just the side effect of enticing licensing opportunities: For brewers who really know their stuff, it allows them an easy opportunity to break molds and brush aside conventionality. Kent Falls is exactly that kind of farm brewery, having taken a true top-to-bottom approach to their beers since opening in February of 2015. Their unique approach extends beyond the complex farmhouse ales that made them famous and into even traditional styles. As they put it themselves, "Even our simplest fermentations -- for example, our IPAs, fermented with traditional, common ale strains -- are actually a mix of two or three different ale strains, each with its own strengths and weaknesses, but, when put together, create a wholly distinct, nuanced character." Their ability to "remix" the classics while releasing unconventional blended ales puts practically puts them into a class of their own, and certainly amongst the best in the Northeast overall. --
ZM
Delaware
Dogfish Head
Milton
When it comes time to write the definitive book on American craft beer in 100 years, it's hard to imagine that there won't be a chapter entirely dedicated to Dogfish Head. Even today, you could certainly argue that they both the position of one of the most adored, established craft breweries in the country that is rooted in tradition and also as one of the most envelope-pushing, inventive breweries in the game. It's the beer equivalent of an expert record-crate diver, as happy to bring people a deep cut like Chateau Jiahu (the oldest known recipe recreated to date) or Bitches Brew (a blend of stout and Ethiopian Tej), as it is a solid gold hit like 60 Minute IPA.
Even health nuts
have something to appreciate in Delaware's best brewery. Outside of what is reliably available in your local coolers, the taproom exclusives make treks to Milton all the more worth the gas money (and the
beer-themed motel
doesn't hurt, either). --
ZM
Florida
Angry Chair
Tampa Bay
With the steady growth, consistency, extensive portfolio and, hell, crafting two world-class brews -- the Jai Alai IPA and Hunahpu Stout -- even grandma would nominate Cigar City. But let's use this platform to show love to some other gangsters who pound-for-pound are helping Florida climb its way up the ladder of prestige in the sipping industry: there's Civil Society flexing serious IPA muscle in Jupiter; J. Wakefield is killing it in Miami; and St. Petersburg's one-two punch of Cycle and Green Bench; but Tampa's Angry Chair sits in Sunshine State's throne for 2018. This is especially true with their affection for making seemingly countless renditions of haymaker-throwing imperial stouts and applauded collabs with Untitled Art straight outta Wisconsin. To add, their artwork is fire, and they host increasingly popular themed gatherings like Ric Flair night and Super Rad Rare Beer Event. Oh, and they shamelessly boast having rolls of "amazing" toilet paper in their taproom for their beloved patrons. No lie. --
AS
Georgia
Creature Comforts
Athens
Talk about being torn. I visit pretty much every brewery in my hometown of ATL and have arguments for a gang of 'em earning top honors, including Three Taverns, Variant, Scofflaw, Monday Night, and even the augmentations of SweetWater's brewing program, but let's drive an hour up the road to Athens, where Creature continues to draw flocks of advocates to score their limited can releases only available on site. And on the retail level, they have more than their stellar Tropicalia IPA; the recent 50,000 barrel-capacity expansion has provided room for a legion of new stouts, wheat beers, saisons, Berliner Weisse variations, IPAs, pale ales, an ongoing pilsner-style collab with mic destroyers Run The Jewels, and even a year-round Classic City Lager to give a middle finger to adjunct-loaded cheapies that do their best to stifle the craft brew surge. (Oh, and keep an eye out for the year-old Wild Leap out of LaGrange; they know their hops, too.) --
AS
Jason Hoffman/Thrillist
Hawaii
Maui Brewing Company
Kihei
Though they are not known for having a super robust craft brewery scene, Hawaii does have two outstanding breweries that have even transcended the islands. Maui Brewing has independently grown to be the largest independent craft brewery in the state, while the other big guy, Kona Brewing, is now owned by Oregon's Widmer Brewing where most of the production is at. Maui has bragging rights in that they still sell about 75 percent of their beer in Hawaii, even though they distribute to 23 states and multiple countries. But really it's all about the beer, and Maui gets the edge. The sustainability-focused Maui continues to win awards: At the recent 2018 World Beer Cup, they nabbed a Gold for their Valley Isle ESB. Capturing the flavors of Hawaii, you can't go wrong with Coconut Hiwa Porter or Pineapple Mana Wheat, all available in 12oz cans perfect for enjoying on a sandy beach. --
EJG
Idaho
Crooked Fence Brewing
Garden City
They say that a large portion of beer sales are based on how cool the labels are. If that's the case, Idaho's Crooked Fence should be the top-selling brewery, with labels resembling the kind of slick, twisted cartoon artwork you'd expect to see on old Liquid Television reruns or during an Adult Swim fever dream. But it's what's inside that really counts, and beneath those frame-worthy etchings is a standout roster of beers ranging from the classic IPA Hop Notion to Aviator raspberry blonde to a monstrous imperial stout aptly named "Sins of Our Fathers." CF ran neck-in-neck with the excellent, Belgian-heavy Selkirk Abbey for Idaho's honor, but the strength of its product inside and out tipped the scales. --
AK
Illinois
Half Acre
Chicago
With heavy competition from Illinois breweries both new and established, Half Acre more than holds its own. The brewery is a powerhouse across a range of styles, brewing everything from sought-after DIPAs (Galactic Double Daisy Cutter) to easy-drinking fridge staples (Pony Pilsner) to inky stouts (Big Hugs) to a new line of wine-barrel-aged and mixed-fermentation wild ales. Its inaugural Far & Away Invitational in October 2018 united breweries from coast to coast and proved the national cache this Windy City stalwart has earned. Also, the photos of taproom food specials Half Acre posts on Instagram make us drool. --
KB
Indiana
3 Floyds Brewing Co.
Munster
Breweries in the Hoosier State have come a long way in recent years, but they're still a long way from snatching the crown from one of craft beer's original heavy hitters. It'd be easy enough to keep churning out reliably delicious Zombie Dust and throwing that big Dark Lord Day bash every year and call it a day, but 3 Floyds continues to experiment and innovate, with the results almost invariably paying off, including an increasing number of interesting collabs and standout sours in recent years. --
ML
Iowa
Toppling Goliath Brewing Co.
Decorah
Toppling Goliath may have begun life as a scrappy upstart, as its name would suggest, but it's quickly growing into a titan in its own right and remains the undisputed top draw when it comes to Iowa breweries. The formerly elusive PseudoSue is becoming more prevalent around the Midwest, including a relatively recent entry into the Chicago market in concert with The Field Museum (which houses the T. Rex skeleton from which the beer gets its name). Meanwhile, special releases like Kentucky Brunch and Assassin remain near the top of beer-drinker bucket lists all over the country. --
ML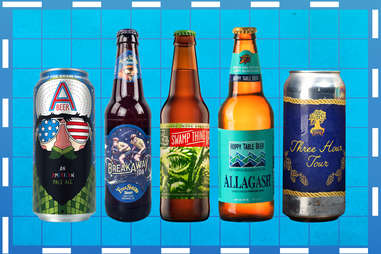 Jason Hoffman/Thrillist
Kansas
Free State Brewing
Lawrence
The unfortunate closure of perennial favorite Tallgrass Brewing this year passed the Kansas beer torch to Free State, an unpretentious college-town brewpub that punches well above its weight. Though it's been around for nearly three decades, Free State has slowly expanded its presence to include modest distribution while never forsaking its laid-back, local-watering-hole vibe. Most of the core beers hew toward brewpub staples: a golden ale, a pale ale, an oatmeal stout, while seasonal and rotating bottle releases like a double IPA, imperial stout, and beloved Old Backus barleywine attract more adventurous beer-seekers. --
KB
Kentucky
Against The Grain
Louisville
True, the Grain's label artwork certainly produce ganders of shock; the Brown Note's dude in soiled tighty whities, and Rico Sauvin IPAs bearded mascot stimulating his left nipple while Sauvignon Blanc grapes are stuffed in his crotch are a couple examples. But when you can brew phenomenal brews like the Bo & Luke imperial stout aged in Pappy Van Winkle Bourbon Barrels, they could be packaged in mason jars and still get the respect they deserve. ATG evidently thrives on staying true to its name; the fun collaborations including the Watermelon, Chicken & Gritz wheat brew with Emmy nominated rap group and aspiring brewers Nappy Roots. That's what brewing is all about. --
AS
Louisiana
Bayou Teche Brewing
Arnaudville
Do you know how to reap the claim as the best brewery in Louisiana? By crafting ales and lagers strategically brewed to pair perfectly with its globally renowned fare rooted from their indigenous Creole and Cajun ancestry. Since 2009, the three Knott brothers have mastered the skills of culinary matrimony at their rustic railroad-car-turned-farmhouse brewery complete with a tap room and beer garden to fully embrace the local culture. To further realize their mission and educate consumers, Teche's website dutifully lists which beers pair perfectly with local dining favorites; the LA 31 Bière Noire dark French Saison alongside a plate of blackened red-fish is on my wish list. (Trying more brews from Gnarley Barley Brewing in Hammond is on there, too.) --
AS
Maine
Allagash Brewing Company
Portland
There's no easy way to pick the best brewery in a state like Maine, where the local competition is as fierce as it is diverse in offerings. In fact, it has become so diverse that it can be easy to forget that one of the best breweries operating has been around for decades, maintaining a place high on the mantle for craft beer aficionados and novices alike. Allagash may be widely (and rightly) known for their gold standard witbier, but even a quick glance into their program offers a deep dive into some of the most dynamic beers being brewed on American soil. From complex blended wild ales to the traditional lambics they've been brewing since before coolships were cool, it's hard to think of a single operation that has contributed as much to our country's domestic beer culture as they have. --
ZM
Maryland
Burley Oak
Berlin
It wasn't so long ago that the solid craft beer scene in Maryland was dominated by only a couple big player breweries. But the past half decade has been kind to the state, ushering in a wave of smaller players who are starting to make larger ripples than their widely distributed predecessors. Case in point: Burley Oak, who have grown leaps and bounds since their founding in 2011. Besides their blockbuster hit beers such as the J.R.E.A.M. (Juice Rules Everything Around Me) fruited sour ale series or the 100 rotating hop IPA series, they've branched into vertical integration by starting their own barley growing operation. The resulting Home Grown Ales program (which includes Loakal Pale Ale) is just one of the reasons this brewery stands above the rest. Truly not bad for a brewery that was birthed out of getting fired and having a car repo-ed! --
ZM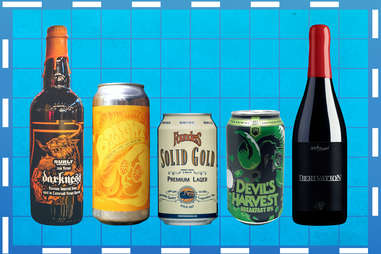 Jason Hoffman/Thrillist
Massachusetts
Tree House Brewing Co.
Monson
Oh, what a year it's been for Massachusetts beer! Even as one of the arguable birthplaces of the American craft beer movement, the Bay State has continued to successfully top itself year after year with new nationally adored breweries of the likes of Trillium and Lamplighter. But it's hard to see 2018 as anything but the year of Tree House, which recently saw through their multimillion-dollar brewery expansion. The increased output has helped to feed the throngs of hop heads who commute to their sleepy town in Central Massachusetts to score cases of their venerable Julius, Haze, Very Hazy, and Juice Machine IPAs and DIPAs. Just don't let the haze craze stop you from trying some of their world class stouts, like Double Shot series, or easy drinking lagers like the Trail Magic German-style Pilsner. --
ZM
Michigan
Founders Brewing Co.
Grand Rapids
Michigan has risen to the upper top tier of beer states: The Mitten is dotted with legendary brewers like Short's, Jolly Pumpkin, Dark Horse, and New Holland, and it seems like a new operation is tapping into the Great Lakes every week. But the conversation about the best of the best always comes down to the two big dogs: Bell's and Founders. It's neck-and-neck, but we've got to give it to Founders, whose KBS (don't call it Kentucky Breakfast Stout!) has basically turned its release into a week-long holiday, and whose game-changing All Day IPA is one of the best damn session beers a hop lover can still appreciate. The brewery has also brought Black Rye back from obscurity, made its Dirty Bastard better by sticking it in a barrel, and every year ups the profile of fruit beer with Rubaeus, a raspberry ale that manages to be sweet without being cloying. It's Pure Michigan in a bottle. And as the brewery expands its footprint into more markets, it's showing no signs of stopping. --
AK
Minnesota
Surly Brewing Co.
Minneapolis
Weren't Midwesterners supposed to be all nice and friendly? Surly made a name for itself with the aggressive, addictive bitterness of Furious, and it hasn't looked back, turning out big, bold, must-have beers like the Abrasive Ale (a double IPA) and Darkness, its excellent rendition of the must-have, released-once-a-year, hoard-worthy stout. Minnesota's not lacking for exciting breweries, but nothing has come close to challenging Surly's supremacy. --
ML
Mississippi
Southern Prohibition Brewing
Hattiesburg
I will keep it 100, I have yet to explore Mississippi's craft culture thoroughly, but of the different selections brought to me by fellow advocates and bottle shares, SoPro maintains their luster. Even after enduring a six-week upgrade of virtually all of their equipment, their "Yearly IPA Series" -- which their blossoming fanbase looks forward to like Christmas -- further confirmed the nomination; each one is brewed with a different hop profile, ABV, and the year it was brewed in making up its moniker. (The 2017 IPA came in at 6.2 percent featuring Centennial and Denali hops.) Although hop-forward brews typically need to be consumed as fresh as possible, I'm down to try the Yearly vertical. 'Eff it. --
AS
Missouri
Side Project Brewing
Maplewood
As the name would suggest, Side Project got started as a… side project, specifically a venture from Cory and Karen King while Cory was working as a brewer for Perennial, which could easily have its own case for Missouri's best brewery if not for the absolutely jaw-dropping beer Side Project has been putting out at a steady clip, leading us to believe that they've cornered the black market on every type of barrel imaginable. With a particular focus on funky brews and barrel aging, its Maplewood taproom has become a mandatory destination for beer lovers looking to get their hands on creations like Fuzzy, a pleasingly tart peach sour (get it?!) aged in chardonnay barrels and their ever-changing, ever-amazing Derivation series. If only all side gigs turned out this incredibly. --
AK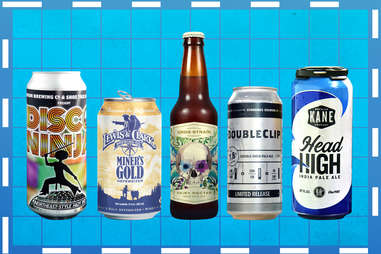 Jason Hoffman/Thrillist
Montana
Lewis & Clark Brewing
Helena
It's been brewing in Montana's capital for almost two decades, but a trio of Great American Beer Festival medals and the title of Small Brewing Company of the Year helped put Lewis & Clark on the national radar in 2018. Thankfully for its customers, the brewery's three award-winning beers are easily available, everyday offerings -- Miner's Gold wheat beer, Pompey's Czech-style pilsner, and Prickly Pear English-style pale ale with real cactus fruit. They're all packaged in cans, but the latter especially is a staple of almost any outdoor summer excursion in Big Sky country. --
KB
Nebraska
Kros Strain Brewing
La Vista
Just a year-and-change old, Kros Strain became a statewide star with a silver medal for its Fairy Nectar London Double Dry Hopped IPA in Great American Beer Festival's highly competitive "Juicy Or Hazy IPA" category; the brand-new category earned more than 400 submissions, the most of any beer style. But the brewery is no one-trick pony. It also nails more delicate styles like a well-regarded British mild called Dark Paradise, and a crisp Helles lager we happen to think is mighty tasty. With eye-catching, watercolor-style label artwork, there's no way you'll miss these bottles if you see them on a shelf. --
KB
Nevada
Revision Brewing
Sparks
You wouldn't think it possible that Nevada's best brewery is not yet three years old, but that's undeniably the case with Revision Brewing Company. This is not one of those cases where a brewery starts small and makes it big: Co-owner/brewer Jeremy Warren had already made a name for himself as brewmaster at California's Knee Deep Brewing, which he co-founded and brought to prominence on the strength of its award-winning double and even Triple IPAs. Warren left and sold his part of Knee Deep Brewing in 2015, found a few partners, and opened Revision Brewing in a 30,000 square feet warehouse in Sparks, Nevada that immediately made them one of the largest breweries in the state. This past October, just shy of their one year anniversary, Revision Brewing captured one of the most prestigious beer awards in the world with a gold medal for their Revision IPA in the American-Style India Pale Ale category at the Great American Beer Festival. If that wasn't enough to cement Jeremy Warren as one of the foremost brewers of hoppy beers, then winning a silver medal at the same time for their Revision Double IPA in the Imperial IPA category certainly does. --
EJG
New Hampshire
Stoneface Brewing
Newington
It's been a strange year for beer in Granite State. Smuttynose, a beloved regional craft pioneer and arguably the company synonymous with New Hampshire beer, was
sold at bank auction
after miscalculating sales growth against a lofty expansion. While they're
technically not going anywhere quite yet
, the seismic shift in the state's brewing scene has left plenty of room for young upstarts to claim the space as lead innovators, and as for now, Stoneface appears to be that contender. Since launching in 2014, impressive beers like the Full Clip IPA show that it's willing to improve on its own successful recipes (by swapping out traditional yeast for an English strain), the burgeoning fruited Berliner series shows solid portfolio growth, and the ability for the APA to remain one of the most impressive beers coming out of New England should be enough proof to sway any doubters. --
ZM
New Jersey
Kane Brewing
Ocean Township
In 2011, Kane started as a small brewery relentlessly focused on quality and devoted to self-distributing to New Jersey bars and restaurants to ensure beer excellence. In 2018, it's… still doing that, albeit on a bit of a larger scale thanks to everyone wanting to drink its beer. The Sunday Brunch, an imperial milk porter with maple, cinnamon, and coffee, is way too good to actually be confined to just one day of the week, and a can of the standout IPA Head High will make you thankful it's no longer restricted to draft-only as it was in the early days (unless, that is, you happen to be drinking it on draft!). --
ZM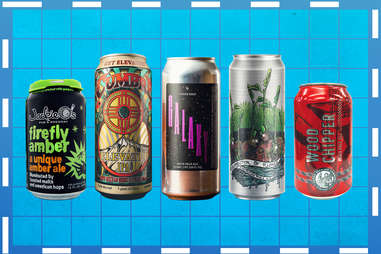 Jason Hoffman/Thrillist
New Mexico
La Cumbre Brewing
Albuquerque
Albuquerque might finally be in a place where people stop associating it with blue meth and begin associating it with great beer, and La Cumbre's leading the pack. We're not saying they spike their brews with the
blue rock candy
, but considering how addictive beers like their gold medal-winning Elevated IPA are, it wouldn't be too surprising. Frankly, we think the world would actually be much better off if everyone just climbed the La Cumbre mountain for some liquid wisdom made from Mother Earth's bounty, and luckily the brewery has two locations to service you in the center of town and on the westside. --
EJG
New York
Other Half
Brooklyn
Even though Other Half has moved solidly from the "young upstart" category to "certified national beer celebrity" status, there's very little evidence that their ability to pump out rightfully coveted beers is showing any signs of fatigue. Besides keeping up with an impressive rotation of releases and collaborations, they still found time in the past year to host their first-ever hop-centric beer festival,
GREEN CITY,
and have maintained a fever-pitch fan base that is still willing to line up in droves to score select cans. And with such success, it only felt natural when they announced an
expansion in the Rochester area
in the summer of 2018. If these guys are even half as good as we know they are, you can likely expect more innovation, wider distribution, and throngs of happy hop heads. --
ZM
North Carolina
Burial Beer Co.
Asheville
Since both Morganton's Fonta Flora and Raleigh's Brewery Bhavana have not finished their new expansions by date of print, it made it easier to go with Burial based in a city often crowned the top beer city in the country due to its concentrated plethora of craft breweries: Asheville. Whether it's the world-class Surf Wax IPA, Skillet Doughnut Imperial Stout, or literally hundreds of other selections they have blown away palates with since their existence, their meticulous work ethic is unmatched. Want more convincing? Top-of-the-tier breweries including Evil Twin, J. Wakefield, Other Half, Creature Comforts, and Bearded Iris have collaborated with them. Why waste their time if Burial wasn't gangster? The stunning can art designed by David Paul Seymour has their packaging ranking easily in the top five in the industry, too. --
AS
North Dakota
Fargo Brewing Company
Fargo
Like the NoDak brewing scene in general, the selection at FBC is pretty sparse, but that doesn't mean the four beers on offer in bottles and cans aren't top-tier (we're particularly fond of the Wood Chipper IPA, and not just because we love us some Coen Brothers references). It's the kind of brewery content to do a few beers very well, and Stone's Throw might just be the best Scotch ale in the heartland. But lest you think it's resting on its laurels, the taproom features some exclusives that elude cans and bottles, among them a mango-infused take on the Iron Horse pale and the Mighty Red imperial red ale, a pleasant-yet-aggressive concoction that might just be the definition of Midwest Nice in a can. --
AK
Ohio
Jackie O's Pub & Brewery
Athens
College students drink a lot of beer. But that doesn't mean they drink a lot of good beer. Unless, of course they're Ohio University Bobcats, in which case… holy shit, college kids drink amazing beer! The beloved brewpub has upped its game since opening up a production facility in 2013, and quickly threw down on the barrel-aged innovation game, transitioning from bourbon barrels to rum, tequila, and sherry. And it knows exactly what it's doing, as evidenced by the likes of the incredibly balanced Wood Ya Honey wheat wine-style beer ale in bourbon barrels. Lest that be too heavy, there are plenty of lighter options like the Firefly amber and the Mystic Mama IPA. Just, you know, don't play beer pong with it. You may be in a college town, but this is big-kid beer. Wasting it is a sin. --
ML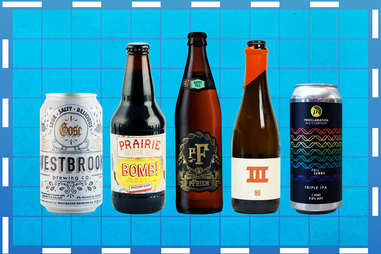 Jason Hoffman/Thrillist
Oklahoma
Prairie Artisan Ales
Tulsa
Whether it's their year-round Bomb! barrel-aged imperial stout infused with the perfect combo of coffee, vanilla, chocolate, and chilies for a little heat, or bringing the funk with praised farmhouse ales to name a few temptations, they know how to brew. Throw in the comic-inspired artwork on their bottles filling up more shelves as they steadily expand, and maintain the popular consensus as one of the top 100 breweries in the world, the case is rested: They are the shit. --
AS
Oregon
pFriem Family Brewers
Hood River
Oregon's bounty of breweries means at least half a dozen contenders for best brewery, but it's the hardest one to pronounce that earns our top choice. pFriem Family Brewers has become the most respected brewer in the state in just four years, thanks to founder Josh Pfriem's cross-style mastery and love of experimentation. pFriem netted two GABF silver medals for their pilsner and consistently wins beer-geek hearts with IPAs, authentic Belgian-style beers, and sours that include intensive Lambic-style production. Just as the brewery dedicates themselves to old world styles, they plant another foot into the future with experimental hop varietals and new trendy styles, from Brut and milkshake IPAs to beers aged in gin and maple syrup barrels. This is one brewery not content on a single direction or to sit on their laurels, and has become the ultimate exception to the rule that it's hard to be great at one thing while trying to do everything. --
EJG
Pennsylvania
Brew Gentlemen
Braddock
Some of the longstanding old guards of the Pennsylvania beer scene remain pillars of the craft beer industry in the Northeast (we're looking straight at you, Victory and Troegs). But the 2010s have seen a diversification and deepening within the state that is almost second to none, with newcomers of the likes of Tired Hands carrying on the local tradition of setting trends and drawing fresh national attention. But it's upstarts like the Brew Gentlemen who have proven themselves to be a special kind of standout, showing an abundance of savvy and maturity for a bunch of young guys who launched in 2014 barely a year and half out of college. Their portfolio offers no gimmicks, attempts at trend chasing, or half baked efforts: Instead, you'll find things like a uniquely refreshing cucumber wheat beer, a brooding and complex Mexican Coffee oatmeal stout, and a bevy of "elegant IPAs" (in the brewer's own words), just to name a few. Their breaks from traditional styles pay off as a solid accompaniment, with their rotating annual barrel-aged releases and Mise en Rose blended farmhouse ale series elevating the program without an ounce of pretentiousness. --
ZM
Rhode Island
Proclamation Ale Company
Warwick
Insofar as big things in little states go, Proclamation has done a pretty good job establishing themselves in such a short amount of time. Besides outgrowing their original space and expanding production just a few years after launching, they also built upon their impressive lineup, including the rotating single hop Derivative American Pale Ale series, Keraterra Saison, and the Black Hexes stout (
which we think pretty highly of ourselves
). Their contributions to the beer world are helping to put Rhode Island on the map in an already crowded New England brewing scene, and they're showing no signs of slowing down anytime soon. --
ZM
South Carolina
Westbrook Brewing
Mount Pleasant
This is one of those states with a burgeoning craft beer scene, and its central coastline breweries continue to fuel the rocketing clout. Edmund's Oast, which has two brew-and-dining destinations, and Holy City are holding down Charleston, but a stone's throw outside the perimeter is Westbrook, which has been steadily killing it since their inception in 2010. Besides keeping up with the demand for their delicately complex cuisine companion -- the White Thai witbier -- and world-renowned variations of the Mexican Cake Imperial Stout, 'Brook maintains innovation with the Rinse/Repeat India Pale Ale series. Their digs aren't too shabby either; check out their unique taproom flaunting a circular pouring station in the center and mind-blowing barrel-aging facility next door. --
AS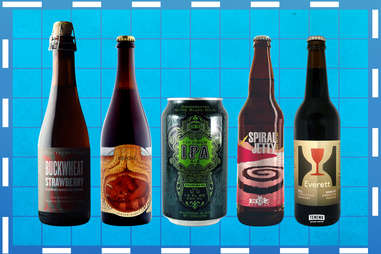 Jason Hoffman/Thrillist
South Dakota
Crow Peak Brewing
Spearfish
For the better part of the decade, Crow Peak -- located in the small canyon-adjacent town of Spearfish -- has quietly been making the best damned beer in SoDak, with its 11th Hour IPA laying the foundation for a program that has slowly expanded to include everything from maibock to the heavy Pile O' Dirt Porter. Nothing super fancy here, though. Just damn fine beer from a hunting lodge-like brewery hidden away in the flurry of Harleys,
Rushmore-bound tourists, and cascading hills
. --
AK
Tennessee
Blackberry Farm
Walland
Not content to just be a luxury resort and a big-ass farmland estate, Blackberry Farm has been brewing up a roster of Belgian-focused beers for a couple years now, and if the corks in the bottles didn't tip you off, shit's fancy. The Tripel and Quad ales are among the finest this side of the Atlantic, while the seasonal saison offerings run the gamut from fruity to spicy without losing sight of drinkability. But it's not all saisons: A new brewer has also pushed this farmhouse leader outside the rural realm, experimenting with IPAs and even (gasp) a canned pilsner. --
KB
Texas
Jester King Brewery
Austin
Is it fair to not honor a brewery because of how popular and more accessible it has become? I say no, so Jester King gets the nod here; this nomination is further warranted with their expertise in spontaneous fermentation and barrel aging. Sitting majestically on 165 acres of Texas Hill Country's acres, anyone visiting the Longhorn State should make it a priority to sip one of Jester's world-class farmhouse ales poured from their signature 750ml-vessels donning phenomenal artwork while discussing how other craft breweries like Turning Point, Spindletap, and Live Oak are also representing Texas to the fullest. --
AS
Utah
Epic Brewing
Salt Lake City
Epic Brewing opened in Salt Lake City in 2010, the first brewer to make high alcohol beers in the state. Of course, what Utah thinks is high alcohol beer could be my daily shower beer (after some errant drops sprinkled into it and watered it down). Considering Utah caps most beer at 3.2 percent by volume outside of liquor stores and bars, it's amazing they still have such good beer. Epic Brewing has become known for sessionable beers like their Tart 'n Juicy Sour IPA with pithy citrusy hops and a sour twang and their Los Locos Mexican-style lager, which is light, crisp, and malty with a spritz of zesty lime juice. Now that Epic's success has lead to major growth, the brewery has a separate production facility in Denver that lets them put out tons of actually big and high ABV beers to the masses. Big Bad Baptist is probably Epic Brewing's most talked about offering, an annual Imperial Stout with cocoa nibs and coffee beans that takes on multiple iterations, including aging in tequila barrels or with Mexican coffee and spices like cinnamon and vanilla. --
EJG
Vermont
Hill Farmstead
Greensboro Bend
The holiest of holies. The creme de la creme. The Hilliest of Farmsteads. Whatever you call it, it doesn't change the fact that a brewery located deep in Vermont has become arguably one of the best breweries in arguably the best beer state in the entire country, whose name alone has launched many a beer road trip. After a busy year for white-hot brewery openings (even by local standards), there seems to be no diluting the local draw of Hill Farmstead. Whether or not you've been lucky enough to actually get up there to try some of their hits like Susan, Everett, or Arthur, you're probably still trying to find a way to describe these beers to your friends without using hyperbole. If it makes you feel better, so are we. --
ZM
Jason Hoffman/Thrillist
Virginia
The Veil Brewing Co.
Richmond
It really hasn't been that long since the Veil poured their first beer during the grand opening in April of 2016, but so much has happened since. In barely over two years, they've become a household name in craft beer fan circles, putting the Scott's Addition taproom as a "must visit" for anyone making can pilgrimages. And unlike many other breweries that have made a name for themselves pouring haze bomb after haze bomb, these guys have a lot more going on in the way of diverse styles. Bright sours like their Never series goses, comforting stouts like White Russian Hornswoggler, and complex barrel-aged saisons like Escape are right at home alongside well-balanced New England IPAs like IdonteverwanttoBU (which the brewers themselves explain by saying, "We try to refrain from using the excessively used terminology "juice/juicy" for our IPAs, but this is seriously just straight up hop juice.") --
ZM
Washington
Fremont Brewing
Seattle
The hop wizards at Fremont Brewing helped shepherd Washington's brewers into the cutting edge of IPAs and hopping techniques, producing beers so highly in demand that the brewery was in near continual expansion. Exploding through their original tight space and bare-bones tasting room opened in 2008, they quickly enveloped their 8,000 square feet building into production and multiple bars. In 2014 Fremont Brewing announced plans to expand from their Fremont home to renovating and taking over a separate 80,000 square feet facility in Ballard. That expansion completed in 2015 allowed Fremont Brewing to increase production and create more cool styles of beer, including a massive barrel-aging program. At their taproom they often take a few beers and add special ingredients like dry-hops and Sriracha to the kegs. That experimentation has lead to a world-class barrel-aging program and beers that geeks line up for like Coffee Cinnamon B-Bomb and Black Blue Heron Project small-batch creations. --
EJG
West Virginia
Bridge Brew Works
Fayetteville
It's pretty amazing that a tiny West Virginia brewery is flooding the land with great Belgian- and Euro-style beers, fantastic Tripels, Kolsch, Baltic porters, and black lagers among them. What's even more impressive is that West Virginia's best brewery is run entirely by a mere three people. You'll forgive them for not offering tours. They're too busy making the often-overlooked state proud, one immaculately crafted beer at a time. --
AK
Wisconsin
New Glarus Brewing
New Glarus
The extent to which New Glarus completely dominates the Wisconsin craft scene gets overstated a bit -- breweries like Central Waters and Ale Asylum are doing some legitimately outstanding work. All, that said... well, New Glarus has grown into one of the biggest craft breweries in the country without even sending its beer to anywhere else in the country! Spotted Cow may be essentially the state beer of Wisconsin, but it's New Glarus' funky and fruity offerings that really set it apart, like its peerless Raspberry Tart. --
ML
Wyoming
Melvin Brewing
Alpine
The Cowboy State has more geysers than breweries (68 geysers, 24 breweries) but can claim to be home of one of the craft beer world's favorite IPA brewers in Melvin Brewing. The Melvin story is a strange one: It started in the back of a Thai restaurant on a 20-gallon nano brewhouse and under the name Thai Me Up. Even with the scent of toasted cumin in the air the kung fu-obsessed Melvin brewers had a nose for hops that lead them to capture a gold medal at the World Beer Cup for their 2x4 double IPA as well as the top spot in the annual Alpha King IPA challenge in the same year (and then repeating the next year). Since then the brewery has come a long way. After winning the 2015 GABF Small Brewpub of the Year award, the brewery opened up a production facility in Alpine and began canning their beers and sending them across the country. Their explosive growth and opening of multiple locations did not have any negative impacts on the company, and in 2017 was named Brewery Group of the Year at the GABF. Now with four pubs and tasting rooms in Wyoming, Washington, and California, the Melvin Brewing kung-fu train shows no signs of stopping. --
EJG
Sign up here for our daily Thrillist email and subscribe here for our YouTube channel to get your fix of the best in food/drink/fun.