There's a time and place for a great craft beer or an expertly made cocktail. That time is not now. And the place does not exist anywhere on this list. Unless you count PBR as craft beer, or consider a pint glass full of whiskey with a spritz of cola -- you know, for color -- to be expertly crafted. 
There are many hallmarks that make a good dive bar, from stiff drinks and low lights to patrons who can transition from gregarious to dangerous at any moment. But to be a great dive bar, a joint has to transcend those tropes and offer up something truly special -- you know, the kind of place you actually want to be in. With the help of our writers across the country, and the advice of our seediest friends, we've scoured the nation for the best dive bars. There might be scarier or dirtier dives out there, but these are the places we most love to spend our time in the dark, stiff drinks in hands, among strangers. Obviously, our dedication to spreading the love from coast to coast means we've missed some spots. Tell us where else we should be drinking in the comments. You're buying, right? Hope you brought cash. That pint of well whiskey ain't paying for itself. -- Andy Kryza
Detroit, Michigan
The oldest standing bar in Detroit -- it survived riots and the collapse of MoTown, plus an endless stream of bar fights -- the 2 Way has also doubled as a store, a jail, a brothel, and a dance hall. Now, it stands as the Motor City's ultimate dive, with a bar as old as the building -- and it's owned by a dude who'll often fire up the grill after a few cocktails strong enough to level a building on Devil's Night. The patrons range from hipsters to old-timers, the bartenders are surly, and the interior is like a time portal into Detroit's heyday… right down to the dude at the bar who probably never left after his last shift at the plant. -- AK
St. Paul, Minnesota
Thanks to a relatively recent quasi-renovation, St. Paul's Arcade Bar has transitioned from one of the diviest bars in the state to the best dive bar in Minnesota. The old checkerboard tile floor is gone, but her glorious neon sign and wooden beer-cooler doors remain. More importantly, the character of the place is intact. The Arcade's bartenders are happy to serve anyone with money to spend -- they're also quick to remind offenders that bar rules prohibit crooked hats and foul language. This is the kind of joint that inspires conversation and laughter between strangers. If you're hungry, your choices are Slim Jims, microwaveable burgers and sandwiches, or Heggie's frozen pizza. There are new TVs at either end of the bar, a jukebox against the side wall, and a pool table in back. What more do you need for a second home? -- T.S. Flynn
Seattle, Washington
The Blue Moon was once frequented by boozy poets Allen Ginsberg, Dylan Thomas, and Theodore Roethke, and stands out amid Seattle's other, more famous dives bars in its commitment to keeping its patrons feeling at home (Tom Morello, you're safe here!). The storied history of this University District icon dates back to 1934, back when the city's laws required that bars be at least a mile from the school, turning the standard walk of shame back to get your credit card into a mini-marathon. These days, the joint's as much a venue as it is a bar, pairing two-ingredient cocktails with eardrum-shattering performances by bands on the come up. Just don't come in if you have peanut allergies: This place is covered in more nut dust than an elephant pen. -- AK
MORE: Check out our full list of Seattle's best dive bars here
Philadelphia, Pennsylvania
Lookin' for brotherly love? You'll find it within the storied, stained walls of Bob & Barbara's, where everybody -- hipsters, townies, blue-collar workers, pop-collar youngbloods, street kings, drag queens, and all manner of late-night champions -- comes together under the faint flow of stained glass. This is a place where Friday's dominated by the electric organ-fueled sounds of the Crowd Pleasers, Sunday is sloppy karaoke, Thursday is Philly's longest-running drag show hosted by legendary local icon Miss Lisa Lisa, and every moment is magic. The eponymous cocktails are of the two-ingredient variety that double as lighter fluid, but the real one-two punch is "The Special," a shot of Beam and a PBR for $4 that B&B claims is the OG PBR combo meal. It's just another bit of icing on the cake at a party that Bob & Barbara's have kept going for more than five decades. -- Wil Fulton
MORE: Check out our full list of Philly's best dive bars right here
Omaha, Nebraska
A lending library just inside the door of this gritty saloon is the first indication you've entered a unique place. The bar is long, running a good 50 feet along the right side of the narrow space. At its midpoint, a shaft of sunshine from a skylight in the high ceiling illuminates the serving station. A framed, hand-lettered poster proclaims Bud Olson's is the "Best Dive Bar" for several reasons: "cheap, stiff drinks, a pool table without a line, and a jukebox that still plays Johnny Cash." Tattoo artists and their customers from a shop down the block drink here alongside a wide cross-section of working-class Omahans. The décor is likewise a mishmash: baseball and college football memorabilia along with surprising touches of capital-A Art, including the elevated pool room's three-wall mural portraying George's Seurat's A Sunday Afternoon on the Island of La Grande Jatte. Olson's charms are revealed layer by surprising layer. -- TSF
St. Louis, Missouri
In a parallel universe called Saint Louis, CBGB still exists. It is a brick-walled rat's nest with occasional punk shows, a legendary women's bathroom whose toilets face each other, and a front door so tagged up its layers could be sifted by archaeologists. It's named after founders Cindy and Guy Bour, who had seen their initials scrawled onto a bar entrance in lower Manhattan on their honeymoon and decided it was fate: They'd start their own. Unlike its New York namesake, the 31-year-old dive on South Grand is almost undocumented even in its own city. It has no phone, no website, and no interest in credit cards. For years, the only table bussing came courtesy of a stubble-bearded guy named Larry, who cleaned up tables in exchange for a couple beers and the freedom to nap at the table by the door. Larry doesn't come around much anymore, but in the 22 years bartender Matt Wagner has managed the place, gloriously little has changed. Live music is still free or cheap, a bottle of Stag still costs $1.50, and a gin bucket comes cheap and toxic and in an actual bucket. For some reason there's a painting of Dennis Quaid on the wall. And those two women's toilets still face each other unmitigated. As a female regular fondly remembers, "I made so many friends in there." -- Matthew Korfhage
Kansas City, Missouri
The posted rules of Chez Charlie -- no Liar's Poker, whistling, thumb-twiddling, newspapers, beepers, or fishing -- are no longer enforced in the years since original owner, one-legged former boxer Charlie Gilloti, passed. But little else has changed since former bouncer Larry "Moe" Mauzey took over. There's still no sign outside. The back wall is still a black leatherette banquette with little round white tables every few feet, and the walls are still covered in plaques for various commendations and awards. There are dart boards in the front and rear of the small space, both uncomfortably close to the seats beside them. On a rainy Monday morning, the conversation between a 30-something bartender, two men who could be his grandfather, and a stoked kid about to drive out to play some disc golf flows smoothly between the virtues of vintage F-150s and the longevity of the US Navy's nuclear-powered submarines. And you can still hear some great Charlie stories. About how he got banned from the entire Kansas City public transit system for life. Or about the short career of a former waitress who made the mistake of cleaning the windows while waiting for customers to come in (she got fired on the spot). "Charlie says, 'What the hell are you doing -- you think I want people to be able to see in here?" says an old man slugging whiskey and laughing. "And you think I want all that light in a bar?" -- Martin Cizmar
Atlanta, Georgia
Tell a dive bar-loving fool you're headed to Atlanta and odds are they'll immediately direct you to this gorgeous den of iniquity known simply as the Clermont. Nothing short of an icon, it's the oldest strip club in a city teeming with A-list gentlemen's establishments, but if you're looking for bottle service and bling, keep on moving. Stashed in the basement of a historic motor lodge (shut down by the health department in 2009 and reopened as a trendy boutique hotel, but let's not focus on that), this Poncey-Highland institution is famous for a few things: Its lack of draft beer, strict no-photo policy, excellent karaoke, and, let's say, untraditional (and often more mature) dancers, most notably Blondie, a hilarious, fabulous, and markedly buxom poet whose act includes crushing an empty beer can… without using her hands. Don't forget your singles, you're going to need them. -- Meredith Heil
MORE: Check out our full list of Atlanta's best dive bars here
Washington, DC
Especially in a town like DC, it's important to take a moment to set aside partisan differences and rally around a shared passion. And sometimes said passion is cramming into an old, dilapidated building that looks like it could double as the set of some American-set Eli Roth torture-porn opus, pushing through a crowd, plopping down a $20, and ordering an old condiment squirt bottle full of well liquor. Pour a couple shots for yourself. Pour a couple and push them across the aisle (also known as a dingy-ass floor). By the end of the night, your feet will be sticky, you'll need a shower, and you'll have made a new friend who may or may not be too hungover to effectively contribute to partisan politics in the morning. It's the dive bar DC needs. And probably the one it deserves. -- AK
MORE: Check out our full list of DC's best dive bars here
Las Vegas, Nevada
Life is about choices. When in Vegas, you could choose to have your ears ringing from bachelorette party shrieks at whatever club people happen to be talking about that month, or you could choose to venture a bit off the strip and experience said ringing as the result of an aggressively loud band at the Double Down as you admire the sticker- and graffiti-laden walls and sip on some "ass juice," which is a combination of -- let's be honest, you ordered the ass juice, do you really care what's in it? So drink up, but only after you purchase the bar's fabled "puke insurance." Because nobody should be forced to clean up their own half-digested ass juice. -- AK
MORE: Check out our full list of Vegas' best dive bars here
Flushing, Michigan
Flushing, Michigan. Population 8,000. Home of the Raiders, incredible coney dogs, countless senior centers, and the very handsome guy who curated this list. It has a nice river walk and, crucially, a Rockwellian downtown packed with way, way too many bars. Five in a two-block radius of the Flint suburb, in fact. And Duffy's has taken landmark status as the sleepy town's legendary dive. A 7-Up sign still hovering above the unofficial smoking section (re: the sidewalk) where grizzled old men await opening daily, it's a place for cheap beer, surly conversation, and pool tables that have withstood gallons-worth of spilled pitchers. It's where retired teachers give hazy lessons to former students. It's where young locals slowly morph into their parents while perched upon the same stool their family members have occupied for decades. On one visit, long ago, a now-retired bartender, when asked for a double whiskey, quipped, "We don't do doubles. A single is a triple." It's that kind of place, one where everybody knows your name, but it will probably take five or six tries to get it right. -- AK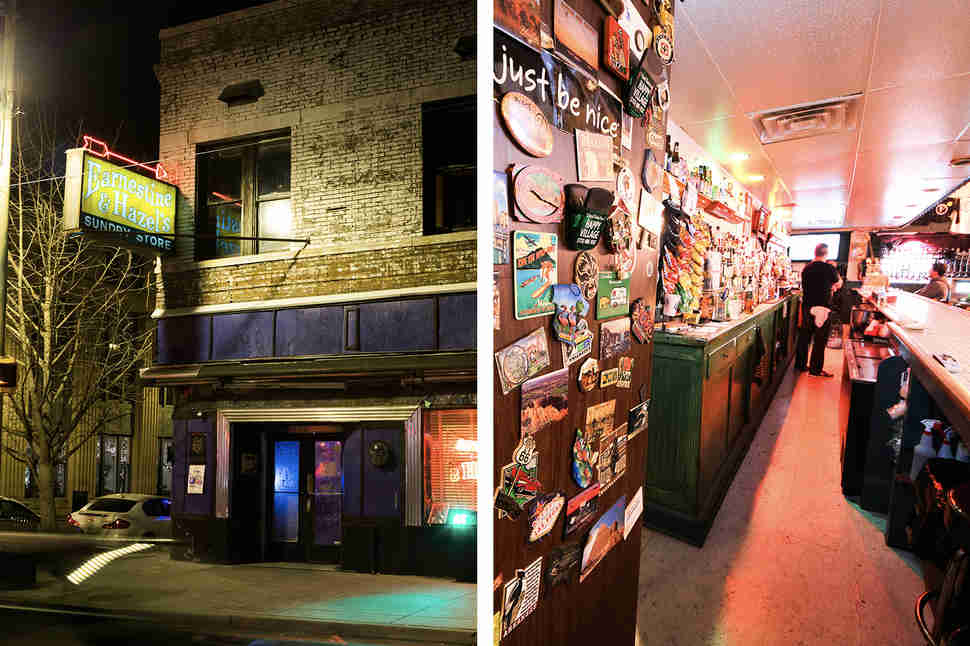 Memphis, Tennessee
Housed in a creaky old 19th-century brick building, this dusty booze den -- think worn photographs of rock & roll legends; peeling paint and retro neon signage; padlocked doors leading God knows where -- is the city's lifeblood thanks to its cheap beer, fortifying whiskey shots, and hangover-battling late-night cheeseburgers (more on that here). On any given night the place is packed with an assortment of college kids, thrill-seeking tourists, aging hipsters, wizened regulars, and, of course, a few of Memphis' less-dearly departed, including 13 -- count 'em, 13 -- troubled souls rumored to have bit the big one inside the brothel-turned-bar. Spooky? Sure. But five minutes inside E&H's haunted, hallowed walls and you'll understand why some folks might have a hard time staying away... even if it means crossing over from the other side. -- MH
Orange Beach, Alabama/Pensacola, Florida
This iconic roadhouse straddling the sand in two states looks like the result of M.C. Escher's Redneck Period, with staircases, hallways, bars, and music stages all arranged with no apparent order, but still in perfect harmony. It's one of America's great unrefined treasures, a place where bikers, sailors, and snowbirds drink bushwhackers side-by-side with nary a mention of any of their differences. Its annual highlight is the mullet toss, a competition to see who can throw a fish furthest across the state line. But like any self-respecting Southerner, Flora-Bama still reserves Sundays for church, when it plays host to the weekly Worship on the Water services. -- Matt Meltzer
Pittsburgh, Pennsylvania
The beauty of a great dive bar is that you can pretty much do whatever you want... within reason. And lest you overstep your boundaries, Gooski's -- our pick for the best dive in a city blessed with more of them than most towns twice its size -- has the rules laid out for you. "Know what you want; have your money ready; don't make us kill you." It's sound advice, given you really don't want to get killed in Pittsburgh. This is a legend, a place where stiff drinks are paired with legendary pierogies and a welcome dose of no-nonsense sarcasm from the bartenders, who make no qualms with interrupting a barside make-out sesh. That's probably for the best. Wings give you bad breath, and you're probably going to regret your decision once you inevitably re-enter a world cursed with natural lighting. -- WF
MORE: Check out our full list of Pittsburgh's best dives here
Cleveland, Ohio
Long the home-away-from-home for dockworkers of Cleveland's West Bank, Harbor Inn has been slinging suds since way back in 1895, making it the oldest continuously operated North Coast drinkery. Very little has changed over the years, save the recent addition of drafts to fuel boozy games of bar bowling and darts. Come in during the morning and the place is packed with third-shifters, while the night crams in a mix of slumming yuppies and blue-collar regulars who seem to have been here since the place opened more than a century ago. It's dingy and thriving, a place that helped define the American definition of a dive while remaining virtually unstuck in time. -- AK
MORE: Check out our full list of Cleveland's best dives here
Yankton, South Dakota
South Dakota's not hurting for dive bars, especially joints like The Dungeon open for the Sturgis Rally. But none is more iconic and magical than the Ice House, formerly the Pure Ice Company. While most bars keep their patrons' legacies alive via names carved in tables and a printout of people banned from entry, Ice House's legacy lives in the form of thousands and thousands of bottles shattered underneath the loading dock. The bartender will even bring buckets of bottles to your car so you can gaze at the beautiful Missouri River from the hood of your pickup before adding to the jagged pile yourself. -- AK
Sarasota, Florida
A staple of Sarasota, Florida and a bastion of dive-bar mythology, Memories Lounge has been around since the 1980s and stands as a veritable Shangri-La for those seeking refuge from the trendy bars of Downtown. Hipsters and broke art school kids are juxtaposed effortlessly with affable regulars who've called this bar home for more than 30 years. The first thing you'll likely notice when you walk in is the smell. Cigarettes are ingrained in the DNA of Memories (though new smoke eaters have been installed), as are $5 Grey Goose martinis and Friday night karaoke. One thing you won't get, however, is a whiff of pretension. The friendly bartenders are characters straight out of a Carl Hiaasen novel and will tell you the stories to prove it. There's a jukebox that'll likely be playing a song you wish you didn't know by heart -- you know, something like "'Nothin' But A Good Time" -- and trying to get in on a game of pool might cost ya. But as the night winds down and you find yourself ordering that final $5 glass of Jameson, you'll find yourself understanding why that song was playing and won't mind that you'll smell like cigarettes for a few more days. The name has remained unchanged, and after one visit you'll agree it's a name well-earned. -- Alex Robinson
Oakland, California
With dive bars in hip cities increasingly faced with the wrecking ball, the Kingfish's survival is something of a Cinderella story... provided Cinderella's voice was too raspy from Virginia Slims to sing properly, and her mouse friends were actually rats. With condos encroaching on its space, the place got saved by Oakland's Landmarks Preservation Advisory Board, then was straight-up loaded onto a trailer and moved down the street and plunked it down. So what changed? Nothing. The ceilings even still require a tall man to duck upon entry and the intense shuffleboard games rage on. Hell, if we didn't know better, we'd think that some of the patrons never even got up from their seats as the building was moved. And if they did, it was the first time that it happened in decades. -- AK
Dallas, Texas
The words "upscale" and "dive bar" usually go together like whiskey and warm milk, and putting them together causes the average dirtbag to question whether they're just entering a hipsterfied dive-bar theme park. But Lakewood Landing nails it, simply because this is an age-old dive bar that just happens to have solid Texas pub fare to go with the molotov-caliber cocktails and surly/friendly service. Get an enormous chicken-fried steak, bask in the glow of a TV that looks like it was outdated back in the '70s, and try not to get stabbed by a couch spring as you play pool under the watchful gaze of a fish mounted on a tacky wood-paneled wall, a literal interpretation of "upscale" only because the taxidermied animal happens to have scales and be nailed up near the ceiling. -- AK
Miami, Florida
The home of the 8am happy hour is a South Beach staple whose dark, neon-lit interior hasn't changed since the area around it was an art-deco wasteland. It's a place where hardcore Beach locals mingle with mumbling old men who look perfectly at home next to models post-gaming their night at LIV, presumably with that guy by the pool table who keeps going to the bathroom. Cheap drinks and an eclectic crowd are part of why anyone who's lived in Miami for more than a year makes this their bar of choice in South Beach -- even if you do smell like stale whiskey and cigarette smoke for a least two days after. -- MM
MORE: Check out our full list of Miami's best dive bars here
Louisville, Kentucky
The sign outside may read "Magnolia Bar & Grill," but if you're expecting to enjoy a sensible grilled chicken sandwich and a family-friendly atmosphere, you've come to the wrong place. However, you will find a deceptively solid but still cheap beer selection, a damn fine, punk-heavy jukebox (when there isn't an equally fine band playing), and a bathroom that'll make you have the age-old "how bad do I REALLY have to go" debate. So yeah, Mag Bar may not be the place for mom and dad. Unless mom and dad are, you know, cool. -- Matt Lynch
Brooklyn, New York
You might walk into Montero's -- located in the beating heart of the newly revitalized neighborhood of Brooklyn Heights -- and think to yourself: Wow, the interior designer this hipster dumbass bar owner paid to make this place look like a shitty, century-old nautical bar did a really good job! But alas, you'd be the dumbass in this situation. Montero's is pushing 80 years old. It did serve as a legit longshoreman's bar in the 1940s. And yes, that is the sound of a 70-year-old woman singing karaoke show tunes by the pool table (karaoke every Friday and Saturday, it gets a little wild). Unlike so many other slices of "Old New York," the (allegedly haunted) watering hole has managed to dodge numerous attempts at a buyout no doubt to make way for a bank, a Starbucks, or a bank that has a Starbucks inside of it. And here's hoping it always manages to stay open -- barnacles and all. -- WF
MORE: Check out our full list of New York's best dive bars here
Buffalo, New York
An anchor of buzzing Allentown, The Pink is nigh unmissable: The black-and-purple house is painted with green flames and snowflakes and resemble a place Shaggy and Scooby might hide out during a haunted carnival more than a booze den. But it's what's inside that makes it the best dive in a city packed with contenders. The Pink is covered with peeling bumper stickers, alphabet magnets, and graffiti, though you wouldn't be able to see them were it not for the forebodingly red nautical lights and Christmas light chandelier that make the place glow. The checkerboard floors are eternally sticky from 35 years of accrued spilled beer, and the bartender knows everyone by name, shouting out greetings as people stumble in with their smudged makeup and beer stained-shirts. They're here at 2am, when the bar becomes like a boozy town hall. And they're probably here for the famous steak sandwich, which, despite the general surroundings not exactly screaming "Health Dept. compliant," is a must-eat legend that jams a 12-ounce center-cut steak into a costanzo roll with provolone, peppers, and grilled onions. -- Jessica Kelly
Portland, Oregon
There are divier bars in Portland (I'd say "God bless the Yamhill," but God done ran away at the sight of that glorious pit years ago). And weirder. But there are none other we'd rather hang out in than Reel M Inn, a rickety old place that has somehow survived unchanged as its neighborhood transitioned from blue-collar thoroughfare to one of the nation's most buzzy food strips, complete with the boom in condos and yuppies and, sigh, food and drink writers. Yet despite efforts to raze the shanty-like building, it remains. Know this: Typically, we'd be reluctant to recommend eating at a dive bar. And we'd be even more reluctant to recommend getting said food from a fishing-themed bar that looks like the only vacuum it's seen is the time vacuum in which it exists. But ignore your instincts and order the fried chicken. It will likely take more than an hour to arrive -- get Jello shots to pass the time… there's only one fryer, and one bartender/cook, who is probably smoking by the dumpster -- but when it arrives, it will immediately ascend to the top of your personal list of the best bar food you've ever eaten. It might be the juiciest, most succulent bird in a city that takes its fried fowl very, very seriously. Without it, Reel M Inn would still be a superlative dive bar. With it, it's a goddamn legend. -- AK
MORE: Check out our full list of Portland's best dive bars here
Chicago, Illinois
Imagine if the movie Goodfellas opened a dive bar and you might end up with something like Richard's Bar, a Chicago institution whose Italian flag-mimicking exterior gives way to a haze of smoke that somehow (wink) doesn't seem to have faded much since the city's smoking ban went into effect more than a decade ago. The cheap drinks are spelled out on a menu that doesn't look like it's changed since 1963. The Rat Pack-heavy juke box doesn't feel terribly updated either. You can determine the age of the cheap hard-boiled eggs sold behind the bar at your own risk. Ask one of the grizzled old bartenders for an Old Style, buy a pack of cigs, and start debating which Sinatra song you're playing next. -- ML
MORE: Check out our full list of Chicago's best dive bars here
Homer, Alaska
The Salty Dawg been many things in its life, from a lighthouse to a post office to a school, but more than anything, it's been the best dive in Alaska for decades. Covered from ceiling to floor in autographed dollar bills, the place looks like somebody set off a glue bomb in the back of a nautically themed strip club (of note, a strip club is one of the few things the Dawg has never been). It's a rare dive that doubles as a tourist attraction and a favorite of locals who are more than willing to share legends -- real or made up on the fly -- about the history of the bar, particularly the human skull that calls it home. -- AK
Nashville, Tennessee
Becoming the most fun dive bar in a city awash with live music, party people, and copious amounts of cheap alcohol is no easy feat. But the seemingly unassuming Santa's Pub has done exactly that, largely on the strength of super-cheap beers, nightly karaoke that inevitably turns into a decibel-shattering sing-along, raucous live bands -- oh, and being situated in a freakin' double-wide trailer stuffed to the gills with Christmas memorabilia doesn't hurt the charm. The tables are plastic. The patrons have zero pretension. And it's exceedingly hard not to hang out here all night and have a good time. It's honestly as if your slightly redneck cousin decided to have the world's most fun house party. Every. Single. Night. And keep your eyes peeled for the occasional big-time crooner, showing up late-night to sing some hits amongst the commoners. It happens. -- AK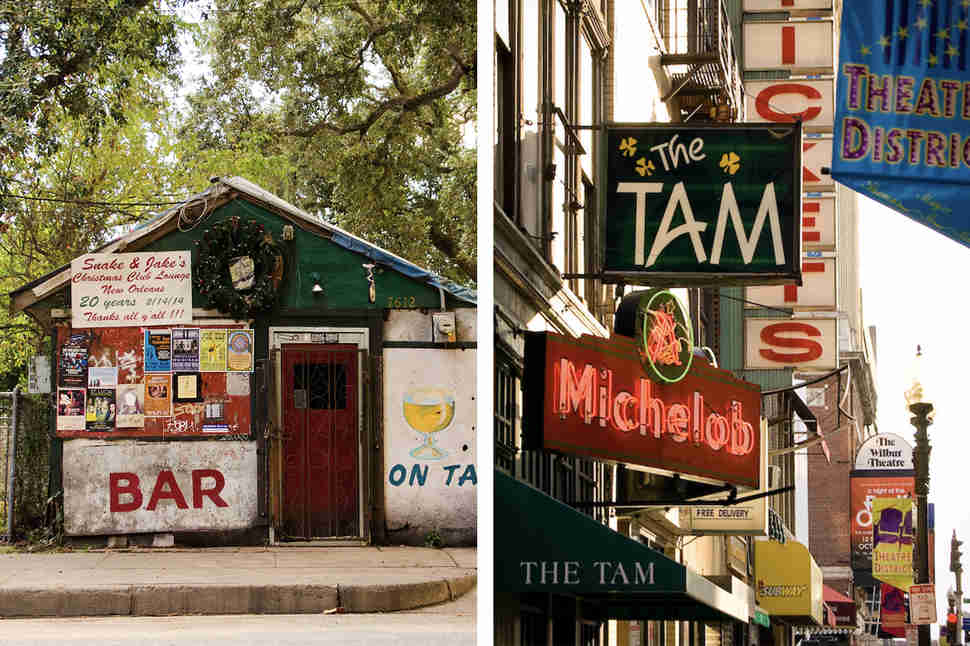 New Orleans, Louisiana
In a city -- nay, a state -- populated -- nay, defined -- by amazing dive bars, it's incredible how easy of a choice Louisiana really was. But that's what happens when you house one of the greatest damn dive bars in the world, which Snake and Jake's very much is. In this ramshackle wonderland, the sun doesn't shine, though that doesn't matter when you have ample illumination from candles and Christmas lights. It's a cave of all that is holy in the dive-bar realm, serving out its boozy communion to Tulane students and craggy old regulars alike. It's a place that's survived everything the city has thrown at it -- and endured patrons testing the legend that showing up naked gets them a free drink -- and one of the most unflinchingly unapologetic drinkeries on the planet. -- AK
Boston, Massachusetts
It's no easy feat to achieve consensus legendary dive-bar status in a city with almost as much reverence for its dive bars as it has for arguing, but The Tam has long reigned as an unfussy oasis in an otherwise club-happy Theater District, where the balance between the lifers and the disaffected Emerson kids is just right, the bathroom is just the right level of off-putting, and the bartenders keep everyone equipped with drinks with admirable efficiency. -- ML
Charlotte, North Carolina
Remember that scene from Up, the one right after you stopped sobbing long enough to see Carl's tiny house sandwiched between two under-construction high-rises buildings. This is that. Except instead of a little house whose owner refuses to sell, it's a beautifully gaudy, orange cinderblock fortress emblazoned with the image of a clearly over-served woodland critter in a hat. And on the inside, it's less about Cub Scouts and memories, and more about rowdiness and ensuring your memories are foggy, thanks partially to the famous Bloody Marys and Johny Bootlegger's "Sing Sing Sour Grape," which co-owner Mark Wilson describes as a cross between grape Kool-Aid with Dimetapp. This is a place chock full of honkey tonk bric-a-brac, one where the picklebacks are as legendary as the place's steadfast refusal to change, even if the neighborhood is actively, literally changing around it… and above it. It's at once an anchor and a middle finger, and it's glorious. -- AK
Los Angeles, California
For many years, the Tiki-Ti -- the shantily constructed, brightly decorated, no beer-or-wine-allowed, super-duper-sweet-drink-menued, tiny little shitty-but-incredibly-charming Tiki bar on the border of two of LA's hippest neighborhoods, Silverlake and Los Feliz -- was the only bar where you could legally smoke indoors in LA, the beneficiary of a legal loophole: The Ti has no employees, only family members who own the joint, so the second hand smoke wasn't putting any unsuspecting workers in danger. Think about that for just one second: one tiny bar, with just 12 stools, full of smoke because why not, where you could drink one of their dozens of tropical themed drinks (some of which come with long-standing bar-wide traditions: order the Blood and Sand and the whole place'll yell "Toro Toro," because… that's what you do when someone orders the Blood and Sand), and make any number of bad decisions. Now on its third generation of family owners, that indoor smoking's a thing of the past, but the Tiki Ti remains one of LA's most beloved boozy icons, an alcohol-filled relic that's even cooler than when it opened in 1961. Just step outside if you need a smoke: After all, the street's no more than about 10 feet from the last barstool. -- Jeff Miller
MORE: Check out our full list of LA's best dive bars here
La Pointe, Wisconsin
Pulling off the double threat of being one of America's best beach bars AND one of its best dive bars is no easy feat (though not impossible, see: Flora-Bama), but then again, once you've managed to construct one of America's singular watering holes from the burned down remains of the bar that stood before it, nothing is impossible. Well-played, Tom. Long may your ramshackle, bric-a-brac-laden watering hole preside over Lake Superior. -- ML
Austin, Texas
A longtime anchor in one of the best bar-hopping neighborhoods in America, honky-tonk The White Horse is a welcome respite from the upscale and overpriced hotel bars now popping up on Austin's East 6th Street. You won't find cocktails or a thoughtful "bites" menu at the dive bar/music venue, but you will encounter seemingly Arctic-chilled Lone Star beer, dangerously cheap whiskey, and a bumping dance floor. Grab a seat at one of the tables illuminated by cheap red candle votives you might find at an Italian restaurant in the 80s, plunk on their ancient piano, or hang on the patio reserved for smokers and those needing food truck tacos to soak up bad-decision well whiskey. Most nights of the week, the red velvet-curtained stage is ground zero for local and regional bands performing any genre of music that involves either a stand-up bass, pedal-slide guitar, or cowboy hats. Oh, and the dancing -- there's lot of it, but don't be intimated if you can't two-step, there are plenty of "experienced" dancers (AKA senior citizens) willing to show you the ropes. Don't get it twisted though, this is not your grandpa's watering hole: the vibe here is decidedly hip and intentionally shitty. And, well... we like that way. -- Anastacia Uriegas
MORE: Check out our full list of Austin's best dives here
Sign up here for our daily Thrillist email, get Eatmail for more food coverage, and subscribe here for our YouTube channel to get your fix of the best in food/drink/fun.