There's a time and place for a great craft beer or an expertly made cocktail. That time is not now. And the place does not exist anywhere on this list.
There are many hallmarks that make a good dive bar, from stiff drinks and low lights to patrons who can transition from gregarious to dangerous at any moment. But to be a great dive bar, a joint has to transcend those tropes and offer up something truly special. With the help of our writers across the country -- and the advice of our seediest friends -- we've scoured the nation for the best dive bars around. Obviously, our dedication to spreading the love from coast to coast means we've missed some spots (that may or may not appear here or here). Tell us where else we should be drinking in the comments. You're buying, right?
Seattle, WA
What do Allen Ginsberg, Dylan Thomas, and Roethke have in common, aside from contributing to your low grades in college lit? They've all called the Blue Moon home. The storied history of this University District icon dates back to 1934, back when the city's laws required that bars be at least a mile from the school, turning the standard walk of shame back to get your credit card into a mini marathon. These days, the joint's as much a venue as it is a bar -- oh so Seattle! -- but considering it functions equally well as a place to down Molotov-level cocktails as it does a place to catch a band on the come up, that's just fine. Just don't come in if you have peanut allergies... this place is covered in more nut dust than an elephant pen.
Cambridge, MA
You can tell a dive bar is good when it looks like it's actually just an Elks Lodge or VFW. And the Cantab, with its famed green awning, looks eerily similar to my grandfather's Western Mass haunt, his favorite place to drink quarter beers during the early hours of the week when he didn't feel like opening his skating rink. And thanks to Cantab's 8am opening time, early drinkers are certainly welcome here to sample the menu of, as its website pointedly puts it, "a full bar and wide assortment of domestic and imported beers." But aside from the dive bar charms, this Cambridge legend quietly has a fantastic bluegrass scene, with a range of talent playing on Tuesdays, and was the first and last place I ever saw a poetry slam. But maybe don't tell the 8am drinking club about that. -- Kevin Alexander, national writer at Large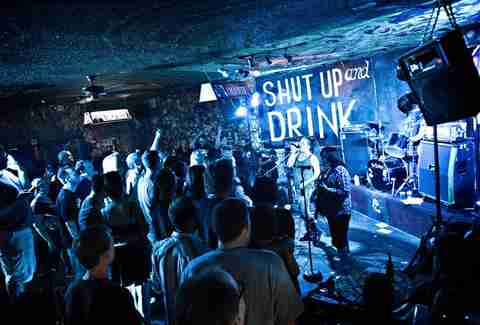 Las Vegas, NV
We tried to find a divier dive bar in Vegas. Lord knows we did. And in a city that's basically the dive bar capital of the world, there were options. But none of them hold a flame to the glories of the Double Down, home of the bacon martini and, more crucially, the fabled Ass Juice, a collection of liquors that may or may not include some sort of Jagermeister knockoff, but definitely merits the purchase of "puke insurance" once you get down to the nitty grit. FIghts? Maybe. Punk rock and grime? Definitely. Las Vegas is known for its glitz and glam. The Double Down is the polar opposite of all that. And for that, we raise a glass of Ass Juice.
Perdido Key, FL/Orange Beach, AL
Like many kids who grew up going to the Redneck Riviera, I first went to the Flora-Bama when I was 6. My parents grew tired of drinking Busch on the beach in front of our condo and wanted the family to walk a mile to drink more Busch on that sprawling back porch while also slurping giant, briny Gulf oysters as a pairing. Unlike most things that are made grand in your head from an early age (renting a car, drinking shitty beer stolen from your parents), the Flora-Bama stood the test of time... even if the building itself didn't, getting annihilated by Hurricane Ivan in '02. While I can wax poetically about Bushwackers and the new building's seemingly infinite stages and rambling rooms and all its other ramshackle charms, the aftermath of Ivan was the quiet example of the state-line-straddling dive's legacy: it only stopped serving for a few weeks, because when a community has been ravaged, parents and 6-year-olds and bikers and locals need their ramshackle home to wander to off of the beach. -- Liz Childers, senior cities director
Pittsburgh, PA
The beauty of a great dive bar is that you can pretty much do whatever you want... within reason. And lest you overstep your boundaries, Gooski's -- our pick for the best dive in a city blessed with more of them than most towns twice its size -- has the rules laid out for you. "Know what you want; have your money ready; don't make us kill you" would be the most telling of this place, where stiff drinks are paired with legendary pierogies and a welcome dose of no-nonsense sarcasm from the bartenders, who make no qualms with interrupting a barside make-out sesh. That's probably for the best. Wings give you bad breath, and you're probably going to regret your decision once you inevitably re-enter a world cursed with natural lighting.
Y
There are hundreds of dive bars that use the word "hideaway" willy-nilly. This is not one of those places. It's in a Waikiki alleyway between a Vietnamese joint and a 7-Eleven, and keeps hours nearly as long as the former (6am-2am). Most light comes from the jukebox and the arcade games, and while the bar caters largely to locals, visitors are known to wander in without disrupting the habitat, if only for a break from the sun. This is especially likely during the legendary power hour, where $2 wells and beers are the weapon of choice from 6-7pm, especially if you're looking to say "aloha" to your day... whether that's hello or goodbye is a matter of personal choice. Regardless, worry not. You're hidden.
a
One of the things that makes South Dakota perhaps the most underrated state in the Union -- aside from its terrifying hail storms and deep-fried beef -- is its wealth of dive bars. But none is more iconic and magical than the Ice House, formerly the Pure Ice Company. While most bars keep their patrons' legacies alive via names carved in tables and a printout of people banned from entry, Ice House's legacy lives in the form of thousands and thousands of bottled shattered underneath the loading dock. Before they become literal shattered memories, those bottles are served in buckets of the bar's ice, and the bartender will even bring them to your car (South Dakota, like we said, is a magical place) so you can gaze at the beautiful Missouri River in comfort before adding to the jagged pile yourself. It's tradition for everybody, whether you're John Q. Cattleman or Yankton's proudest son, Tom Brokaw, who's got the pieces of a Budweiser or 10 chilling underneath the dock.
Portland, OR
Just two years ago, it seemed like Joe's was a goner -- something about the roof being in shambles and potentially collapsing on the place and killing everybody and blah blah blah. But like a phoenix rising from a coffee can full of butts, the NW Portland institution reopened its doors and, well, it was as if nothing changed, including the stale smoke smell that's permeated the beaten-up benches, the ever-occupied pool table, and the extra-long bar that wraps from the diner-like front of the house to the cavernous back and houses everybody from the blue-collar day drinkers who just finished third shift to the vintage-collared hipsters who just finished no shift, because, well, hipsters. It's a snapshot of old Portland in an ever-evolving cityscape, a time capsule of a city's past and present. And when drinks are this stiff, well, you might need a time capsule to help you remember your time in Joe's.
Los Angeles, CA
So, let's get the obvious out of the way. Clowns are terrifying. And Courtney Love is horrifying. So you'd think that a sorta-but-not-really-circus-themed go-go club that once counted Courtney Love among its onstage attractions would be the kind of place that would give Dumbo a goddamned heart attack. Yet, no, it's actually amazing, largely because there are neither clowns nor Miss Worlds. This place is a Bourdain-approved, Father John Misty-hanging marvel of Los Angeles crazy that, these days, is a little more PG-13 (there's no real nudity, but plenty of bikinis), but nonetheless includes the kind of tattooed, pole-based acrobatics you'd expect to find in Portland, OR, except somehow both more athletic and more tattooed. It's our LA editor's go-to dive bar, and a good chunk of Los Angelenos' as well.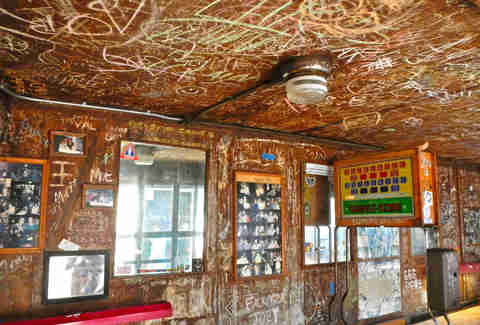 Oakland, CA
If dive bars were cats -- probably stray cats covered in clotted fur and missing an eye, but cats nonetheless -- the Kingfish would be proof of the old nine-lives theory. A while back, the ramshackle favorite of locals and A's players temporarily beat the wrecking ball by petitioning Oakland's Landmarks Preservation Advisory Board. Then, last year, it got threatened once again, this time by the wrecking ball known as gentrification. Well, the Kingfish flipped the finger up at incoming condos by hopping on a trailer and moving down the street, but kept everything intact, from the low ceilings that require a tall man to duck upon entry to the intense shuffleboard games. Hell, if we didn't know better, we'd think that some of the patrons never even got up from their seats as the building was moved. And if they did, it was the first time that it happened in decades.
Milwaukee, WI
In Minnesota, stuffing a lion will get you railroaded out of town. In Milwaukee, it'll make you a dive bar legend. Such is Koz's, which, in addition to functioning as a museum of taxidermy (complete with lion) and bounced checks from folks skipping out on tabs, is also a bastion of old-school duck-pin bowling, with actual human pinsetters at the end of the lane. Also essential: cheap Old Fashioneds, which in Milwaukee are taken more seriously than deporting Scott Walker. Any of these individual elements would make a great dive bar. Combined, and they add up to one of the best dive bar experiences around.
Dallas, TX
What is the heart of a dive bar, really? The dingy, cigarette ash-laden, often kinda trashy environment? The cheap-but-effective beverages? The kind of irreverence that doesn't say "screw you if you can't take a joke" so much as it embodies it? If it's one of those three, Lee Harvey's has heart. If it's all of them? It would be king of the dives, if it could be bothered to get up off its ass after a Wednesday afternoon of day drinking. But why would you do that when you have steak to eat on a sprawling patio with your dog while housing one of the joint's legendary burgers? Who needs a heart when you have a liver to work on, anyway? -- Aaron Miller, cars editor
Denver, CO
Allen Ginsberg and Jack Kerouac inspired generations with their writing, and My Brother's Bar is one of those places they'd eat and drink at before going back to writing phrases without punctuation. The bar feels seemingly preserved in amber, like a mosquito from Jurassic Park, but with better craft beer and fewer velociraptors. This is a bar that's the last of a dying breed -- we can't imagine future writers will be trekking to a breastaurant to sit where their heroes ate hot wings. But despite the whole Old World vibe of the bar, the burgers are currently still some of Denver's best, the patio is a great spot for summer drinking, and it's a bar where you're guaranteed to be shoulder-to-shoulder with folks both blue and white collar. It's a true gathering place for all of Denver. -- Lee Breslouer, senior writer
Savannah, GA
Look, you're in Savannah, so the odds that you're already drinking in a former brothel that's also haunted are pretty good. But unless you're drinking at the Rail, well, you're drinking at a second-tier haunted former brothel, and you probably aren't getting familiar with Rail Pants, the art of discreetly dropping your drawers while standing at the bar. Rail Pants are just one of the many legends of this historic two-story paragon of no-nonsense drinking, which serves up everything from pickled pigs' feet to free fried chicken wings on Friday underneath the watchful eye of a gigantic clock counting down to one of the nation's best St. Paddy's celebrations. So saunter in, grab some peanuts, drop your pants, and leave your pretentiousness at the door. And for God's sake, don't put Pink Floyd on the jukebox. It's against the official rules.
Chicago, IL
The map of Chicago is flush with quality dive bars, throw a dart and... you'll likely piss off a haggard old man who had dibs on those darts, but is also willing to be best friends and tell you all about the storm of '67. At Rose's Lounge, the bar's Macedonian matriarch has kept the storied dive well lubricated for more than 35 years with frosty mugs of Old Style and a stock bottle of Malort -- even back when it was just a dusty old liquor for regulars. Further adding to the grandmotherly basement mystique: year-round Christmas lights, plush couches, an unrecognizably young portrait of Al Pacino, wood carvings that are indeed plastic, and a gumball machine salvaged (alright, hoarded) from Blockbuster Video. -- Sean Cooley, senior editor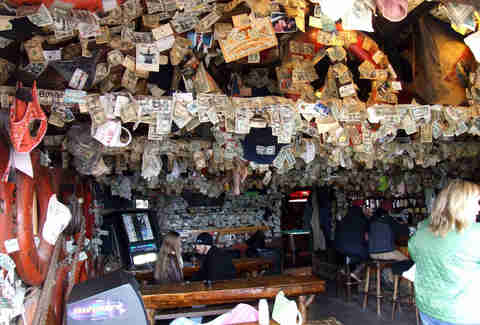 Homer, AK
Alaska's home to many a hole-in-the-wall bar, but none has captured our imagination and heart and dollar bills quite like the iconic Salty Dawg in Homer. It's been many things in its life, from a lighthouse to a post office to a school, but more than anything, it's been our favorite bar in Alaska for so long, we can't bring ourselves to sub it out on this list. Covered from ceiling to floor in autographed dollar bills, it's a rare dive that doubles as a tourist attraction and a favorite of locals who are more than willing to share legends -- real or made up on the fly -- about the history of the bar, and the human skull that calls it home.
Washington, DC
DC institution Showtime has all the trimmings of a classic dive bar. The lighting is low. The walls are covered in historic posters. Natty Boh and a shot of well whiskey will run you a scant $5, and the place has a tendency to turn from salty and seedy to sweaty and packed in a heartbeat, thanks in large part to the encroaching hipsters from the neighborhood mingling with the old guard. But Showtime has one thing that no other dive bar can claim: Granny and the Boys, a funk-fusion band led by a badass octogenarian that takes the stage every Sunday, which is showtime at the Showtime. It's one of the country's greatest dive bar experiences and, like Granny herself, timeless.
New Orleans, LA
We're not encouraging you to show up naked for a free drink at Snake and Jake's. We would never do that. But if you did, we're not entirely sure anyone would notice. Maybe it's because the place is lit only by candles and Christmas lights. Though it's more likely because this garage-like cave/shack place has already seen everything, and its patrons -- from Tulane students to old-school regulars -- are more concerned with their incendiary drinks and living in the moment. It's a place that's survived everything the city has thrown at it, and one of the most unflinchingly unapologetic drinkeries on the planet. Plus, given its Christmas every day at S&J's, it's likely the stockings are more hung than you are.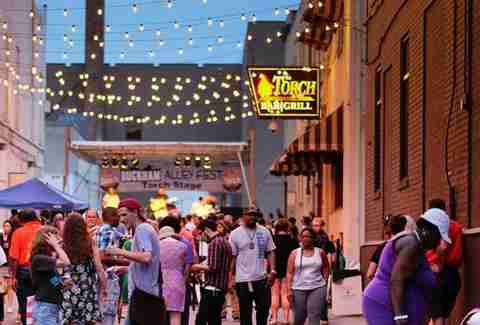 Flint, MI
Look, we're at the point in the news cycle where everyone thinks that Flint, MI looks like the world's biggest dive bar. But as a native, I'm here to say screw all that, because Flint is home to some of the most resilient people in the world, and some of the best dive bars. And while there's a host of divier bars -- the understatement of the year -- we're going to go ahead and re-assert the greatness of Downtown's the Torch, home to one of the best burgers in the state and some of the best alleyway-cigarette conversations you're likely to have in America. The Torch has long been a temporary reprieve for the ills that have befallen Flint, a place welcoming to former plant workers and revitalization-hungry whippersnappers alike, where denizens of Vehicle City find solace in strong drinks and great burgers. Things will hopefully change in Flint sooner than later, but let's hope the Torch will always be the same.
Nashville is a city built on dive bars and dreams, so making a decision about the best damned spot in the city is extremely tough. As always, our thoughts went to Santa's Pub, but then we kind of forgot what we were talking about and ended up in Keggers, just south of town. We hacked on the smoke. We belted out karaoke with somebody who we're pretty sure is a professionally trained singer maybe training for a role in a movie about an up-and-coming star. We may have dripped burger grease on the shuffleboard table. And we came away happy, if a little lethargic. Pro tip: you can get a similar experience without the smoke at the joint's Hermitage Ave location. Pro tip #2: don't be a sissy. You're in Nashville.
New York, NY
Here at Thrillist, we occasionally get flack for "blowing" some of the better hidden spots around town. "Screw you, Thrillist," you say, "you told other people about a locally owned business that could use the patrons that aren't me." Well, dear reader, feel free to say it to our faces at our spot, where you'll often find visiting editors gathered amid the neon to suck down tallboys of Labatt and force fernet on unsuspecting interns in between photo booth sessions. The titular horseshoe at the center serves the dual purpose of serving you liquor and giving you a panoramic view of the chaos happening on the other side, or just as a place to plop down and watch Sharknado on a slow night. New York's got a dive bar on every corner. This one is ours. Don't tell anybody. At least not people who don't watch Jessica Jones, because that show totally spoiled this place for us.
Sign up here for our daily Thrillist email, and get your fix of the best in food/drink/fun.
Andy Kryza is a senior editor at Thrillist who raised a glass or 10 to Flint while conducting endless research on this piece. Follow him to Weather Balls and coneys: @apkryza.

Stuff You'll Like