At this point in the month, you've probably attended two ugly sweater parties and one very bizarre "slutty reindeer" party. And at these festivities, your hosts have probably offered you buckets of the unofficial drink of December: eggnog. And no matter what they say, chances are, they didn't make it themselves.
In honor of the creamy, spiced beverage, we decided to subject some of the Thrillist staff to a blind taste-test of seven brand-name options to see which one reigns supreme in the absence of actual effort. Eight testers offered their unbiased opinions.
Here's what our courageous volunteers had to say:
Recommended Video
'Last Week Tonight' Writer Josh Gondelman Takes Shots, Talks About Working For John Oliver
7th -- AMERICA'S CHOICE
General Consensus: Less popular than grandma's twice-baked fruitcake. Alternately too sweet and too bland, it had very few fans, and a whole lot more enemies. "America's 17th Choice" is probably more accurate.
Winning Endorsement: "It's good. Could've used a little more nutmeg." - Alex, eggnog enthusiast who doesn't mess around with the kiddie stuff
Scathing Pan: "Sugary grass. That's just bland and unpleasant." - Ali, occasional imbiber at her Gentile friends' parties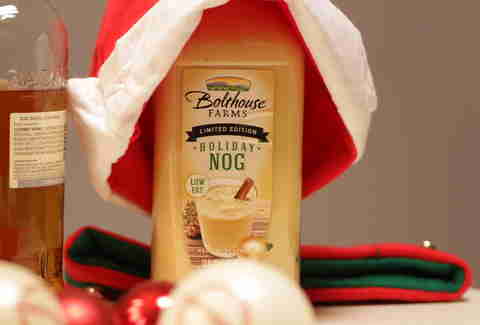 6th -- BOLTHOUSE FARMS
General Consensus: Deemed "liquid gingerbread".
Winning Endorsement: "Super-beige, which is cool." - Adam, nogger who prizes the seasonal sauce above all holiday treats
Scathing Pan: "The hat is good though." - Jeremy, junkie who drinks it even in the Summer

5th -- HORIZON ORGANIC
General Consensus: We enter definitive "meh" territory with Horizon Organic. Most of the jury was simply whelmed by this pick, though the harsher critics deemed it too thick and weirdly banana-esque.
Winning Endorsement: "Liquified rice pudding. It smells like it, too. That's not a bad thing -- I like rice pudding. It's super-creamy." - Rachel, eggnog-lovin' black sheep of her family
Scathing Pan: "I did not like that one. The texture is all wrong. It's gelatinous. It's thick, too thick! It tastes like I'm drinking syrup, which I do not appreciate." - Alex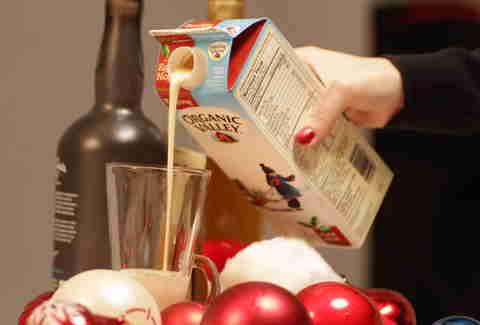 4th -- ORGANIC VALLEY
General Consensus: To its credit, Organic Valley skewed more mediocre-to-good than Horizon. Even if they weren't bowled over by the taste (a few deemed it cinnamon-y), almost everyone noted the tangible spices floating in the drink, which lent it some OG nog cred.
Winning Endorsement: "Seeing some graininess, which is enticing because it means there's spices. It has almost a chai kind of taste. I'd compare it to tea. Kind of mellow, not overly sweet. I like it. Looks au natural with the flecks." - Adam
Scathing Pan: "It tastes like it's probably low-fat. It doesn't taste like Christmas. But I'm a Jew -- what do I know?" - Jeremy

3rd -- TURKEY HILL
General Consensus: No one believed this wasn't full of secret booze. Those sly Pennsylvania dairy farmers are apparently masters at making virgin nog taste alcoholic, and our volunteers found this deception positively winning.
Winning Endorsement: "Is this spiked? It has an alcohol feel. I like it." - Gilah, eggnog obsessive
Scathing Pan: "This is gross, by the way." - Jordan, lifelong noghead

2nd -- HOOD
General Consensus: It tried so hard, and got so far, but in the end, Hood came just shy of the gold (despite being golden eggnog). Still, it earned a decisive silver medal for its rich, creamy texture.
Winning Endorsement: "Oh God, that one's delicious. It's like, instead of General Custer, there was a General Custard, and he quit while he was ahead and made great eggnog." - Dave, eggnostic who enjoys the idea of nog without drinking it much
Scathing Pan: (eyes bulge) "That is insanely sweet. The color is so eggy, but it doesn't taste eggy. It's too much." - Rachel

THE CHAMPION -- SOUTHERN COMFORT
General Consensus: And we didn't even add the suggested SoCo! Several of our lab rats likened this one to Hood in terms of custardy goodness -- no surprise, since Hood collaborated on it -- but what set this apart was the distinctive notes of nutmeg. If Southern Comfort can pull off an eggnog this legit, we suggest Carlo Rossi begin trial runs of a mulled vino, pronto.
Winning Endorsement: "This one is so amazing, mainly because I can tell it's probably not great for me, in the best way possible, like tongue-kissing your best friend's girlfriend." - Jeremy
Scathing Pan: "You know, this might've been my number one if I hadn't had my custard virginity taken by [Hood]. But now, I'm just over it." - Dave
Kristin Hunt is a food/drink staff writer for Thrillist. Some of her strongest friendships are built on cheeseburgers. Follow her at @kristin_hunt.