After three long months of toiling through oppressive heat, humidity, and back-to-back-to-back wedding weekends, fall is finally here. But even though the weather is changing, some summer pastimes are staying firmly put. This especially includes drinking beer. We've come up with some of our favorite non-gourd-based beers to keep you company while watching football, carving pumpkins, and slowly slipping into the grips of seasonal affective disorder.
Recommended Video
Thrillist Sips: Boro Brew
Oktoberfest, 5.8%
Aying, Germany
If you're looking for the benchmark of a traditional Oktoberfest beer in a sea of American seasonal releases, this is the ticket. It's beautifully malt-driven with caramel and bread flavors literally designed for celebrating one of the most prized dates on the German calendar. It's easily one of the best ways to get the old-world flavor into your Oktoberfest party -- especially if you're serving it alongside traditional foods like sausage with sauerkraut, soft pretzels, and potato salad.
 
Extra special bitter, 6.4%
Lakewood, NY
No matter how I cut it, this is one of my perennial favorites, especially for a style that rarely gets love from American brewers. It's a prime example of what great balanced beers should taste like: It's malt-driven like any good ESB should be, but with a healthy dose of English hops that impart earthier flavors and aromas compared to American hop varieties (and then it's dry hopped for even more of a floral kick). It's incredibly smooth, deceptively drinkable, and a perfect middle ground beer no matter where you're preferences fall on the flavor spectrum.
 
Harvest ale, 6.8%
Hershey, PA
It's rare that you get a beer with "hop" in the name with such a restrained bitterness as Hop Knife. The brewery says the brewers use a "HopCyclone process [that] creates a spiral of hop dispersal during fermentation," which helps explain how the beer smells so damn good. The tropical and citrus flavors make for a nice toast to the last bit of warm weather. The one downside is that this beer is becoming increasingly harder to get your hands on, though, so make sure you don't sleep on picking some up.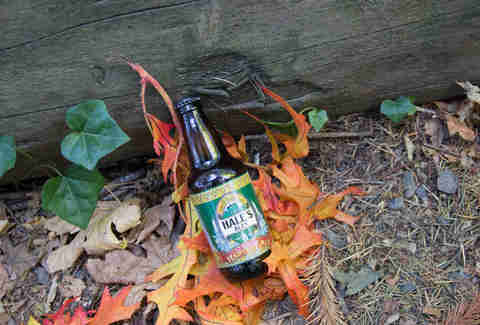 Pale ale, 6.9%
Seattle, WA
One of Seattle's more anticipated seasonals, O'Brien's the annual offering celebrating the birth of a new hop harvest, and it changes every year. This round's got a one-two punch of rye and spice with, naturally, a finishing haymaker of hops. It's how Hale's celebrates the brewer's new year. If this is any indication, it's looking like another good year.
 
American porter, 5.5%
Amherst, WI
If you're the kind of person who needs cooler weather to drink darker beers, Mudpuppy Porter is a pretty great way to get them back into your rotation. The roasted coffee and chocolate flavors you expect in a porter are all here, all with a solid body behind it and an ABV that won't send you under the table after two. If you can find the nitro version on draft in your neck of the woods, you're in luck. Also makes an awesome pairing for tailgate BBQ!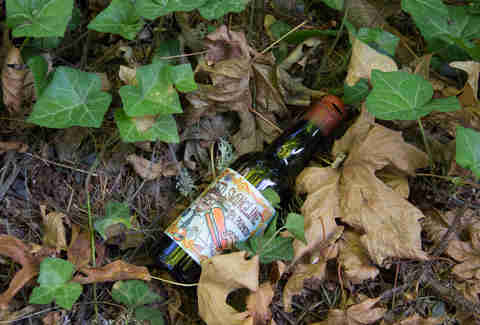 Bavarian weizenbock, 8.7%
Downington, PA
If springtime makes you dream of hefeweizen, then fall should have you clamoring for weizenbocks. Victory hits all the high points with their take on this relatively rare style (at least by American standards): the phenols and esters that make your hefeweizens taste like bananas and cloves are all here, all with a creamy mouthfeel, sweet bread flavors, and a spicy finish. Drink it on your porch during the first chilly night of the season.
 
Pale ale, 5.3%
Westerly, Rhode Island
The tiniest state in the country has been slow getting into the beer game, but the past few years have seen a boom in breweries in Rhode Island. Grey Sail has emerged as one of the most promising in the Ocean State, with Flying Jenny being a standout with its impressive lineup of brews. It's as solid a pale ale as you'll find, refreshingly bright resinous and citrusy with a solid malt backbone that rounds out the package. Keep your eye on this brewery!
 
Wild ale, 4.1%
Colorado Springs, CO
Trinity has made a huge impression on me in the past year, and this beer is a highlight in an already impressive lineup. What a gloriously funky brew! This is a beer geek's dream, with all of the lactobacillus and brett beauty of a wild sour combined with citrus and pine bitterness from American hops for a finished flavor that the brewer himself likens to ruby red grapefruit. This is the one you bring to your beer-nerd friend's pumpkin-carving party (since we all have those) to impress them.
Imperial porter, 8%
Portland, OR
Portland's Lompoc puts out a gigantic variety of beers every year, but come the fall the Monster Mash takes the spotlight, and for great reason. The hefty porter is the perfect bone-warmer on a chilly fall day, putting forth a fairly simple flavor profile that is roasty without ever crossing the line into overwhelming, making for a smooth but mighty porter with an earthy subtlety that belies its considerable bite.
 
Farmhouse ale, 7%
Cambridge, MA
Now here's something you don't see everyday! A saison may feel out of place in autumn, but Pretty Things once again reminds of how versatile the style truly is. It's beautifully floral thanks to European hops and somewhat spicy thanks to a blend of Belgian and English yeast strains. This is one of the brightest, most refreshing old world beers made in the new world you've ever had.
Cream ale, 5.5%
San Diego, CA
So what do you do when your brewery already has a perfectly delicious imperial porter that runs a little high in ABV? You make a cream ale brewed with coffee and vanilla to serve as a relaxed counterpart alongside it in the fridge. The result here is light-colored beer with more flavors than you might imagine just by looking at it. I've had a lot of friends refer to this as a "less sweet adult creamsicle" (in the best ways). Goes down better than a 2pm coffee!
 
Oktoberfest, 5.5%
Alexandria, VA
It feels like most breweries release a seasonal Oktoberfest out of obligation, not passion, since it's a style that has been tailored to please the masses. But Port City, ever the over-achiever, turns that notion on its head with this delicious American-bred homage to the old-world style that takes over the tap lines for a few weeks a year. Deliciously malty, medium bodied, and unfiltered, this take avoids the watery, short finish of so many beers done in this style while staying easy to drink.
 
IPA, 6.5%
Auburn, CA
I used to joke that this should be called "Sue Me For Copyright Infringement Right Now IPA," but I'd also like to think that Vince Gilligan is cooler than that. Besides its punny name, this hop bomb gets it so right: Piney hops are all up in your nostrils right up front, as an excellent indicator of this resinous bad boy's flavor, whose body is rounded out nicely from some (non-blue) crystal malts and flaked wheat in the malt bill.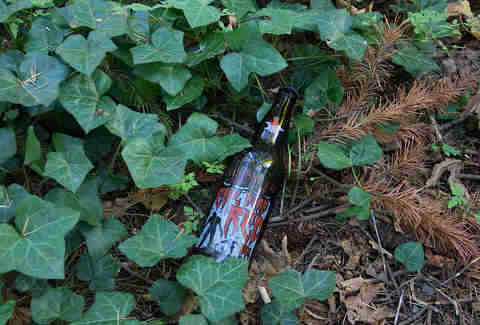 Red ale, 6.66%
San Diego, CA
Whether they're just pulling our legs on the whole 6.66% thing (which, after a couple rounds, we're pretty sure they're not), AleSmith's annual Halloween offering is a thing of beauty. Sure, that ABV and the deep-red hue might be gimmicky, but every note this sucker hits -- the bite, the caramel notes, the unexpected sweetness -- is spot on. Groovy.
 
Brown ale, 5%
Louisville, KY
In an industry that is already racked with puns, it's hard to come across one who outdoes Against the Grain in naming and label artwork… Which is why, at first sight, this can might make you want to pass. But man oh man, is this a solid brown ale: It's got a thicker mouthfeel thanks to oats in the malt bill, biscuity and roasted flavors, and subtle earthy British hops (as well as some American "Cascade [hops] late in the boil just to show those snooty Brits that we don't approve of that Constitutional Monarchy crap," according to the brewer's notes). But seriously, if you're squeamish, don't look at the can art.
Spiced ale, 6%
Garden City, ID
Ok, so we're breaking our "no pumpkin ale" rule on this one, but only because, unlike so many of its gourd-heavy brothers, Evil Harvest's pumpkin flavor is muted and in the background, allowing the spices to come forward without getting overwhelming. This is a pumpkin beer for people who hate pumpkin beers, but also a spiced ale for people who love them.
 
Brown ale, 5.5%
Oxford, CT
I'll just come out and say it: Brown ales usually suck, and it's almost entirely because brewers are less comfortable with the style than their hop-driven brethren. But that also means when you come across a good one, you should always take note, and Granola Brown is one of those cases. Light chocolate, caramel, and nutty flavors make this the polar opposite of a bitter hop bomb. It also helps that brown ales are widely seen as a universal food-pairing beer, so if you're ever stumped with what to drink at your potluck dinner party, this is a safe bet!
 
Stout, 5.8%
Jackson, WY
Snake River has held a special place in my heart ever since I got the idea to get into the beer business while drinking a pint at their brewery. But with temperatures dropping and need for great beers that aren't hop bombs on the rise, Zonker stands on its own merits as simply an excellent foreign-style stout: dry, roasty, velvety, and subtly chocolatey where the bitterness is balanced by just a touch of sweetness. It's the secret ingredient in (and alongside) my chili. Which I guess isn't a secret now.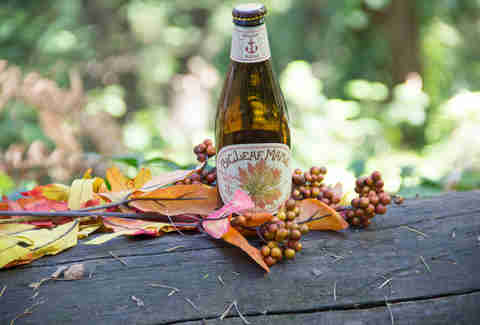 Red ale, 6%
San Francisco, CA
Putting maple syrup in beer seems like it could misfire into a jaw-achingly sweet concoction, but Anchor's BigLeaf strikes the perfect balance. Sure, the sweetness is there in the seasonal red, but it's more a finishing note than anything, with the malt taking center stage. This is not by any means a beer you'd be better off pouring on top of your pancakes. Though we're sure that'd be pretty delicious too.
Sign up here for our daily Thrillist email, and get your fix of the best in food/drink/fun.
Thrillist senior editor Andy Kryza contributed portions of his liver to this article.  
Zach Mack is Thrillist's contributing beer writer, the owner of Alphabet City Beer Co. in NYC, a newly minted cicerone, and nothing else. Follow him: @zmack.