Fun fact: When the leaves start changing colors and the Detroit Lions start losing football games, brewers do NOT switch to exclusively brewing pumpkin beers. And while we do love us a good gourd pun, there's just so many other kinds of beer to get into as the days grow shorter, from Oktoberfest offerings to premature winter warmers and unexpected IPAs. We're not saying not to drink pumpkin beer (here are 15 great ones!), but we are saying that you'd be out of your gourd not to try these fall beers too. (Sorry about that pumpkin joke... We couldn't resist.)
Milk Stout with Peanut Butter, 5.4%
Minneapolis, Minnesota
In an era of 14.5% ABV pastry stouts, it can seem kind of funny to describe any beer made with peanut butter as "soft and refreshing." But maybe that's exactly why this milk stout tastes like such a welcome break from the overdone syrupy palate bombs that tend to dominate tasting rooms and beer festivals. This one won't blow out your palate: It'll just make you wish you had a given it a chance a little sooner with its dry finish and peanut aroma that comes through at the very tail end.
German Pilsner, 5.5%
Cleveland, Ohio
No matter what your beer geek friends or supermarket shelves may tell you, there is absolutely nothing wrong with diving headfirst into light beers as the weather cools down...especially if they're as refreshing as this German-style pilsner out of Cleveland. True to its origins, it's crisp, clean, and spicy all at once, with balance between the malt body and noble hop aroma and its flavor profile. This is a fantastic beer to bring to your friend's tailgate or football party if you're trying to win people over from less impressive light beers.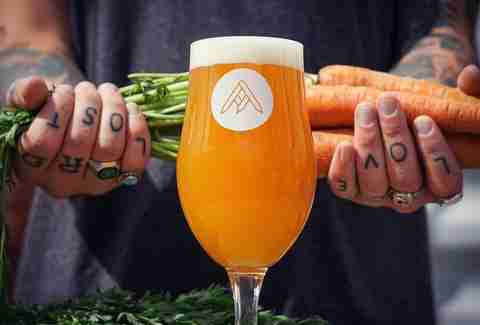 Saison, 5.9%
Denver, Colorado
One of the best things about saison as a style is coincidentally also what makes it so hard for Americans to understand them: They can be practically anything the brewer wants. In the case of Denver's Ratio Beerworks, their semi-annual release of King of Carrots is perfect example of just how diverse this Belgian-born brew can be. An eye-catching bright orange in the glass with flavors of ripe melon, orange zest, and fruity citrus notes with hints of orchard fruit and vanilla, this beer is a true "take along to a dinner party" type of beverage.
Mexican-style Lager w/ Kaffir lime leaves, 5%
Oklahoma City, Oklahoma
Sending off the last bit of warm weather usually requires the right kind of beer that's equal parts comforting as it is refreshing. Anthem Brewing's take on a Mexican-style lager uses the tartness of kaffir lime leaves to balance out a crisp base, creating a clean and supremely sessionable brew that is almost too easy to drink, no matter what the temperature is outside. Pair this with spicy foods if you want to take things up a notch.
Imperial Stout, 12%
Chicago, Illinois
Lovers of dark, rich, decadent beers rejoice: The season of your favorite style is upon us once again! Despite this fact, Maplewood's Cuppa series runs year-round, with their recent hazelnut release celebrating our return into autumn with a beer that is brash, full-bodied, and as nutty as a piece of Nutella-slathered toast. Break this one out to celebrate the first day of sweater weather.
American Light Lager, 5%
Fort Lauderdale, Florida
Some areas of the country -- *cough cough* FLORIDA -- don't have to deal with the same declining temperatures as certain parts further north. But even if you're not trying to beat the outdoor heat, this straightforward light lager achieves perfect "post-workout refreshment" with a clean, easy-drinking flavor profile and a dry finish.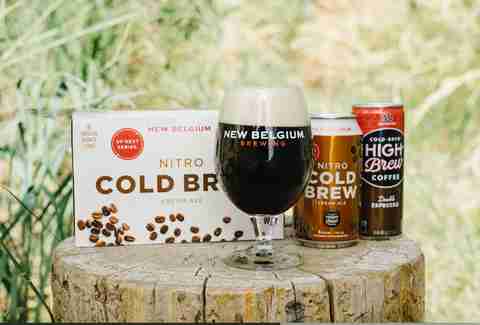 Cream Ale made with Coffee, 5%
Fort Collins, Colorado
While iced coffee weather might technically be on the way out, the innovative folks over at New Belgium have come up with a novel concept once again that defies the norms of the cultural food calendar. This recent release comes by way of a collaboration with High Brew coffee, blending their cold brew with a house-made cream ale that is then charged with nitrogen. The result is a deliciously smooth and roasty beer that will put a pep in your step. This one will make you the instant favorite of any brunch party you bring this along to.
White Porter, 6%
Santa Monica, California
Every stout fan knows that when they're craving for a beer with roasted, chocolatey flavor profile, they usually have to reach for the darkest thing on tap. So leave it to brewers in Los Angeles to create a beer that looks as light as a pale ale but tastes like a robust porter. This light-hued beer replaces dark malts with cacao nibs, vanilla beans, and milk sugar to achieve the same toasted flavor profile usually relegated to the blackest of beers.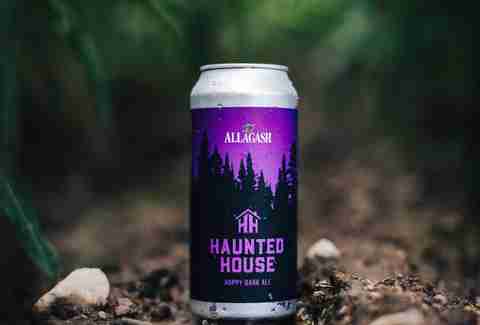 Hoppy Dark Ale, 6.66%
Portland, Maine
One's relationship with haunted houses usually starts with a traumatic experience after being coaxed into one of those absolutely terrifying seasonal pop-ups where strangers in masks touch and scream at you. This Belgian dark ale, on the other hand, is way more uplifting. It may pour as dark as the inside of spooooOOOOOoooky house, but it has a subtly complex profile featuring Saaz, Chinook, and Tettnang hops  and "a ghost of coffee-flavored bitterness and hauntingly complex malty palate." All of the fun of the season without the anxiety and PTSD!
Saison, 7%
Anchorage, Alaska
Fall is arguably the most complex and introspective of the seasons. As such, it's fitting that a beer as interesting and nuanced as Calabaza Boreal should make its way into your autumnal rotation. Brewed as part of a two-part collaboration, this beer serves as an homage to Calabaza de Oro... by including a dose of it in the finished product. You could think of it as the buddy comedies of beer. For anyone looking to expand their horizons (or deepen their love) with truly well made American wild ales, this is a great chance to do just that. Also, in case you didn't know, please don't let the brewery's name fool you: There is absolutely NO pumpkin used in this beer!
Schwarzbier, 4.8%
Baltimore, Maryland
Among the greatest misconceptions that pervade American culture, very few are as widely held as the idea that all dark beers are heavy. For proof, you need look no further than schwarzbier, a dark lager style with German origins that seems to be having a bit of a moment on the American craft beer scene. For whatever stupid reason our brains have us believe it, fall seems to awaken the part of our sub consciousness that is more open to darker beers, making it the perfect time to indulge and explore offerings like Blackwing. This beer is jet black but oh so smooth, with toasted maltiness and a refreshingly light body helping it feel at home no matter what the weather is in your part of the country.
Brown Ale, 5.9%
Williston, Vermont
For some people, fall means the beginning of decorative gourd season (OK fine, maybe for most people). But for the rest of us, autumn signifies a special time of year where the elusive well-made American brown ale makes a triumphant return into many breweries' rotations. Peasant Bread's remarkable drinkability help it stand out as such a winner in this crowd. Sure, it's a brown ale, but it's made with wild rice, giving it a uniquely smooth body with. Just the right amount of accompanying roasty malt flavors and subtle East Kent Goldings hops to help it finish as balanced and crisp as that first breeze that makes you think, "whoa, it is *autumn* out here!" Pairs perfectly with burgers scary movies from the '80s.
Helles, 5.9%
Andechs, Germany
Maybe you have a friend who is super into the idea of celebrating Oktoberfest in a traditional way, but is also averse to any beer that isn't pale gold. Maybe that friend is you. In any case, this is one of those instances in which you can appease their (or your) picky tendences! Klosterbrauerei Andechs, a classic Bavarian brewery of note, is renowned for their Festbier Helles. It's much lighter in color than its amber-hued marzen counterparts, with a smooth, malt-driven body, slightly more floral German hop flavors, and a pleasingly dry finish.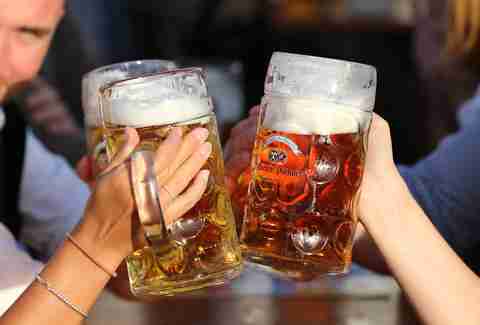 Marzen, 5.8%
Munich, Germany
For most of us, a trip to Munich would involve jet lag, costly airfare, and yet another failed attempt to pick up last minute foreign language skills on Duolingo. Luckily, that doesn't mean you still can't drink like a proper festival goer. Hacker-Pschorr's is a legally proper Oktoberfest Märzen, made within the Munich city limits and served at tents at the Wiesn to throngs of revelers. Of course, it's got those flavors toasty bread crust and rich malts, but like all great Oktoberfest beers, it stops short of sweetness, making it easy to sip on for hours. Easier than returning through customs after a rowdy Oktoberfest, at the very least.
"Mushroom Dessert Ale," 6.5%
Sidney, Montana
There are times in beer when it becomes very clear that brewers went to great lengths to find the most gimmicky of ingredients to ensure that their product ends up achieving some kind of viral fame on beer Twitter. But in just a few of those cases, there are beers that sound crazy on paper but come through so solidly on execution that everyone is forced to eat crow — and in the case of this beer, even award it a gold medal at the Great American Beer Festival. Brewed with honey and "Candy Cap dessert mushrooms," this beer remains remarkably light on the palate for something dubbed a "mushroom dessert ale," with soft, earthy flavors of maple syrup and honey that finishes dry and clean. Clearly, this is meant to be enjoyed with post-dinner treats of some kind, so don't hold back.
Brown Ale, 5%
Louisville, Kentucky
In an industry that is already racked with puns, it's hard to come across one who outdoes Against the Grain in naming and label artwork… Which is why, at first sight, this can might make you want to pass. But man oh man, is this a solid brown ale: It's got a thicker mouthfeel thanks to oats in the malt bill, biscuity and roasted flavors, and subtle earthy British hops (as well as some American "Cascade [hops] late in the boil just to show those snooty Brits that we don't approve of that Constitutional Monarchy crap," according to the brewer's notes). But seriously, if you're squeamish, don't look at the can art.
Porter, 6.8%
Chicago, Illinois
Eugene Porter, in addition to being the name of that dude with the mullet on The Walking Dead, is one of Revolution's best offerings, a deep-brown, ultra-smooth American porter with hints of roasty malt, chocolate, and vanilla. Throw in some coffee though, and Eugene gets an extra flavor blast, meeting at the confluence of a deliciously dark beer and a nice cup of cold brew whose complex profile makes it very easy to forget that you're drinking a beer that's pushing 7%. Unlike the show whose character shares its name, it just keeps getting better the longer you sit with it.
Autumn IPA, 7%
Bend, Oregoon
One of Oregon's best brewers basically does a remix of the Oktoberfest style, mating it with IPA in one of the best mash-ups of German and American ingenuity this side of the Iowa pork tenderloin sandwich. You get that malty/toasty flavor you've come to expect from schnitzel's favorite beer, but with a healthy, citrusy boost of hops that define the American IPA. That, friends, is how you do beer diplomacy. And also how you create a fall IPA, which isn't exactly the most common variation of American craft's go-to beer.
Helles lager, 5.5%
Salt Lake City, Utah
A low-impact standout from Utah's notoriously high-ABV purveyors of big heavy beers, the Fest Helles is a nice alternative to the Oktoberfest go-tos, with grassy notes balancing the lower hops profile. This is a clean, down-to-earth beer that basically defines easy-drinking, best enjoyed on those late-summer days when the sun tries to trick you into thinking it's not quite autumn. Which is to say, this is a great sunshine-and-sweaters beer.
Red Ale, 6%
San Francisco, California
Putting maple syrup in beer seems like it could misfire into a jaw-achingly sweet concoction, but Anchor's BigLeaf strikes the perfect balance. Sure, the sweetness is there in the seasonal red, but it's more a finishing note than anything, with the malt taking center stage. This is not by any means a beer you'd be better off pouring on top of your pancakes. Though we're sure that'd be pretty delicious too.
Sign up here for our daily Thrillist email and subscribe here for our YouTube channel to get your fix of the best in food/drink/fun.