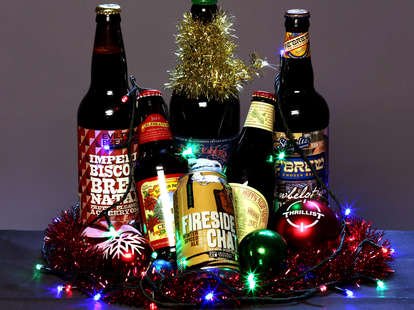 Pumpkin beer is dead. Long live Christmas beer! It's time to slam the leftover Oktoberfests and make way for the onslaught of fresh holiday-themed brews.
Since it's hard to tell the legit seasonal beers from the gimmicky candy water, we enlisted the help of Zach Mack, proprietor of Alphabet City Beer Co. (be a smart person and follow them), to craft the only holiday six pack you'll ever need. It even includes a bonkers 17% ABV selection, which means telling Aunt Penny how much you love your new infinty scarf just got way easier.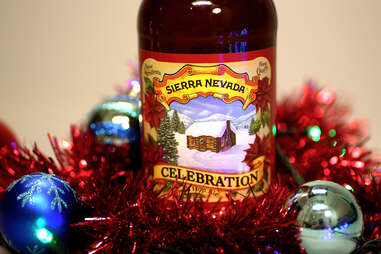 Sierra Nevada Celebration
ABV: 6.8%
Style: IPA
Zach says: "If there ever was a seasonally appropriate holiday party crowd-pleaser, this would be it. Unlike other spicy seasonal offerings, Celebration is an American-style IPA. The resinous aromas of the hop-forward recipe will have you swearing there's a freshly chopped Christmas tree in the room. The backbone of this bad boy is also maltier than Sierra Nevada's typical offering, giving it a mouthfeel as robust as Santa's belly."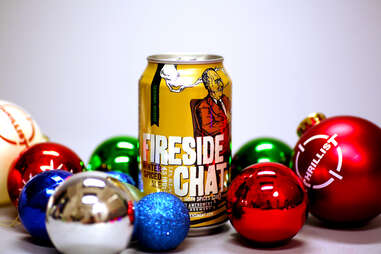 21st Amendment Fireside Chat
ABV: 7.9%
Style: Spiced Winter Ale
Zach says: "As warm and toasted as those chestnuts roasting on an open fire. With hints of cinnamon, coffee, and chocolate with an ample malt backbone, this tastes like a beverage version of your favorite holiday dessert. We'd like to think FDR would've loved to sip on this while giving his radio addresses. As always with 21st Amendment brews, the Americana on the packaging is a huge added bonus."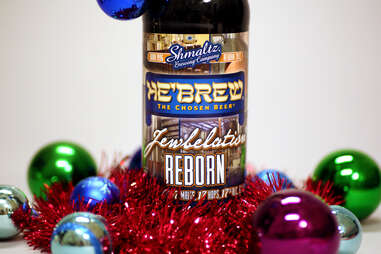 HE'BREW Jewbelation Reborn
ABV: 17%
Style: American Strong Ale
Zach says: "If you're planning on celebrating for eight crazy nights, you might want to consider bringing some of this chosen beer to your next holiday get together. Marketed as 'the most extreme holiday beer ever created', Jewbelation's 17th iteration uses 17 different hops and 17 different malts to produce something that is, well, extreme. It clocks in well above typical wine-level ABV at 17%, so plan on plenty of sharing or stretch out this brew over the course of your meal!"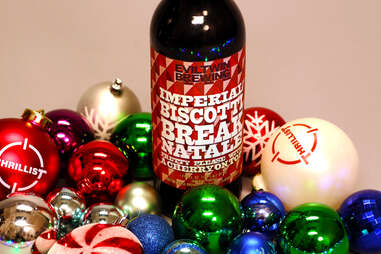 Evil Twin Brewing Imperial Biscotti Break Natale Pretty Please With A Cherry On Top
ABV: 11.5%
Style: Imperial Porter
Zach says: "The original Break Natale has been holiday-ified by adding sour cherries. The result? A malt-balanced, rich, imperial Porter that tastes like almonds, coffee, chocolate-covered cherries and the best Christmas cookie you've ever had. The remarkably high ABV at 11.5% is scarily undetectable to the taste buds. Recommended for those whose holiday spirits are in need of lifting!"
Jolly Pumpkin Noel de Calabaza
ABV: 9%
Style: Belgian Strong Dark Ale
Zach says: "This is not your typical holiday beer, folks. Expect sour cherries, oak, and barnyard-y funk -- a far cry from the traditional spiced holiday beer. It should come as no surprise that this refreshing departure is from Jolly Pumpkin, a brewery known for its sours. This beer will definitely bring some holiday cheer to any beer geek you share it with. Pro Tip: If you pair this with roasted duck, you are going to turn some serious heads."
Anchor Christmas Ale
ABV: 5.5%
Style: Winter Warmer
Zach says: "The beauty of this beer is that it changes every year; the recipe gets new malts and hops, the ABV swings up and down, and even the label gets a brand new tree. Popping the first one of the season is like being a kid on Christmas morning opening a present. Flavors can range from juniper and spice to roasted nuts to, well, Christmas. The only thing that doesn't change from year to year is how delicious and festive it is."