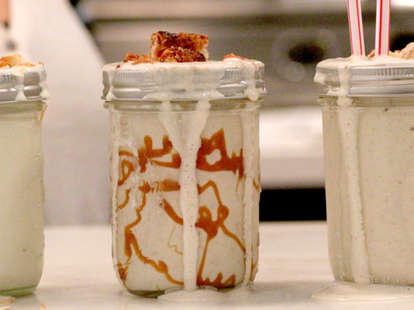 Except for when Marty McFly spends time in one fending off the sexual advances of his own mother, few things are as wholesome and all-American as malt shoppes. Sadly, there aren't as many these days (thanks a lot, Big Malt), but some of the greatest ones this country's ever seen are still alive and kicking. Here're 10 of the very best of what's left:
Wilton Candy Kitchen in Wilton, Iowa is over 150yrs old, which makes it the oldest continuously run shoppe in the world, and by some accounts, it even predates the soda fountain, which proves either that not all accounts are accurate, or Doc Brown actually retired to Iowa after Back to the Future III.
In Fredericksburg, VA, Goolrick's Pharmacy -- open since 1863 -- is both a fully functioning pharmacy and a place not afraid to put a little chocolate in your coke, as former governor Mark Warner can attest. And no, that's not a euphemism. Yet.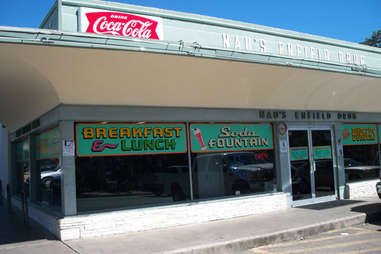 Nau's Enfield Drug has been keeping Austinites weird happy and maltily cold since 1951; since they're a pharmacy, and actually exist for keeping you healthy, they don't have a deep-fryer, so you can't get fries with your burger and malt. Progressive!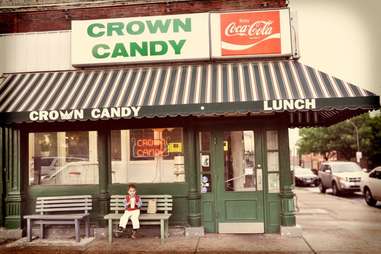 The St. Louis World's Fair of 1904 was the first time a lot of people had ever seen an ice cream cone, and the good people of St. Louis certainly had a lot of things to write blues songs about while waiting the nine years to pass before Crown Candy Kitchen opened its doors in 1913 with things like marshmallow malts and, perhaps more importantly, a malt drinking challenge: drink five in a half hour without vomiting or going outside, and they're free.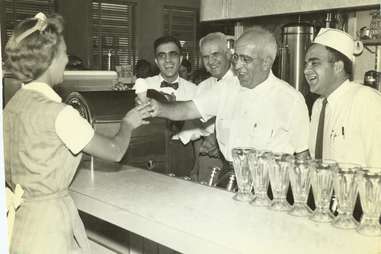 Doumar's Cones & Barbecue was founded in 1907 by a Syrian dude named... Doumar. Doumar claimed to have invented the ice cream cone at the St. Louis World's Fair in 1904, but while that claim is rather disputed, the fact that his place continues to serve them -- along with "drug store"-style (that means thin) malts & shakes -- over 100yrs on is a testament to both their quality and Virginians' tolerances to brain freeze.
Dick's Pharmacy has been hand-jerking it shakes in tiny Arthur, Illinois for going-on 80yrs, which is just as long as they've been collecting old bottles of pop.
The Highland Park Pharmacy* has been a sort of introduction to gluttony for generations of Dallasites dating back to 1912 -- they think. Apparently, a century of eating nothing but fried PB&J sammies and egg cream sodas can wreak havoc on your long-term memory.

*It technically was required to change its name by the State of Texas in 2012, but no one calls it The Highland Park Soda Fountain.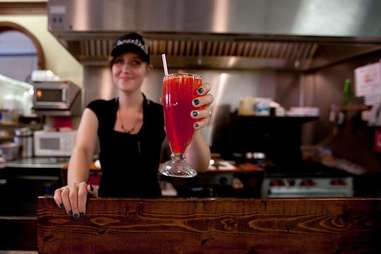 As a general rule, if you find yourself in Leavenworth, KS, you've done something horribly wrong... unless you're there for The Corner Pharmacy, with its 140yr tradition of serving up deep-fried classics alongside all manner of frozen & fizzy bevvies.
RF Goeke Variety Store is in a town that's basically the Nebraska equivalent of that place in Doc Hollywood, so it shouldn't be a surprise to find an authentic old-school nickel-and-dime store filled with all manner of folk who dislike Michael J. Fox glorious kitsch, topped off by a small soda fountain in back where they'll whip you up things like peanut butter-laden chocolate malts drenched in hot fudge.