The 16 Best Breweries in the Midwest
It's indisputable that people from the Midwest are the best at drinking beer -- have you ever entertained guests from, like, California and watched them earnestly attempt to keep up? It's adorable!
But there's also an argument to be made that the region is without peer when it comes to making the stuff. Just look at the beer-based excellence of these 16 breweries that represent the best the region has to offer. It's no wonder some of them are hard to find on the coasts -- we're thirsty here.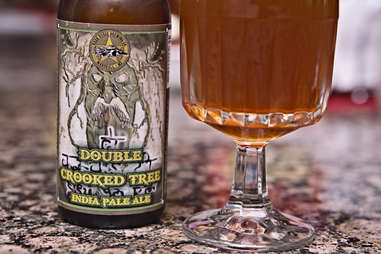 Marshall, MI
Dark Horse is hardly a secret, despite the name. Scotch ale Scotty Karate is somehow more enjoyable to drink than it is to say, and, anytime you can get your hands on any variation of their Plead the 5th stout, buy as much as you can.

St. Paul, MN
With a history dating back to the fledgling days of the craft movement (i.e. the mid-'80s), Summit has evolved into a 240,000 barrel-a-year behemoth, sending its beer far and wide while still retaining its cred on the strengths of selections like their Sága IPA and their Fest Bier, a fine rendition of a Märzen.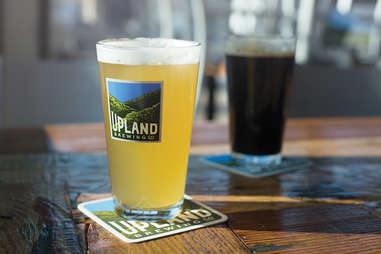 Bloomington, IN
The Hoosier State's second largest brewery (and for all intents and purposes, Three Floyds really functions as a Chicago brewery, sending the bulk of its beer there from just over the border), Upland has become a fixture in Bloomington since opening in 1997. They've captured a growing following in recent years on the strength of their excellent sours.

Chicago, IL
From a pair of friends who apprenticed under a Master Brewer in Belgium, Pipeworks is one of Kickstarter's great brewery success stories. This small-but-mighty Chicago outfit produces a dizzying array of large-format selections that have become seriously sought after, particularly double IPAs like their Square Grouper and Citra.
New Glarus, WI
Flash a six-pack of Spotted Cow smuggled across state lines to a Wisconsin native, watch them politely attempt to rob you, and you'll get a sense of the state's devotion to this brewery, now in its third decade of brewing excellence. Fruit beers like Raspberry Tart and Serendipity draw the most fanfare among the beer geek set, but then they went and dropped Scream (a double IPA) this summer and, of course, nailed it. They've steadily eschewed expansion opportunities, noting they can barely keep up with demand in their home state.

Grand Rapids, MI
The Grand Rapids outfit combines with Bell's and a host of other breweries to make Western Michigan one of the country's true brewing hotbeds. Their Kentucky and Canadian Breakfast Stouts have developed into genuine objects of obsession, but they don't shine solely when it comes to the heavy stuff. Their now ubiquitous All Day IPA is a lawnmower beer that will please even the staunchest beer snob.
Kalamazoo, MI
Tracing its roots back to a homebrew supply shop in Kalamazoo, Michigan in the early '80s, Bell's is one of the OGs of the craft brewing scene -- not just in the Midwest, but nationally. Their Oberon has come to define summer in a way few beers can. Their Black Note is as fine an example of a barrel-aged stout as you'll find. Their Hopslam makes you want to do exactly what the name says. There isn't much they don't do, and they do it all exceedingly well.

Amherst, WI
The second Wisconsin brewery to grace this list is a little more amenable to out-of-state distribution than New Glarus, which is a good thing, because an ambitious and wide-ranging barrel-aging program has earned them a devoted following. Also, if you have the chance to get one of their Anniversary beers, do that.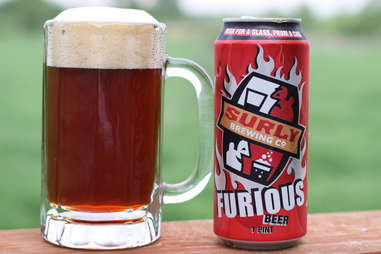 Minneapolis, MN
Such was the demand among Minnesotans for Surly Furious and other aggressively hopped tallboy cans that the brewery had to pull out of Chicago for a few years to meet demand back in its home market. They're back in the Windy City now, and as of March 2015, invading Iowa, though, as per usual, beer drinkers will be invading Minnesota when Darkness comes out.

Decorah, IA
Few breweries have ever been more presciently named. Since opening in 2009, the comparatively tiny Iowa-based brewery has caught the attention of many an aficionado with big, bold brews like Kentucky Brunch and Assassin.
Chicago, IL
Certain segments of beer geekdom will hem and haw about Goose Island's craft cred after its acquisition by AB InBev, but most of those same segments are still scrambling to get their hands on BCS variants each fall, so they don't have much to stand on. From the aforementioned sought-after stouts to sours like their blackberry-infused Juliet, Goose still brings it.

St. Louis, MO
While this St. Louis brewery with a Belgian bent has developed a devoted following on the strength of its saisons and sours, its barrel-aged Abraxas has become as fiercely hunted a trophy beer as you'll find in the country, a rye-aged imperial stout with a perfect balance of cocoa nibs, vanilla, cinnamon, and ancho chile.
Kansas City, MO
Another one of the Midwest's brewing powerhouses to be snatched up by a larger operation (in this case, Duvel), Boulevard remains the pride of Kansas City. Their Tank 7 was famously brewed by accident, which turned out to be a delicious mistake that resulted in a funky, hoppy variation on a saison. In general, if you're drinking anything remotely Belgian from them, you're in good hands.

Warren, MI
The little Warren brewery with the big, award-winning beers is moving towards not being so little anymore, with a massive expansion, meaning more drinkers will be able to get their hands on the likes of their Simcoe Silly, Raspberry Eisbock, and Fourth Dementia.
Cleveland, OH
Apologies to Drew Carey and Buzz Beer, but Great Lakes is the true king of the Cleveland beer scene. They excel in a variety of styles (their Chillwave Double IPA attracted much positive attention when it dropped last year), and it wouldn't be the holiday season in Ohio without their Christmas Ale.

Munster, IN
Dark Lord Day was one of the forerunners of the contemporary phenomenon that is the crazily anticipated beer release party, and it still draws thousands of devotees to an otherwise nondescript industrial park in NW Indiana each spring. Zombie Dust and Dreadnaught continue to be objects of obsession for hop lovers across the country. Not content with simply making nearly unrivaled beers, an in-progress expansion will have them getting into the distilling game as well.
Matt Lynch is a senior editor at Thrillist with tremendous enthusiasm for beer and a deep distrust of the ocean. Follow him: @MLynchChi.