The 12 Best New Breweries in America
2014 was one of the biggest years in American beer history. Breweries opened at a rate of 1.5 per day and over 4,500 licenses were issued. As of last June, over 3,000 breweries were operating in the US, which means we have the most options for top-quality American brews for the first time since before the Civil War. And it probably tastes better than whatever Ulysses S. Grant drank with Mary Todd. Even though most breweries don't leave their immediate area for years after opening, to celebrated this record setting year, I rolled up my sleeves, did my homework (Editor's note: he drank), contacted some local experts, and picked the best new breweries from coast to coast.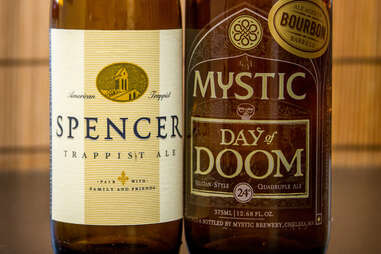 Spencer, MA
Take note: Spencer Brewery is an unprecedented opening in that they are America's first certified Trappist brewery. This means that, much like Belgian and Dutch beers such as Chimay and La Trappe, this beer is brewed in the monastic tradition. The monks at St. Joseph's Abbey in Central Massachusetts use the profits from the sale of their beer for nothing outside of funding the monastery and charitable causes. Their relatively sessionable 6.5% beers are unfiltered, bottle fermented, and a reason to be proud to be American.

San Francisco, CA
Head brewer Tim Sciascia brews only one beer at a time, meaning that Cellarmaker's list is constantly evolving and their recipes are regularly tweaked. Through their first year (they opened barely over a year ago), their offerings featured some hop-forward American takes on English styles with a bevy of IPAs, double IPAs, and American pale ales.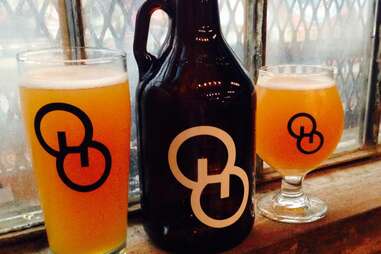 Brooklyn, NY
Of all the major metropolitan areas surging in the American craft beer boom, New York City has seen some of the quickest growth in the past year. Other Half, which is helmed by Sam Richardson and Matt Monahan, tends to focus on non-traditional American hop profiles and yeast strain usage that produces some of the most complex beers coming out of the Northeast. Their portfolio includes citrusy IPAs made using tons of Galaxy hops, funky saisons, and stouts made with local apple juice. Their debut brews have been so impressive that they've already done a coveted collaboration beer with the world famous Evil Twin founder Jeppe Jarnit-Bjergsø.

Waterbury, VT
Prohibition Pig brewpub became a destination for drinkers when it opened in 2012 and furthered its reputation when, in late 2013, they began making beer on a one-barrel system that used to belong to the Alchemist. Finally, though, they've upgraded to a full-blown taproom with a seven-barrel system. If all of this isn't enough reason to take note of what these guys will accomplish in the next year, consider this: they're aging a stout in Pappy Van Winkle barrels for a limited bottle release.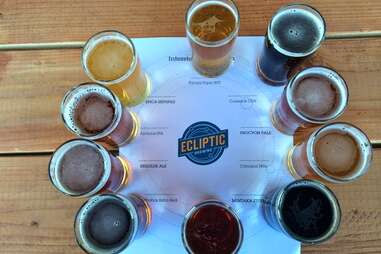 Portland, OR
Picking a "best new brewery" in Oregon is like judging the slam dunk contest in the NBA: you know that what you're going to get will be good, it's just a question of how good it will be. Ecliptic has already won awards and some national acclaim in the brief year they've existed, which should come as no surprise since their head brewer John Harris is responsible for the recipes behind some of Deschutes' most popular brews (including Black Butte Porter). Their celestial-themed beers run the gamut from hoppy IPAs to peppery saisons, and they seem poised to explode in the coming year.

Queens, NY
Finback began rolling out kegs in what has arguably been the hottest year for breweries in the Five Boroughs. What started as a stable of three fresh takes on traditional brews has evolved into an ever-changing variety of inventive styles, including the Double Sess, a witbier made with chamomile and Szechuan peppercorns, and their summer beer, En Verano, a wheat beer made with jalapeños.
Hays, KS
Kansas has been a hotbed of craft beer activity for years, and Defiance Brewing Co. is a perfect example of why Dorothy's home state is getting more attention. Cofounded by young brewers who met working at another brewery, they've wasted no time developing an impressive list of beers, most of which are American takes on English styles (and there's a saison on the horizon). The brewery hasn't opened their draft room yet, but their cans are available in-state with some expansion to larger cities expected in 2015.

Newington, NH
Stoneface Brewing is one of the latest spots to set up shop just a few miles outside Portsmouth, just as local mainstay Smuttynose settles into their big new digs down the shore in Hampton. After barely a year at it, their Hopulization double IPA and Stoneface Red Rye have been so popular that they can barely meet local demand and have already had to expand their production capacity. For the time being, you can fill growlers right at the brewery or find a select few of their kegs on draft at local restaurants and beer-focused bars near the Seacoast.
Somerville, MA
The Boston area has long been home to many of the East Coast's best-known craft breweries, and small newcomers like Aeronaut Brewing are expanding that reputation. As the first active brewery to open in Somerville since 1888, they work closely with local farmers to source ingredients and lease out space in their brewery to local food and drink businesses. The community support isn't the only positive aspect: they're constantly churning out new recipes and fine-tuning favorites that all seem to capture the hearts of locals.

Portland, ME
Founded by two brothers (duh) who moved into the space vacated by Maine Beer Co. in late 2013, Bissell has had one hell of a kickoff year with practically instant popularity in Portland. Their hop-forward wares, like their wildly popular IPA "The Substance," Bucolia amber, and Baby Genius pale ale, are rounded out by darker brews like Angels With Filthy Souls, a porter made with lactose sugar and tons of Amarillo hops. If you're looking to snag a can, rest easy: lines were so long after opening that they've added an extra fermentation tank to meet demand.
Berkeley, CA
Starting a barrel-aging, sour beer-only brewery is a daunting task in itself. But to open to the kind of immediate acclaim and support that The Rare Barrel has is a truly rare success story. That may have something to do with the fact that their brewmaster Jay Goodwin was one of the earliest hires at The Bruery (yes, that brewery), cutting his teeth at one of the top-rated breweries in the world before setting out on his own. Everything they produce is aged for a minimum of six months in oak barrels before being released, and their wares have quickly become some of the most buzzed about in the Bay Area.

Memphis, TN
Tennessee isn't the first market that springs to mind when craft beer advancement comes up (thanks mostly to the local ABV cap on beers), but Memphis' Wiseacre Brewing is going to change that. Cofounding brothers Davin and Kellan Bartosch spent years traveling the country (and globe) honing their craft before opening their doors in late 2013, spending time at some of the top breweries around the world. Their list straddles most of the international styles while still maintaining a consistently solid understanding of recipes, from IPA to Berliner Weisse and all the way back to a solid pilsner.
Sign up here for our daily Thrillist email, and get your fix of the best in food/drink/fun.
Zach Mack is Thrillist's contributing beer writer, the owner of Alphabet City Beer Co. in NYC, and absolutely nothing else. Follow him: @zmack.