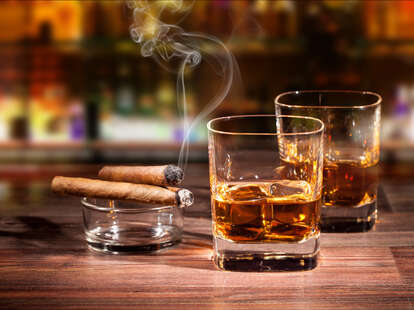 It's National Scotch Day, and as we're sure you're a gentleman (or gentlewoman) of leisure, you probably didn't forget to get cards for your friends. Just in case you did, but wanted to do something special, we consulted the folks at British beverage brand Diageo for a list of the best new Scotches (well, relatively new, considering the aging) on the market. No card required. Except an ID.
(Editor's Note: Prices will vary based on location.)
Oban Little Bay
$75
One of the oldest distilleries in Scotland (tracing its roots to 1794), Oban is also one of the smallest. Its newest offering, Oban Little Bay, is named for the body of water the distillery is situated on. Like many whiskies released in the last few years, there is no age statement, and the whisky is a blend of Oban's best small batches that is aged in a slightly smaller-than-usual barrel in an effort to get as much caramel flavor from the charred wood as possible. It's one of actor Nick Offerman's favorite distilleries. If it's good enough for Ron Swanson, it's good enough for us.
The Famous Grouse Mellow Gold
$34
Sometimes, blended Scotch gets a bum wrap. Many whisky purists would never be caught dead sipping on a whisky that isn't single malt. They don't even know what they're missing. Varieties like The Famous Grouse offer drinkers the ability to drink blends containing perfectly paired whiskies with differing age statements (some fairly mature). Its newest blend is the premium Mellow Gold and it contains whiskies specifically chosen by Master Blender Gordon Motion. After blending, the whisky was matured in sherry and bourbon casks to impart a sweet, rich flavor.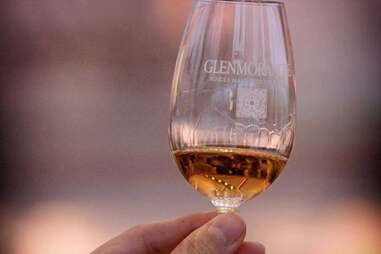 Glenmorangie Duthac
$86
Duthac is the first whisky from Glenmorangie's Legends Collection. Each one will pay tribute to a historical highland event. Its newest expression is made to pay homage to King James IV and his yearly trip to visit St. Duthac in Tain. The single malt was created by combining bourbon-barrel matured sherry casks and oak casks to create a sweet, almost creamy flavor with subtle hints of chocolate, tree nuts, and caramel.
Laphroaig 15 Year
$79.99
To celebrate its 200th anniversary, Laphroaig has re-launched the 15-year-old version of its lightly peated, smoky, sweet whisky that finishes with a hint of ocean brine. One of the famed distilleries located on the Isle of Islay, an island where there are way more sheep than people, Laphroaig 15 was distilled and matured the same way it was 30 years ago when the first version was created.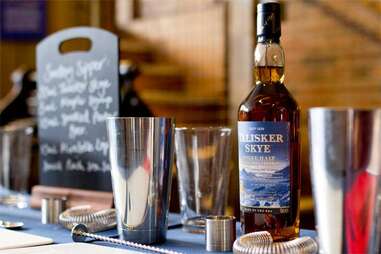 Talisker Skye
$60
The newest offering from Talisker is named after the island where the distillery is located. The whisky is a mix of sweet, smoky flavor and astringent citrus, pepper, and ocean salt. Skye was matured in toasted American oak barrels, and is a great whisky to get to know Talisker because it's smoother and more approachable than some of the distillery's other offerings.
The Glenlivet Founder's Reserve
$60
The newest expression from renowned distillery Glenlivet has been in the works for the last 191 years. That's because it's a throwback to the original recipe that founder George Smith distilled in 1824. It might be an homage to the whisky of the early 1800s, but this single malt also has one foot in the modern era. Founder's Reserve is a combination of classic oak barrels and American first-fill casks. This gives the whisky a sweet, rich flavor with hints of toffee and citrus.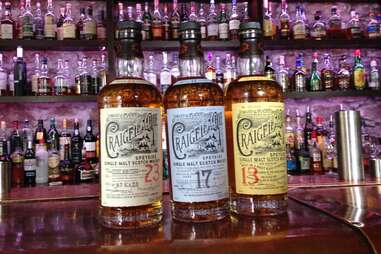 Craigellachie 13
$65
It's sometime referred to as the "bad boy of Speyside" because of its considerably stronger flavor compared to neighbors like Macallan, Aberlour, and Glenfiddich. Craigellachie 13 has a complex, rich, smooth flavor with hints of honey, fruit, charred oak, and caramel.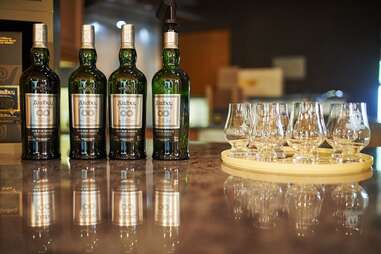 Ardbeg Perpetuum
$100
In honor of Ardbeg's 200th anniversary, the distillery has launched Perpetuum, a combination of young and old whisky that is then matured in sherry and bourbon barrels. The use of old and young whisky is a tribute to the history of the distillery from its inception in 1815 to today. Perpetuum is driven by the strong, smoky, peaty flavor that Ardbeg fans look forward to as well as rich, sweet toffee and vanilla undertones.
Christopher Osburn has traveled the world in search of the best wine, beer, and spirits. Believe me, that includes quite a lot of sampling. Follow him to Scotch @ChrisOsburn.