Paid Content For
Amazon Studios
11 of the Best Places in the US to Get a Great Gin Cocktail
Paid Content For
Amazon Studios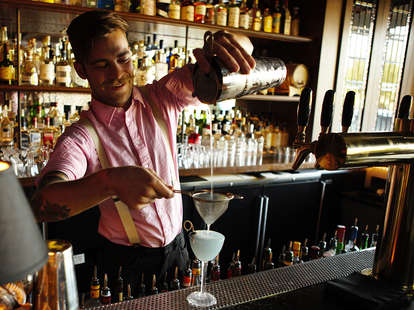 Courtesy of Flintridge Proper
Courtesy of Flintridge Proper
During the mid-1800s, British people in India needed to consume quinine to prevent and treat malaria, but since it was so bitter, they did what anyone in their situation would do: they added gin. About that, Winston Churchill said, "The gin and tonic has saved more Englishmen's lives, and minds, than all of the doctors in the Empire."
Thanks to cocktails like the gimlet (invented to make drinking lime juice to prevent scurvy in sailors more tolerable), and the martini (invented because it's delicious), gin drinks soared to popularity in the late 1800s. And even though alcohol was technically illegal during Prohibition, gin stayed in vogue because it was relatively easy to make as long as you had a bathtub and some botanicals (unlike whiskey, which required a still).
Flash forward to today, where a renaissance of cocktail culture has resulted in a true resurgence for gin. And rightfully so, as more classic cocktails are made with gin than any other spirit. To celebrate gin's long overdue move back into the spotlight and the fact that you now have some fun gin knowledge to drop, here are some of the best spots around the US to order a gin cocktail.
San Francisco, CA
Aatxe (ahh-CHAY) is a bar and restaurant that celebrates regional Spanish cuisine, drawing influence from the Basque tapas culture. And nothing goes better with Spanish tapas than a refreshing gin and tonic. The menu includes a color wheel that divides the gins by style with a corresponding color-coded bar that suggests the perfect tonic to complement your gin of choice.
No. of gins: 85+
Expert order: A gin and tonic, of course. There are over 1,200 possible combinations. We'd say try them all, but even we know an impossible challenge when we see it.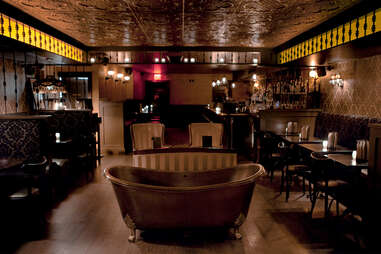 New York, NY
"Hidden" behind the Stone Street Coffee Company storefront in Chelsea is a speakeasy-inspired bar that serves gin much tastier than the kind made in bathtubs during prohibition. Still, there is, of course, a copper claw foot tub in the center of the room, which you'll definitely decide is perfect for Instagram pics after a few tasty gin cocktails.
No. of gins: 36, most of which are available by a two oz. pour, as well as by the bottle.
Expert order: The Gin-Gin Cup (Nolet's Silver Dry Gin, pressed lemon, wildflower honey, pressed ginger, lavender extract, fresh sage, shaken, served up and topped with chilled Perrier).
La Cañada Flintridge, CA
The Flintridge Proper claims it has the world's largest selection of gin, though it may need to reassess that claim considering the 2015 opening of Whitechapel in San Francisco (see below). Either way, the welcoming wood and leather-lined lounge is a great place for a top-notch gin cocktail made with fresh squeezed juices and house made syrups.
No. of gins: Over 200
Expert order: Anything with the housemade Flintridge Native Botanicals Gin. Over 50% of the botanicals used in it come from within 15 miles of the restaurant. You know what they say: when in La Cañada Flintridge…
Charleston, SC
The Gin Joint may be on tourist-filled East Bay Street, but locals and industry folks also frequent this pre-prohibition-style cocktail bar with a dedication to gin and deliciously complex cocktails. As many ingredients as possible are locally sourced and while the bartenders can make you whatever you want (except vodka drinks because The Gin Joint doesn't carry vodka), it's a wise idea to order from the carefully conceptualized cocktail menu, which changes seasonally.
No. of gins: 60+
Expert order: Pick two words (refreshing, tart, savory, fruit, strong, spicy, fizzy, etc.) from a 16 word list of nouns and adjectives and let the bartender decide. Or go with beverage director, James Bolt's, recommendation: a classic Martinez -- gin, sweet vermouth, Luxardo Maraschino, and Angostura Bitters.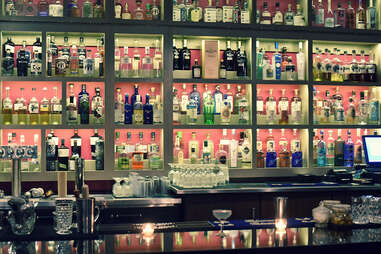 St. Louis, MO
At the front of Café Natasha's, a family-owned Persian-inspired restaurant, is The Gin Room, a modern space where gin is given a chance to shine. The owner, Natasha Bahrami, who also goes by "The Gin Girl" and is a self-proclaimed gin ambassador, is always ready to talk about gin and welcomes the challenge to convert anyone who says they don't enjoy the spirit.
No. of gins: 100+
Expert order: A gin & house tonic.
Minneapolis, MN
Sure, Marvel Bar has over 170 kinds of whiskey, but this unmarked basement cocktail bar in the North Loop is also a haven for gin lovers, and not just because one can order a "ginwater" (30 ml of gin mixed in 1L of water) to drink alongside their gin cocktail.
No. of gins: 39
Expert order: Oliveto (olive oil, egg white, lemon, Licor 43, Gordon's).
Dallas, TX
Due to its diversity and versatility, gin is a favorite spirit of the owners of Midnight Rambler, a sexy cocktail lounge nestled in the basement of the Joule Hotel. Serious drinkers will definitely appreciate the thoughtful cocktail menu, which features exotic ingredients and playful combinations, but don't worry: if you're in the mood for a classic gin cocktail, the bartenders have those mastered as well.
No. of gins: 10
Expert order: Chad Solomon, co-creator of Midnight Rambler, recommends the Silvertone (house gin gibson with Texas mineral water) and the Pipes of Pan (North African gin & tonic), but says you also can't go wrong with a gin martini, Negroni, Southside, or really any of the other classic gin cocktails which "should be in everyone's rotation."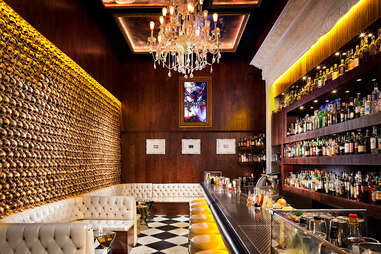 San Diego, CA
Hidden behind what appears to be a stack of kegs in a hallway near the restrooms of popular eatery Neighborhood is actually a secret door that leads to Noble Experiment, a snug speakeasy-style bar with gothic décor and meticulous pre-Prohibition-era craft cocktails (no vodka) made with seasonally made syrups, fresh ingredients, and hand-cut ice.
No. of gins: 15
Expert order: Dealer's Choice, the Classic 50/50 Martini (Plymouth gin, dry vermouth, orange bitters, and a lemon twist), or the off-menu Van Zandt (variation of a gin martini that adds a touch of apricot).
Chicago, IL
This gin parlor, complete with antique Victorian-style furniture, chandeliers, a fireplace, and exposed brick walls, serves late-night food, affordable gin-centric cocktails, and has a house gin made in partnership with North Shore Distillery. Created from a unique combination of botanicals, including juniper, cardamom, coriander, cinnamon, anise seed, citrus peels, and osthmanthus blossoms, if you don't try the house gin, you are making a mistake.
No. of gins: 100+
What to order: Scofflaw's lead mixologist Danny Shapiro says the gin martini (3:1 ratio, gin to dry vermouth with a dash of House Orange Bitters, served up or rocks with a lemon coin or olives) is the best way to experience the diverse gin selection.
San Francisco, CA
Stepping into Whitechapel feels like walking into an abandoned Victorian-era London underground station that's been perfectly preserved and also transformed into a "celebration of the wonder gin." In fact, Whitechapel is such a celebration of gin that it claims to feature the largest gin selection in North America and a cocktail menu with over 115 options that encompass the entire history of the spirit.
No. of gins: 600+
Expert order: Martini. There are several pages to choose from, but you can't go wrong with The Duke's Martini (3oz frozen No. 3 gin, a dash of French vermouth) made tableside.
Denver, CO
To enter the speakeasy-style Williams and Graham, you'll first enter a small "bookstore," where, if you're lucky enough to have a reservation (the wait is usually around two hours), a bookcase will slowly open to reveal a dimly lit bar with red walls, a stamped tin ceiling, and thoughtful, eclectic cocktails that match the vibe. Though the focus isn't just on gin, it's clear the folks at Williams and Graham understand the importance of gin throughout the history of cocktails and the drinks they make reflect that respect.
No. of gins: 21
Expert order: Last Word (Spring 44, Green Chartreuse, Leopold Bros. Maraschino, fresh lime juice).
Daisy Barringer is an SF-based writer who enjoys all sorts of juniper-based cocktails.
Follow her on Twitter
@daisy.