There are so many pumpkin beers on the shelves these days that it's difficult to figure out what's a trick and what's a treat. To help you on your next trip to the liquor store, my boss forced me to find the best pumpkin beers, try them all, and tell you which ones are the best of the best.
Let's drink some pumpkin beer.

Recommended Video
You Can Now Get Artisanal Twinkies Delivered to Your Door in NYC
Methodology
To create this list of 21 beers, I got my hands on a mix of pumpkin brews from all across the country -- from big breweries that distribute everywhere to the little guys making craft beer in the middle of nowhere. I wanted to try envelope-pushing pumpkin beers as well as the standbys people know and love.
I did not taste every pumpkin beer on the market. Mostly because Thrillist said no to the idea of a back-alley doctor implanting me with a backup liver. And while we couldn't acquire Jolly Pumpkin or Hoppin' Frog in time for this article, this is a stellar lineup of the country's best pumpkin beers.
These beers were rated on a scale of 1-10 in the following categories: originality, "pumpkinyness," smoothness, overall flavor, and whether or not I'd drink it again.
21. Smashed Pumpkin
Shipyard Brewing Co. -- Portland, ME
Tasting notes: Didn't get a lot of pumpkin or pumpkin spice flavors in this. The only redeeming quality is a pumpkin flavor in the finish, but it's not enough to recommend this beer.
Total score (out of 50): 11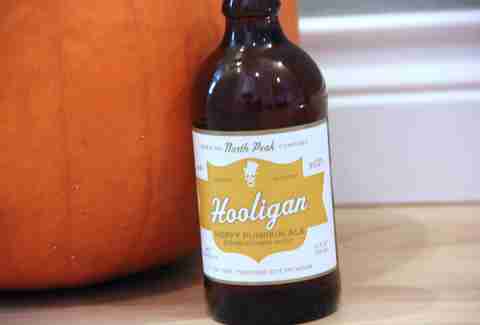 20. Hooligan
North Peak Brewing Company -- Traverse City, MI
Tasting notes: If I didn't know this was a pumpkin beer, I'd just say it was a standard IPA with grapefruit notes on the backend. This is the least pumpkiny pumpkin beer I've ever had.
Total score (out of 50): 20
19. He Said (Baltic Porter/Belgian Tripel)
21st Amendment Brewery x Elysian Brewing Company -- San Francisco, CA/Seattle, WA
Tasting notes: One thing that has to be said aside from taste: this is a cool concept. It's two breweries offering a sweet-looking little box o' beer with cans that offer two styles of pumpkin beer. But I'm counting it as one because it comes in the same package. Neither beer brings the pumpkin flavors in any way, shape, or form; that said, the Porter is the tastier of the two. Elysian does pumpkin beer better when they're on their own, as you'll see later.
Total score (out of 50): 23
18. Jack-O Traveler Shandy
The Traveler Beer Co. -- Burlington, VT
Tasting notes: Shandy beers are a delicious part of drinking in the summer, but it doesn't quite work to mix them with pumpkin, the undisputed flavor of the fall. The lemony kick of the shandy does brighten up the earthy pumpkin flavors, but I like earthy flavors. It doesn't need your help, lemon!
Total score (out of 50): 24
17. Punkin Ale
Dogfish Head Brewery -- Milton, DE
Tasting notes: This is the pumpkin beer for people who say they don't like pumpkin beers. It won't overpower you with pumpkinyness, and the finish is quite pleasant.
Total score (out of 50): 29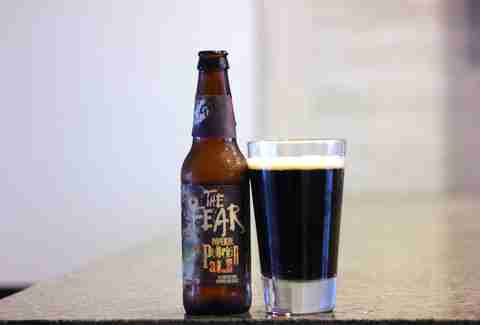 15. (tie) The Fear
Flying Dog Brewery -- Frederick, MD
Tasting notes: If you're not a fan of malts, pick another beer. This beer could be best categorized as a "pumpkin beer in name only," as it brings very little actual pumpkin or pumpkin spice flavors. That said, it's a damn good imperial ale and wins points for packing a 9% ABV.
Total score (out of 50): 34
15. (tie) Fermentation Without Representation
DC Brau Brewing Company x Epic Brewing Company -- Washington, DC/Salt Lake City, UT
Tasting notes: As you can see in the photo, the creamy head on this thing is quite inviting. Nutmeg and vanilla notes are two of the more pleasant spice flavors in this beer, though I'd be hard-pressed to call it a pumpkin beer if I sampled this in a blind taste-test. But I drank this with my eyes and arms wide open, just like that very good Creed song taught me to.
Total score (out of 50): 34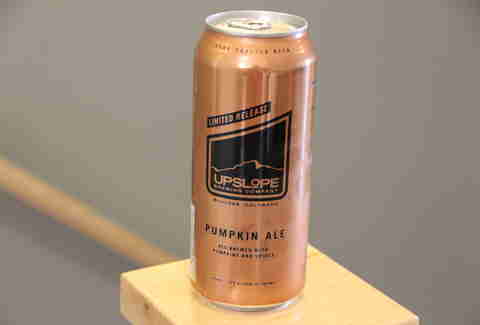 14. Pumpkin Ale
Upslope Brewing Company -- Boulder, CO
Tasting notes: A pumpkin-forward beer, but one that doesn't lean too heavily on the pumpkin spice. It's no surprise that they use actual pumpkins to make this beer, as it only hits shelves once pumpkins from a local farm have been harvested. If you dislike cloves and cinnamon, but love you some pumpkin, this is a solid option.
Total score (out of 50): 37
12. (tie) Oak Jacked Imperial Pumpkin
Uinta Brewing Company -- Salt Lake City, UT
Tasting notes: Sure, the 10.31% ABV is a gimmick, but it's also a clever Halloween reference. The oak-aged imperial was a nice change of pace from the loads of bourbon beers. And while it's a strong pumpkin beer, the slightly bitter finish didn't quite get me in the mood for fall and rolling around in piles and piles of leaves.
Total score (out of 50): 38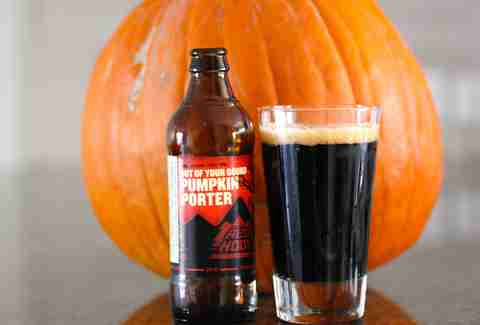 12. (tie) Out of Your Gourd Pumpkin Porter
Redhook Brewery -- Seattle, WA
Tasting notes: Hello, maple syrup! There's a touch of maple syrup in this, and it meshes well with the minimal pumpkin flavors. Also some nice chocolate notes. It loses points for not being heavier on the pumpkin, but overall this is a solid porter.
Total score (out of 50): 38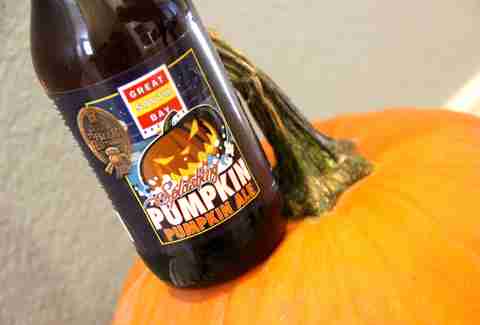 10. (tie) Splashing Pumpkin
Great South Bay Brewery -- Bay Shore, NY
Tasting notes: The smell is intoxicating, like your nose just wandered into a pumpkin patch. Pleasant pumpkin flavors. Splashing Pumpkin doesn't go heavy on the pumpkin spice, but that doesn't detract from this quite flavorful beer. Also, quite a fantastic name.
Total score (out of 50): 39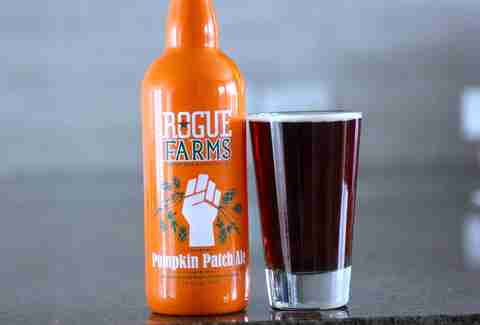 10. (tie) Pumpkin Patch Ale
Rogue Ales -- Newport, OR
Tasting notes: Open up that bright orange bottle and prepare to be met with the pumpkin spiciest scents you've ever encountered. That's not a bad thing. You can tell they use real pumpkins in this (grown on their own farm, in fact!), and it's heavily spiced. Satisfying if you need a pumpkin fix, but not exactly sessionable.
Total score (out of 50): 39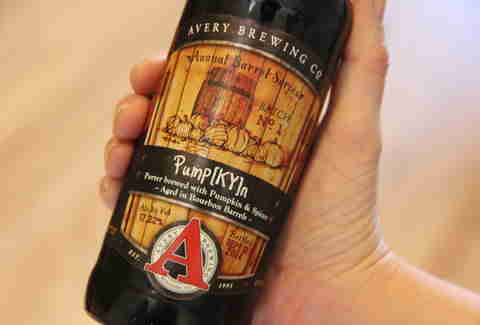 9. Pump[KY]n
Avery Brewing Company -- Boulder, CO
Tasting notes: This has the highest ABV out of any pumpkin beer I sampled (17.22%). But it seems wrong to call this a beer. It smells like a bourbon, which makes sense given it was aged in bourbon barrels. It sips like a liqueur. It's incredibly rich, and there are plenty of pumpkin spice flavors in every sip. Perfect to sip on post-Thanksgiving dinner during your Grandad's yearly speech about how Eisenhower ruined this country. Turns out not everyone likes Ike.
Total score (out of 50): 40
8. Pepitas Grande
Paradox Beer Company -- Woodland Park, CO
Tasting notes: It's a shame I couldn't give a higher score than 10 for originality, because this would have scored a 50. Pepitas Grande? More like cojones grande, for hawking a pumpkin beer aged in red-wine barrels with red chile, pepitas, and cacao nibs. And the red chile is not messing around. You feel the heat as you drink it down, and I enjoyed that, despite not being a huge chile beer fan. Overall, it's not something I can recommend as a pumpkin beer, since the pumpkin doesn't come on strong enough for my liking, but Paradox is one to watch.
Total score (out of 50): 41
7. Punkuccino
Elysian Brewing Company -- Seattle, WA
Tasting notes: Elysian offers a bunch of pumpkin beers each year, but I put a cap on one beer per brewery, and this seemed like the most interesting. After taking one sip, I knew I made the right choice. This is an upscale, boozy version of a Pumpkin Spice Latte that is creamy and flavorful down to the last gulp. Also would work as a great after-dinner beer.
Total score (out of 50): 42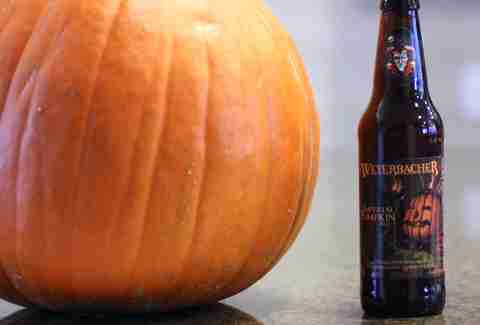 6. Imperial Pumpkin Ale
Weyerbacher Brewing Company -- Easton, PA
Tasting notes: Pumpkin spice heaven on the nose and the taste buds. The bottle promises "cloves, nutmeg, and cardamom," and they dance on your tongue, as promised. There were plenty of imperial ales in the mix for this taste-test, and this is one of the best in class.
Total score (out of 50): 43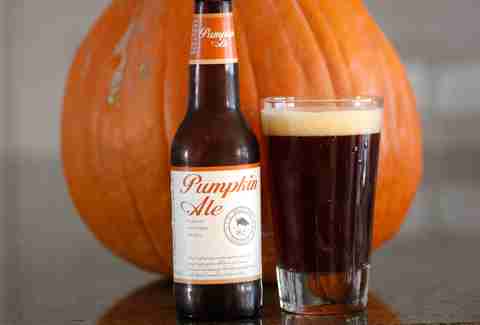 4. (tie) Whole Hog Pumpkin Ale
Stevens Point Brewery -- Stevens Point, WI
Tasting notes: I think Stevens Point must have just liquified a pumpkin pie and put it in a bottle, because this mimics the pumpkin pie experience better than any beer I tried. Another plus: it's not overly sweet. Expect a host of intense pumpkin pie flavors (nutmeg, cinnamon). A marvelous beer.
Total score (out of 50): 44
4. (tie) Schlafly Pumpkin Ale
The St. Louis Brewery -- St. Louis, MO
Tasting Notes: The words "perfectly spiced" came to mind when I was drinking this beer. Like its counterpart at #4 (Whole Hog), it's basically pumpkin pie in a bottle. And despite being spiced to high heaven, it's smooth as can be. You can drink a few of these and not feel like your taste buds have been coated in pumpkin spice.
Total score (out of 50): 44
3. Pumking
Southern Tier Brewing Company -- Lakewood, NY
Tasting notes: The bottle states that the beer is brewed with "a pagan spirit," and I don't know what the hell that means, but those pagan spirits can make a helluva pumpkin beer. There is a veritable pumpkin spice fiesta on the nose, and those same flavors are present when you take your first sip. Expect a touch of sweet, as well. This is easily in the top tier of pumpkin beers, to be celebrated by pagans and non-pagans alike.
Total score (out of 50): 45
2. The Great'ER Pumpkin
Heavy Seas Beer -- Baltimore, MD
Tasting notes: Bourbon-barrel aging results in enjoyable vanilla notes that permeate the 10% imperial ale. But the aging isn't what propels this beer into the top five -- it's the sessionable factor combined with the pumpkin spices. It's well-spiced, and yet it's also one of the few brews in a large format bottle that's not a challenge to finish.
Total score (out of 50): 46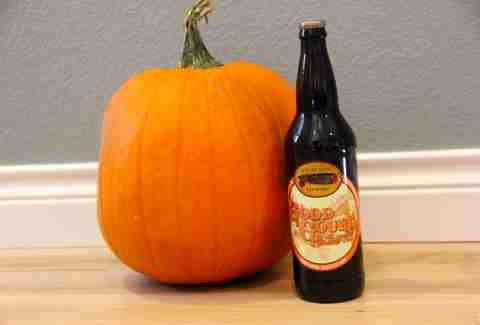 1. Good Gourd
Cigar City Brewing -- Tampa, FL
Tasting notes: If this isn't the best pumpkin beer in the country, I don't know what is. The beer has a beautiful burnt orange color when you pour it into your glass, and it only gets better from there. A million pumpkin pie spices dance on your tongue with every sip, and the finish is pure pumpkin pie. This should only be sold in kegs, because one bottle is not going to be enough.
Total score (out of 50): 47
Conclusion
Though I don't think I'll be drinking pumpkin beer for a few weeks, when I do, I'll be buying everything listed in the top 10, as they're all beers worthy of your dollar.
For the pumpkin pie experience in a bottle, you've got to get Schlafly or the Stevens Point beers. For a solid all-around pumpkin beer, buy the Cigar City, Southern Tier, or Heavy Seas brews. Want a strange pumpkin beer experience? Hitchhike to Colorado to get the rare Paradox pumpkin pepitas beer, or drive to a liquor store like a normal person and pick up the Elysian coffee one.
Happy fall, y'all.
Sign up here for our daily Thrillist email, and get your fix of the best in food/drink/fun.
Lee Breslouer writes about food and drink for Thrillist, and thinks Good Gourd also comes in #1 for pumpkin beer-related puns. Follow him at @LeeBreslouer for pumpkin-scented tweets.