There are so many pumpkin beers on the shelves these days that it's difficult to figure out what's a trick and what's a treat. We've done the tough work of drinking the best pumpkin beers in America to ensure your next six pack is full of sugar, (pumpkin) spice, and everything nice.
One disclaimer: we didn't include delicious variants of some of these beers because they're generally impossible to find -- and what the hell's the fun in that if you can't drink it? If a given brewery on this list distributes to your state, you should have a good shot at buying its pumpkin beer.
Recommended Video
Thrillist Sips: Boro Brew
Bourbon Barrel-Aged Ale, 8.5%
Boonville, California
Short of Hunter S. Thompson, nobody does greater things under the influence of Wild Turkey than Anderson Valley, including the coveted Bourbon Barrel Stout. But Pinchy Jeek… well, holy hell. It's basically Thanksgiving in a bottle, provided you usually burn the turkey and just switch to bourbon. It's got all those sweet/spicy pumpkin notes, but kicked in the gobble by six months in a Wild Turkey barrel. Even more alarming is how easy it goes down at 8.5%. For those who chide pumpkin beers for lacking depth, Anderson Valley's barrel-aged masterpiece is here to prove you wrong with layer upon layer of flavor.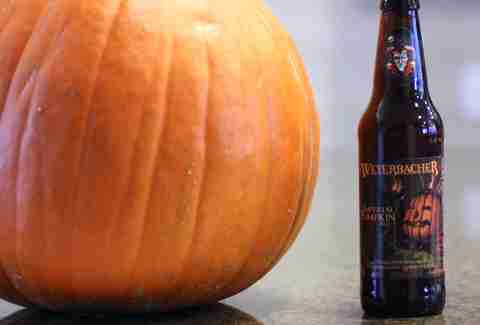 Imperial Ale, 8%
Easton, Pennsylvania
Pumpkin spice heaven on the nose and the taste buds. The bottle promises "cloves, nutmeg, and cardamom," and they dance on your tongue, as promised. In a sea of seasonal brews with funky ingredients trying to vie for your attention, this stalwart has been on the shelf year after year because of its sterling reputation as a solid pumpkin ale.
Sour Ale, 5.9%
Dexter, Michigan
Jolly Pumpkin has endured years and years of people making jokes about not actually making pumpkin beer, and has finally caved with La Parcela. Unlike fan demand for a second Dumb & Dumber movie, it actually paid off. This beautiful, bubbly oak-aged ale gets all the pumpkin notes right, with a hint of cocoa on the back of the tongue. "Guess now folks will have to find something else to joke about" reads the bottle. Alright, JP. How about a Blue Raspberry Jolly Rancher saison?!
Bourbon Barrel-Aged Ale, 10%
Baltimore, Maryland
Bourbon-barrel aging results in enjoyable vanilla notes that permeate the 10% imperial ale. But the aging isn't what propels this beer alone into one of the 21 best -- it's the sessionable factor combined with the pumpkin spices. It's well-spiced, and yet it's also one of the few brews in a large format bottle that's not a challenge to finish.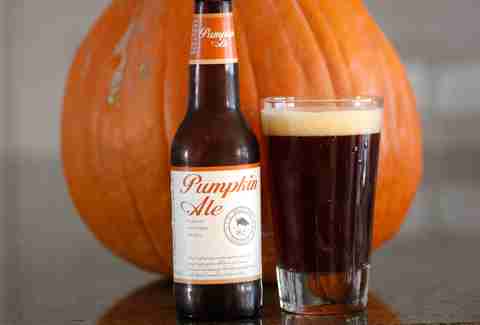 Pumpkin Ale, 7%
Stevens Point, Wisconsin
Stevens Point must have just liquified a pumpkin pie and put it in a bottle, because this mimics the pumpkin pie experience better than any beer we've tried. Another plus: it's not overly sweet. Expect a host of intense pumpkin pie flavors like nutmeg and cinnamon. A marvelous beer.
Coffee Ale, 6%
Seattle, Washington
Elysian offers a bunch of pumpkin beers each year, but after drinking all of them, Punkuccino here is the clear standout. This is an upscale, boozy version of a Pumpkin Spice Latte that is creamy and flavorful down to the last gulp. If you're gonna brew a coffee pumpkin beer in a city as obsessed with coffee and beer as Seattle is, it better deliver. And this does.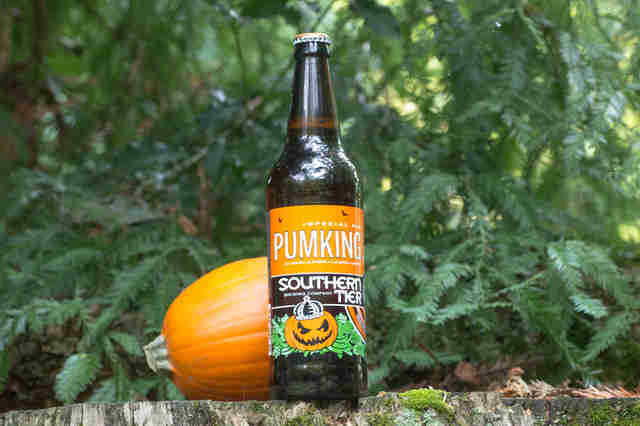 Imperial Ale, 8.6%
Lakewood, New York
There are a couple of schools of thought when it comes to pumpkin beers. There are those who don't mind a hint of spice, but who get a little bit leery when things veer into liquid pumpkin pie territory. Pumking is not for those people. If you're the type who gets seconds on pie at Thanksgiving and has Pumpkin Spice Latte day marked on your calendar, this is the pumpkin beer for you, one rich with notes of vanilla, nutmeg, cinnamon... and, wait, are you sure they don't make this with pie crust?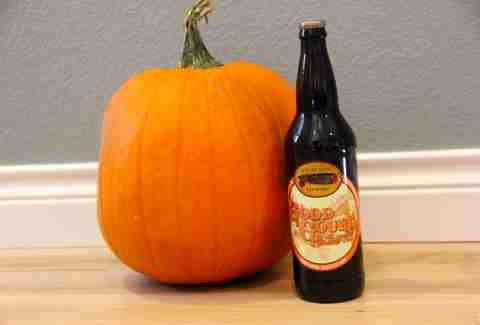 Imperial Ale, 8.8%
Tampa, Florida
Good Gourd is often cited as the pumpkin beer against which all others are measured, as it tastes like liquid pumpkin pie. Check the spice list: cinnamon, Jamaican allspice, Zanzibar cloves, vanilla, and nutmeg. And you bet your sweet bippy those spices show up in every sip. It's also 8.8%, so you don't need to drink much of it to get into the Halloween spirit. Also, you can't drink much of it because it only comes in 22oz bombers (and on tap, if your state's bars are lucky enough to carry Cigar City).
Pumpkin Ale, 8%
St. Louis, Missouri
No conversation about pumpkin beer is complete without Schlafly, which might just be the most well-balanced bottle in the patch. The spiciness on the nose may spook some, but one sip reveals how it's medium-bodied and smooth on the palate, with pumpkin flavors playing along more as an accent than the language. Oh, and the real good news is that it tastes exactly like liquid pumpkin pie. It's what people in the industry call a "converter" beer because even people who hate this style will usually find something they like. Not surprisingly, this makes it a pretty obvious choice for a cooler option at your Halloween party or mid-season tailgate.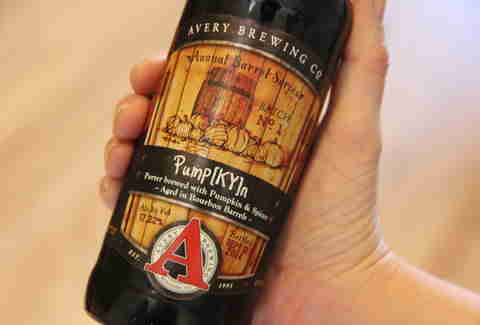 Bourbon Barrel-Aged Porter, 15%
Boulder, Colorado
The ABV on this beer varies from year-to-year (it's been 17%+ previously), but suffice it to say that no matter the year, this is one to sip and savor. It almost seems wrong to call this a beer. It smells like a bourbon, which makes sense given it was aged in bourbon barrels. It sips like a liqueur. It's incredibly rich, and there are plenty of pumpkin spice flavors in every sip. Perfect to sip on post-Thanksgiving dinner during your Grandad's yearly speech about how Eisenhower ruined this country. Turns out not everyone likes Ike.
Rum Barrel-Aged Ale, 16.9%
Boulder, Colorado
No brewery should be allowed to be on this list twice, but we'd be wrong to include Pump[KY]n and not this full-bodied, spicy gem that's every bit as delicious as its bourbon barrel-aged sibling. It also sports a high ABV and is best enjoyed after a long dinner full of turkey eating and arguing. Depending on how close you live to your family, that could be once a year at Thanksgiving or… every Thursday.
Brown Ale, 7%
Milton, Delaware
This is the pumpkin beer for people who say they don't like pumpkin beers. It won't overpower you with pumpkinyness, and the finish is quite pleasant. And because it's brewed by people who always seem to brew beers that sound like that could be absolutely disgusting but always turn out fantastic, you can feel confident that you're in good hands with a pumpkin pint from Dogfish Head.
Sign up here for our daily Thrillist email and subscribe here for our YouTube channel to get your fix of the best in food/drink/fun.