The Best Small Breweries You Don't Know About, but Should
Whoever came up with the phrase "bigger is better" was clearly wrong. Think Steph Curry would have worked to master that beautiful outside shot if he was a hulking 7ft center? Doubtful. Ever tried to park an Escalade on a side street? Let's face it: small is beautiful. When it comes to craft beer, brewing on a tiny system -- or no set system at all -- can yield some huge advantages. In an industry where space is tight, equipment is pricey, and being "local" is a major selling point, breweries producing fewer than 10 barrels per batch (i.e., nanobreweries) and "gypsy" brewers who cut costs and eschew predictability by brewing on borrowed gear ironically represent the next big thing in craft beer. While you might have to travel all the way to the source to sample their suds, the talented game-changers listed here prove that the best things in life come in little packages. Or at least brewed in them. More Stuff You Will Like
Chicago, IL
Before starting Uptown's Spiteful Brewing in 2012, native Chicagoans Brad Shaffer and Jason Klein spent three years slaving over a hot stove, perfecting their homebrew and learning all they could about small-scale brewing -- and it looks to be paying off. This 3.5-barrel nano cranks out an impressively huge portfolio while also keeping things local, with distribution limited to the Windy City and its closest 'burbs. Of particular note is Spiteful's God Damn Pigeon Porter, a deceptively smooth 8.2% ABV British-American hybrid peppered with piney Simcoe hops and grounded in a bready amber malt. Spiteful also spits out an entire lin of God Damn variants in addition to the OG porter. Each member of the G-D Porter fam showcases different flavor infusions, with options ranging from raspberry and chocolate-banana to toffee, coconut, and even good ol' peanut butter and jelly -- and, yes, they're all as delicious as they sound.

Brooklyn, NY
Early last year, award-winning homebrewer Mary Izett teamed up with Fuhmentaboudit! podcast co-host (and adoring husband) Chris Cuzme to form Cuzett Libations, a gypsy outfit currently working out of Greenpoint Beer Works' Brooklyn facility. Izett recently penned Speed Brewing, a how-to bible on quick fermentation, and Cuzme, a saxophone-touting fixture of the local beer scene, cut his teeth as the brewmaster in charge of SoHo's now-shuttered 508 Gastrobrewery. With their powers combined, the couple is a force to be reckoned with, putting out a growing number of irresistible ales like their delicate, floral Cuzett Grisette and Revenge of the Emu, a mellow, juicy blonde that, at 5.4% ABV, is as crushable as the day is long. While they're draft-only for now, the power couple plans to up production as well as diversify their output over the next year, so be on the lookout for more exciting libations popping up around NYC.

Dayton, OH
Unless you're a train-hopping crust punk or a lazy dad on Halloween, you probably haven't heard the term "hobo" in a while. Coined in the late 19th century to describe vagabonds wandering the rails, the word was associated with ruggedness and self-reliance. That's exactly why Nowhere In Particular's Charlie Navillus (a pseudonym, of course) compares hoboism with today's fiercely independent craft-brewing culture. "For more than 30 years, craft beer provided safe haven to the hobos," reads Navillus' oh-so-cryptic manifesto. "One needs only to look at a gathering of craft brewers, with their scraggly beards, their worn, weathered faces and their hodgepodge wardrobe to see the vestigial remnants of hobo culture." The man does have a point. After a few stints at award-winning breweries in Colorado, Canada, and New England, the talented Ohioan returned home to begin his gypsy-brewing journey. Navillus rarely reuses a borrowed system, never brews the same beer twice, and gravitates toward bespoke and experimental styles. One of his weirdest -- and tastiest -- is Inari Okami, a dry 8.5% ABV double rice IPA brewed with tropical Mosaic hops. It's tough to pin down where and when you'll come across a Nowhere In Particular creation, but if you do, you better jump on it -- like their maker, these brews tend to vanish just as quickly and mysteriously as they appeared. Continue Reading
Santa Cruz, CA
Just a few miles north of UCSC's hillside campus lies one of Santa Cruz's best-kept secrets: Santa Cruz Mountain Brewing. Co-owners Emily Thomas and Chad Brill run a tiny taproom and garden out of a nondescript commercial complex, enticing a mix of toe-headed surfers and stressed-out grad students with solid brews and incredibly addictive fish tacos. Since 2005, the pair has been brewing badass stouts, IPAs, and seasonals on their 7bbl system, all of which are 100% organic. Despite Santa Cruz's sunny beach weather, SCMB's real standout is its Devout Stout, by far the darkest ale in the lot. This creamy, velvety stout is teeming with the bittersweet chocolate, nutty coffee, and roasty grain notes you'd expect plus a touch of anise for aroma. To top it off, the Devout comes in at a sessionable 5% ABV, meaning you can ride that wave all day long, brah.


Portland, ME
Portland's Bissell Brothers has been turning heads up and down the Northeast since IRL brothers Noah and Peter Bissell released their first batch in 2013. These days, the native Mainers are cooking and canning in a 10bbl brewhouse stationed just a stone's throw from the relatively colossal Allagash Brewing. With each innovative new beer, the bros manage to raise the bar, inciting the international cult following that keeps their taproom consistently packed.

The Substance -- their flagship brew -- is a boundary-pushing, insanely juicy 6.6% ABV IPA brimming with Falconer's Flight, Centennial, Apollo, Summit, and Chinook hops. Also worth a sip is the Swish double IPA, a beer so loaded with gorgeous peach, orange, and tropical notes you'd swear you were chilling on a juice box -- but, you know, the kind that makes you feel warm inside.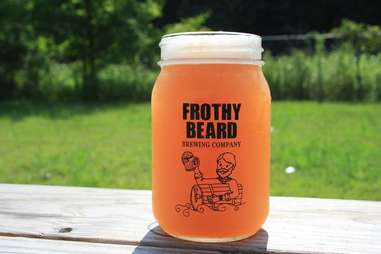 North Charleston, SC
Michael Biondi, Steve McCauley, and Joey Siconolfi started Charleston's Frothy Beard in 2013, garnering enough local success to tack on a fourth, Wesley Donehue, two years down the line. The original three founders -- yes, they're all bearded -- began on a 1bbl system, graduated to a 3bbl brewhouse, and recently announced plans for further expansion. While it seems they're on track to outgrow their nano status, the guys' deep connection to their hometown and dedication to sourcing locally grown ingredients help to ensure that Frothy Beard won't lose its nano spirit. These talented folks brew a ton of different beers, from cucumber-spiked wheats to big bad IPAs, and they're all pretty damn great. If you find yourself in the area, don't sleep on the Choconaut oatmeal stout, a creamy 4.8% ABV stout stocked with all the dark chocolate and strong coffee notes needed to justify a morning tipple.


Little Rock, AR
For a city with just under 200,000 residents, Little Rock's brewing scene is nothing to sneeze at. And, out of the dozen or so peddling their wares in and around the capital city, Blue Canoe Brewing ranks as the favorite among seasoned beer nerds. In 2014, husband-and-wife Patrick and Ida Cowan and their friend Laura Berryhill launched a Kickstarter campaign to help achieve their dream of opening a nanobrewery in Downtown Little Rock.

Nearly $20,000 later, the Blue Canoe crew has been keeping Little Rockers satiated with four year-round standbys (available on draft and in sleekly designed 32oz crowlers) as well as a mixed bag of seasonals, each geared toward the outdoorsy crowd frequenting their E Third St taproom. Next time you roll through River City, pick up a tallboy of Lazy River, a crispy 3.5% ABV table beer brewed with lemony Belgian yeast. Then throw that sucker in a cooler, dab on some sunscreen, and grab the nearest inner tube -- this is summer beer at its finest.

Bowling Green, MO
Bowling Green's Bat Creek Brewery is truly (and adorably) a family affair. Since 2008, Ryan Daffron, wife Heather, and father Carl have been brewing easy-drinking, tried-and-true flagships and rotating seasonals on a 1.5bbl system stashed in a machine shed. Despite its low profile and back-to-basics ethos, Bat Creek has topped more than a few national nanobrewery lists.

The fittingly titled Midwest Farmer's Daughter ale -- a soft, light Blonde perfect for beating those muggy Midwestern summer nights -- and the rich, roasty Machine Shed Stout -- all campfire spice and s'more-like toasted chocolate -- are among Bat Creek's more popular offerings. You won't find anything too high falootin' here, just skillfully crafted ales that accurately reflect the team's respect for tradition, allegiance to America's heartland, and passion for sharing great beer with friends and family.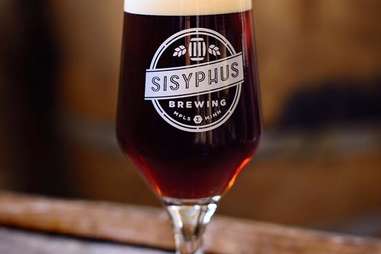 Minneapolis, MN
Beer is booming in the Twin Cities: with several area universities and six full months of winter, you couldn't ask for a thirstier market. Enter Sisyphus Brewing, Sam Harriman and Catherine Cuddy's ambitious 3bbl nano located just west of Downtown Minneapolis. The pair opened Sisyphus in 2014, expanding to an airy, industrial-style, 88-person venue and taproom in 2015.

The beer is good, really good, and comes in many forms, from hopped-up West Coast IPAs to throwbacks like schwarzbier and Kentucky Common. Sisyphus' Imperial Brown Ale, a full-bodied, ramped-up version of the food-friendly favorite, balances caramel sweetness with bitter dark chocolate and nutty grain for a thoroughly belly-warming pint. A man of many talents, head brewer Harriman maintains a side hustle as a stand-up comic, performing at comedy clubs around the city and even hosting his own beer-fueled shows at the taproom. It's true -- Harriman might be the only brewer not ashamed to call his beer the laughing stock of Minneapolis.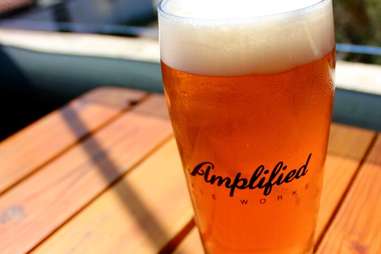 San Diego, CA
In 2009, Alex Pierson and JC Hill opened the Mediterranean-inspired eatery California Kebab & Beer Garden on UCSD's campus, eventually relocating to a bigger spot near the decidedly sweeter Pacific Beach boardwalk. In a stroke of wild genius, the guys set up a 3bbl brewhouse in the new restaurant's kitchen, and thus Amplified Ale Works was born.

While Pierson and Hill still hawk killer kebabs, the team (which now includes brewers Cy Henley and Garrett Reed) has shifted their focus to super-fresh West Coast-style hop-bombs piped straight from the holding tanks into your pint. In true SoCal fashion, no style is safe from the bitter hop beast. Take Amplified's beachy Citravesa, a 5.8% ABV American pale lager dosed with a heap of tangy, grapefruit-like Citra hops. The twist? All the beers are brewed with Clarity Ferm, an enzyme that breaks up protein during fermentation, rendering the entire fleet totally gluten-free. So put down that cider, Mr. Celiac, and treat yourself to a God's honest brewski -- you deserve it.
Bothell, WA
To say that Bothell's Foggy Noggin is a homegrown operation would be a vast understatement. In 2008, homebrewer Jim Jamison and his son Matthew acquired a .5bbl pilot system and began tinkering with recipes in a shed behind their suburban home, dreaming about starting a proper brewery. A few years and several legal hurdles later, Foggy Noggin was finally open for business, dishing out samples and growler fills out of the Jamisons' makeshift garage taproom.

The father-son duo's award-winning fleet revolves around traditional English styles, with the year-round Christmas Duck porter leading the charge in flavor and popularity. The deep-brown ale is brewed using both Pacific Northwest and traditional British hops, Foggy Noggin's dual regional influences harmonizing to create a dry, earthy bitterness that balances the malt's chocolatey sweetness. A real nano's nano, Foggy Noggin currently distributes to just a handful of area accounts, preferring to deal to their patrons in person every Saturday and giving a whole new meaning to the term "garage sale."
Madison, WI
At One Barrel Brewing Co., owner Peter Gentry lets it all hang out -- literally. The nanobrewery's Madison taproom centers around Gentry's brewhouse, an approachable 1bbl setup meant to showcase just how easy it is to brew beer. When Gentry began his lakeside operation in 2012, the accomplished homebrewer's main intention was to keep things small, focusing on quality control, experimentation, and education instead of the financial, distribution, or expansion plans that tend to overwhelm new nanos. And so far, the unconventional business model has worked in his favor.

While the output may be puny, a tiny system does have its benefits, namely the ability to work with unfamiliar styles without risking huge losses. Falcor blackberry sour ale is a fantastic example of this advantage -- many larger-scale breweries wouldn't dream of releasing an aged sour within their first two years, let alone a hoppy pale ale fermented with lactobacillus and aged in local whiskey barrels with fresh blackberries. For One Barrel, however, it's just another crowd-pleasing barrel of beer.
Waterbury, VT
Central Vermont may not top everyone's vacation list, but the region has become a veritable mecca for craft beer's most devout. Between The Alchemist and Prohibition Pig -- a nanobrewery and restaurant featuring 20 mouth-watering taps -- sleepy Waterbury is literally flooded with fantastic brew.

Prohibition Pig is the brainchild of Chad Rich, a beer lover who, in 2012, opened up a small smokehouse and bar in The Alchemist's former brewpub space. Two years later, Rich expanded to a nearby schoolhouse (it's all very Vermont), where he installed a 7bbl system and immediately began brewing up a storm. Most of Prohibition's stock makes its way over to Rich's restaurant, where brisket-munching diners are blissfully met with fresh-from-the-brewhouse ales. Judging by the local scene, it's no surprise that hoppier beers are the favorites here, with Bantam -- a dank, resinous, and citrusy double IPA -- easily topping Prohibition's greatest-hits list.
Newnan, GA
Matthew Kapusta, Evan Scanlan, and Philip Leonard grew up in Newnan, a quiet stretch of Southern suburbia just 40 miles southwest of Atlanta. The buddies were bit by the homebrew bug years ago, joining forces in 2013 to open their beloved city's very first brewery. According to their website, Abide's ongoing mission is to convince metro Atlanta to "accept without objection" locally brewed craft ales -- and, with distribution throughout six counties and counting, the 3bbl nano seems to be doing a damn fine job.

It's no wonder, then, that the community-minded brewery's flagship Local Pale Ale has deservedly assumed the role of brand ambassador. The 6% ABV dry-hopped American pale is a magical melting pot of East and West Coast styles, where bright citrus and dry, earthy bitterness slice through sweet caramel malt with each crisp, clean, and deeply satisfying sip. Now that's some hometown pride.

Sign up here for our daily Thrillist email, and get your fix of the best in food/drink/fun.

Meredith Heil is a writer, drinker, and dad-joke enthusiast living in Brooklyn. For misdirected boozy texts, follow @beerdedladies & for ill-fated attempts at humor, see @meredad.