How to get into the 14 best speakeasies in America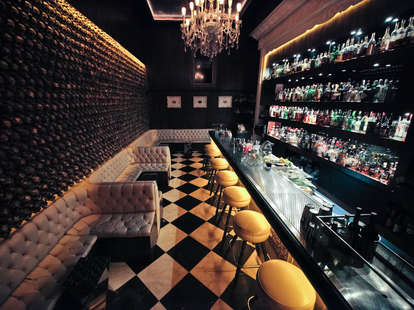 Today is Repeal Day, a day when we celebrate the rolling back of Prohibition by imbibing all the stuff some weirdos thought was really bad for you. Hooray.
In those dark days, the fun was had at speakeasies, and, to a lesser extent, really early versions of Dave & Busters that still somehow had Cruis'n USA. And while at least a billion bars now try to replicate the vibe of those underground flapper-zones, only a select few are actually worthy of the title (even if they swear they don't want it). Mainly because you can't find their door without reading this story. Here are America's best speakeasies.

PDT,New York
How to get in: Dial 1 in the phone booth, wait for your call/prayer to be answered, walk in through the secret door.
The deal: Tucked away inside East Village frankfurter Frankenstein-er Crif Dogs, PDT (Please Don't Tell, an imperative that we and everyone else broke) is a low-ceilinged, wood-and-brick bar with an illuminated countertop, some leather couches, and taxidermied animals whose stuffy company is paired with some of the best-curated cocktails in Manhattan. Just make a point to call ahead when they open at 3pm to ensure you get in at all.
What you're drinking: Their bacon-infused bourbon cocktail (the Benton's Old Fashioned) is a must, as is the Paddington -- a blend of rum, Lillet Blanc, lemon & grapefruit juices, orange marmalade, and absinthe.
Room 13,Chicago
How to get in: Use the alleyway next to the Old Chicago Inn, find the red-lit gate with "RM-13" on it, tell the doorman the password of the night.
The deal: Consider yourself lucky if you can gain access to this cocktail bunker. It's only for guests of the Inn, members (who pay a yearly fee), and guests of either of those two groups, and its Prohibition theme stretches from the decor (stand-up radios, photos of street cars, a green light at the end of a dock that symbolizes your quixotic longing for Daisy Buchanan) to the cocktails, which only use booze that was available then. Also, there's a dress code, so don't wear your jeans, or Zubaz, or whatever you kids put on your legs nowadays other than trousers!
What you're drinking: Everything's from the 1920s, so go with a classic like a Manhattan or egg-white-rocking Clover Club.
Wilson & Wilson Private Detective Agency,San Francisco
How to get in: Know the password to Bourbon & Branch, know the second password to get into Wilson & Wilson, ring the bell, get verified, get ushered through B&B to W&W, forget the passwords to both.
The deal: Applying the Inception theme to drams instead of dreams, Wilson & Wilson is a speakeasy within a speakeasy, so it's basically the most exclusive bar of all time except for that episode when Moe's got fancy. The private eye theme extends to the drink menu, an old-timey-style detective dossier file with a 3-for-$30 drink flight, comprising apéritifs, mains, and digestifs.
What you're drinking: The Charlie Chan is a fan favorite, and features black tea-infused vodka, black pepper & clove tinctures, and ginger syrup.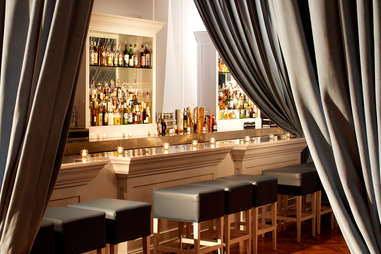 The Violet Hour,Chicago
How to get in: Find the graffiti-covered windowless wall in Wicker Park, go through the camouflaged door and the huge velvet curtains.
The deal: The Violet Hour's exterior is an ever-changing art exhibition, painted over every month by a new graf artist, all of whom are simultaneously Banksy and not Bansky. The interior is a heavily curtained sanctum of cocktails and "sustenance" (their word for "food"), where master bartenders sling such progressive drinks as the Juliet & Romeo (Beefeater, mint, cucumber, rose water) and eats like chicken skewers and the basest of culinary pleasures: French fries. Once you're situated in the bar, though, there's a no-roaming policy to keep things mellow and uncluttered, so try to curb that wanderlust, Magellan.
What you're drinking: The Juliet & Romeo is a huge hit, as is their version of a Dark & Stormy (which has TWO types of rum in it!).
Angel's Share,New York
How to get in: Find the unmarked door within second-story yakitori restaurant Village Yokocho.
The deal: One of the most restrictive bars in NY is also one of its most quiet and elegant. The drinks are strong, and the rule enforcement is stronger in the no-standing-allowed space where only groups of four or fewer get seated, ever. Sip plum wine and unique cocktails beneath an angelic mural and feel like you died and went to Japanese liquor heaven, and don't skip the bar snacks, which range from fried oysters and chicken meatballs to sashimi and soft-shell crab salad.
What you're drinking: For the whiskey man, their Stormy Weather is a must: apple- & cinnamon-infused rye whiskey, fresh lime juice, ground ginger, ginger-flavored wine, and ginger ale.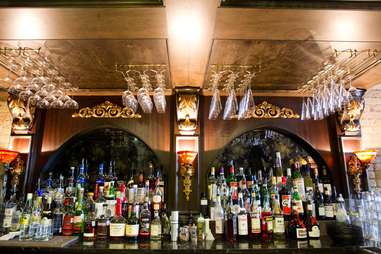 Midnight Cowboy,Austin
How to get in: Make reservations, look for a sign that says "Modeling" and "Oriental Massage" on 6th Street, briefly hesitate, enter by buzzing up for "Harry Craddock".
The deal: It's located in a former brothel (sweet?), so don't let the sign outside fool you -- the place was turned around a few years ago and is now one of Dirty 6th Street's cleanest and most well-respected drinking establishments. You need a reservation, and you can only sit for two hours max, plenty of time to get tableside drink-making service. Also: no photos allowed! Just like brothels. Except that Bieber one.
What you're drinking: The menu always changes, but if they've got it, their Joe Buck is way more palatable than him: blue corn whiskey, mustard syrup, smoked paprika, and ginger. Or just, y'know, get a Moscow Mule.
Noble Experiment,San Diego
How to get in: Text them a week in advance to get a reservation, hope they respond like your high school crush never did, get there within a 15-minute window, push open what you think is a wall of kegs to enter.
The deal: Cocktail lounge or crazy science lab? You'll definitely be wondering as you enter Noble Experiment, where their drink geniuses whip up customized cocktails to suit your tastes. Just tell them you want the Dealer's Choice, your preferred booze and taste profile (sweet, sour, bitter), and they'll pour accordingly. They also have a killer non-individualized cocktail menu as well, if you're looking to be a control subject.
What you're drinking: You've pretty much gotta go with the Dealer's Choice. It's all about you!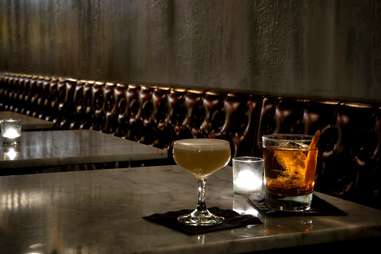 Franklin Mortgage & Investment Co., Philadelphia
How to get in: Just walk in the door, weirdo! But call first.
The deal: Franklin used to be a huge front during the Prohibition era, and it's continuing that legacy by still crafting some of the best 'tails on the East Coast. No password necessary this time, but definitely be sure to call to get a spot, because real estate here is valuable. They've got several menus, including punches ("The Flowing Bowl"), as well as a stratified approach to the intensity of their other cocktails, which range from "Easy Going" to "I Asked Her For Water, She Brought Me Gasoline". So, go with gasoline.
What you're drinking: Pretty much anything -- it's all awesome.
Williams & Graham,Denver
How to get in: Enter the bookshop, pull the book "Savoy" to open up the hidden entrance, maybe do a little reading, why don't you?
The deal: Looking a lot like your grandfather's reading room, Williams & Graham is located inside a bookshop, and features personalized service that even means they call you by name and chat with you! So you'll feel pretty special by the end of the night, also because of their serious list of whiskeys, gins, cordials, wines, and many other things your grandfather DEFINITELY had around his liquor room, but were just as hidden as this place.
What you're drinking: The Blackberry Sage Smash (Knob Creek, fresh blackberries, sage, lemon, sugar).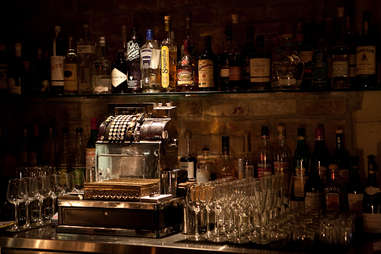 The Varnish,Los Angeles
How to get in: Go to Cole's sandwich shop, order a French dip if you want, enter through the secret door emblazoned with a drawing of a cocktail.
The deal: Located in the back of a place that serves really good spicy garlic fries, The Varnish harkens back to Old Hollywood, where the decor was glitzy and the drinks were strong, in order to dim all that damn glitz. They use plenty of handcrafted ingredients and chipped block ice, and the staff uses plenty of mustaches. You'll definitely feel like a Christopher Mintz-Plasse-level celebrity while being serenaded by a piano-tickling, vest-wearing vaudevillian. That's just Old Hollywood, folks.
What you're drinking: The Bee's Knees, if they've got it, or the Hemingway Daiquiri.
The Gibson,Washington DC
How to get in: Find the unmarked door between Marvin's and Busboys & Poets, wait in the hallway, get escorted to your table.
The deal: The Gibson's got ingredients going into its drinks that most people've never heard of -- and this is in Washington DC, the most cosmopolitan of cities! The bartenders can certainly get creative in this cozy, dimly lit space with black walls and candles; they whip up drinks that people describe as "impeccable" and "cool", and which are based off of the specifications of the customer. Which, in this case, is you.
What you're drinking: Definitely take the bartenders up on their offer to make a custom cocktail, or go with their twisted Old Fashioned spiked with St. Germain.
Circa 33,Portland
How to get in: Enter the code in the "mafia" book on the shelf by the bathrooms in the Circa 33 building, enter the speakeasy, play some pool.
The deal: Circa is accessed via a clandestine bookshelf, because that's the best way ever to access things. One room hosts pool tables and darts (obviously pretty rare for these kinds of places), and the other has seating and live piano entertainment. They even have food, and all their on-menu drinks follow a specific "classic formula" of spirit + sugar + citrus + bitters, but you can, of course, deviate if you want a more personalized experience.
What you're drinking: Check out the Planters Punch, which combines dark rum, lime juice, Angostura bitters, nutmeg, sugar, and mint.
backbar,Somerville, MA
How to get in: Walk down the alley on Sanborn Court, go into the unmarked door, saunter down the hallway, pass the restrooms, arrive at bar, catch your breath.
The deal: Backbar is an industrial, garage-like cocktail cave in Boston suburb Somerville, where you can sip drinks in concrete bliss on top of reclaimed tree stump tables. Some of the drinks are locally sourced from area distilleries, lending to the whole recycled aesthetic that's in keeping with the space's reported roots as the Boston area's first Ford dealership.
What you're drinking: Bartender's choice, or the milk punch of the season.
La Descarga,Los Angeles
How to get in: Find the not-exactly-hidden La Descarga sign, go up the stairs to their office, be read the house rules, go through a wardrobe, push through the clothes that are hanging up and into the bar.
The deal: With an ambiance that recalls '50s-era Havana without all the civil unrest that you remember from The Godfather Part II, La Descarga is a Latin rum haven located in LA's Koreatown. Said rum comes in flights or solo, alongside a selection of premium cigars that are not from Cuba. Sipping your cocktail amidst the live jazz band and salsa dancers, you may start considering expanding your empire there -- Hyman Roth be damned!
What you're drinking: Those rum flights are a must.