In Winter there's less light every day, in terms of the Sun and beer. Light beers, we love you but we've chosen darkness, at least for another month... except for the occasional definite best IPA, which you can get the story on right here.
So, to help get through the stoutest days of the year, we've compiled an epic list of... stouts as ranked by some of the beer industry's most reputable names, from award-winning beer bloggers to the guy behind Blue Moon. Scroll down to see the full list of chocolatey, oatmealy, coffee-flavored goodness.
Recommended Video
Proof That Iceland's Ring Road Is the World's Most Beautiful Road Trip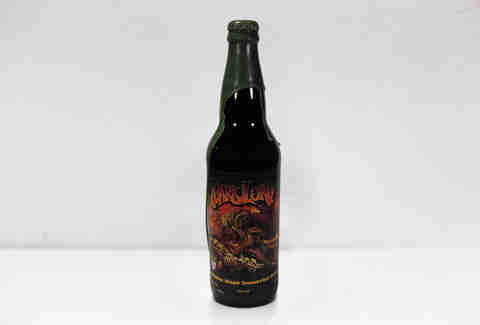 11. (tie) Three Floyds Bourbon Barrel Aged Vanilla Bean Dark Lord Russian Imperial Stout
The brewery: This Munster, IN brewery and pub began with a five-barrel system with old, open Swiss cheese tanks as fermentation vessels, which might have something to do with why many consider their beers holy.
The beer: Only available one day a year during the ominously named Dark Lord Day festival, the Lord Voldemort of stouts uses coffee beans from our fourth-ranked roaster Intelligentsia.
From the judges: "This thick, viscous, rich, black stout from Three Floyds is perfect to share with someone special on a cold night, especially at 15% ABV." - Keith Villa, Blue Moon Brewing Company
11. (tie) Firestone Walker Velvet Merlin
The brewery: Responsible for our third highest ranked IPA, Firestone Walker started as an offshoot of the Firestone Vineyard in 1996 and has since been cranking out beers that please even the most discernible palates.
The beer: It's unpasteurized and thus should be drunk within 120 days of the bottling date, which shouldn't be too hard.
From the judges: "Known amongst the true beer geeks as Velvet Merkin, Velvet Merlin is a seductively smooth and unabashedly decadent oatmeal stout. Its creamy mouthfeel comes from the hearty addition of oats in the brewing process (about 15% of the overall grain bill). Clocking in around 5.5% ABV, this velvety-smooth brew is super sessionable -- and goes down a little too easy." - Ashley Routson, Drink With The Wench
9. Rogue Shakespeare Oatmeal Stout
The brewery: Founded in 1988, part of this Oregon brewery's mission statement is to cut out the BS.
The beer: Powered by free-range coastal water and Pacman yeast.
From the judges: "How can you deny this pioneering stout from brewing legend John Maier? Such a solid hoppy, oatmeal stout that can be pretty much found anywhere in the United States." - D.J. Paul, Brewpublic

8. Firestone Walker Parabola
The brewery: It's worth noting that this is the only brewery with two beers on this list.
The beer: Bittered with Zeus hops, the 13% ABV beer is like a strike of lightning.
From the judges: "A drier bourbon barrel aged stout with more savory qualities, this one balances the rich, sweet side of a stout with some tobacco, umami, and charred-oak flavors. Like everything this four-time "best midsize brewer of the year" award winner makes, it's as intellectual as it is delicious." - Michael Kiser, Good Beer Hunting

7. (tie) Bell's Expedition Stout
The brewery: Aside from the Fighting Hornets of Kalamazoo U, Bell's Brewery is this Michigan town's pride/joy-supplier, and it also runs the Eccentric Cafe.
The beer: Helped pioneer the style of Russian imperial stout in the US.
From the judges: While almost like a chocolate-covered espresso bean, this imperial stout is roasty and bitter, yet sweet/balanced. The flavors really shine: chocolate, coffee grounds, dried fruit sweetness, some caramel, teases of tar and tobacco with rum/brandy boozy elements as it washes down your throat. One tasty brew to fight off those cold Michigan nights!" - Sean Paxton, The Homebrew Chef

6. (tie) Foothills Sexual Chocolate
The brewery: This Winston-Salem, NC brewery's beer pairs with their full food menu featuring house-made ketchups and pickles.
The beer: Big chocolate aroma featuring backstrap molasses.
From the judges: "The name says it all. Rich, velvety, and super seductive with strong notes of dark chocolate, espresso, and toffee, Sexual Chocolate is literally an orgasm in liquid form. An Aphrodisiac's dream, this cocoa-infused imperial stout has the euphoric power to convert anyone -- even the most resistant -- into a beer lover." - Ashley Routson, Drink With The Wench

5. AleSmith Speedway Stout
The brewery: AleSmith is a brewer's brewery, led by San Diego's only Level One Grandmaster Beer Judge (who might disapprove of our love of Lone Star).
The beer: Has been ranked the number one beer in the world at RateBeer.com.
From the judges: "Rich, full bodied, decadent, complex is how I first describe this brew. Dark, bitter chocolate/cocoa, molasses, a hint of licorice, burnt coffee, caramel, blend with a touch of umami to satisfy the palate's craving for something almost over the top. There are several different variations of the brew, some barrel ages, others with different coffee and cocoa nib infusions and still more." - Sean Paxton, The Homebrew Chef

3. (tie) Cigar City Hunahpu's Imperial Stout
The brewery: Located in the Cigar Capital of the World, sunny Tampa, FL.
The beer: Named after a Mayan myth about the birth of cocoa, Hunahpu won gold medals 2yrs in a row at the United States Beer Open Championship.
From the judges: "There are many people who are now making imperial stouts with chilies and other spices, and I believe this is the beer that started the craze. While some might consider this beer extreme, I love it because it coats your mouth with chocolate, coconut, cinnamon, chilies, and char. A real mind blower." - Dan Becker, The Full Pint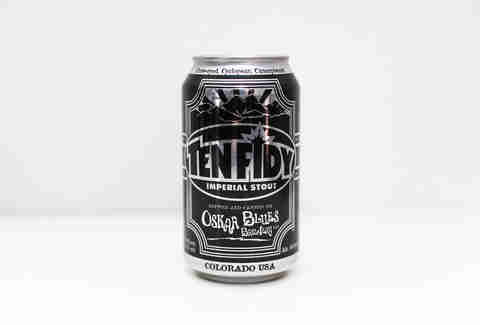 3. (tie) Oskar Blues Ten FIDY
The brewery: This Colorado brewery helped kickstart the can revolution with the release of Dale's Pale Ale.
The beer: 98 international bitter units under a "smooth blanket of malt".
From the judges: "The first Russian imperial stout in a can and still one of the best examples of the style around. Pour this into a snifter and enjoy all of its complex, malty goodness. - Russ Phillips, Craft Cans

2. Founders Kentucky Breakfast Stout
The brewery: This Grand Rapids, MI brewery prides themselves on pushing the boundaries of good taste and it's earned them recognition as one of the top four breweries on RateBeer.com for 4yrs in a row.
The beer: Cave-aged in bourbon barrels.
From the judges: "I'm usually not a huge fan of beers with coffee added, but Founders Breakfast Stout is a glaring exception to that rule. Brewed with Kona and Sumatra coffee (in addition to some chocolate), this beer has everything you need to get your morning started." - Pat Fahey, Cicerone Certification Program

1. Goose Island Bourbon County Brand Stout
The brewery: Chi-town's Goose Island was one of the first breweries to allow generous tastings during tours starting back in 1988.
The beer: Originally brewed in honor of their 1,000th batch of beer.
From the judges: "If there were a Mount Rushmore of beers, Bourbon County Stout would be Abe Lincoln. Goose Island upped the BCBS ante in 2010 by adding coffee to the mix, which takes the otherwise-already-crazy-awesome beer and kicks it into flavor overdrive. Despite the many variants Goose rolls out yearly, the coffee version is our preferred style... if you can find it." - Karl Klockars and Ryan Hermes, Guys Drinking Beer
Special thanks to our judges:
Pat Fahey (exam master of the Cicerone Certification Program), Sean Paxton (The Homebrew Chef), Dan Becker (The Full Pint), Joe Sixpack (Philadelphia Daily News), Karl Klockars and Ryan Hermes (Guys Drinking Beer), Keith Villa (Blue Moon), Russ Phillips (Craft Cans), Ashley Routson (Drink With The Wench), D.J. Paul (Brewpublic), Michael Kiser (Good Beer Hunting), and Brad Ring (Brew Your Own Magazine).
Dan Gentile is a staff writer on Thrillist's national food/erink team and finds it interesting that both stout and portly are synonyms. Follow him to more not-quite-clever-enough observations on Twitter at @Dannosphere.