People will go to extraordinary lengths to obtain expensive whiskeys like Pappy Van Winkle, but for every 23-year-old legend, there's a young whippersnapper whiskey that's a much better value, and won't make you an accessory to a crime.
To help decipher which bottles are top-shelf quality but sell for much less, we consulted Douglas Smith of Whiskies of the World to give us a list of the brown stuff worthy of your glass that won't empty your wallet. These prices might vary based on where you live, but we guarantee they won't cost you a year of prison time.
Recommended Video
The 'Game of Thrones' Pop-Up Bar Is Now Open in Washington, DC
Old Forester Classic 86 Proof
$23.99
If a whiskey clocks in over 18% rye content, it's considered a high-rye. Smith recommends this as a great option, partly because it took home a gold medal at the 2014 Whiskies of the World Awards in Austin.
 
Collingwood
$27.00
Whiskeys from the Great White North aren't usually the first bottles you think to grab, but Collingwood is a traditional light and sweet Canadian whiskey that's "easy to share with anyone."
 
Alberta Rye Dark Batch
$31.99
Since 1946, this distillery has been cranking out fine spirits from the heartland of Canada. The Dark Batch gets its name from the 91% rye content, which is chased with 8% bourbon and finished off with a hint of sherry to give it a "tantalizing touch of extra flavor."
Knob Creek
$39.99
For a traditional rye, Smith recommends Knob Creek, which is more oak-heavy than most other ryes and will make you feel like you're drinking something much older.
 
Woodford Reserve
$35
"This won best in class for a high-rye bourbon and it only costs $35. When revealed after the competition, judges were amazed that their favorite was a Woodford Reserve," Smith says. "People were saying that they had a new respect for Woodford and that these blind tastings are real eye-openers."
 
Wild Turkey Russell's Reserve 10 Year Old
$44.99
Smith calls out the crowd-pleasing nature of this Wild Turkey batch (we can't vouch for Maximus, but he's always hard to please). "It goes great with chocolate and malt balls," he crows. 
 
Cù Bòcan
$47.99
What makes this Scottish single malt special is that the smoke flavor isn't as heavy as others of its class. "The light hint of smoke makes this whiskey incredible," Smith says.
Corsair Quinoa Whiskey
$49.99
Our poll of liquor experts called Corsair one of the best craft distillers in the country, so it's no surprise that its quinoa whiskey makes an appearance here. Smith recommends it if you're looking for a good whiskey that's completely different.
 
Glen Grant 10
$52.99
The words "light and fruity" rarely get tossed around in the world of brown spirits, but Smith praises this bottle for its unusual characteristics, and easy accessibility.
 
Brenne French Single Malt
$59.99
"Don't compare Brenne with a traditional malt. It is a completely new flavor profile, and thus a whole lot of fun to taste and pair with various foods," Smith says.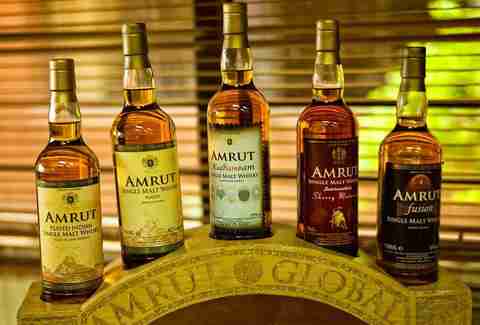 Amrut Fusion
$79.99
India is one of the world's largest consumers of whiskey, but not much of its own hooch has made it to stateside consumers. If you're looking to add something subcontinental to your shelf, Smith calls this spectacular, and you can be reassured by its Best in Show distinction at the 2014 WoW Awards.
 
BenRiach 17 Year Old Septendecim
$79.99
Anchor Distilling's portfolio of spirits is massive, but the smokiest of the bunch is the BenRiach 17. Smith says this is your ticket if you need even more smoke than any of the previous bottles.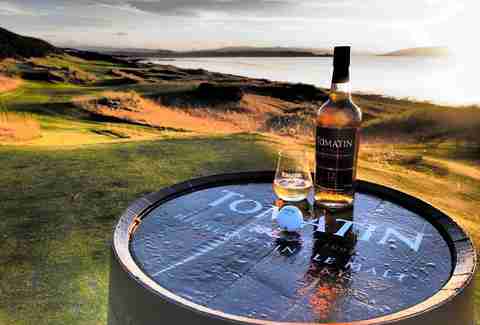 Tomatin 18 Year Spanish Oloroso Sherry Cask
$79.99
The last two and a half years of this whisky's life are spent maturing in sherry casks, which results in what Smith calls "an unforgettable dram."
 
Blackadder Peat Reek Malt Whisky
$109.99
Peat Reek might not have the most appealing name, but if you're looking for something that smells like the fire department is on their way, this is what Smith recommends in the just-over-$100 range.
Dan Gentile is a staff writer on Thrillist's national food and drink team. He is absolutely the best whiskey drinking companion for your money. Follow him to lots of hangout requests at @Dannosphere.