The 11 Best Wines to Drink This Summer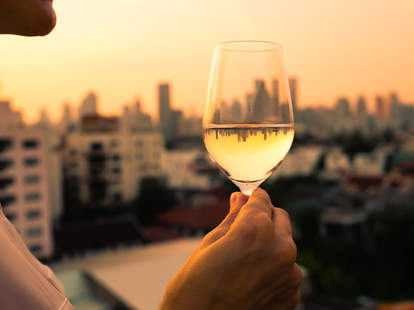 Summer is upon us. That means pool parties, barbecues, and a million other excuses to grab a case -- of wine. There are thousands of chardonnays, pinot grigios, and pink wines out there. This summer might be a chance to find one you love. Or even 11. These are the essential summer wines.
Hugl-Wimmer (edited)
$19.99
Any time you can get a liter instead of a 750ml, you DO IT. But seriously, Gruner is a varietal that I think is still grossly underpriced (maybe because pronouncing Austrian grapes is hard?). This wine is extremely well-made, very clean, and the ultimate replacement for pinot grigio.
 
$16.99
Rose has finally, finally made it in the US. I spent 20 years waiting for rose to go big, but the stigma of white zinfandel was just too much. Luckily, over the last five summers rose has really solidified itself. And the supply and demand still allows for roses of tremendous quality to be available for under $20.
 
$13.99
Another great rose, but this one has quite a lot more body. So think of this as rose for chardonnay drinkers, while the Trepat is rose for sauvignon blanc lovers.
Nals Margreid (edited)
$15.99
We live in a world where 80% of wine lovers have had, or will one day have, Santa Margherita pinot grigio. This PG is easily three times the quality of Santa Margherita for almost half the price. Take a screenshot if you must. But don't forget.
 
$16.99
Ever since Sideways blew up pinot noir, I've been obsessed with finding good pinots for under $20. It's been a massive challenge. One of the really sweet spots for this kind of thing, though, is Australia. Its neighbor, New Zealand, gets a lot of the credit for growing good pinot -- and trust me there are plenty of bad Australian pinots -- but there are some truly extraordinary gems out there. The Route du Van is a signature expression of pinot noir, and one that everybody reading this should try.
 
$39.99
For a long time during my days hosting Wine Library TV, I would just pound on California sauvignon blanc. I was super disrespectful. This wine stopped me dead in my tracks. It's incredibly well-made, bright, loud, and puts me in my place once and for all.
Bello Family Vineyards (edited)
$19.99
I'm obsessed with Rhone Valley whites. I think they're underpriced, under-respected, and any time I can find a solid expression of Rousanne or Marsanne, I get excited. The fact that this one comes from Napa is even more exciting for me. I think American winemakers have some very real potential to blow this category up and help to write the next chapter after chardonnay.
 
$14.99
Finding an awesome Italian chardonnay for $15 is like finding a unicorn in angel investing. And if you see this one, buy it immediately.
 
$14.99
Prosecco is the perfect alternative to Champagne for the summer. Why? Because the reduced price means you can have four bottles instead of one.
Quattrocchi Family & Wines (edited)
$16.99
Malbec has taken the US by storm over the last decade, and this is just a solid example of a well-made, well-priced malbec. You're already buying them. This one should be at the top of your shopping list.
 
$43
Eventually everybody is going to realize that Washington State produces world-class wine. Not just great American wine. Get in on the action now before they start hiking their prices up to Napa levels.
Back in the day, Gary Vaynerchuk (@GaryVee) blew up the Internet with his daily wine show Wine Library TV. These days he's busy running VaynerMedia, a 500-person digital agency in NYC, but he still makes time to drink and talk about wine.