Stouts and sours and Scotch ales are all gifts from the beer god named "God, But The One Who Works On The Beer," but the IPA is the once and current king of craft brews. So we felt it was our duty, as people who drink stuff, to ask nine illustrious beer scribes to pick their 10 favorites, and explain why all others pale in comparison. Sorry. For the pale thing, not for all the hard work we put in so you know exactly what to drink.
[Editor's Note: We were strictly looking to find the finest IPAs, not double IPAs or triple IPAs or duodecuple IPAs. Although we love those too, don't worry.]
Recommended Video
Here's Our Travel Guide to This Nation of Over 7,000 Islands

You thought that was all the info on these babies we were going to give you? Of course not. Below, we present info on the brewery, their top 10 IPAs, and some tasting notes from our judges.
10. Lagunitas IPA
The brewery: Lagunitas is the sixth-largest craft brewery in the States and it's best known for this "homicidally hoppy" ale.
The beer: The company's very first seasonal in 1995, Lagunitas IPA is now nearly old enough to drink itself.
From the judges: "We like the upfront toasty nuttiness of the malt with a different, complex West Coast blend of spicy, bitter hops." - Daniel Bradford and Adam Harold, All About Beer Magazine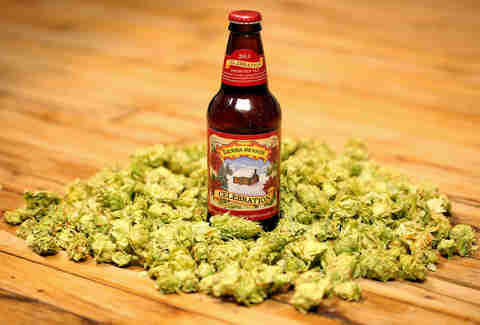 9. Sierra Nevada Celebration
The brewery: The Chico legends began in 1977 with a drive to Washington to score 100lbs of choice whole-cone hops. The rest is glorious beer history.
The beer: The difference is in the fresh hops, which arrive within seven days of being picked and are only available at peak freshness in September and October, dictating this brew's seasonal nature.
From the judges: "In my opinion, most fresh-hopped beers are rather grassy, a note that I don't find desirable in a beer. However, Sierra Nevada knocks it out of the park with their winter seasonal Celebration -- no grass here, just fresh American hops." - Pat Fahey, Master Cicerone, exam manager of Cicerone Certification Program
8. Sierra Nevada Torpedo Extra IPA
The brewery: Sierra Nevada's secret weapon is a stainless steel dry-hopping system called the Hop Torpedo, which inspired their eponymous IPA and further fueled the pale-ale arms race.
The beer: Magnum, Crystal, and Citra hops give it a flavor that pairs well with lamb, duck, and Southwestern food.
From the judges: "When I have a craving for hops this IPA calls my name. With the use of a special hop filter, Sierra has found a way to capture all the hop has to offer. This beer has that almost over-the-top hop assault that we NEED, not want... pine cone, cedar, and citrus blend together with a malty goodness that leaves my hophead inner child happy!" - Sean Paxton, Homebrew Chef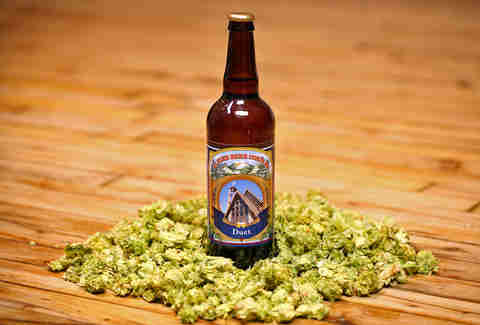 7. Alpine Beer Company Duet
The brewery: It's extremely tough to find their beers outside Southern California, but the self-described "tiny" brewery has built a huge reputation for their IPAs.
The beer: 1,193 BeerAdvocate reviewers can't be wrong -- the aggregate 98 rating makes this a definitive world-class IPA.
From the judges: "While this beer is hard to find, the harmony of Simcoe and Amarillo hops makes me seek this IPA out. The unique hop properties of these two hop varieties create a symphony of flavors; mango, orange, melon, grapefruit, pine, grass all playing at the same volume. This beer is a treat that I honor with each sip." - Sean Paxton, Homebrew Chef
6. Bear Republic Racer 5
The brewery: Bear Republic's a Sonoma-based brewery pumping out never-filtered brews. Their brewpub boasts cheese made from goats who eat the spent grain, so they've finally got an excuse for being so horny.
The beer: Racer 5 took gold at the 2009 Great American Beer Festival and has since spawned mutant Racer X, Black Racer, and Cafe Racer 15 seasonals.
From the judges: "As if channeling Northern California's most famous crop, Racer 5 is the classic "dank" IPA -- as sticky and herbal as the finest sativa." - Jeff Alworth, Beervana and The Beer Bible
5. Surly Furious
The brewery: Minnesota, eh? Surly is a hip Twin City hopper named after the temperament of one of their brewmasters.
The beer: This crimson ale gets much of its raging bitterness from Warrior hops.
From the judges: "The hops are full of citrus and pineapple with a great malt backbone that makes this IPA a little sweeter than average. A great beer in a can." - Dave Jensen, Beer 47
4. Bell's Two Hearted Ale
The brewery: Over the past 30 years, Bell's Brewery has grown from a 15gal soup-pot operation in Kalamazoo, MI to a major operation producing over 200,000 barrels per year.
The beer: Pacific Northwest hops and house yeast give it both piney and fruity flavors.
From the judges: "A classic, and for good reason. Exclusively hopped with Centennial, Two Hearted shows off the best qualities of that varietal, with classic American notes of pine and grapefruit, followed by orange and chamomile." - Pat Fahey, Master Cicerone, Exam Manager of the Cicerone Certification Program
3. Firestone Walker Union Jack IPA
The brewery: Formed as an offshoot of the Firestone Vineyard in 1996, this Cali brewery got their start by incorporating 65gal American oak barrels into the fermentation process. The wine theme extended even further with several of the beers incorporating grapes, which the brewers stopped doing because it was a terroirible idea.
The beer: Union Jack is a West Coast-style IPA (more hops, less malt) that's double dry-hopped and unpasteurized, so it's best consumed within 120 days of bottling, which usually isn't a problem.
From the judges: "It's hard not to love this beer. Its perfectly balanced grapefruit bitterness and biscuit backbone make this easy to drink and deeply complex. Multiple gold medals at the Great American Beer Fest proves that this beer is one of, if not the best there is." - Derek Buono, publisher of Beer Magazine
2. Ballast Point Sculpin
The brewery: Ballast Point names most of their beers after fish, and like a good fishing story, the brewery has now tripled from its original size with three brewing spots in San Diego, including the original digs in the back room of a homebrew supply shop and a tasting room in Little Italy.
The beer: It's hopped at five different stages, a process that's earned it gold at the World Beer Cup, Great Japan Beer Festival, and European Beer Star Awards.
From the judges: "It's an ugly fish, but a delicious beer. Many breweries' reputations have been made with a killer IPA and Sculpin is just that. An aromatic assault of mango, citrus, and stone fruit can make you drool immediately. After just one sip you'll become a hophead as this beer delivers a fruit stand of flavors." - Derek Buono, Beer Magazine
1. Russian River Blind Pig
The brewery: The honcho behind Russian River grew up on a vineyard where he was homebrewing by the age of 18 to the pride/dismay of his parents. Nowadays they're operating a brewpub in Santa Rosa, CA and growing their own hops.
The beer: The full-bodied IPA has taken home two silvers and a bronze at the Great American Beer Festival.
From the judges: "Anyone opening a brewery should strive to make a beer half as good as Blind Pig. It's crisp, bitter, aromatic, not too sweet, and just super delicious. My desert island beer for sure." - Dan Becker, The Full Pint
"If this is on draft in your local bar, don't waste another second, order it! This perfectly malty IPA is sure not to disappoint." - Greg Avola, Untappd

Special thanks to our judges
Daniel Bradford and Adam Harold (All About Beer Magazine), Greg Avola (Untappd), Pat Fahey (exam master of the Cicerone Certification Program), Derek Buono (Beer Magazine), Jeff Alworth (Beervana), Dave Jensen (Beer 47), Sean Paxton (Homebrew Chef), and Dan Becker (The Full Pint)
Dan Gentile is a staff writer on Thrillist's National Food/Drink team who recently purchased a very nice toaster oven and is excited about exploring the world of crispy reheated food. He also enjoys hating mustard. Follow him to pots of gold/Twitter at @Dannosphere.