Close Call: The Dive Bars That Survived and Thrived
Jolie Greenstone/Thrillist
It's 10am on a Monday morning and nearly half of the seats around the bar at Spring Lounge are full. There's no music on, no televisions. Even the overhead lights are off. It's quiet, except for the light conversation about what's on tap. One guy is even on his Macbook while he sips a drink.
In many ways, this Soho mainstay feels more like a living room than a bar. The decorative photos are of owner Bryan Delaney's family -- his mom's wedding photo, his brother's military portrait, a few old baby photos scattered on the walls. Then there are the taxidermied sharks, leftover from the bar's previous life, that earned Spring Lounge the nickname "Shark Bar."
"New York was changing," Delaney says about what drew him to the bar. "These kind of old places were rare… they're even rarer now."
"A lot of trendy places come and go," Delaney says. "But this is always an easy thing that's comfortable."
Delaney, 50, bought Spring Lounge in '96. The bar was an illegal "to go" shop during Prohibition before going legit in the '40s and turning into a craps hall in the '60s. By the '70s, it was Spring Lounge, and it has been ever since. When Delaney came forward to purchase it, "east of Broadway," where Spring Lounge sits, was considered "a bad neighborhood." The previous owner (who allegedly caught the sharks that hang on the wall herself) asked for straight cash. Delaney didn't pay for the whole bar that way -- but he did give her some bills in a paper bag as a sign of good faith.
"New York was changing," Delaney says about what drew him to the bar. "These kind of old places were rare… they're even rarer now."
New York City rents have increased 31% in the last decade. As more landlords seek top dollar for their properties, historic dive bars get pushed out. But somehow, despite all the odds, there are still places with dirty bathrooms, cash-only signs, sticky floors -- and a fan base of regulars who keep coming back.
"It's respect," cocktail historian David Wondrich says of what gives them staying power. "Not respect by the establishment, respect from the neighborhood. They know this place is what it is. In New York, they're proud of their local dives."
As Wondrich explains, for as long as there have been drinking establishments, there have been "dives" -- although they weren't always called that. According to Wondrich, Dug's Dive in Buffalo, New York was the first, "unpretentious place where the drinks were cheap and the company was, let's say, not 'part of the social register.'" It was opened in the 1830s by William Douglas, a former slave from Tennessee, to cater to those who worked on the Erie Canal. Since the bar was frequently flooded, and laid at the bottom of a steep stairwell, "dive" was the most accurate way to explain getting a drink at Dug's.
From there, American dive bars with similar characteristics caught on in cities across the country. The drinks were cheap, the staff were regular fixtures, and maintenance was often deferred because… well, did we mention the drinks were cheap? Most importantly, though, "The music was good, nobody judged you," Wondrich says. "That's sort of the heart of the American dive bar."
Jolie Greenstone/Thrillist
Cheap drinks and unpretentious crowds are usually enough to keep people coming. But as rents have risen, fake dives have cropped up, and longtime bar owners have retired, New York dives have had to get creative to survive.
Take Spring Lounge. Delaney says he was never interested in owning a bar, instead hoping to open a brewery. In the early '90s, he dipped his toe into the field by opening the iconic craft beer bar Blind Tiger. After finding success there, he was drawn to Spring Lounge and the bar's history. When he took over, however, he discovered it wasn't a craft beer crowd sidling up to the bar.
"These guys wanted to drink [cheap light beer]. So I took it real slow," Delaney says about establishing the bar's menu. "But the times changed… Now there are these kids who have never had anything but craft beer." So he adapted. The taps change frequently to feature craft beer, but you can still get your classic beer-and-a-shot combo during happy hour.
Advertisement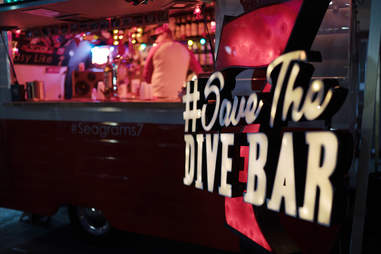 Courtesy of Seagram's 7
Everyone has a story that took place in a dive bar. Sometimes those stories live on in photos. Sometimes they make a cameo in the bar's verbal history. No matter how they live on, it's dive bars we have to thank for being a history book of the neighborhood -- and no one knows that better than Seagram's. So on July 7 -- National Dive Bar Day -- celebrate where your stories take place with a Seagram's 7. It's smooth and easy, just like the dives that have served it for decades.
Spring Lounge was hit with their first rent increase in 2012. At the time, the landlord "walloped" Delaney, thanks in part to more development and gentrification in the Bowery. At first, he thought the bar may be done for, but today Delaney says that business has never been better. That's thanks to a staff that's been on board for nearly two decades, increased business from tourism in Soho, the success of the craft beer menu, and a dash of nostalgia. He was able to lock in his lease until 2027 -- so free hotdog nights and cheap drinks will grace Spring Street for at least the next eight years.
It's not just craft beer -- some dives are cashing in on the cocktail game, too. In fact, for the first time ever, Americans are more likely to order a cocktail or a glass of wine than a beer. And they are more likely to spend more money on it, too. So it's not exactly surprising that when two historic neighborhood bars found a new lease on life, both owners took the cocktails seriously.
Holiday Cocktail Lounge in the East Village used to be a regular hangout for the likes of Allen Ginsberg, Frank Sinatra, and the Ramones, but it shuttered in 2012 after being a fixture in the neighborhood for over a century. It was a surprisingly short-lived death: Holiday was reopened in 2015 by Robert Ehrlich, a snack food company investor, who bought the whole building. Upon its return, little about the dive's original features had changed (it still even has a beer-and-shot happy hour combo and its signature red awning) but it added a massive cocktail menu -- one of the best in the city.
"You have to honor the past without trying to duplicate it -- that would be Disneyland," Michael Neff, the man behind Holiday's menu, told the New York Times at the time. "If you look at the totality of it all, people loved it because of the community it created."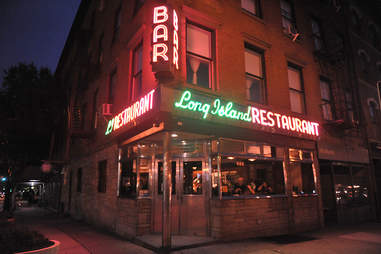 Courtesy of Long Island Bar
Long Island Bar in Brooklyn's Cobble Hill neighborhood has a similar comeback story. Opened in 1951, it was a longshoreman's hangout where you could get a home-cooked meal and inexpensive drink, but it shuttered in 2007. The bar had been in the same family for its entire run. In fact, they still own the building, but had no one to run the place. That was until present-day owners Joel Tompkins and Toby Cecchini finally contacted the family (notes were left under the door of the shuttered restaurant) and restored and reopened the bar in 2013.
"When you walked into that room it had so much history and soul, it was a room you really wanted to drink in," Tompkins explains. "The cigarette burns on the bar to the water stains on the ceiling were part of what made it attractive."
Tompkins and Cecchini kept those water stains, cigarette burns, and even the leather booths and floral wallpaper, as a sort of time capsule to "Old Brooklyn." The cocktail menu, though, substantially changed, with a focus on high-end drinks, but in a casual atmosphere.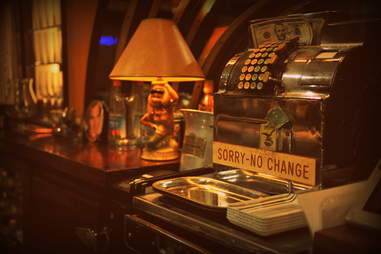 Courtesy of Long Island Bar
"We loved the idea of a beautiful, historic bar, where there was nothing fussy about the service or environment," Tompkins says. "For a long time, high-end cocktails went hand in hand with fancy environments, and that has changed. You'd never think twice about walking in [here] in jeans and a sweatshirt."
Sometimes -- good intentions be damned -- those historic dive bars have to shutter. That was the case of Hank's Saloon, also in Brooklyn. Formerly known as Doray's Tavern where the Mohawk ironworkers who built the Empire State Building used to drink, the bar eventually became a local-music hot spot, and, as Brooklyn gentrified, one of the last gritty bars in Boerum Hill. It fell into the hands of owner Julie Ipcar in 2005, and even then, the threat of the bar developing into luxury condos loomed. Because of that, few repairs were undertaken by the building's landlord, causing health-code violations to pile up. Finally, when his condo plans were secured, the landlord asked Ipcar to pick a closing date for Hank's at the end of 2018. She chose December 28.
The neighborhood was only without Hank's for a few weeks though, as Ipcar was approached by Hill Country Barbecue about moving Hank's to the second floor of their food hall. She seized the opportunity, keeping the staff the same (including the notorious Jeannie Talierco, a bartender who worked at Doray's and Hank's for more than two decades) and the prices similar. They distressed the wood floors, brought over their own "crappy" stools, and as much signage as they could save from "old" Hank's. It opened earlier this year.
"There are little bits of Hank's everywhere in here, you just kinda have to look for it," Ipcar explains. "There are changing tables in the bathroom though -- that never would have happened at Hank's."
It's not an exact replica, but Ipcar hopes that the expanded opportunities will make Hank's 2.0 as successful as the original. That includes fewer health code violations and an expanded live music line up.
"It's another opportunity to see what could work, and when you get that, you have to try," Ipcar said.
People like Ipcar, Delaney, and Tompkins know that the world needs dive bars. They're like a club that everyone gets to join at 21, no questions asked. They're the places that keep pouring drinks through the middle of a hurricane and keep the doors open on Christmas Day for those who can't afford to fly home, and will take you in whether you're a regular or newcomer. What they lack in paper towels, they make up for in heart.