You Have to Drink These Cocktails When You're in Vegas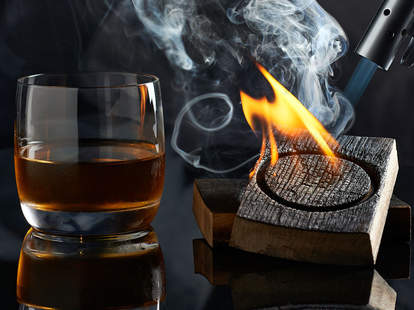 It's impossible to take in everything Vegas has to offer without working up a thirst. Use this list to quench that thirst. The mixologists at MGM Resorts' most packed Las Vegas venues gave us their top cocktail picks, from classics with a twist to extravagant in-house creations that incorporate garnishes like rose petals and hard candy. Show up early for these. Or stay late. (It's Vegas, no one will find out either way.)
Smoke Missing Mirrors
Sage -- ARIA
Quit chatting and pay attention: Your bartender is about to light some cask wood on fire and capture the smoke in a rocks glass before filling it with a neat blend of Pyrat Rum, Gran Classico Tempus Fuigt, Lustau Sherry, and 2 dashes orange bitters. (If you want to know what this looks like, check the top of this page.)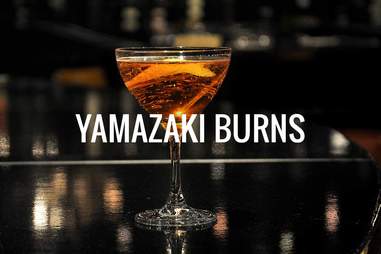 Courtesy of Jean Georges Steakhouse at ARIA
Yamazaki Burns
Jean Georges Steakhouse -- ARIA
Broaden your international whisky horizons with this base of Yamazaki 12 year, a Japanese-made single malt -- aged in American, Spanish, and Japanese oak casks -- together with Benedictine, Carpano Antica Sweet Vermouth, and a Lagavulin glass wash. 
Eastside
Michael Mina -- Bellagio
Not to be confused with the more common gin take on the Eastside cocktails, this one is Grey Goose vodka, fresh cucumber and mint, shaken and served up, then topped with champagne and a cucumber slice.
Courtesy of Herringbone at ARIA
Your Ginger Is Smashing
Herringbone -- ARIA
Ginger is good for digestion, or so we're told, so triple down on it with Domaine de Canton ginger liqueur, ginger snap and ginger syrup, stirred with Virginia Black Whiskey. To be clear: if you aren't into ginger, this probably isn't for you.
Heritage Manhattan
Heritage Steak -- The Mirage
So you've had a Manhattan before, but this one warms up Michter's Rye and Carpano Antica sweet vermouth with the addition of hickory-smoked cherry -- house infused in the whiskey.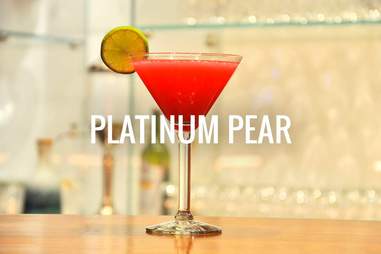 Courtesy of Julian Serrano Tapas at ARIA
Platinum Pear
Julian Serrano Tapas -- ARIA
So you want the sophistication of a martini, but vodka and gin aren't your thing… Go for this tequila take with Herradura Silver, Prickly Pear Puree, orange juice, lime juice, and agave nectar syrup, served in a martini glass with a lime wheel.
Pear Harvest
Harvest By Roy Ellamar -- Bellagio
Yes, that's a brûléed pear. It's floating on Grey Goose La Poire, Rekorderlig pear cider, Pallini Limoncello, Madagascar vanilla syrup, and Southwest prickly pear juice. Hungry? The chef recommends snacking on the roast pork flatbread as you sip.
Jasmine Cocktail
Prime Steakhouse -- Bellagio
There's nothing more decadent than a white rose petal in your glass that's supposed to be there, along with Grey Goose La Poire, St. Germain, fresh lemon and white cranberry juices, and simple syrup. But don't just sip it, pair it with the Escarole and Apple salad that includes mozzarella, frisée, and basil.
22 Day Manhattan
Picasso -- Bellagio
There's no rush to finish this blend of Michter's Rye, Buffalo Trace Bourbon, Martiletti's sweet vermouth, and Angostura Bitters, with luxardo maraschino cherry garnish; it pairs perfectly with the prime beef filet mignon you really should be ordering next.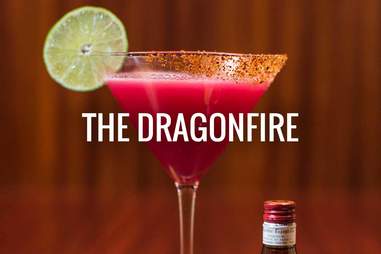 Courtesy of Yellowtail at Bellagio
The Dragonfire
Yellowtail -- Bellagio
The name is no accident: there is only strawberry puree and Absolut vodka to save you from this drink's generous serving of muddled serrano chile pepper. If you laugh at the Scoville scale, go ahead and order it with the Yellowtail Jalapeño, plus micro cilantro and blood orange sauce.
Lago Cocktail
Lago By Julian Serrano -- Bellagio
So there's Absolute Elyx vodka, Amaro Montenegro, fresh strawberries, lime, and agave nectar, but wait, is that a seasonal flower frozen inside an ice sphere? Yes, yes it is. You can order the Lago sweet or spicy, and make it even better with a side of the Fegatini Di Pollo (chicken liver, capers, and pepperoncino). 
Rock 'n' Rye
STRIPSTEAK -- Mandalay Bay
STRIPSTEAK has been serving its signature large-batch mix of Jim Beam Rye, Appleton Estate rum, lemons, oranges, cloves, cinnamon sticks, and rock candy for 10 years, so you can be sure that they have mastered it by now.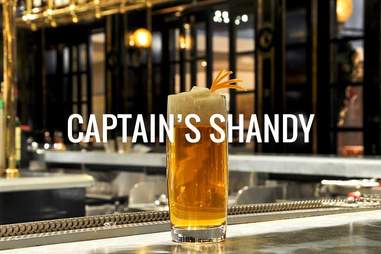 Courtesy of Bardot Brasserie at ARIA
Captain's Shandy
Bardot Brasserie -- ARIA
If pretty to look at it is high on your list of cocktail priorities, note that this one comes with an orange blossom whip float -- because you're never too old for those. It tops Captain Morgan Spiced Rum, Solerno Blood Orange Liqueur, lemon and simple syrup, shaken and strained into a Collins glass and filled with Moody Saison.
Cowboy Hunting
Rivea -- Delano Las Vegas
The bourbon cocktail gets a twist with one third Thai chili-infused Elijah Craig 12 year mixed with two parts straight from the bottle. Lemon juice and Amaretto round out the spicy, nutty finish.