The 4 Essential Ramen Styles and the Sapporo Beer to Pair With Them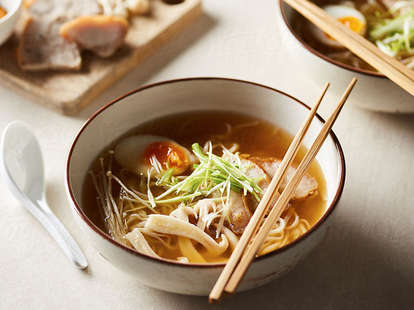 The only thing more comforting than a heaping, steamy bowl of ramen is an ice cold beer to go with it. But, because ramen is all about balancing flavors, from the broth down to the topping choices, you can't just sip on any old brew hanging around the back of the fridge. That's why we enlisted cicerone Elliot Marcus to pair Sapporo, the oldest beer brand in Japan, with the four essential ramen styles: shio, shōyu, miso, and tonkotsu.
To make sure your ramen expertise is on point, we also talked to three ramen chefs: Tomonori Takahashi, the CEO and founder of JINYA Ramen Bar, Tracy Chang, the Boston-based chef and owner of PAGU (opening this month), and Chef Julian Valencia of Jersey's Ani Ramen. Here's what they told us:
Shio
The Broth:
Most ramen broths are characterized by their tare, which Chang says is basically, "liquified, concentrated seasoning." These tares are made from chicken, pork, or vegetable broth, then a high concentration of umami-boosting flavors are thrown in. In Japanese, shio means salt, and that's the key ingredient in the tare of a shio ramen. It's one of the oldest styles of ramen out there, and actually is a callback to the Chinese soups from which Japanese ramen originated, Valencia says.
Shio is a light broth with a light coloring -- almost clear -- and is usually made with pork or chicken bones that have been simmered for just a few hours: enough time to impart tasty animal-fat goodness into the broth, but not make it heavy or creamy. (Don't fret, vegetarians, there are plant-based options too.)
Noodles & Toppings:
In a soup as delicate as a shio ramen, Valencia says you're going to want to compliment it with a delicate noodle. You can't get more dainty than a straight, thin, ramen noodle. Nori is also one of the usual suspects in a shio ramen, along with the traditional ramen accompaniments. If you're looking for something out of the norm, Takahashi suggests adding some wontons to a shio broth for a true Asian fusion.
The Beer:
Similar to the noodles, the beer parallels the delicate broth. Because shio ramen is on the lighter end of the noodle soup spectrum, Elliot says you need a beer with a light mouthfeel, like Sapporo Premium. "The salt in the shio broth blends well with the grain husk malt flavor of the beer, creating a combined flavor similar to a salted cracker," he adds. (And can you get a more classic match than soup and crackers?) The carbonation in the Sapporo Premium also helps cleanse the palate, especially because shio ramen bowls can be a bit oily.
Shōyu
The Broth:
The tare in a shōyu ramen is made from soy sauce, but it's more complex than just that stuff you pour on top of lo mein, according to the chefs. Mirin, sake, and sugar are also mixed into the tare, to give an even higher umami-boost to the broth. How exactly those flavors are balanced, though, can be as varied as your attempts to recreate your mom's pie crust. "It's a special sauce and each Japanese restaurant has their own recipe," Valencia says. "And in some cases, it's saltier, or sweeter, but it depends on the chef." Typically, the shōyu broth is made with chicken bones, but pork bones can also be used, and it's got a darker, slightly brown color from the soy sauce.
Noodles & Toppings:
Shōyu ramen traditionally has greens, scallions, and nori, but one staple you won't usually find? A soft boiled egg. That runny yolk can throw off the balance of the broth, so a lot of chefs opt to leave it out. Instead, stick with with chatsu pork as a topping, or chicken, like Valencia does at Ani Ramen. Noodles are normally on the thin side, but wavy to get some extra broth flavor into your slurp. If you're really looking to make sure you eat your greens, Takahashi suggests brussels sprouts as another great add-on.
The Beer:
Sapporo Black has a malt profile that's just as complex as a shōyu broth, Marcus says. It's got a dark roast flavor that can tango with the umami deliciousness of the broth, and an extra layer of sweetness that tastes like dried berries. That smidge of sugar, with the salt of the broth, is almost like eating kettle corn, according to Marcus.
Miso
The Broth:
If you thought shōyu was complex, you might want to sit down before you learn the intricacies of miso ramen. That's because 1. there are a million different kinds of miso tare and 2. like, 4 million different types of misos. (That's a rough estimate.) Miso are soybeans that have been fermented in salt and koji, which is a fungus used to make soy sauce and miso paste. The product of that fermentation is a seasoning that's salty, fruity, sweet, savory, all at the same time. It can even be spicy, depending on what else the chef wants to add in. The resulting broth is normally thick and cloudy, with a coloring that's white, red or a variety of colors in-between, depending on the miso that's used.
Noodles & Toppings:
Because it's a thicker soup, a thicker, wavier noodle is normally used, and a lot of bean sprouts and greens are added to the broth. With so many different takes on miso, toppings can really vary. For example, Chang says she had a seafood miso ramen with corn, butter, and crab when she was last in Sapporo, Japan, because the area is abundant in shellfish. "If you [were served that] at a ramen place in the States, you'd be like "What? Seafood, corn, and butter? Is this a summer ramen? Is this a New England ramen?" she says. "So it depends not only on the region, but also on the chef."
The Beer:
Spicy miso ramen is one of the most commonly served miso-varieties stateside, and Sapporo Reserve works especially well with it, according to Marcus. The beer has a sweet malt flavor that helps cut through the heat. (And it's way tastier than trying to sip milk with your noodles.) "The strength of the broth measures up perfectly to the strength of the beer," he says. "Garlic, scallion, and herbal flavors of the miso act as seasoning for the beer's malt profile." The crispness of the beer also cuts through the broth's heaviness, too.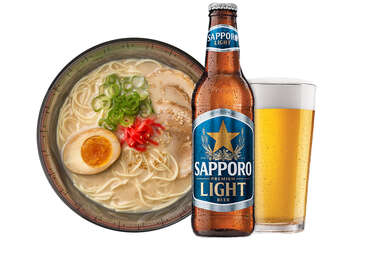 Tonkotsu
The Broth:
Tonkotsu is the outlier of the broths, because while the others are defined by their seasonings, tonkotsu refers specifically to how the broth is made. To render it, pork bones are simmered in water for 14-20 hours, releasing all the umami-filled bone marrow and collagen into the soup. According to Valencia, the broth reduces by about half during that time, so that reduced broth is normally treated as a base for the soup and mixed with some shio or shōyu broth to round out the flavors even more. The result is cloudy, smells like pork, and thick.
In fact, Tonkotsu style ramen comes from the Kyushu area of Japan, where Takahashi says the locals prefer richer, saltier, and heavier tastes. But it's also becoming one of the most popular types of ramen in the U.S. (Probably because we agree that rich, salty, heavy food is the best comfort food out there?)
Noodles & Toppings:
Noodles in a tonkostu broth are normally thicker and wavy, to give a good bite to the dish. Chatsu pork, mushrooms, scallions, and pickled ginger normally top the ramen. At JINYA, Takahashi says some favorite customer toppings to tonkostu are brussels sprouts and spicy ground pork.
The Beer:
For a broth as heavy as tonkotsu, you need something light and carbonated to cut through it, like Sapporo Light, Marcus says. "The Sapporo Light is amazingly sessionable and does not subdue the tonkotsu but perfectly acts in support," he adds. Basically, it helps refresh each bite, and the sweet doughy flavor of the beer emphasizes the savory aspects of the broth.