The Future of Cocktails Is Here… Thanks to Bulleit and 3D Printing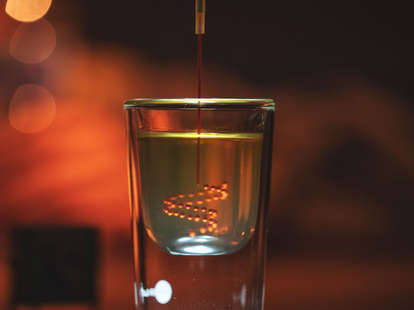 Saul Metnick
Saul Metnick
When you think of 3D printing, you're probably more inclined to think geeks and gizmos than chic cocktail bars. But, thanks to Bulleit Bourbon, artists and mixologists across the country are joining forces with 3D-printing innovators as part of their newest iteration of Frontier Works -- The Bulleit 3D Printed Frontier. Bulleit's Frontier Works program highlights "the modern frontier" -- meaning people who are pushing the boundaries in their current craft, and in the past, that has meant tattoo artists and neon artists. But for 2019, it's all about the marriage of tech, culture, and, of course, cocktails. With a 3D printed bar and a menu of printed cocktails, Bulleit is descending on select cities in the US to show off the bright future of bar culture. Here's what's going down:
3D-PRINTING COCKTAILS IS PART ART, PART SCIENCE
Benjamin Greimel is the robotics pioneer behind Print-A-Drink, one of the first technologies to combine robotics with design and mixology, and one of the key features of The Bulleit 3D Printed Frontier. Greimel's idea to combine 3D printing, robotics, and mixology actually began as a one-off grad school assignment using a robotic arm with a micro-dosing attachment, but Greimel quickly realized that there was a need for this type of tech in the entertainment scene. Mostly because, as far as he could tell, no one else was utilizing 3D printing technology this way.
Usually, 3D printing happens in vertical layers, essentially the same way you would make a lasagna, but with thermoplastics rather than gooey mozzarella. The cocktails, Greimel says, are printed in a way that's similar to how medicine would be created in lab, via micro-injections (and no thermoplastics, obviously). The designs are created by precisely injecting microscopic dots of liquid into the drink in a pre-set pattern, which is all done by a robotic arm.
The designs stay in place thanks not only to the chemistry of the drink (more on that in a bit) but also because the tiny dots are actually small droplets of edible oils, like lemon, hazelnut, or even vegetable. Because the droplets are so small, they don't typically affect the mouthfeel or taste of the drink, unless a mixologist is using a more pronounced oil to accentuate the cocktail. Think of them as edible garnish -- but way cooler.
But not everything can be a robo-cocktail, and it took the team over 100 recipes to find that out. The drinks need to be semi-transparent for the design to shine through, so no stout beer. Sparkling drinks are out, since they go flat when cooled to the printable temperature. Lastly, the printed oil drops don't maintain their position in spirits with a high alcohol content (they still aren't sure why).
Once the recipes are locked in and printable, it's time to prepare the cocktails in big batches. Why batch? Besides the need to follow the cocktail recipe exactly (seriously, no improvising here -- otherwise it could throw off the print) the actual printing process takes about 60 seconds per drink, which is perfect for a thirsty crowd.
MIXOLOGISTS AREN'T GOING ANYWHERE
Now, before you spiral out on the assumption that your favorite neighborhood bar is set to be replaced with something straight out of dystopian science fiction, know that Greimel has no intention of setting up one of his robots in place of a bartender. In fact, Print-A-Drink simply doesn't work without mixologists. The two have to work in tandem to create a cocktail that's equal parts tasty and delightfully nerdy.
Because Greimel's background is in robotics and design, he also depends on mixologists to create the actual cocktails that will be used at a particular event. For Bulleit 3D Printed Frontier in Oakland, that meant turning to a local mixologist to help develop the featured cocktail, made with chardonnay, grape juice, peach juice, green tea, Bulleit Bourbon, and an injected design made with lemon oil.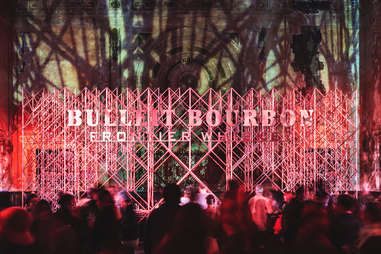 ROBOTS WEREN'T JUST INVOLVED IN THE DRINKS
Of course, you can't serve drinks without an actual bar -- and Bulleit kept the 3D theme going. To create the initial design, Bulleit tapped architecture and design firm FAR, which used an algorithm based off of the Bulleit label to dream up the structure. Bringing it to life, though, was the Machine Histories team, who actually handled fabrication and 3D printing the entire bar -- all 3,000 pieces of it.
"3D printing is typically done to create a prototype, a tchotchke, or a form model," says Jason Pilarski of Machine Histories. "It's very rarely used to create an actual structure because of how time consuming it is."
Those 3,000 pieces create what Pilarski described as an "erector set" for the bar, which came together for the Oakland event in three days. Actually printing those pieces took about a month, even on industrial equipment, because a computational designer needed to draw up each individual piece before it was printed. That time frame, though, is actually lightning fast, as something of this size would normally take years to complete.
"We never tried anything like this before," Pilarski says. "I don't think really anyone had tried anything like this at this scale, so it was a bit of a leap of faith that it was going to work."
AND IT'S COMING TO A CITY NEAR YOU
That leap of faith paid off, because now Bulleit is bringing the 3D Printed Frontier (bar and cocktails included) to cities across the US in 2019. The bar kicked off in Oakland and will stop through Austin, NYC, and more until it lands in Shelbyville, Kentucky, the home of the Bulleit distillery. To find out when, and undoubtedly mark your calendars, you'll need to follow their journey.