Let's All Take a Minute to Celebrate the Glory of Day Drinking
Anthony Humphreys/Thrillist
"The sunshine bores the daylights out of me" - Mick Jagger, great singer, lousy day drinker
Let's start off by admitting that this article is completely unnecessary. Everyone who drinks and does not suffer from the condition that afflicted Nicole Kidman's children in The Others knows that day drinking is the most enjoyable activity available to humankind. It is what every single one of us wants to be doing right this very moment. It is our just reward, and our just for the hell of it. It is a sensible dose of pure bliss. Not being able to participate in it is the leading cause of depression amongst vampires.
Anthony Humphreys/Thrillist
If you've ever held a cold beverage in the warm sun, then you understand the beauty. But while everyone loves day drinking, some people still feel twinges of guilt about it, like they're wasting valuable time, like they should be doing something else. I'm not here to argue day drinking's merits. You know the merits. I'm here to affirm them, to bathe us all in the light of day drinking's radiance so that we might wash those twinges away and wholeheartedly savor the hours we spend doing not very much at all. So maybe this article is a little bit necessary, even if that bathing metaphor was not.
Anthony Humphreys/Thrillist
The key to appreciating day drinking -- fully, completely, and without any reservations -- is understanding that day drinking isn't laziness, it's contentment. The notion that just because the sun's out you should be actively engaged in accomplishing things is ridiculous. You've spent an entire week accomplishing things. Big things, little things, medium-sized things, things you had to do, things you wanted to do, things that scored you points, and things for which you will never be recognized. Your gold star for the week's achievements is the weekend -- the entire weekend, not just the hours from sundown to closing time on Friday and Saturday night.
If you want to spend your Saturday and Sunday afternoons doing laundry, visiting museums, or climbing mountains, good for you, that's admirable. Anyone who says we've devolved into a nation of children should take notice of what a fine, responsible adult you've become. But no one should feel compelled to do things that are traditionally thought of as "productive," especially if all they really want to do is park their ass on a patio and bullshit the day away as the rays kiss their face and the booze kisses their mouth.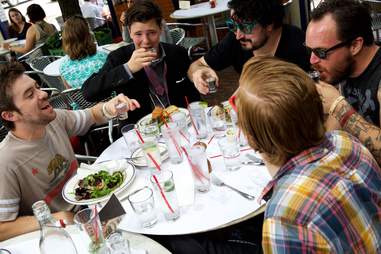 Anthony Humphreys/Thrillist
Contrary to what people who want to get some things done today might think, day drinking is not wasting time. Hiking might be good for the thighs, and museums might be good for the thighs of your mind, but kicking back on a rusty piece of lawn furniture is good for the soul -- and anything that's good for the soul can't be considered a waste. Day drinking offers all the transcendentalism of yoga without the $200 pants. You don't have to go lotus-style to reap the spiritual benefits of sitting in one place for four straight hours. What's more likely to sink you into a meditative state: listening to some spiritual-lite instructor verbally molest your chakras in front of a group class full of strangers, or falling into blessedly aimless reminiscences with your friends?
Advertisement
Anthony Humphreys/Thrillist
Day drink this
If you're looking for an easy-going mid-afternoon vodka, you won't find one more perfectly suited than Deep Eddy Ruby Red. Coming to you from the Texas distillery inspired by the landmark swimming pool where Austin goes to cool off, it's made with juice from actual grapefruits, which is scientifically proven to be 100% better than juice created by scientists. Get recipes for the Ruby Paloma & more here.
And now, more deep thoughts on day drinking...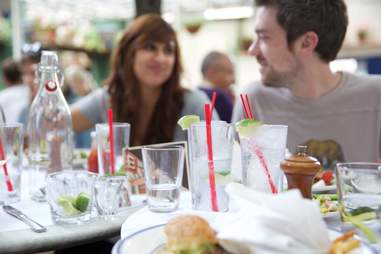 Anthony Humphreys/Thrillist
It's not overstating things to say that day drinking is its own form of zen. Zen and the Art of Day Drinking might sound silly -- does sound silly -- but if ZATAO Motorcycle Maintenance can have its day, and ZATAO Cubicle Living can have its hour, and ZATAO Disc Golf can have even five minutes, then attributing cosmically restorative properties to day drinking can't be too far off base. It's a wonder some new age guru hasn't taken day drinking, added some chanting, and built a cult around it (actually he has; his name is Jimmy Buffett).
If the key to achieving nirvana is un-complicating your life, then day drinking absolutely has you covered, starting with your choice of beverage. At one in the afternoon, even the most bitters-mad boozist isn't looking for anything more involved than two ingredients plus ice. It is exciting to challenge your palate with a cocktail you can drink one of; it is gladdening to refresh it with a cocktail you can drink many of.
Anthony Humphreys/Thrillist
More importantly, the persona day drinkers present to the world is simple and honest. It is true that a certain segment of the population believes that day drinking is all about wearing white pants and popping pricey bottles of champers, which might or might not be what rich numbskulls call champagne. But real day drinkers don't put on fancy outfits, and they don't put on fancy personalities either. Nobody's pretending to be cool, sophisticated or rich. Everything you are is hanging out for everyone to see, all the more so if you're wearing sandals and no sleeves.
It doesn't really matter where any of this not-much-happening happens. A few two-tops on a sidewalk. A wooden deck by a lake. A picnic table on some grass, or even on some gravel. There are no velvet ropes, light shows, or commandeering DJ stands. There is no list, and there are no doormen -- there might not even be a door. Most conspicuously, there is no urgency, because when you're day drinking, there is no last call, just a relaxing fade into early evening. You're suffused with the feeling that no matter what happens, it's not the end of the world. All that matters is that if the world did end today, you'd have a glass in your hand to toast it goodbye.