8 cocktails that changed the world… of cocktails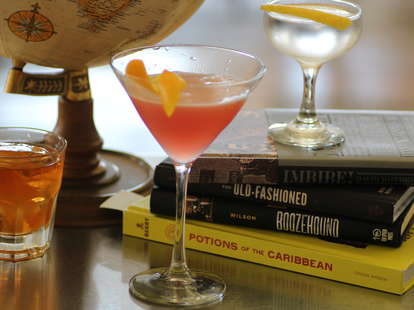 Liz Childers
Liz Childers
When you're sitting in a bar, drinking a Negroni or a Martini or some Midori mixed with grenadine and Jolt cola, you likely don't think about what got that drink in your hand in the first place, do you? DO YOU?!?! Well, luckily we do, which is why we asked our longtime contributor/master mixologist Nick Bennett to look back at the eight drinks that have most impacted the world of cocktails (for better or worse) over the past 200 years:
Whiskey Cocktail (Old Fashioned)
It would be irresponsible to start any list of the Most Important Cocktails without first mentioning the OG classic, the Old Fashioned. As early as 1806 there are references to the "Bittered Sling", a morning tippler comprised of spirit, sugar, bitters, and water, a combination that would span centuries and be among the first to bear the name "cocktail".
The first documented appearance of a recipe that we would recognize was introduced as the Whiskey Cocktail in How to Mix Drinks or theBon Vivant's Companion by Professor Jerry Thomas. This original incarnation would curl the modern mixologist's moustache in all the wrong ways, as it was shaken and served up in a wine glass. But this was only the beginning. This combination would evolve into the Improved Cocktail, which used posh European ingredients, such as chartreuse, maraschino, and absinthe to get fancy. This might have been fine for youngsters like your great grandfather, but real gentlemen, like your great-great grandfather were more comfortable ordering their whiskey cocktails in the old-fashioned way, which gradually morphed into the more recognized recipe at the end of the 19th century.
As Robert Simonson mentions in his book, The Old Fashioned, this recipe is the "embodiment of the cocktail" and in the "many variation that have followed, there is liberty and invention." In the world of cocktails, what other recipe can hold a claim to that?
The Whiskey Cocktail
3 or 4 dashes of gum syrup
2 drops bitters (Boker's)
1 wine glass of whiskey, and a piece of lemon peel.
Fill one third full of fine ice; shake and strain in a fancy red wine glass.
Taken From Jerry Thomas' How to Mix Drinks, or the Bon Vivant's Companion 1862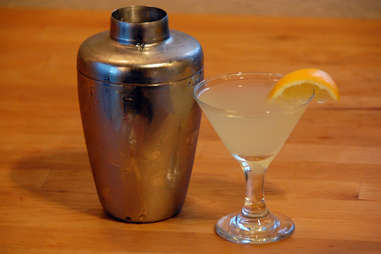 The Daiquiri
This shaken cocktail ranks higher in terms of importance, as opposed to the Daisy, which is comprised of spirit/citrus/flavored sweetener, because the Daiquiri doesn't beat around the bush on what ingredients it's made with. It is also one of the few OG cocktails not developed in the continental United States (possible reasons for an embargo?). The "Holy Trinity" of cocktail ingredients of spirit/sweetener/citrus have been wetting people's lips for centuries and been imbibed in the Caribbean (a region where the major exports and resources were rum, sugar cane, and citrus) since the creation of rum.
The Daiquiri's creation is accredited to an American engineer stationed in Cuba during the years of the Spanish-American Wars named Jennings Cox (The Dickuiri). Its first incarnation was served in a champagne flute with crushed ice, hardly resembling what it's recognized as today. But when it finally migrated into Havana, the bartenders modified the recipe into a shaken drink that was strained into the cocktail we are familiar with today.
It struggled to find its footing in the American bar scene until the advent of Prohibition drove many a tippler to parts unknown to find a drink. Cuba was one of those destinations. It became the drink of scholars, presidents, and Nobel Prize winners for Literature. Old Papa Hemingway became such a fan of the concoction that there are several incarnations of the drink that bear his name.
The Daiquiri
2oz Cuban rum
1oz lime juice
¾oz simple syrup
Build all ingredients in a shaker tin with ice. Shake vigorously. Strain into a well-chilled coupe.
Adapted from the Milk and Honey cocktail list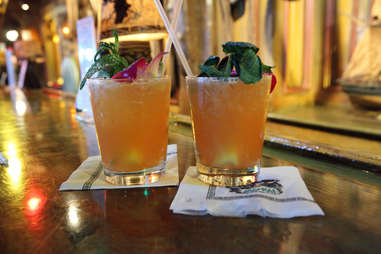 Mai Tai
Post World War II, interest in South Pacific culture exploded in the cocktail world, fueling the Tiki boom of the mid-century. Tiki bars popped up all over the country, each attempting to out shine one another with lavish Tiki decor, huge bowls of cocktails, tiny umbrellas in every drink, and grass skirts on pretty servers. The most famous names to appear during this time were Don the Beachcomber in the early '30s and a few years later Trader Vic, the inventor of the Mai Tai in 1944.
Both personalities were very secretive of their cocktails and some of the recipes they invented have been lost or became so molested they are almost impossible to recreate, unless Chris Hansen is on the job. However, unlike his Tiki-themed predecessor -- whose overly complicated, nine-ingredient behemoth of a cocktail known as the Zombie appeared nearly a full decade before -- Trader Vic's cocktail was simple and didn't drown out the flavor under layers of fruits and aromatics. The combination of orange flavored Curaçao and a French almond flavoring (Orgeat) in this drink was deserving of a name that translates to "out of the world" in Tahitian.
Aside from being the cocktail embodiment of the Tiki style, it also garnered such popularity in such a short amount of time that it used up all of the specific rum that it was originally made with (Wray & Nephew 17-year Jamaican Rum).
In Jeff Berry's book Potions of the Caribbean, he points out that the cocktail became "less a drink than a symbol of your Hawaiian holiday, either the one you'd taken or the one you aspired to take. It was paradise in a glass." (With much less sunburning and unsightly body hair, I'm assuming.)
Mai Tai
1oz Jamaican rum
1oz Rhum Agricol Vieux
½oz Orange Curacao
¼oz Orgeat syrup
1oz fresh lime juice
¼oz simple syrup
Shake well with crushed ice. Pour, unstrained, into a double old-fashioned glass. Sink the spent lime shell into the drink. Garnish with a mint sprig.
Adapted from the book Beachbum Berry's Potions of the Caribbean by Jeff Berry
The Kangaroo
While the name of this vodka-based cocktail might not seem very familiar to most, you have undoubtedly sipped one of these in an attempt to look more sophisticated and "of a legal drinking age". It began appearing on menus sometime in the '50s during the height of the Cold War, when vodka as a spirit was a relative newcomer to American bars. Customers began requesting vodka to replace the gin in a Martini and the Kangaroo was born, or as most people will recognize it, the Vodka Martini.
Its lighter flavor made it more palatable than its harsher, juniper-based cousin and more acceptable to delicate palates. This, along with a brilliant ad campaign by Smirnoff in the '60s, helped fuel this trend away from gin by playing to the belief that vodka left no trace smells on the breath. Consumers slurped it up (sorry) and were soon enjoying their "three-Martini lunches" regularly.
Additionally, the second book starring Ian Fleming's charismatic James Bond really nailed it home. And once Hollywood took the reigns of this iconic character, every man and their dad was drinking vodka martinis, "Shaken, not stirred", turning it into one of the most poured cocktails in America.
The original recipe was quickly discarded, using less vermouth, and replacing the lemon twist with an olive (followed by the stuffed-with-stuff olive) until it was a shell of what it began as.
This also opened the doors to the countless varieties of Martinis that followed. Nowadays, you can pour almost anything in a Martini glass and call it a Martini, but before there were only two styles to choose from. And if the guy hanging out with Pussy Galore was drinking the vodka version, everyone else was drinking one too.
The Kangaroo
1½oz vodka
¾oz dry vermouth
Garnish with a lemon Twist
Combine ingredients in a mixing glass and fill with ice. Stir well for 20 seconds and strain into a chilled glass. Garnish with a lemon twist.
Adapted from Esquire Drink Book, 1956
Frozen Margarita
It could, and probably should, be argued that the classic margarita is more influential in the pantheon of cocktails but just bear with us here. The classic margarita, when made properly with fresh ingredients is untouchable, but it didn't really start appearing in bars until around the 1930s. Even then it never really took off until 40 years later. Its sudden rise in popularity is due largely to Mariano Martinez, a Dallas restaurateur and inventor of the Frozen Margarita Machine.
The most common difficulty that all cocktails face on this list is subtle changes made from one bar to another and even one bartender to the next. This was a problem that Mariano Martinez, the owner and operator of Dallas-based restaurant Mariano's Mexican Cuisine faced in 1970. His business was so popular, thanks in part to the budding interest in Tex-Mex style dining, that his bartenders were cranking out over 200 blended margaritas per night with just one blender.
Once customers began to complain that their drinks tasted different from one to the next, Martinez, acting as any savvy businessman should, tried to find a solution. After a late-night 7-Eleven Slurpee bender, the inspiration for the Frozen Margarita Machine was born.
This innovation was so influential that the original machine was retired to a place of importance in the Smithsonian's National Museum of American History and has been considered one of the "Top Ten Inventions from the National Museum of American History's Collection".
There is no denying that the classic margarita deserves its title among the masters, but in terms of influence it doesn't come close to the popularity, simplicity, and continuity of its frozen counterpart.
Margarita
2oz platinum tequila
¾oz cointreau
¾oz fresh lime juice
¼oz agave syrup
Shake with ice and strain into a chilled rocks glass filled with ice or a chilled coupe (optional salt rim). Garnish with a lime wheel.
Adapted from The PDT Cocktail Book, by Jim Meehan
The Long Island Iced Tea
If there is one cocktail synonymous with aggressive drinking, it's the Long Island Iced Tea. Love it or hate it (most of that hate comes from loving a few too many of them), the LIIT is a cocktail recognized the world over.
Created in the disco fueled '70s by Robert "Rosebud" Butt, at the New York bar Oak Beach Inn, it contains a sampling of virtually every spirit found in a standard bar well with just enough sweeteners to help wash it down. While there is a varying story about its origin dating back to the '20s, the cocktail only partially mirrors what we know and drink today (and regret drinking tomorrow).
Considering there is no actual tea in this recipe (even though there is virtually everything else) the cocktail gets its name from the color it derives from the combination of cola and the poor substitute for citrus that was popular at the time, sour mix. Not too many bars were focusing on fresh ingredients in those days, and you would have been hard pressed to find fresh lemon or lime juice at a disco.
Being able to deceive the masses into believing that their cocktail doesn't taste like there is anything in it is an enormous feat, and though it might not be the most influential cocktail in any global sense, it sure has had an impact on almost every person that came of drinking age since the '70s. If you have never had a Long island Iced Tea, you're doing it all wrong and should go back to the moment you turned 21 and start again.
Long Island Iced Tea
1oz. vodka
1oz gin
1oz light rum
1oz blanco tequila
1oz triple sec
1oz fresh lemon juice
¾oz simple syrup
Combine all ingredients except cola in a shaker and fill with ice. Shake well and strain into a tall Collins glass with ice. Top with cola and garnish with a lemon wedge.
Taken from The Joy Of Mixology, by Gary Regan
Cosmopolitan
This descendent of the classic Daisy (spirit/flavored modifier/citrus) bears a similar resemblance to a cocktail printed in the 1934 book Pioneers of Mixing at Elite Bars1903-1933, which featured a drink made of gin, Cointreau, lemon juice, and raspberry syrup; almost exactly mirroring the flavor and color of the modern incarnation. But raspberry syrup is way more Samantha than Carrie (Sorry. That's the only Sex in the City joke, just had to get it out of the way.) and it really started to take shape as the modern cocktail in the mid-'80s thanks to the introduction of Absolut Citron.
This citrus-flavored vodka was integral to the Cosmo as it differentiated it from its predecessors, like the Kamikaze or the Harpoon cocktail, made with Ocean Spray Cranberry, vodka, and a splash of lime, served on the rocks or in a Collins glass with soda (a recipe that was listed on the bottle of Ocean Spray in 1968).
Though this drink's origin is often-disputed, the most recognized creation of the Cosmo is credited to Toby Cecchini, of The Odeon in Manhattan in 1987. According to Kyle Ford, a rep for Cointreau, he was "introduced to the Cosmopolitan by co-worker Melissa Huffsmith. He put a fresh spin on the known South Beach and San Francisco versions [that used Rose's Lime Cordial]." His mix used Absolut Citron, Cointreau, cranberry juice, and fresh lime juice. And the modern day Cosmo was born.
But, of course, it wasn't until the airing of Sex in the City that the Cosmopolitan really launched into pop culture icon status. In the late '90s and early aughts, it topped the lists of bars across the country and became synonymous with working women, the budding cocktail revolution, and men ordering cocktails in rocks glasses because they didn't want to seem too girly.
Cosmopolitan
1½oz citrus vodka
½oz Cointreau
1oz cranberry juice
¼oz fresh lime juice
Combine all ingredients into a cocktail shaker. Shake well and strain into a chilled Martini glass. Garnish with a flamed orange twist.
Adapted from Dale Degroff's formula for the Cosmopolitan #2 on diffordsguide.
The Gin-Gin Mule
It might seem a relative newcomer to the pantheon of influential cocktails, but it would be dismissive to overlook, so stay with us. Though not as commercially well-known today as its vodka-based predecessor, the Moscow Mule, in terms of milestones in the modern cocktail world, it was a stepping stone for others to follow.
When Audrey Saunders opened Pegu Club, it was after years of honing a craft that only a select few at the time were even beginning to take seriously, and her approach to cocktails was groundbreaking.
She took an uncompromising stance on using fresh ingredients and, in the case of the Gin-Gin Mule, using a homemade ginger beer. A method that was developed in a kitchen to extract more of the fresh ginger flavor, she was able to add more spice and better flavor to the cocktail.
What made this seemingly innocuous move into a big deal, was that she took what bartenders use every night and set to improve it in the kitchen. Her use of the homemade ginger beer and fresh lime juice moved a further step away from the syrupy Rose's lime and sweet sodas of a few short years before (looking back at you, Frozen Margarita!). Very soon, this became commonplace, as any serious mixologist worth their shake(r) would attempt to use homemade mixtures and fresh ingredients in their cocktails whenever possible.
Saunders opened up the playing field for countless spinoffs, like PDT's Mezcal Mule and the Penicillin of Milk & Honey fame (and arguably the most well-known modern classic). She also paved the way for innovators like Dave Arnold at Booker and Dax to further blur the line between the kitchen and the bar.
Gin-Gin Mule
1½oz dry gin
¾oz housemade ginger beer
½oz fresh lime juice
½oz simple syrup
6 mint sprigs
Splash of soda water
Place mint leaves in a shaker and gently muddle with the lime juice and syrup. Add the gin and the ginger beer and fill with ice. Shake well and strain into an ice-filled glass and add a splash of soda. Garnish with a mint sprig and a lime wheel.
Nick Bennett is the bar captain at NYC cocktail bar Booker and Dax and Thrillist's cocktail correspondent. Follow him @TheNickB for cocktail recipes and knowledge you didn't know you wanted.