Think your squad of friends is wild? Prepare to compare resumes with these notorious groups of epic party-throwing, whole-bar-buying, royal-blood-having crews.
Crew Name: The '86 Mets
 
Famous Members: Darryl Strawberry, Dwight Gooden, Lenny Dykstra, Keith Hernandez
 
You know your team is baller-status when it's less known for winning the World Series than it is for the awesome insanity of the clubhouse. Like every baseball team should, they recorded a rap song (that went double platinum), were involved in bench-clearing brawls that started with their 3rd baseman instead of their pitcher, and bought drinks for everybody – famously going to working-man's pub Finn MacCool's to buy rounds. This is the kind of team that could never exist in any league in the modern era. And that is sad.
Awesome Story: According to legendary sports writer Jeff Pearlman, the flight back to NYC from game 6 of the NLCS was the greatest time anyone's ever had on an airplane. There was beer can baseball. Food fights. Shortstop Rafael Santana merrily relieved himself on catcher Ed Hearn. Dudes skated on steaks strapped to their feet. And when they landed looking like beautiful messes? Darryl Strawberry dumped a bottle of champagne on Mayor Ed Koch's head.
The Crew: The Jolly Company
 
Famous Members: Russian Czar Peter the Great and foreign adventurers like the Scottish general Patrick Gordon and the Swiss soldier of fortune Francis Lefort.
 
Along with something like 80-200 childhood friends and older hangers-on of the Czar, these dudes threw the best banquet ever basically every single night and regularly did awesome things like sing Christmas carols horribly to surprised rich people and then demand payment for it.
 
Awesome Story: Their most hilarious story, chronicled in Robert K. Massie's epic biography, was when, during Peter's "Great Embassy" to the West, they all got lodging from a guy named John Evelyn, who'd spent 45 years making his estate the most beautiful in all of England. After the Russians left, he returned to find they'd burned 50 of his chairs in the fire, used his paintings for target practice, torn up the feather beds like "wild animals", and flattened his 400ft holly hedge by putting Peter in a wheelbarrow (a device then unknown in Russia) and ramming him through it. John Evelyn was not amused, but we are.
Crew Name: The Hellraisers (that's actually the title of the book about them)
 
Famous Members: Peter O'Toole, Richard Burton, Richard Harris, Oliver Reed, Michael Cain
 
Made up of a notorious group of '60s actors, Hellraisers like O'Toole and Burton earned multiple Oscar nominations for films they later admitted they'd been partying during the filming of. Oliver Reed -- whose final role was as the gladiator wrangler in... Gladiator, was particularly notorious. When police arrived at his home to find him sprinting nude through the front yard with an entire rugby team, it really wasn't that unusual.
 
Awesome Story: After being refused a drink after hours at an Irish pub, O'Toole and friend Peter Fincher simply wrote a check to buy the place.
Crew Name: The Whitehouse Cowboys
 
Famous Members: Michael Irvin, Nate Newton, Alvin Harper
 
The Dallas Cowboys rattled off Super Bowl titles in '92, '93, and '95, but between championships, some players were holding court at the "White House." a shockingly normal looking suburban home right near the Cowboys' training facility that hosted antics that made the 1970s Cowboys look like a bunch of choir boys.
 
Awesome Story: Hall of Fame receiver Michael Irvin showing up to a court date in a full-length mink coat. The '86 Mets were totally pissed off that they didn't think of that first.
Crew Name: The Go-Go's
 
Famous Members: Belinda Carlisle, Jane Wiedlin, Charlotte Caffey, Gina Schock
 
People forget that before the happy-go-lucky album covers, the Go-Go's were an unlikely punk band getting spit on by fans during UK tours (apparently this was a thing over there); they actually shared a bill with the Germs when those legendary mayhem-inducers basically destroyed the Roosevelt Hotel. These girls could hold their own with any band on the debauchery front.
 
Awesome Story: Yes, they made that naughty videotape in which they flipped the script and directed men to debase themselves, but the most impressive thing they ever did? One of them got kicked out of Ozzy Osbourne's dressing room for being too crazy.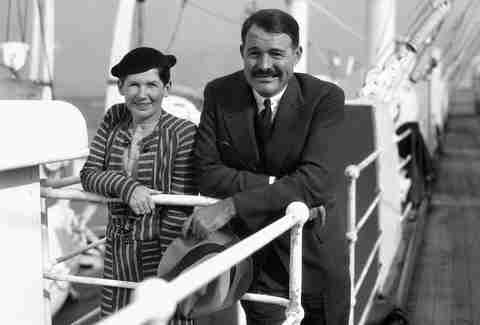 Crew Name: The Lost Generation 
Famous Members: F. Scott Fitzgerald, Ernest Hemingway, Salvador Dali, Gertrude Stein, T.S. Elliot, James Joyce
 
Some of the greatest writers and artists of all time, they actually really did hang out… but probably not with Owen Wilson. And Hemingway really did beat up people for James Joyce. He was seriously aggro. 
Awesome Story: Hemingway stole the urinal from his favorite bar, claiming he'd left so much of himself in the device that it was practically his anyway.
Crew Name: The Rough Riders
 
Famous Members: DMX, Theodore Roosevelt
 
The all-volunteer regiment that fought in the Spanish-American War in 1898, the Rough Riders participated in several famous fights, including the notorious Battle of San Juan Hill. On their return from the campaign, the unit spent most of an entire month celebrating their victories, earning themselves not one, not two, but three congratulatory mascots -- a mountain lion (named Josephine, because sure), an eagle, and a dog.
 
Awesome Story: When Teddy Roosevelt was looking to recruit men for the Rough Riders, he went to the most awesome place possible -- a hotel bar. Yes, many of the volunteers were found at the bar of the Menger Hotel in San Antonio, Texas.
Crew Name: The Rat Pack
 
Famous Members: Frank Sinatra, Dean Martin, Sammy Davis Jr., Joey Bishop, Peter Lawford
 
Because this is probably the first group you instantly thought of, here they are… and they never actually called themselves the "Rat Pack", instead preferring the "Clan" or the "Summit," from the "Summit at the Sands" when Davis, Martin, and Sinatra performed the stage act that cemented them together.
 
Awesome Story: According to Rat Pack adoptee Paul Anka, Frank Sinatra once had a French movie star tossed into a Vegas pool… while tied to a bed, all because the actor had been bragging his skills in the boudoir.

As a loyal reader, your opinion is more important to us than oxygen, or hydrogen even. Please take this quick survey and tell us what you think!