You may claim to care about beer pong, but prepare to meet 16 tables created by crazy/inspired people who REALLY care about beer pong -- and who went so far as to outfit said tables with everything from paintings of Zelda levels to automatic scoring mechanisms. And, of course, that moat.
The Legend of Zelda Built by a Philly dude, this table's got the Triforce monitor where your cups go and bits of wisdom scattered throughout the levels, like "Dodongo Dislikes Stacked Cups".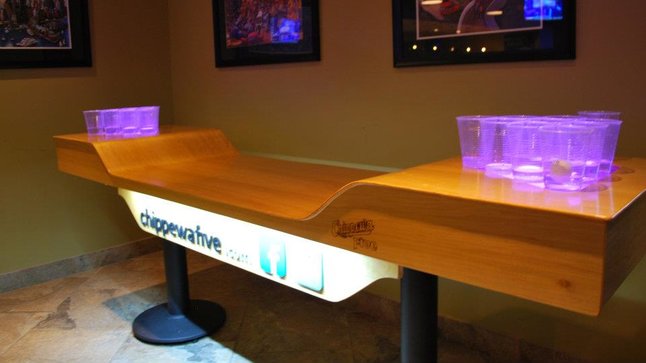 The Chippewa Five Not an all-Native-American Jacksons tribute band, the Chippewa Five is a backlit table made outta seamless poplar, and it's about as beautiful as every single person of the opposite sex seems to you after a night of beer pong. How, you ask?
Do It Or No Balls Let's face it: the ball washers in Coming to America will likely never be topped. Still, not having to clean your own is a serious luxury, which is why the guys at DIONB made this table that uses both air and water pumps to cleanse your ball. This thing's rad; here are the blueprints
Tron Table It's way better than the sequel.
Ryan's Sheet Metal Designs Built by a dude whose day job involves making custom aluminum stuff for the kinds of cars that wind up at the legendary SEMA show, this table's got pistons at the base of its legs, and more holes than the plot of Oblivion. See more of his work here
Party Pong's Playboy Tables This company makes all sorts of beer pong tables for just about any school or team you can think of, but it's their aluminum or solid wood folding tables licensed by Playboy that take the cake that a naked chick will surely pop out of. Not only are they Hef-approved and adorned with actual playmates, they're actually used at Playboy's beach house. See more through here This Amazing Thing There's just so much going on here that you'll have to watch the video tour above to fully grasp it's amazingness. The short version: a quartet of automatic ball washers, a dual-tap kegerator, a 1200w stereo system, and a plexiglass top that automatically lifts itself so you can stare at the awesome glow of 400 LEDs.
The Infinity Table There's really nothing special about this LED-lit folding table, unless you count staring into an infinitely deep array of lights as special. This table really brings new meaning to the phrase "balls deep"
Spin Pong Your head's probably spinning with all these tables by now, and now so are your beers -- this nifty little gizmo turns any regular table into one where the pyramid of brews actually spin around to increase difficulty. So maybe if you drink enough, they'll stop spinning? Go ahead and buy it right here
Beer Pong Customs' Moat Table Go ahead. Look at that picture and pretend you're not at least a little impressed by a table with a got-damn moat built into it, which serves the purpose of cup and ball transportation, being a got-damn moat built into a table, and keeping thirsty medieval dudes away from your beer. You'll be amazed at how inexpensive this thing is Party Pong Tables' LCD Table From the same folks that brought you that gratuitous Playboy table, this number's got a couple of LCD screens built into it... and a fog machine-aided disco ball, and dual taps for your keg -- and it's still somehow foldable. Talk to these guys...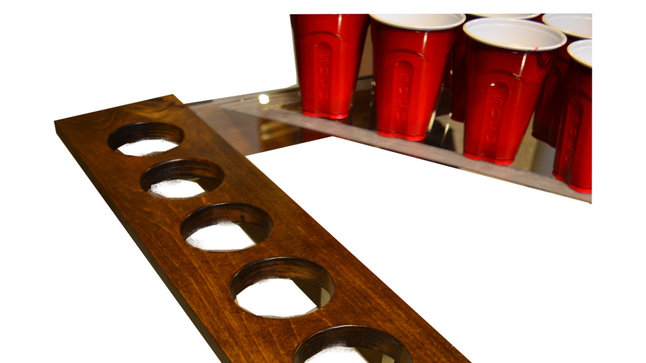 Maple and Lexan This table's nice enough to sit innocuously in your front entryway whenever you're not busy playing drinking games, it's got a bar-grade lacquer finish over its solid maple frame, and it's LED-lit windows're made outta unbreakable Lexan. Check it out
The West Virginian Some engineering students at WVU spent months building this table that features hundreds of LED lights synced to music, including a few that swirl around the ball washers, which totally isn't innuendo for anything lewd.
The Modern Gentlemen Formerly a staple at various ponging events in Boston, Gentlemen's setup included not only LED lights, but also sensors under the cups that set off a scoring mechanism: remove the cup and it knows you've made a shot... or at least that someone just stole a couple ounces of beer.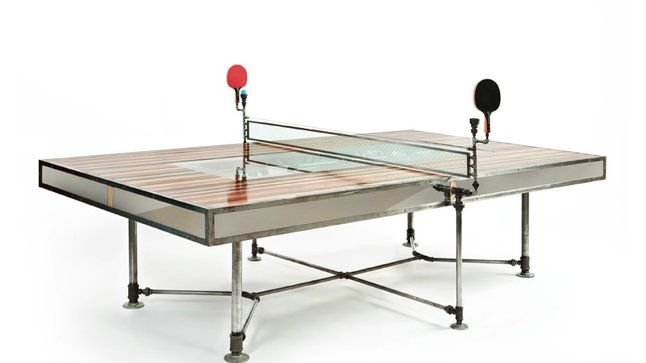 Pingtuated Equilibripong This is technically a ping pong table, but it's one that's actually designed to be converted into a 12-seat dining-room table made outta 10 different woods, reclaimed plumbing pipe, aircraft cables, and a pair of Edison lights; your dates would find you mature, and your buds would never realize you actually own a dining room table. You can actually buy this thing right here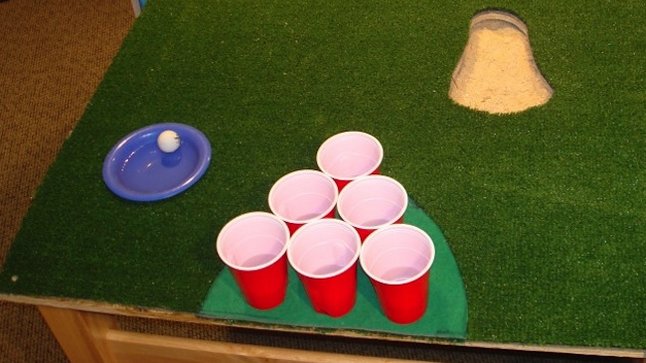 Golf Pong Drinking and golf have always gone well together, so the dude behind this table added AstroTurf, sand traps, and water hazards (AKA ball cleaners) to create a way to play golf where you can score as often as possible without worrying about anyone chasing you down the street with one of your clubs.