The most amazing tequila barrel art you'll see today, ever
"Hope Contained" by Tanya Aguiñiga
All across the United States, artists have been plying their craft with a twist, transforming for-real Tequila Herradura tequila barrels into straight-up art for The Barrel Art Collection. The result? Installations that're sweeter than uncut agave. Raise a glass to some of the regional winners below, if only to prepare your brain for what's coming up next year.
New York's Phoenix-Lindsey Hall used hand cranked gears to evoke the traditional processes that Herradura uses to this day to produce their tequila. Truly moving.
An evocation of the nostalgic charm of flea market toys, Mariana Monteagudo's Happy Barrel is...well, a happy barrel.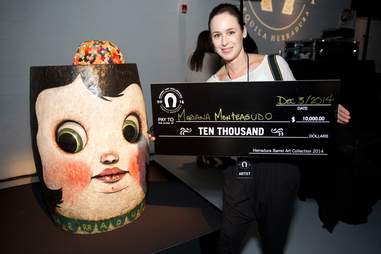 Here, the artist presents the companion performance piece, Happy Artist/ Miami c. 2014/Mixed media, ten thousand dollar check. 
Chicago's Jason Hawk took wing with Adventure Time! , an examination of the heights that a humble barrel can bring to both tequila and art.
VM Fisk took her inspiration for Nectar of the Gods from the legend of Mayahuel, the pre-Colombian Mesoamerican goddess known for feeding her 400 rabbit-children with her many breasts, to whom an annual agave festival is dedicated each year with the ancient, proto-tequila "pulque". Dang but the pre-Colombian Mesoamericans could party.
Mayahuel honors those who venerate her.
Agave is made, if you don't know, from the 200lb heart of the agave plant that needs to be cut free from the poisonous leaves that surround it by veteran jimadores with the blade of the honed coa to which Martha Whittington's Field Surround pays tribute. So no, it's not about disco.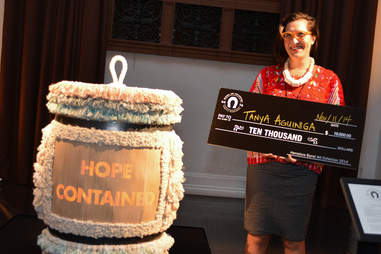 Tanya Aguiñiga's Hope Contained is a love-letter to two of her favorite things: piñatas and tequila, both of which are broken open at only the best kinds of parties, and to both of which she is tied by her Jalisco Highland heritage. Ten thousand dollars will buy and awful lot of both for the celebration party. 
Casa Herradura, the estate at which Herradura is produced is a strange, strange place -- between the ghosts, secret tunnels, magical horseshoes, and witches, it's really magically real. Hence the strange strangeness of Dan Lydersen's Earthly Delights. We understand why all of the art couldn't be about ghosts, but why couldn't all of the art been about ghosts?