The Most Expensive Beers in the World (Including a $5,000 Ale)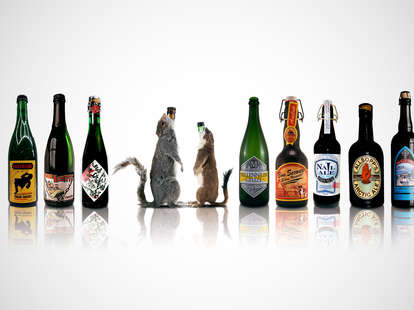 Brasserie Cantillon/Jacobsen Brewhouse/BrewDog/Nail Brewing/Brasserie Caulier/The Lost Abbey/Armand Debelder and Willem van Herreweghen/Brasserie Cantillon/Allsopp (edited)
You can still stop by your neighborhood gas station and grab a sixer of tallboys for $7 in most parts of the country (USA! USA!). These are not those tallboys. These are the most expensive beers in the world. Try to figure out how many 40s you could get for the price of one of these whales. It might blow your mind.

Cantillon Gueuze 1978: $397 per 12oz bottle
From famed Belgian brewer Cantillon, this beer was sold at Boston's Skinner Auctions for $397 for a 12oz bottle. Part of the reason it sold for so much was the high quality of the beer itself and the fact that it was bottled during the Carter administration.

Jacobsen Brewhouse Vintage No. 1: $400 per 12oz bottle
Carlsberg only made 600 bottles of this 10.5% ABV Barley Wine. It's was the first-modern era beer to be aged in J.C. Jacobsen's cellar that was built in 1847. It's matured in Swedish and French oak barrels for six months. If you're lucky enough to get to Copenhagen, Denmark, you might still be able to find this beer at some of the higher-end restaurants for a hefty price (likely more than the original $400).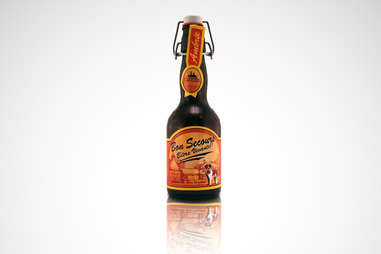 Brasserie Caulier Vieille Bon Secours Ale: $750-800 per 12oz bottle
Clocking in at 8%, this ABV Belgian strong dark ale was stored for at least a decade, and can only be purchased at a London bar called Bierdome. They only made a very small quantity of this brew, so there might not even be any bottles left. If there is, expect a higher price tag.

BrewDog The End of History: $765 per 12oz bottle
This crazy-high ABV Eisbock sits at 55% ABV. For those unaware, that's 110 proof -- 15% higher than your average bottle of booze. Beside the high alcohol content, the reason this beer is so expensive is because the boys at Brew Dogs only brewed 11 bottles. Plus, it was bottled in stuffed road kill, including squirrels, stoats, and a hare.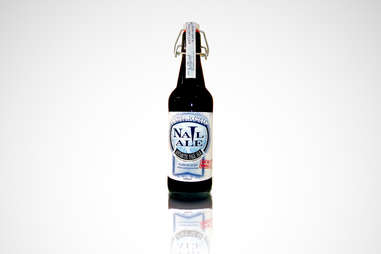 Nail Brewing Antarctic Nail Ale: $800-$1,500 per 500ml bottle
The reason Antarctic Nail Ale, from Australian beer makers Nail Brewing, is so expensive is because it was brewed using Antarctic water, potentially the cleanest, oldest, and most unadulterated water in the world. The beer was a collaboration with Nail and the Sea Shepherds, an organization that fights the killing of whales in Antarctica. The first bottle was auctioned off in 2010 for $800, with all proceeds going to Sea Shepherds.

The Lost Abbey Cable Car Kriek: $923 per 750ml bottle
This 7% ABV American wild ale from California's Lost abbey is the most expensive bottle of American-produced beer ever sold at Skinner Auctions. It went for $923 in April of 2104. If it resurfaces, expect inflation.
De Cam/Drie Fonteinen Millennium Geuze 1998: $923 per 750ml bottle
A collaboration between Belgian brewers De Cam and Drie Fonteinen, this was bottled in 1998 to be enjoyed on the upcoming millennium celebration. The bottle was purchased at Skinner Auctions for $923 in June.

Cantillon Loerik 1998: $2,583 per 750ml bottle
This 5% ABV Gueuze was only produced one time. This makes the 10-year old aged beer extremely rare. A bottle sold for $2,583 at Skinner Auctions in April of 2014 and is still the most expensive bottle of beer ever sold by the auction house.

Allsopp's Arctic Ale: $5,131 for a 22oz bottle
How's this for history: This 140 year-old bottle of beer was brewed in 1875 for an Antarctic expedition. The odds are, it probably isn't even drinkable, but that didn't stop someone from purchasing it in England in June for over $5,000.
Sign up here for our daily Thrillist email, and get your fix of the best in food/drink/fun.
Christopher Osburn has traveled the world in search of the best wine, beer, and spirits. Believe him… that includes quite a lot of sampling. Follow him to Scotch @ChrisOsburn.