These are the 5 most expensive tequila shots in America
"One tequila, two tequila, three tequila, floor" goes the old adage, but if one of those shots costs a cool $380, you might not have enough scratch left over to buy the commemorative tank top. In honor of National Tequila Day, here's a look at five of the most expensive shots of liquid gold available in the entire country. (Hint: one of them costs a cool $380.)
5. DeLeón La Leóna: $99 per shot
At Meso Maya taqueria in Dallas, they know their tequila, and the most expensive selection on their menu is this 100% Weber blue agave shot from the luxury label of the 100% puro de agave tequila company. It's aged a whopping 34mos in French Sauternes barrels and imparts "complex notes of dried fruit, honey, and citrus". Rich notes.
4. Patron Gran Burdeos Anejo: $185 per shot
In order to get this one, you'll have to wade through the crowds of beautiful people and their less attractive friends at Vegas' Hyde nightclub inside the Bellagio. The Patron is made from 100% Weber blue agave and is aged in oak barrels for 12mos, which explains the "oak, vanilla, and raisin" notes.
2. (tie) 1800 Coleccion: $250 per 2oz pour (as in, you get half an ounce more than a normal shot!)
Denver's Mexican spot Rio Grande has an entire 'quila vault dedicated to their finest bottles, and in that vault is a limited-edition 1800 bottle. The hooch has been aged no less than 10yrs, has a "silky consistency", and is ordered "about once every three months" by a person not in the Three Amigos.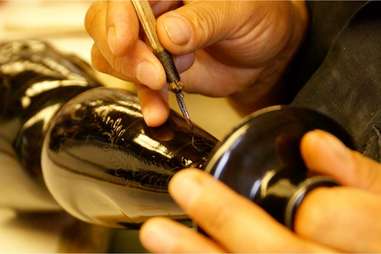 2. (tie) Clase Azul Ultra: $250 per shot
While you could go to Tryst Nightclub in Vegas and get this for $380, this article is obviously all about frugality. So for a real cost-savings, head to San Francisco's Mosto, where the bottle hand-painted with .925 Ley sterling silver houses 5yr tequila with notes of Mountain Dew flavor-to-be, "intense cherry".
1. Jose Cuervo 250 Aniversario: $300 per shot
A moody tequila Mecca in the middle of Vegas' lush Aria casino, Javier's pours shots of "arguably the most exclusive tequila ever made", crafted with 100% blue agave extra añejo. Expect a flavor profile "reminiscent of Cognac", but with the price reminiscent of multiple bottles of cognac.